Yes, there's little chance that we'll see this lovely red motocross machine sending rooster tails of Indian soil high into the air. But that doesn't mean we can't stare at it and dream. This here is the 2022 Honda CRF250RX, and just reading about it is enough for us to want it. For this new model, weight has been saved just about everywhere, and it gets key updates that'll give its lucky riders all the tech and confidence they need to conquer varying types of terra firma.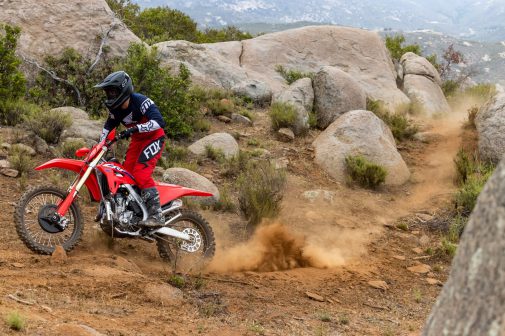 To begin with, the bike gets the aluminium twin-tube chassis from the bigger CRF450RX, so it can certainly take a pounding. That chassis' torsional rigidity has been retained, though lateral rigidity has been reduced by 20 per cent to increase traction, cornering speed, and steering accuracy, and the swingarm gets a rigidity balance that matches the frame. Both steering yokes, top and bottom, now feature increased flex for more agile cornering and bump reaction. And the 49-mm USD fork is a version of the Showa factory fork found on MX racing machines in the Japanese championship, no less. Makes all that lovely red plastic look all the more deserving, it does.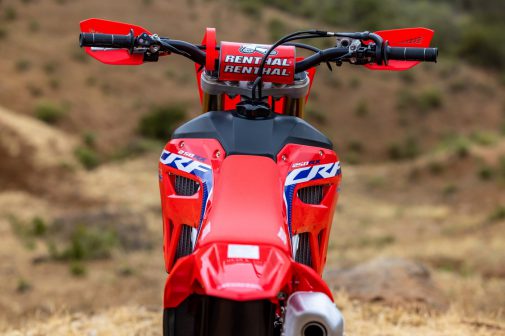 Kerb weight is down by 3 kg to 108 kg, and the bike's plastic fuel tank holds 8 litres of fuel. Power figures are unspecified, but it's safe to assume a number between 40-45 bhp. That's a recipe for off-road insanity, for sure. But it doesn't just stop there. The Renthal Fatbar handle can be adjusted for four different positions, while the 260-mm front and 240-mm rear discs provide stopping power along with a cool wave-pattern design. DID aluminium rims are present with the front 21-incher wearing 90/90 rubber and the rear 18-incher with a 110/100 tyre, both by Dunlop.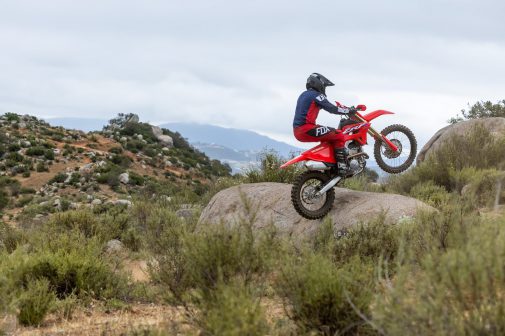 The CRF250RX also gets three riding modes — Standard, Smooth and Aggressive. We like the sound of that last one a lot. There's a three-level launch control system, too; 8250 rpm for muddy conditions and novices, 8500 rpm for dry conditions, and 9500 rpm for experts in dry conditions. Of course, most Indians would be put off by the 964-mm seat height which comes as a result of that massive 335-mm ground clearance that I'm pretty sure a person could crawl under. Nonetheless, we likely won't find out anytime soon what the CRF250RX feels like. But perhaps Honda India could make something that looks like this with the CB300R's motor? No harm in wishing, right?