'Are these electric bikes?' That was the last thing I expected to hear around these two. What made it even worse was that the gentleman who posed this incongruous question looked like he must've been in college around the same time as these two were busy throbbing hearts around the country. Perhaps if he'd seen the clouds of smoke exhaling from their ringing exhausts, he might've remembered memories lost to time and grey hair. But then I thought he definitely must've been a nerd back in the day, leaning as he was against his BMW SUV. No self-respecting college dude or dudette would mistake these two for anything else, even if they went extinct. Well, maybe 'extinct' was too strong a word around these particular machines — the Yamaha RX 100 and the Kinetic Honda DX.
Back in the good old days of protectionism, parents were the rules that made the exceptions. Against this stuffy social backdrop, Yamaha entered India with the misleadingly- or aptly-named Escorts, first with the legendary Rajdoot 350 in 1981, and later with the more sensible RX 100 in 1985 which was derived from a design originally from the 1970s. Meanwhile, Honda collaborated with Kinetic Engineering Limited in 1984 to make the DX based on the NH 100; presumably, Honda always wanted to make scooters for India first, as the Activa proved with the Japanese giant's full Indian debut. Yamaha, on the other hand, seemed to think back then that we needed a two-stroke parallel-twin first. You can imagine which company has my undying admiration. And I'm not — never was or will be — the only one.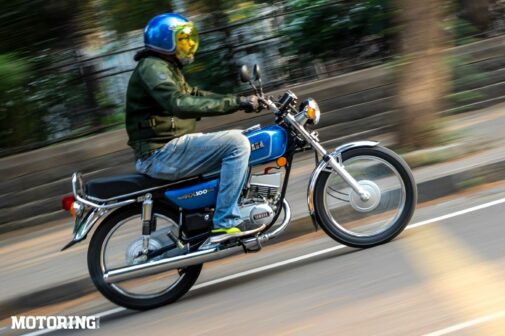 Before long, the middle class — the strongest bone in our country's skeleton — was awash with family-friendly choices, all born from state-sanctioned unions of Indian and foreign companies. In 1983, I lived in a part of Bombay that housed a number of colleges — the problem was, I'd only just been born and would have nothing to do with them for a while. While the RX 100 and the DX ring-dinged their way to success, I was busy acquiring necessary life skills like walking and holding it in till I reached a toilet. However, it wasn't long before I started recognising them surrounding my dad's lone Bullet in the building's garage. And by the time I was repeatedly cracking 'Potential Honda' jokes in school, the RX 100 and the 'Kiney' were ubiquitous on college campuses. They were having all the fun, while I turned greener than a Kawasaki Ninja.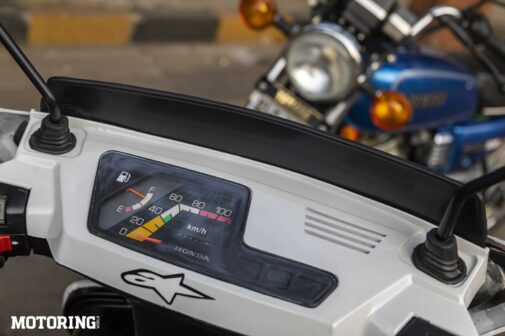 These two are still as '80s as smoking cigarettes wherever people wanted, and these two-strokes still do it, political correctness be damned. Nonetheless, I turned off the RX 100 at traffic signals almost apologetically for all the smoke it spewed, even if I quite like the smell. Meanwhile, the Kinetic Honda had all the period appeal of a cassette tape. And it still looked unlike anything we've ever seen. With slats on its apron and its tail, integrated lights and its overall proportions, it was way ahead of its time. I imagine that back in the day, it looked like the advanced future those college kids were headed towards.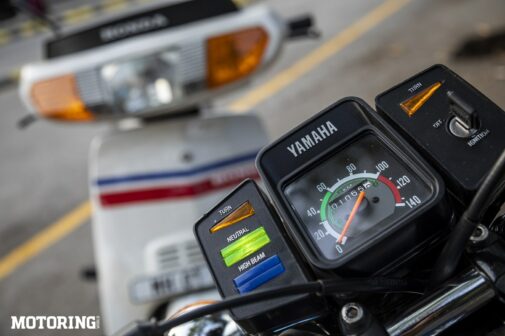 The RX 100 was more traditional-looking, a scaled-down version of Yamaha's bigger two-strokes that stole the appearances of the British bikes they shot dead. However, the little Yamaha also exuded a lightness that appealed to the youth, or even the young of heart. In fact, its near-weightless feel was also appreciated by the parents who'd borrow their kids' RXes from time to time. It was a no-nonsense design, with enough to please everyone and keep things simple. And these two couldn't be more different, too. Where the RX 100 was handsome in a timeless manner, the DX was so in a futuristic way.
The Kiney's electric-start button was the pride of many a rider. It seemed to blend its sound from the bells of doors, bicycles and old telephones — but it went 'tring' in a way that remained eternally unique. In fact, I turned it off as often as I could just to thumb that big red button and hear that once-ubiquitous sound over and over again. And on the move, it was the same smooth two-stroke rubber band it had always been. The various frequencies generated by the CVT-enabled 98cc motor sounded like 7.7 bhp worth of electronic music from the '80s. It was also surprising to see the old scooter hustle along with more enthusiasm than I remembered. Then again, that's a two-stroke for you.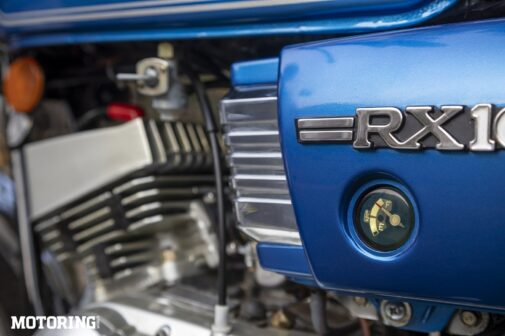 At a smooth 60 kph, the Kiney still wanted to gain speed, and I let it hit 80 kph on one occasion. However, its ride quality could only be described as 'constant vertical oscillation' and I wasn't really keen on testing if it could bring my breakfast back the way it went down. Also, the brakes on the small 10-inch wheels had more half-hearted nibbles than bite, so there was no point in pushing more. However, it still handled well through traffic; a constant 60 kph through gaps was entertainment, the motor raising and lowering its voice as the situation demanded, like a desperate singer trying to hit the right note. In the meanwhile, the RX 100 was always around, comfortably out-shouting the scooter.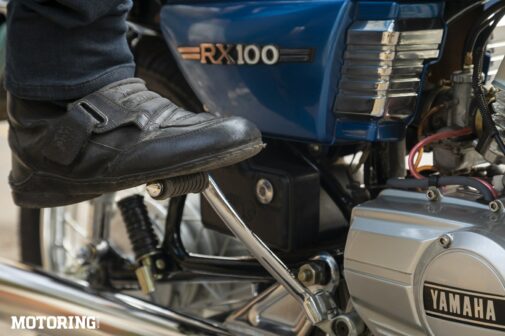 The RX on song was nothing but high-rpm 2T hypnosis. Its 98cc 11-bhp motor had to be kept on the boil via its four cogs, which gave it more or less the character of a cat with ADHD. Where the Kiney liked to settle into a comfortable rpm at any speed, the RX was not satisfied until it was allowed to rev its head off into the distance. The brakes were decent, too, but the thin tyres meant adopting a point-and-shoot strategy, with any respectable lean angles accompanied by breaths held and backsides clenched. And as tiny as that engine is, there is still something very scary indeed about holding an RX's throttle pinned in top gear, almost like daring fate to do something about it.
Terminal rpm on the RX felt like I was not running out of road, but out of life. You have to go quite a way up the four-stroke ladder to get the same high. And it's this intensity that defined the RX's attraction, and once you'd felt it there was no going back. Many worthy rivals arrived, threatening to dethrone the little king of mayhem, and even some successors, but none quite captured the senses like the RX 100, and they were forced to admit that discretion was the better part of valour. And yes, the RX 100 could do 30 kph in top gear, but that meant the Kiney would run away. And we couldn't have that, could we? That, by the way, is the story of many friendly races back in the day. It may or may not be a coincidence that awareness of global warming spread in the '80s.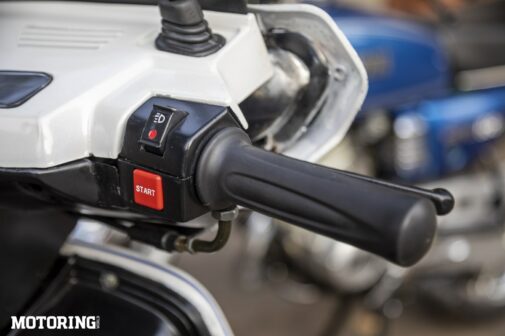 Nonetheless, enthusiasts starved of choice raced them, too, and achieved mind-boggling things on them. Perhaps two-strokes naturally lend themselves to competitive mayhem, or maybe they simply didn't have a choice. The point is, I don't see their modern equivalents getting up to a fraction of all the trouble these two did. Also, while the RX is a simple kind of motorcycle that followed convention, the Kinetic Honda's proportions and technology set the template for all the modern scooters we ride today. Grudgingly, I must concede that the scooter was the more forward-thinking one of the pair, one that lived up to its promise of showing us the future.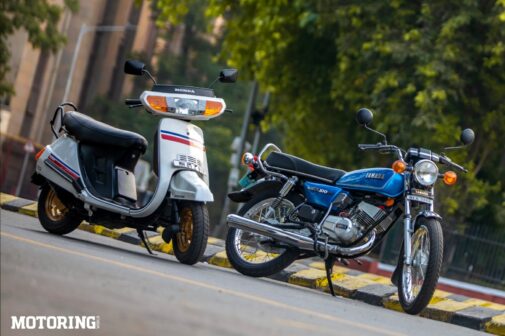 On our shoot, we ended up outside University of Mumbai and decided to take a shot outside one of its gates — it immediately felt like I was back in college and up to things that were needlessly frowned upon and invariably shouted at. But we went ahead and did it anyway, living the academic furtiveness of a life long past. Mullets and head-to-toe denim attires may not be in fashion anymore (that I know of), but doing stuff we're likely not supposed to still is. And the RX and the Kiney are still cooler than your bike/scooter. We got out of there before the guards could shout at us, giggles mixed with 2T smoke like the generations that came before us.
A full-throttle thank you to Yogi Chhabria for restoring these fantastic machines. And to Antony Fernandes for trusting us with his gorgeous Kiney!