Yamaha and Valentino Rossi. That's probably the most popular motorcycle-racing fairytale of all time. And if you look closely, you'll see my own little tribute to that epic story. But this is not about the greatest of modern motorcycle racers and the company he rode for. Torakusu Yamaha built his first piano in 1900 and Fabio Quartararo won the MotoGP title for Yamaha in 2021. That's a whole lot of music made over a century, right? And that's probably why it's no secret that I, along with many of my friends, have a soft spot for Yamahas.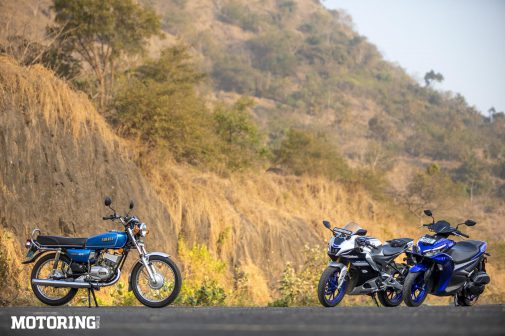 It all began a long time ago, with a light kick that woke up a tiny but potent two-stroke motor, smoking to life. What followed was an experience only for the fortunate — imagine, if you've had one, a friend who's easygoing and yet ready to riot at a moment's notice. That's what the RX 100 was and is to this day — that's what any Yamaha should be, by its own standards. Anyway, long after I crossed the threshold between being a child and an 'adult', the YZF-R15 came along. And now, while I'm still struggling to deal with the part quoted above, we have the Aerox joining in, too. So I thought the RX 100 should check if the newbies are doing all right. There are three tuning forks in the symbol, after all.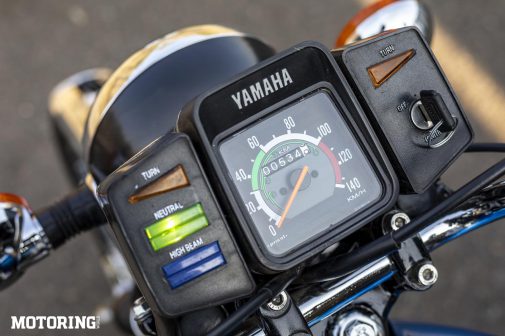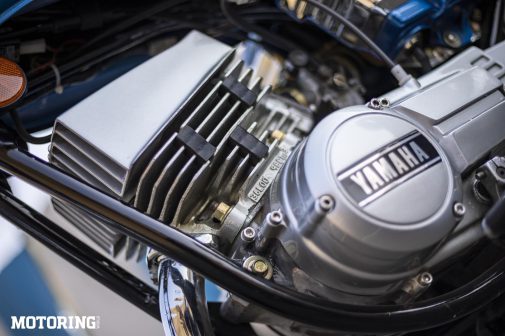 The 2T smoke is all but gone, except in garages that persistently kindle the two-stroke fire that creates it. The RX 100 you see here is mine and which was restored to perfection by Yogi Chhabria of YCDesign; 'Yogi and Yamaha' has quite a nice ring to it, I think, especially if you see the number of RXes he's restored. Meanwhile, around the time my bike was in pieces, Yamaha launched the Aerox and the YZF-R15M, two modern classics for India. Yes, modern classics already, because that's exactly what they are. The Aerox is a scooter like India has never seen and needs more of, while the R15M has now perfected the sportiness that the original R15 set out with. But what does the RX 100 think of them?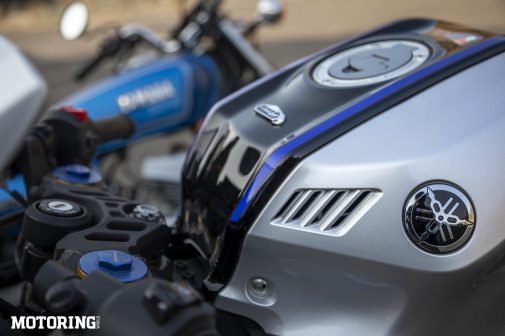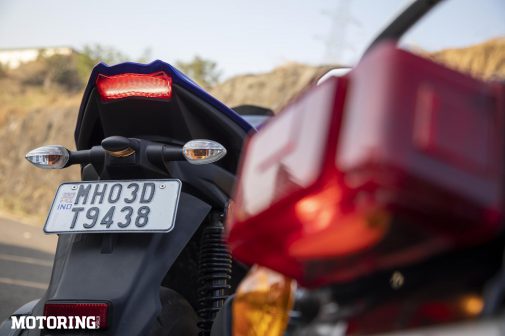 A cold dark morning saw the RX 100 running full throttle on an open road, the other two following respectfully in its smoky wake. Of course, they could outrun the RX with ease, but they looked best together from each seat. Nonetheless, the RX in its powerband was still quite the experience, even for the others. It was a light and loud spectacle that loved all the attention it got. After the thick-tyred newbies, the RX 100 felt like running in pencil heels. Or so I imagine. The first day I got it, I'd seen both tyres slide into a corner thanks to my misguided enthusiasm, and I'd resorted to a more point-and-shoot riding style since then. And the RX 100 loved it.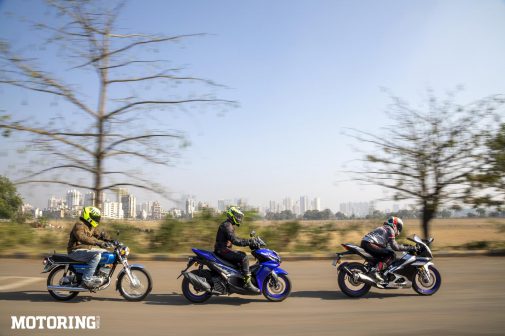 The old Yamaha might come across as a hyped machine from another time. But the hype is very much real, not just desperate nostalgia. After all, how could 11 bhp and 100 kg rolled up in a two-stroke not be fun to smoke? It purred along at 30 kph in top gear, which is how middle-class uncles rode it once upon a time. Beyond half-throttle, though, it was all claws and fangs, transformed into the kicking and screaming little beast that hooligans of the past pushed their luck on. I used to think of the RX 100 as a playful kitten, and it is. But it's also a never-ending tequila shot if you want it to be.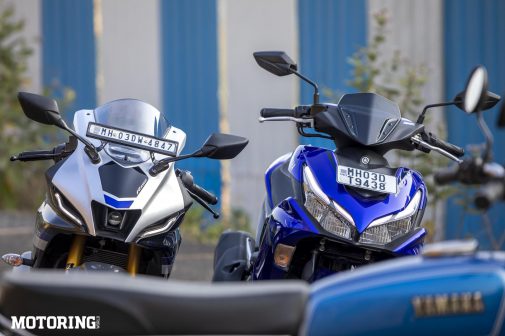 The R15M is sheer sporty focus. Once on it, every road seems to be a track, every corner lined with a kerb. Of course, this bike has gone on to amass a following of its own over the past 14 years, and the newest one will gather even more. And it's easy to see why, too. A shape that shouts racing, cycle parts that the RX 100 looks at with envy, and a proven high-revving 155cc heart, all combine to make a modern sporty machine that cannot go out of style. The feel of an R15 is as unique as it gets in the low-displacement category, and that's what riders love about it.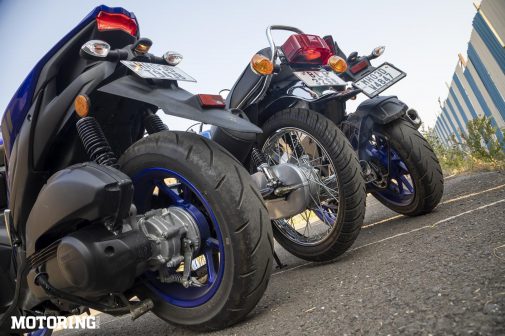 Speaking of feel, there's the novel experience that the Aerox offers. It somehow manages to combine the effortlessness of the RX 100 with the sportiness of the R15M. I put that down to its gearless transmission and small but thick wheels, and the motor it borrows from the R15. Long story short, the Aerox is armed to the teeth for the Traffic Wars, and it wastes no time making short work of it. And it commands as much attention as a superbike wherever it goes, too. No wonder Yamaha can't make enough of it, and demand has already backed up into long waiting periods. But does that revered Yamaha spirit run through the new ones?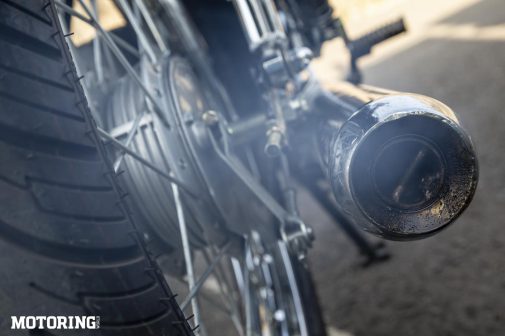 The RX 100 makes me want to do reckless things, and it's changing the way I ride other bikes, too. Launching it hard off a traffic signal is an eternal thrill, matching the clutch slip to that legendary scream. Through traffic, it's a slippery eel of a bike, finding non-existent gaps and vanishing into them. And it lets a greying chap pull second-gear wheelies all over town, dragging my mind back to a simpler time as it does so. Everything about the RX 100 is fun — make that FUN! And the Aerox and the R15M are way ahead of it, too, just the way it should be.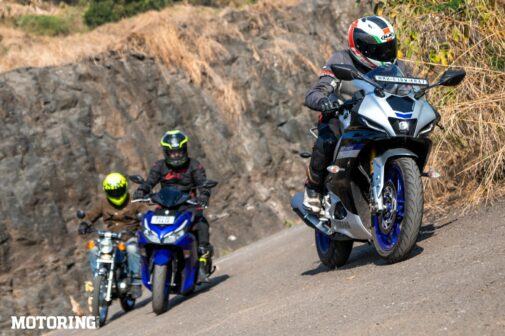 The RX 100 may have lost its footing a long time ago, but it never lost its relevance. The RX's stature, built over decades, still casts a long blue shadow, one that's fun for the other two to play in, too. The Aerox and the R15M will make their own fairytales as well, for Yamahas of the future to live up to. The tuning-fork spirit is alive and kicking, and nobody's happier than the RX to see that. And the RX 100 is most certainly one of the reasons why Yamaha could afford to hire Rossi and write history the way they did, which led to the new generation of racers and motorcycles you see today. I think of that every time I ride it.