I sometimes wonder — how long am I likely to live and what more will I have ridden by then? This thought flashed like a neon sign in my head as I rode the Yamaha Aerox one morning, on my way to meet a pair unlike any other — Minoo Fitter and his 1960 Vespa 150. What sets them apart from all the scooter riders interfering with your commute is that Fitter is all of 86 years old and has been riding his Vespa for the past 61 years! This pair definitely outran all possible clichés about long relationships decades ago. Heck, for all I knew, they may have even created some that we use now.
The Aerox, on the other hand, was only a few months old, though it was also the singular culprit for causing all the other bikes in my garage to stand around doing nothing but gathering dust. And it seemed to love it, too, throwing a firm question at the motorcycle's assumed superiority in the world of two-wheeled fun. And as it braked and leaned smartly into a corner, I looked forward to what a lifelong scooterist like Fitter would think of this modern machine. A short while later, I saw a black and maroon version of that iconic shape approaching us at a fair clip, its rider wearing a bright white helmet and a black jacket. Fitter had arrived.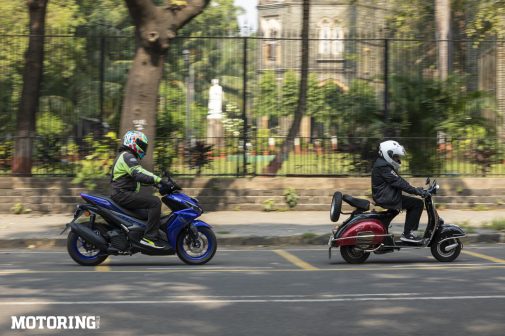 As he took off his helmet, gloves and jacket between excited and loud greetings, I couldn't help but notice the stark contrast between his wrinkles and the Vespa's smooth rounded lines. If only skin and metal could form an immortal bond; on such occasions, it seems like a perfectly reasonable expectation. While my mind paused and mulled about the unfairness of life and time, Fitter reached into a bag and brought out the Vespa's first registration booklet from 1960. He'd bought the scooter brand new that year for Rs 2850, after watching Gregory Peck and Audrey Hepburn having fun on a Vespa in the 1953 film Roman Holiday. That movie might just be the best automotive ad ever.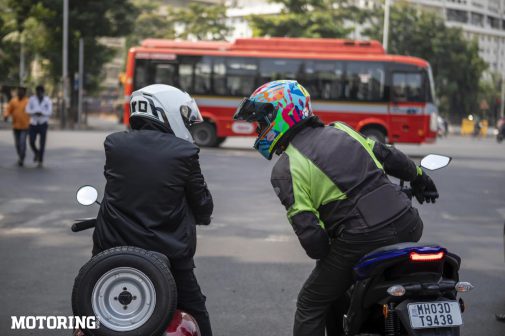 The booklet read 'Motor Vehicles Act 1939' and my mind snapped back to reality after it realised that Fitter was older than that date by four years. I struggled, as all equally inexperienced people might, to comprehend time on that scale. And it happened to be in the company of a man born in 1935, no less, so obviously I eventually blurted out the inevitable question — 'What is the secret to longevity?'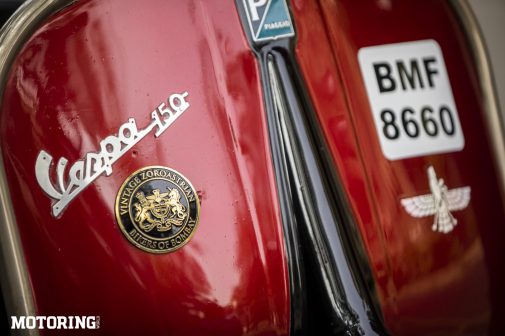 'Do everything — everything — with your own hands!' came the reply. As he said that, I realised that only experience could add the weight I felt in that simple sentence. While talking to me, Fitter's hands moved around the Vespa in a manner that displayed the depth and comfort of decades. Reaching into the scooter's side box, he pulled out a bottle of 2T oil: 'I carry two bottles everywhere with me. Can you believe now there are petrol pumps that don't stock 2T oil?!' Having been turned away at some pumps myself of late, I still really can't. After an animated rant of an exchange with Fitter about the tragedy of technology that causes it to forget its past, I directed his attention to the Aerox. And a big smile filled those old wrinkles.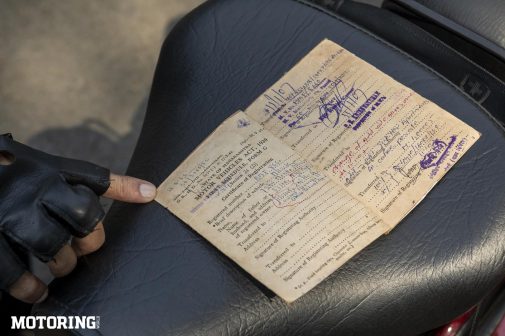 'What lovely big tyres! That's the only thing I don't like about my Vespa. The tyres are too small,' he said, as those octogenarian eyes looked at the Yamaha's modern shape. 'My god, this thing is beautiful. Can I sit on it?' Of course, he could, and the following part is a lesson for all those people who complain about the Aerox's fuel tank in the floorboard. Thanks to a previous accident, Fitter has two metal rods in his hips and can't bend them too much — the fact that even that didn't stop him from getting on the Aerox should shut the naysayers right up.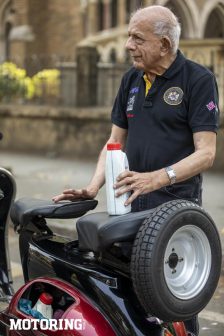 'Everything is digital these days, no?' he asked the Aerox's instrument console and then proceeded to start the Yamaha. 'Electric start!' he exclaimed, with just a quick and mildly wistful glance at his kick-starting Vespa. I asked him to take the Aerox for a spin, but he declined with a long heave of hesitation. 'I am too used to my scooter now, I don't want to take any risks.' While we were speaking of risks, I asked if he'd ever chosen to put motorcycles in their place on his Vespa. 'No, not really. I just mind my own business on the road. That's how I've ridden my scooter around the country.' And when I told him that the Aerox certainly liked showing motorcycles what's what anyway, his response was a big laugh. 'Perhaps if I was young again, I would try it!'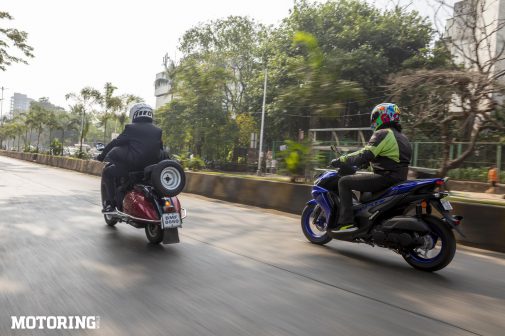 Before long, it was time to ride, and now came the part I wanted to see the most — the old pair in action. Before we kitted up, Fitter had one of his increasingly typical exclamations: 'Go slow, go forever!' However, it seemed like he was just as prone to a rider's paradox as the rest of us; no matter how much we promise to slow down, reality is quite different at the throttle. Or perhaps 'slow' just means different things to different riders. A short distance into the ride revealed that the old right hand had not been tamed by age, and that the old Vespa was as sprightly as ever. Fitter swung his old scooter around as impeccably as anything, with effortless feet-up U-turns and a dextrous left hand timing shifts to perfection. The Aerox and I could only follow in quiet awe.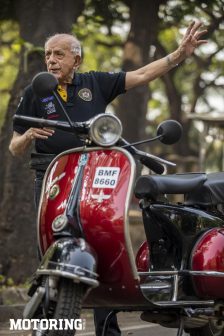 At the traffic signal, a couple of helmetless young chaps on an Activa gawked and grinned at both the old scooter and the new one. The Aerox's start-stop system shut off its motor. Meanwhile, next to me the Vespa's throttle was held open to prevent it from stalling, filling the air with fragrant 2T smoke. And when we got going again, every loud and clear 'tock!' of the Vespa's hand-shift mechanism sent a pang of envy through me, and its two-stroke purr left me ruing the Aerox's lack of pleasing sounds. Well, at least it looked good from every angle, and that's something it shares with the Vespa, too. Later, I asked Fitter what his favourite part of the Vespa was, and pat came the reply, 'The rear, of course!'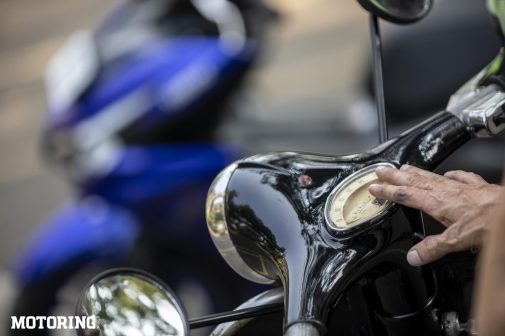 Fitter and his Vespa have been on long rides around India, in times and on roads far in the past. His Vespa's motor has been rebuilt two or three times, and it has always served him well. And as strong as the temptation is to focus only on their antiquity, the real story here is the connection he has with his machine. And that only comes from riding it as much as possible. Fitter maintains an active lifestyle, one that sees him still go to work every day, running his transportation business. And he's always up for a ride, especially when there are people and machines to meet.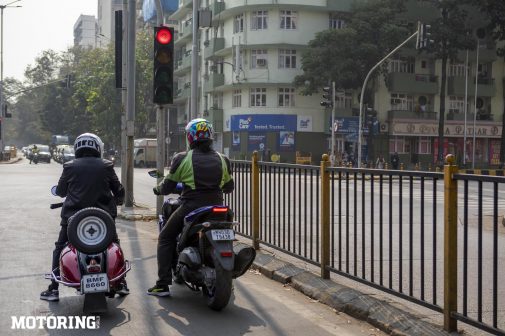 At the end of our morning together, he took us home and stuffed us with a Parsi lunch till we couldn't breathe, all the while cheerfully brushing away our pleas of absolutely having to leave because we had another place to be. And when he finally saw us off, it was with a firm command to come back anytime. He looked at the Aerox one last time and asked, 'Do you think someone will still be riding this one after 60 years?' and laughed as he draped a cover over his Vespa. 'I certainly don't know,' I replied. But if any scooter has a chance to create the next Minoo Fitter, it's the Aerox. As I saw him waving in the rearview mirror, I felt reassured that some things won't change all the way to the finish line. We will never want the ride to end. We will ride wherever possible, as much as possible. And once a rider, always a rider.