Have you ever sought the one moment which would make it all worth it? That perfect moment had been eluding me for some time now. I chased it with hope and with a fair bit of anxiety; after all, my bones and ligaments aren't getting any younger, and I could certainly do without a motorcycle landing on top of me. I'm talking about wheelies, of course, and after more than a year of vacillating and procrastinating, I finally found myself staring at a rig that was supposed to help anyone get over their fear of looping the bike backwards. Once upon a time, wheelies were a regular part of my life, though they were delivered via the recklessness of instinct rather than the composure of skill.
I never really knew how far or high I was going to go, a classic example of relying only on the throttle and never on the rear brake. Set as I was in bad habits, I was curious to see how Hrishikesh Mandke could cure me of them. Mandke is one of India's best stunters and he's built a wheelie rig that helps riders focus on developing good habits and getting rid of the bad ones. For this exercise, we headed to Pune Kartdrome, a gokart facility where the rig lives, and I'd taken along Keshav and my friend Yogi Chhabira of YC Design. The former was a first-timer, while the latter regularly wheelies his KTM SX 150 for long, long stretches; it was a good spectrum against which to measure my own progress, if any. For Keshav it was a chance to get acquainted with a raised front wheel, while for Yogi it was an opportunity to seek refinement of technique.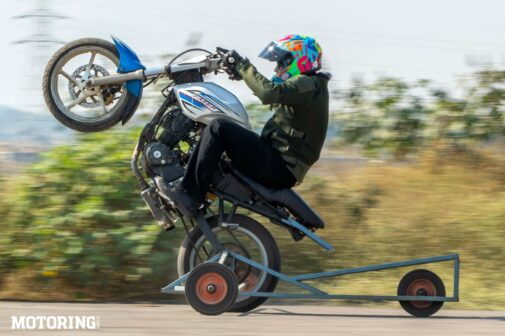 'A controlled wheelie always comes by pulling the bike up with the shoulders,' was Mandke's first lesson. 'It lets you pick up the bike with less throttle, so it is easier to balance the bike. Pick up the bike while simultaneously popping the clutch out and giving a healthy twist of the throttle — just one braap! Also, look straight ahead in the direction you're going, not at the handlebar or the front wheel.' Mandke would later find himself yelling various parts of these same instructions while walking alongside me as I fumbled with coordinating all of these components into one smooth action. But not before I let Keshav and Yogi have a go to see how they fared. Long stories short, the newbie made steady progress, while the expert went right to the rig's rear stopper on his first attempt and stayed there for the rest of the session. And then it was my turn.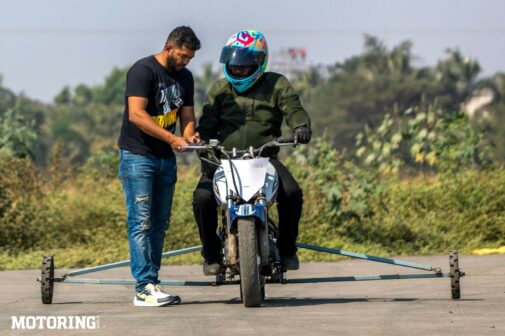 Visually, it didn't help that the triangulated contraption looked more like a torture device than a safety net, and I certainly didn't want to land on it in motion. However, we'd already physically lifted the bike earlier to check how far back it went, and it was set up to hit the stopper at the highest and safest point. I got onto the bike, a Yamaha Fazer with a humongous rear sprocket, and proceeded to put on a display of how not to wheelie a motorcycle. After Mandke's patient explanations, I spent about 15 minutes concentrating on what I was doing, one thing at a time. A conscious decision to pull the bike up; I thought I was, but I wasn't. Letting the clutch go right out; I was still feathering it. Grabbing that handful of throttle; it was still too little. And then it happened.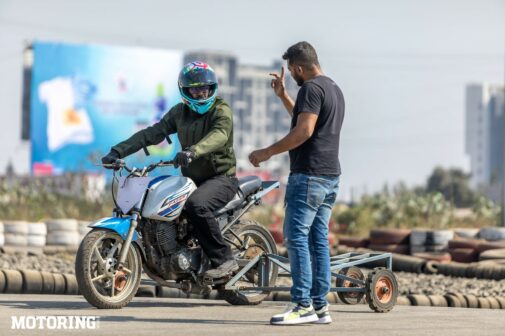 In one moment, I managed to get everything right and the bike went right back to the stopper. For a few moments that felt way longer than they actually were, my brain went through a laundry list of profanities before realising that wouldn't help much. And as I rolled along at walking speed, I suddenly remembered where my right foot was and used the rear brake to bring the front wheel down. Even with the rear resting on the rig, my natural tendency to panic did kick in — so it's not all very easy. I also felt myself slipping on the seat, and that reminded me to grip the bike with my legs as hard as I could. And that was the point of the rig — to focus on the important details as safely as possible, for as long as possible.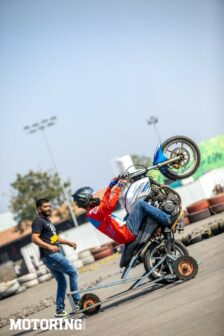 Mandke's encouraging insights were the all-important fourth wheel in this entire exercise. And once he was satisfied we were not going to entangle ourselves in a backward heap into the rig, off he went to the airport to catch a flight, after which we emptied another litre of petrol into the tank and continued wheelieing into the afternoon. All fear had evaporated under the afternoon sun, and we had a roaring good time cheering each other on until even Kaizad joined in. We concluded that this is the cheapest form of twowheeled entertainment; a litre of fuel lasted for an hour, and I don't see how anyone could go beyond three or four hours. Keshav is much younger, while Yogi is much fitter, though, so they went on and on. I, on the other hand, felt like my shoulders were on fire from all the pulling.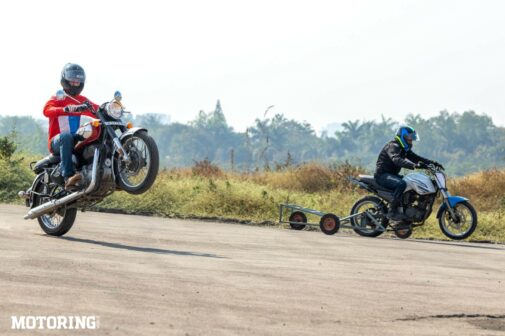 Nonetheless, by then I'd gotten what I came for — establishing a connection with the rear brake and shaking off the fear of a high front wheel. Everything else will depend on regular practice – but practice amounts to little if done wrong all the time. Again, this is what having the rig and a good teacher helps with. As with everything in life, you need someone who knows more than you do to show you the way. Using three extra wheels to get high on one might seem trivial but it's essential, especially if you want to do it without damaging bike and body.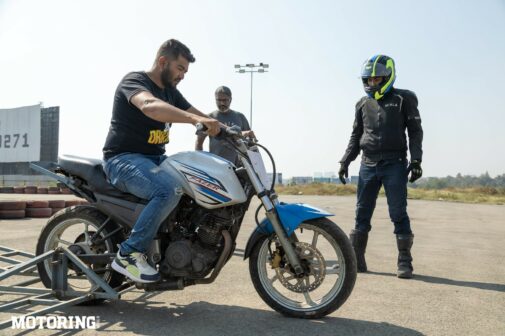 The more time I spent on the rig, the more confidence I gained, the better my inputs were synchronised. I spent more and more time at the point just before the stopper hit, controlling the bike with the throttle, rear brake and clutch, experimenting with Mandke's instructions that were still ringing in my ears. Like he'd said, my torso became more relaxed and lost its hesitation to move backwards, and my arms became straighter until I was comfortable. And all of this in under three hours! At one point, with the front wheel high in the air and the rear resting on the stopper, my mind went back in time to my misguided teenage attempts and I thought, 'What took me so long to get here?' The good thing is that there's no end to this happy chase.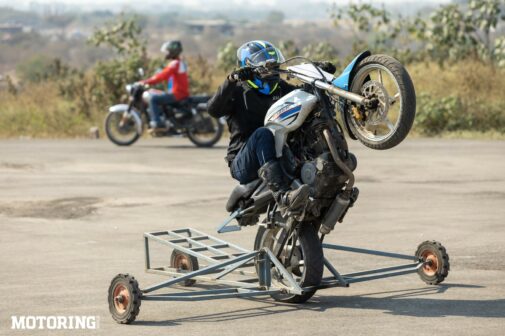 My biggest takeaway from the session was picking up the bike with the shoulders. The second was the rear-brake connection. Of course, without the rig, side-to-side balance will need work, but the basics now have a foot in the door of muscle memory. I asked Mandke what advice he has for someone starting off on their one-wheeled journey. 'Practice riding slowly using just the rear brake. Understand the finesse it needs.' Then I asked who he thought made the most progress among the three of us. 'Yogi,' came the reply, but I thought it was Keshav, since he'd never attempted a wheelie before and was going all the way back by the end of the session. For me, that was the magic of the rig — it helps riders of every skill level and of no level, too.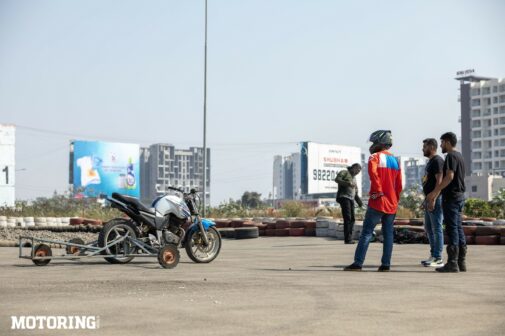 After years of chasing that moment, I realised it's about overcoming your own fear, not showing off and/or bragging. And having a good laugh with friends while doing so. Training calms the mind and drives away the frenzied jumble of thoughts that leads to painful mistakes. It's not about that one moment at all — it's all the little ones we gather as we go along, refining each attempt till that moment you sought becomes an intrinsic skill. It's never too early or too late to begin, and I can still hang on to the hope that one day I'll wheelie into the sunset!