'My hair has greyed waiting for TVS to launch a dual-purpose bike. But at least the company's made one more 125cc commuter, right?' That was more or less the thought rattling around in my mind when I saw the other bike here standing at my friend Yogi Chhabria's workshop. The TVS Raider and the Husqvarna SMS 125 have nothing in common except that they're internal-combustion motorcycles of a similar displacement. And hope. Hope that TVS will one day make something like the SMS, preferably before my grey hair begins vacating my head.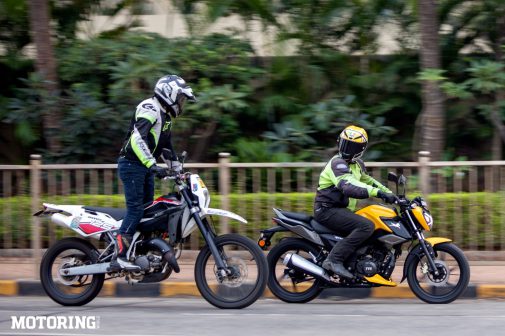 Originally, I'd intended this story to be little more than a rant about TVS's neverending abstinence from production dual-purpose bikes despite racing on dirt forever — even at the Dakar, no less! However, a day of riding the Raider proved that TVS has gone from being a maker of motorcycles to becoming a master of fun. To do that with a 125cc commuter in the company of a two-stroke dirt bike is nothing short of incredible! The Raider is a motorcycle with the potential to turn the commuting populace into enthusiasts because it focuses as much on entertainment as it does on economy. And I don't know of anyone who doesn't appreciate both.
Now, TVS's biblical overuse of the word 'wicked' to describe the Raider on its website is quite the amusing contrast to the motorcycle's sweet nature. And it achieves that by blending the needs of a commuter with elements of fun. It has wide and flat seats, yes, but it also has a sporty riding position. It's got a frugal 125cc motor, yes, but it also has a lovely and encouraging exhaust burble. And it's also got a digital screen that channels a colourful 1990s arcade-machine feel. The Raider's appearance is quite a radical one that also manages to be pleasing, although there's just a hint of disproportion around the tail unit. The aggressive headlight more than makes up for it, though.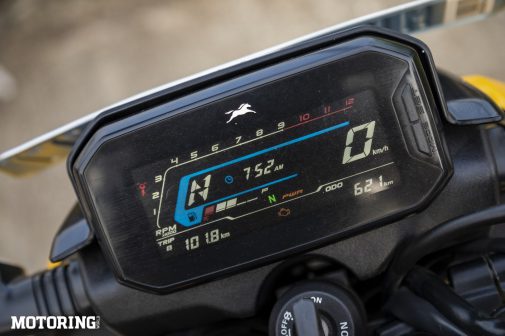 The SMS 125 is the exact contradiction of what the Raider is.  The Husqvarna, with its long-legged proportions, makes it clear that it wants nothing to do with propriety and prefers to dive headlong into trouble. No self-respecting commuter will ever want anything to do with it, except for fleeting envious glances at traffic signals of which there were many. Its kick starter is a contrasting throwback to the Raider's quiet starting mechanism, and that divergence was apparent on anything I compared on the two bikes. No wonder, then, that riding them together was so much fun.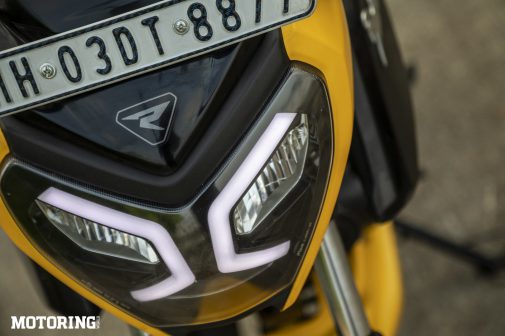 The Raider was smooth and sensible as you'd expect a TVS to be. It offered plenty of low- and mid-range grunt, and was happiest to be ridden in that zone. Eco mode limited revs to 7500 rpm, and I could easily stay below that and have fun with the motor's torquey willingness. Rideability was also helped by the well-spaced gear ratios, with 35 kph in fifth gear a comfortable possibility. However, I found myself shifting cogs to remain between 5000-7000 rpm, letting that exhaust make all the welcome sounds it wanted to. And the Raider loved it, too, delivering performance that no one expects from a 125.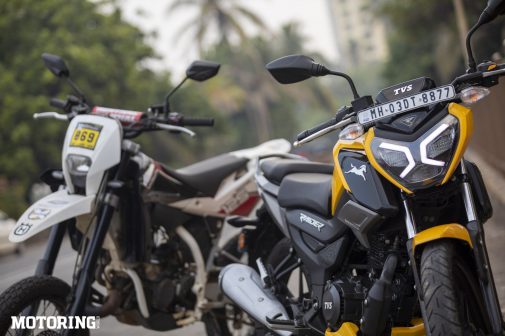 In Eco mode, top speed was limited by the revs to 95 kph. I switched to Power and it went up to 110 kph, a handy figure for when the need arose. Overall, Raider's motor got it up to speed briskly and handed over the baton to the bike's best attribute — it's ride quality. I cannot stress this enough — the Raider's suspension is simply sublime! I've ridden a variety of motorcycles of late and I struggle to pick one that's more comfortable than the Raider. This might sound like hyperbole, but the Raider is a good deal more sorted than even some far more expensive machines. If comfort is a big factor for you, stop reading right now and head to the nearest TVS showroom.
The Raider floated over rough patches, absorbing undulations in a seamless manner at both ends. This meant that I could get up to speed and not slow down for anything, and that only added a few tonnes of fun. After a while, I looked at the Husqvarna's USD fork and the stickers on it seemed to say 'Overkill' rather than 'Showa'. But I was just getting carried away by the Raider's comfort, really. Nothing in this class could come close to the SMS's suspenders which can take a beating and then some. And with a lively two-stroke heart to give its suspension a thorough workout, the rare Husqvarna is a kind of fun that only a lucky few will experience. Good thing we're friends with the guy who owns it, then.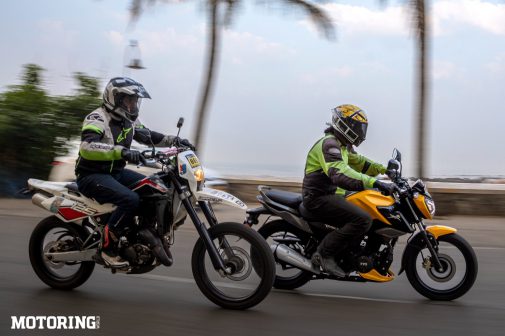 Even the stretches that compelled the accomplished Raider to brake, the SMS flew over them with unabashed glee. And it made sure everyone heard its happiness loud and clear and smokingly via that expansion chamber, too. The Raider, for its part, didn't give up without a fight. Since it's light and nimble, it carved its own fun path in the SMS's smoky wake, and loved doing it, too. It was by no means a vanilla machine, the kind that this class of motorcycle usually delivers, even expects. The fact that there are only three niggles I can point to is only testament to the focus that's gone into the machine.
Firstly, the combined braking system worked well, but the mechanism's design meant that applying the rear brake first caused the front-brake lever to move; this meant that my right hand was annoyed with my right foot for the first time since they've known each other because it's impossible to gauge consistent pressure on the lever. Secondly, the start-stop system took its own time waking up the bike at signals, making me the subject of several impatient honkings from behind. Lastly, given that the Raider is so much fun to ride, I'd want even better tyres. The stock ones aren't exactly terrible, but the Raider deserves all the grip it can get from proper sporty tyres. And that's it, really. With everything else, the Raider is nothing but a joyful machine.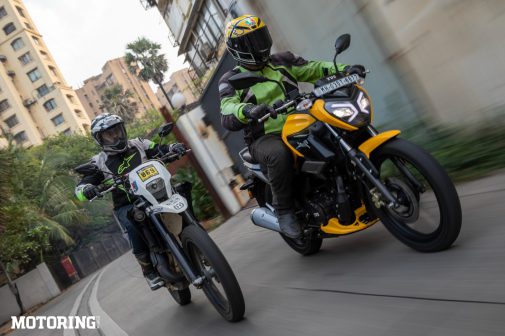 As it turned out, the Husqvarna ended up being a compass needle of sorts, pointing to where TVS needs to go as soon as possible. And it was a roaring riot, too, blowing smoke in the Raider's face with every handful of throttle. Proper little legend, that bike. So, should TVS make a dirt bike? Absolutely yes! It's a prospect that's several years in the making, and it only a matter of time — I only hope TVS realises there is also such a thing as taking too much time. Until then, however, the Raider is just the commuter to save money with and have fun on. My hair has greyed waiting for TVS to launch a dual-purpose bike, yes. But at least the company has made the most fun 125cc commuter yet.
POWERTRAIN
Displacement:
Max Power:
Max Torque:
Transmission:
124.8cc, single
11.22 bhp@7500 rpm
1.14 kgm@6000 rpm
5-speed
CHASSIS
Type: Single-downtube frame
BRAKES
F/R: 240-mm disc / 130-mm drum
TYRES
F/R: 80/100 R17 / 100/90 R17
DIMENSIONS
L/W/H(mm):
Wheelbase:
Ground Clearance:
Seat height:
Kerb Weight:
Fuel Capacity:
2070/785/1028
1326 mm
180 mm
780 mm
123 kg
10 litres
PRICE
Rs 85,469 (ex-showroom, Delhi)
MOTODATA
Husqvarna SMS 125
POWERTRAIN
Displacement:
Max Power:
Max Torque:
Transmission:
124.4cc, single
15 bhp@9000 rpm
1.23 kgm@8000 rpm
6-speed
CHASSIS
Type: Double-tube cradle frame
BRAKES
F/R: 260-mm disc / 240-mm disc
TYRES
F/R: 110/70 R17 / 150/60 R17
DIMENSIONS
L/W/H(mm):
Wheelbase:
Ground Clearance:
Seat height:
Kerb Weight:
Fuel Capacity:
NA/NA/NA
NA
NA
900 mm
118 kg
9.5 litres