This is one of those things. An inevitable story in which modern LED headlamps follow an outmoded smoking exhaust pipe to an impassive beach on a sleepy morning. The beach hasn't changed much in the past twenty years, but the motorcycles we get certainly have. And how. The TVS Suzuki Shogun and the TVS Apache RR 310 are two flagships born of a same common parent but in eras so different, they might as well have been two different worlds.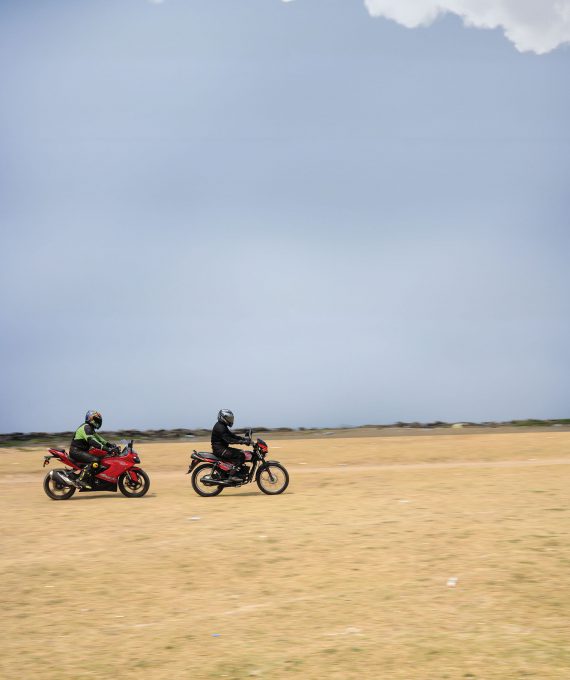 Long ago, when the Indian market was an exceedingly difficult one to get into, TVS collaborated with Suzuki and made some pretty good motorcycles, the most awesome of which was definitely the Shogun. Then our country's trade policies were amended and Suzuki decided to strike out on its own. The Apache is the outcome of TVS's collaboration with BMW Motorrad, the German company choosing to build its entry-level G 310 R in India because it saves money and increases value for the customer as well as profit for the company. The common link, of course, is TVS. And also the fact that each bike's name evokes the spirit of combat, the Apache after the Native American warrior tribe, while the Shogun pays tribute to ancient Japanese dictators. But none of that matters on this beach.
These two motorcycles are achingly accurate portrayals of the times they belong two. And I can't believe our priorities have changed so much, most even turned on their head. The Shogun is from a time when two-strokes were the in thing, almost the only thing that a sensible person would buy. It looked like a commuter with all-black paint, a nominal headlamp fairing and stark decals slashing along its length. It also shows off a tail section that I still wouldn't mind displayed in my bedroom. It's a typically honest-and-handsome design of the time.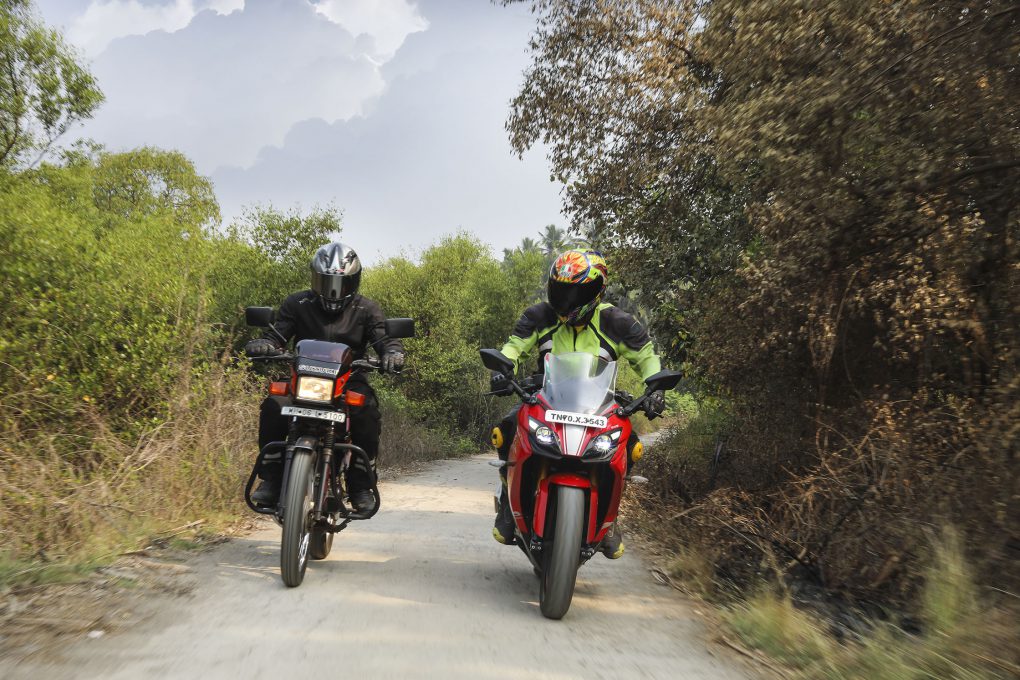 The Apache, on the other hand of the motorcycling clock, has been designed inside a wind tunnel. It looks as much like a commuter as I do like Valentino Rossi. This biggest and most powerful TVS of all time is as sporty in its appearance as it is global in its outlook. Which is to say that especially now there's every reason to believe that international motorcycle manufacturers are right to come to India seeking partnerships. Despite a few teething niggles, quality reeks from every nut and bolt of the Apache. Our homegrown manufacturers can pretty much do anything they put their minds and spanners to. This TVS is a statement, and then some. And it's a sign that there's a lot more left for India to contribute to the world of motorcycling, and that we're well on our way. Not that any of this matters on this beach, either.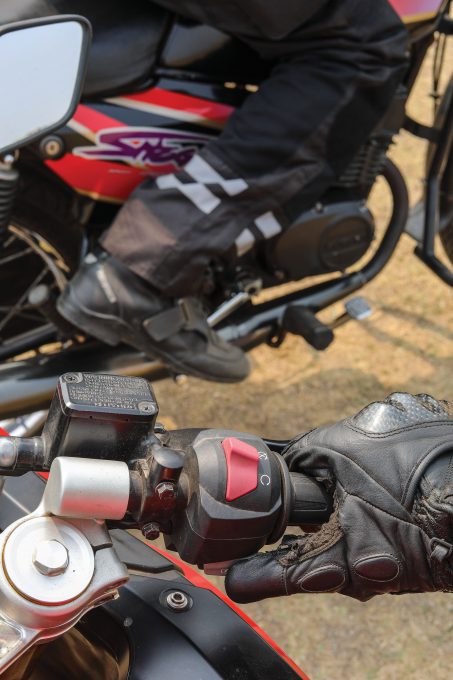 What matters is that past half throttle on the older bike, I immediately wonder what the mind of a normal unsuspecting middle-class father of two might've been when he finally wound the throttle open two decades ago. I know what to expect, and yet I am a mixture of thrill and panic, the latter being the predominant ingredient. The Shogun, with its 14 bhp of 2T-powered madness, is an unrepentant riot. It doesn't even make a single half-hearted apology about its manic power delivery — instead, it laughs at the fact that it only gives you a hopelessly inadequate drum brake at either end to save your life.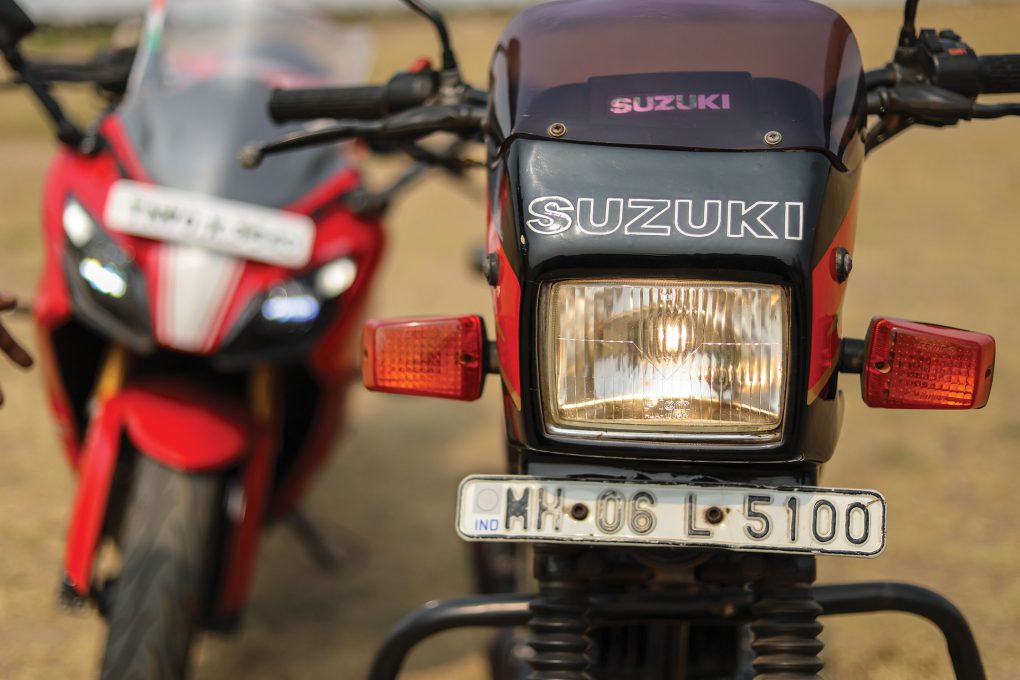 I remember seeing 0-60 times of 5.9 seconds in old print ads along with top speed numbers of 105 kph. Trust me, I have serious doubts about those numbers. Even if they are indeed accurate, they don't do justice to the way the Shogun actually feels when riding it. Skinny tyres, bare-basic chassis and suspension, and its tiny proportions all create the effect of a bike that's trying its best to get away from you. Hard acceleration on it leaves you with the distinct impression that in just a few seconds, the grim reaper has beaten the heaven out of your guardian angel and is now riding pillion behind you, grinning skull and all.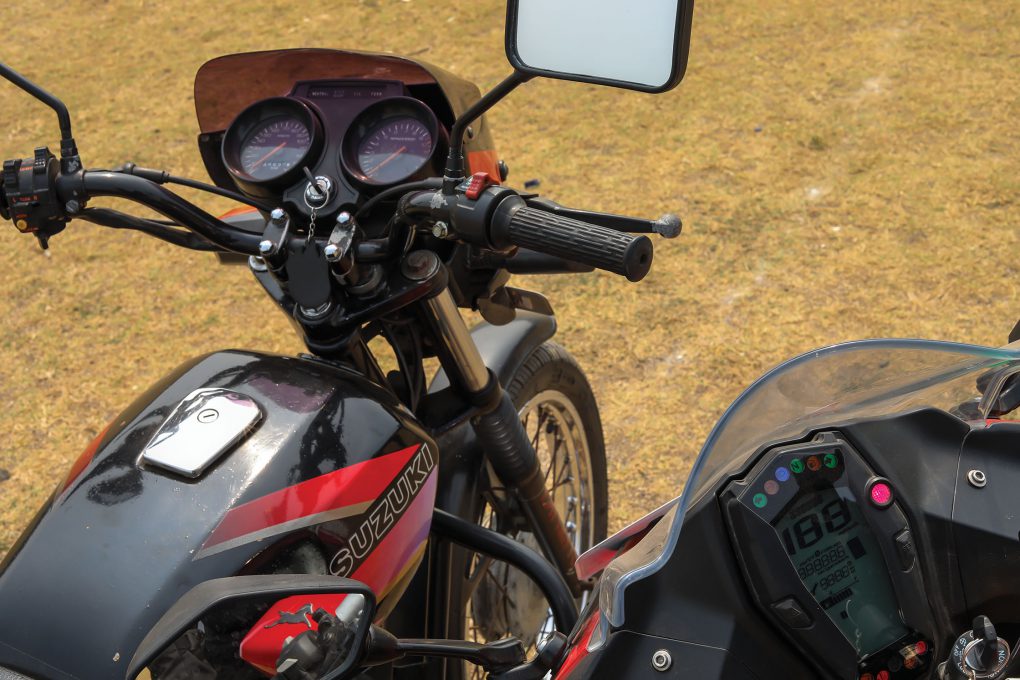 The Apache, in all its contrasting glory, has ABS. And good tyres. And all the benefits of industrial progress and modern engineering you can think of. Sure, the tyres could be better, but coming from the Shogun, they feel as sticky as hoops made of Araldite. The new bike is, of course, way quicker and faster than the older one. We've turned our long-termer into a 0-60 competition bikes of sorts, and the fastest time clocked on it is 2.7 seconds, and it came to us with the top-speed indicator reading 173 kph. TVS claims 2.93 seconds for the 60-kph run, 7.17 seconds for 100 kph and a top speed of 160 kph, numbers that are more than healthy for a 312cc single.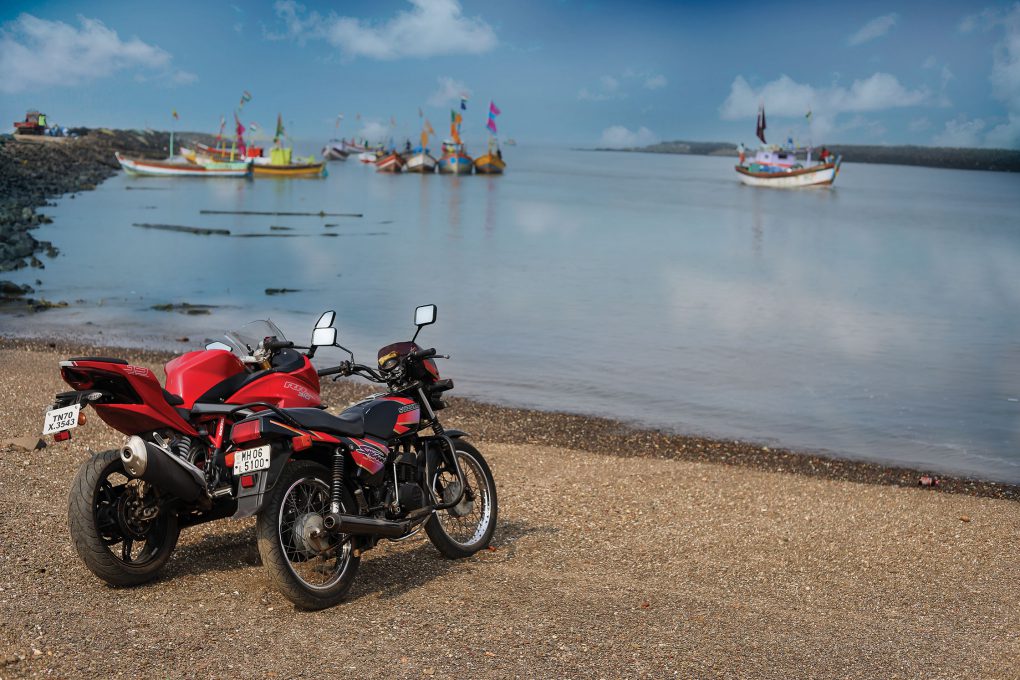 More than anything else, the Apache is a reassuring bike to ride despite its speed, and it always lets you know that it has a substantial stake in its rider's self-preservation. That said, it's a sporty TVS and comes from a line of machines that claim their genesis from TVS's 35 years of racing experience and as such, the Apache feels suitably boisterous and not bland at all. Boisterous, mind you, not murderous as its companion for the day. Which is probably why I came away longing for the 110cc thug.
The Apache thrills with speed and dynamic ability. The Shogun thrills with speed and feel. Motorcycles are about fun and thrills above anything else, followed closely by requirements of dependability. It is a genuine testament to the company that made them, then, that those basic essential attributes that make a good motorcycle have endured for over two decades. This very Shogun, for example, I'd first met in 2011 and it's still surprisingly much the same despite regular use. Parts are difficult to come by, but such a bike will always have a dedicated bunch of enthusiasts who make sure it's always up and running to scare unsuspecting people who swing a leg over it. If there ever was a cult machine, this one is it. The Apache, too, will no doubt give a lot of people their first taste of above-average performance, much like the Shogun did in its day, and that's another similarity between the machines. As far as I go, though, hindsight is always 20:20 with a clarity-inducing cloud of smoke.
PHOTOS Suresh Narayanan
MOTODATA
TVS Apache RR 310
POWERTRAIN
Displacement: 312.2cc, single
Max power: 33.53 bhp@9700 rpm
Max torque: 2.78 kgm@7700 rpm
Transmission: 6-speed
CHASSIS
Type: Trellis frame
BRAKES
(F/R): 300 mm disc / 240 mm disc
TYRES
(F/R): 110/70 R17 / 150/60 R17
DIMENSIONS
L/W/H (mm): 2001/786/1135
Wheelbase: 1365 mm
Ground clearance: 180 mm
Seat height: 810 mm
Kerb weight: 169.5 kg
Fuel capacity: 11 litres

PRICE: Rs 2.15 lakh (ex-showroom, Delhi)
MOTODATA
TVS Suzuki Shogun
POWERTRAIN
Displacement: 108.2cc, single
Max power: 14 bhp@8500 rpm
Max torque: 1.16 kgm@8250 rpm
Transmission: 4-speed
CHASSIS
Type: Double-cradle frame
BRAKES
(F/R): 130 mm drum / 130 mm drum
TYRES
(F/R): 2.75 X 18 / 3.00 X 18
DIMENSIONS
L/W/H (mm): 1895/725/1053
Wheelbase: 1208 mm
Ground clearance: 156 mm
Seat height: NA
Kerb weight: 114 kg
Fuel capacity: 12 litres
PRICE: Let us know if you're selling one!
[This story originally appeared in our April 2018 issue]