There is not a single straight line on the motorcycles you see here. It's all curved and soft in a bid to make them seem rounded-off in a figurative sense. These aren't hair-trigger machines and they are about as grim as the colours they're wearing. It's motorcycles like these that make us thankful for Sunday mornings or any other morning for that matter. They can make a memorable ride out of hunting for a greasy breakfast and that makes them distinctly special.
The Ducati Scrambler Icon and the Triumph Bonneville Street Twin are, rather obviously, as different from each other as the Italians are from the British. The Scrambler is flamboyant, cheeky and seemingly up for mocking law enforcement at any given moment — somewhat like those infinitely cool, shabby-haired riders it attracts, you could say. The Bonneville is a lot more dignified and relaxed. It rides on an emotion of heritage but that's not to say it's stuck in the past. It's modern and sophisticated and if it were a man, it would sport a greying stubble and a strong cologne.
Parked against the whitewashed staircase of the Asiatic Society of Mumbai, one of the most grandiose remnants of Brit-led India, the Bonneville looks at home. Its design is an easy fit amidst the Victorian-era architecture and there's hardly an inch on it that looks like it doesn't belong. South Bombay (or Mumbai, if you're the insistent types) is home turf for the Bonneville — beautiful but not one bit overdone. It's the Scrambler I'm worried about. A lone Italian on British turf, it's so adolescent in its appearance, I'm surprised it hasn't begun spraying the handsomely ageing walls with lurid graffiti. Its paintwork stands out from the backdrop like the yellow bit on a perfectly-done sunny-side up. And it looks like it's about to stir up some trouble.
The Bonneville Street Twin has little hope on a day like this because the Scrambler has most of the numbers on its side, you see. Housed within its jet-black steel trellis frame is a fuel-injected, 803cc, L-twin motor with two valves per cylinder — the same as in the now-defunct Monster 796. Considering the Scrambler is relatively diminutive, that motor is a scary prospect especially when you realise it produces 73.7 bhp and 7 kgm; that's a lot of grunt for a motorcycle this bare-bones in structure!
The Bonneville is conservative in comparison on most counts. Its 900cc, fuel-injected, four-valve-per-cylinder, parallel-twin motor is definitely a bit more modern, but it produces 54.2 bhp — that's nearly twenty less than the Scrambler's — but tries to make up with 8.1 kgm of torque. The Scrambler also uses a 6-speed gearbox as opposed to the Bonnie's 5-speed unit and the latter is also heavier by a full 30 kg. Should've skimped on those batter-fried fish and chips, eh?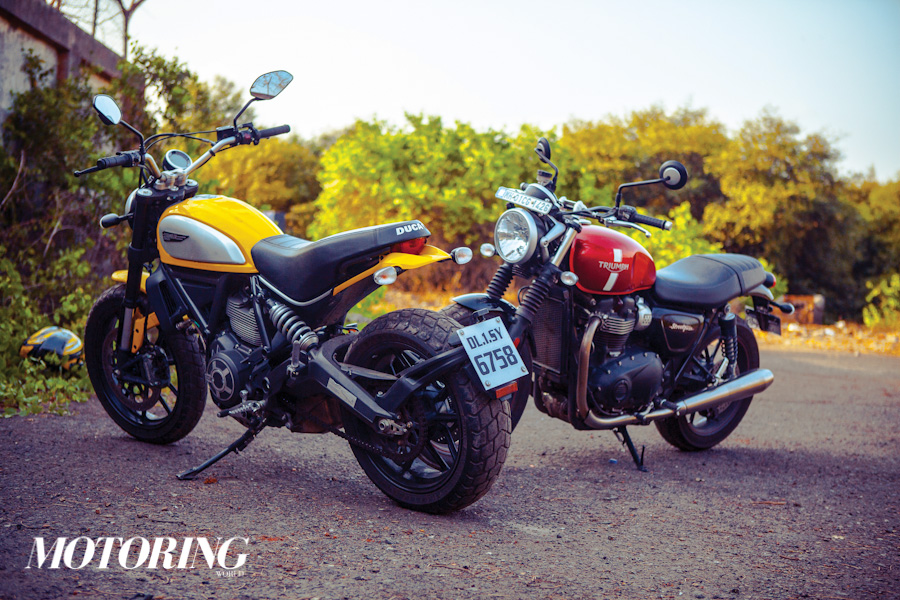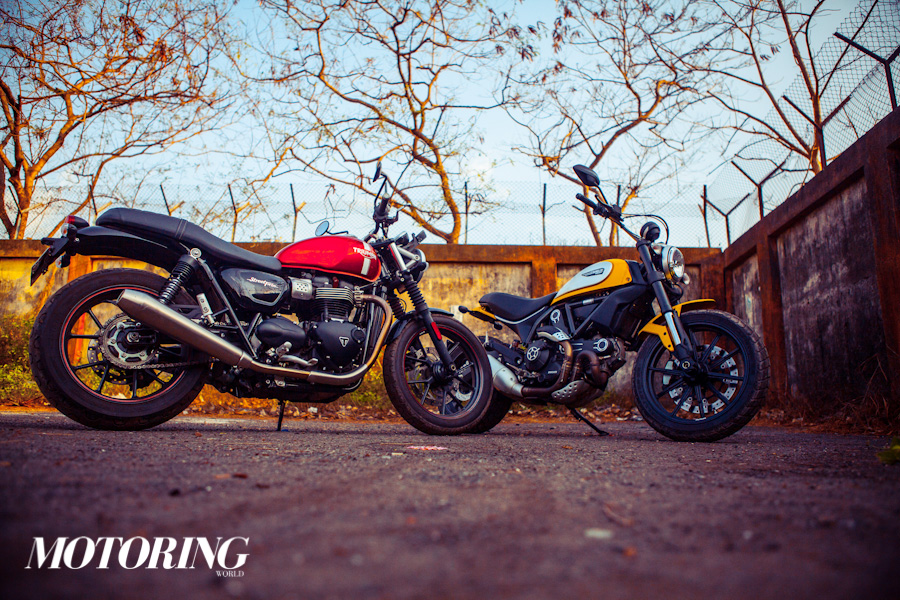 Once you swing a leg over, however, the numbers are forgotten in an instant. On the Scrambler, you are presented with a handlebar so tall it could serve as an ATC tower for a small-scale airport. It's unmistakably a flat-tracker and it seems small enough to be a 150cc motorcycle, a two-stroke, to be more specific (okay, I'm just thinking out loud). The single-pod digital speedo is definitely cool and minimalistic and a quick flick through the brief menu reveals you only have the assistance of ABS — yikes! The Bonnie is a bit more conventional in its layout and I really love its almost-café-racer riding geometry. It feels a lot slimmer between your legs than before and sportier, too. The Bonnie's speedo is minimal, too, but I'm not the biggest fan of the faux-aluminium trim around the dial — looks a bit too out of place for a motorcycle that banks on its heritage. The good news is, the Bonnie does have ABS and traction control, which makes its price tag 
easier to digest.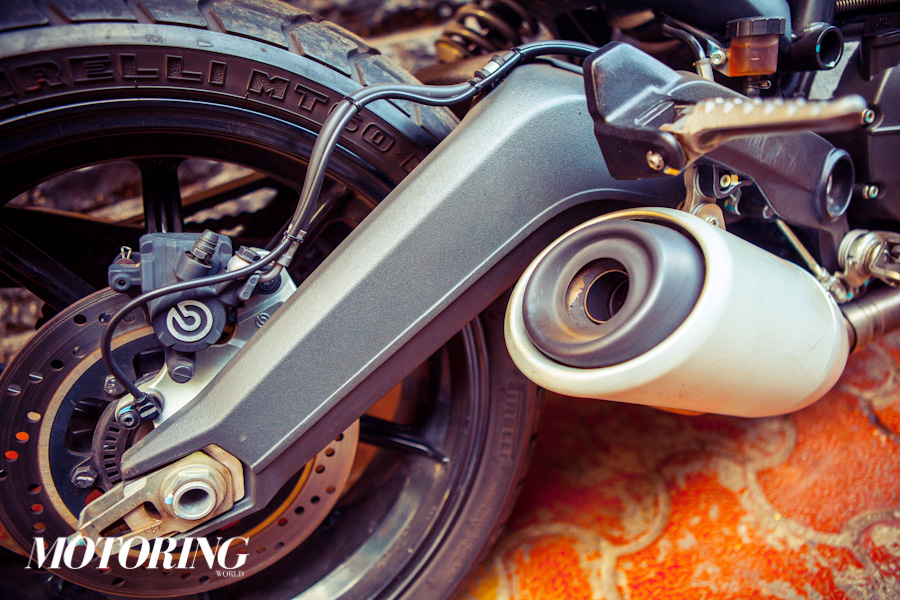 Speaking of which, hunger pangs have crept in and it's finally time to go looking for that greasy breakfast I'd promised myself. I think I'll start with the Scrambler to take me there. It's a familiar drill, flicking the engine kill switch upwards to reveal the starter button and the roar that emits from the 2-into-1 pipe is one I've heard before, too. A snick into first and an aggressive launch results in a brief moment of wheelspin before the Scrambler gathers momentum. It's just so quick off the line and its rate of acceleration is further amplified by its puny dimensions. It immediately feels wilder, more aggressive than any Monster ever has and for once, I'm thankful for the tall handlebar — it makes holding on for dear life a lot easier for you.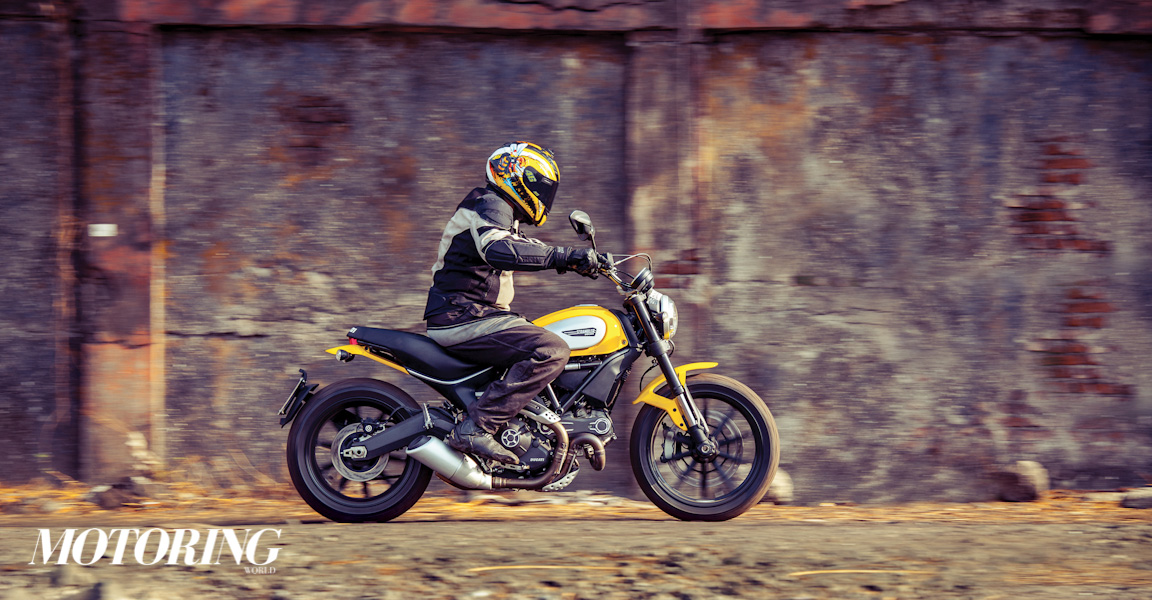 Make a rapid dash through the Scrambler's gearbox and you're subjected to beautifully fast-paced progress, none of which feels too out of hand, either. Honestly, if you've spent a good amount of time in the 250-400cc class of motorcycles, you will find the Scrambler thrilling but also not too difficult to adapt to. Maybe it's just the riding position or the unintimidating dimensions, but the Scrambler is just very easy to ride fast. Oh, and this is slippery business because when you commit to it, it is capable of going very, very fast. You have to be careful because its friendliness is deceptive.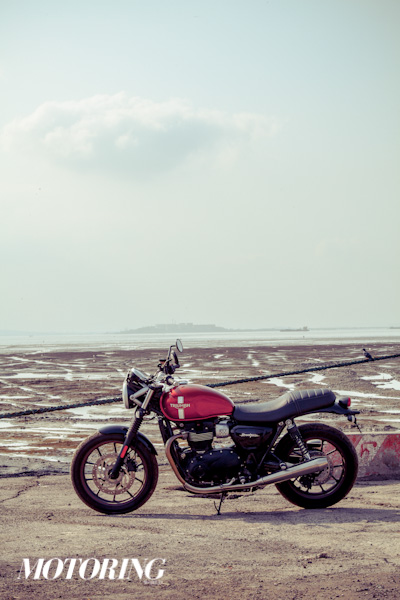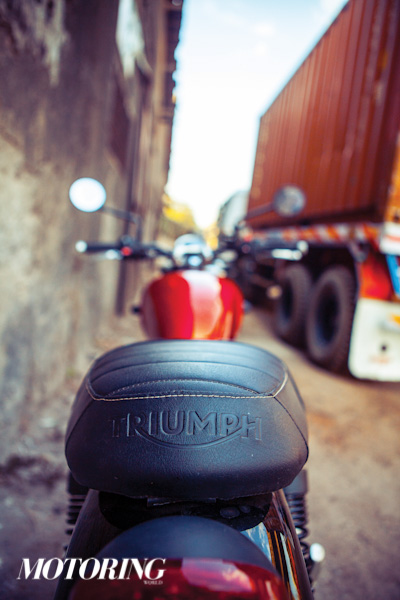 The Bonneville, on the other hand, is a book you can judge by its cover. There's no fine print and no hidden clause — it's a simplistic, honest machine that will get you to your local breakfast haunt feeling good. Mind you, it is quick off the line, too, but it's in no way frantic like the Scrambler. It doesn't strictly need traction control, but its inclusion is a matter of assurance and value to many, so we'll let it be. Quite frankly, it somehow manages to disguise its weight under a heavy cover of torque, which makes it extremely rideable even just within city limits. And it's decently fast.
In comparison to the Scrambler, the Bonneville feels far more mature in its responses. Everything, from the refinement of its gearbox to throttle progression will be appreciated more by older riders with an acquired taste for well-produced motorcycles. The Scrambler is more dramatic, more impactful, but the Bonneville is more calming than anything else. Sure, you can't go powersliding all over the place on the Bonnie, but then it was never meant to be that kind of machine anyway. At 140 kph, for instance, either motorcycle feels well within its comfort zone, but while the Scrambler clouds your vision with hallucinations of going even faster, the Bonneville reminds you're better off living (and therefore, riding) longer.
Thankfully, both of these machines aren't just about going fast — they are about providing big-bike thrills to enthusiasts with conservative amounts of big-bike money to spare. This means a huge chunk of the overall package of either motorcycle is about adaptability, comfort and control. In this aspect, it is again the Scrambler which has the better goodies to offer — bigger brakes, a monoshock at the rear and wider rubber at either end. And while this does make the Bonneville look inferior, it's also crucial to understand that the Scrambler needs this sort of kit to keep its rider safe because it has more volatile tendencies. In a segment like this, it's not necessarily the faster motorcycle that's better, but the one that lets you derive maximum pleasure out of your ideal riding cycle. Not everyone wants to go sideways all the time and that's a factor I just have to consider.
So then, is there really a better motorcycle of the two? Yes, surely the Scrambler is. It's livelier, offers more modern kit, looks cooler and is marginally cheaper, too. But then the Bonneville is the sort of motorcycle that will appeal to all sorts of riders without relying on aggression as its sole basis. In a country where the motorcycling audiences are confusingly diverse, it's not easy to bracket these motorcycles into age groups, either — Aadil, our newest and youngest victim, happens to own the Bonneville you see here, so that only verifies the thought. So, while riding the Scrambler is a lot more fulfilling if you have a hardcore bent of mind, the Bonneville is equally appealing to riders who come from other schools of motorcycling. Honestly, it's a debate best conducted over a long breakfast, so kindly excuse me while I dig in, will you?