When anyone is out to sell something new, my initial stance is that it's too good to be true. Call it a professional hazard, especially when it comes to motorcycles. That's exactly why when my own brain came up with the question, 'Does the Triumph Speed 400 really pack KTM 390 levels of performance around the price of a Royal Enfield 350?' I had to see its answer to the end. Predictably, as it always happens with motorcycles, the answer was entertainingly complicated. And why not? When it comes to mechanical creatures that dominate our senses as thoroughly as the three physical dimensions we exist in, all the while suffusing each moment of the fourth dimension with their own esoteric soul, any answer is bound to be nothing but intensely intricate. The intentions behind this trio of machines are as wildly divergent as their appearances, even though they elbow each other in the same congested market space. The Classic 350 is the consummate 350cc long-stroke single which more or less single-handedly created the aspirational template that every other manufacturer wants to recreate for itself. The 390 Duke is the no-holds-barred streetfighter that suffers no fools in its constant search for high-speed mayhem. And the Speed 400 is a fresh take on a high-quality motorcycle that also offers more for less. Too good to be true?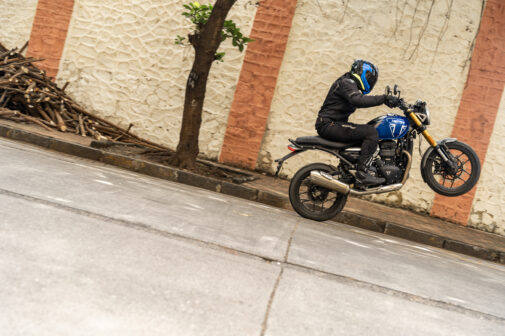 Surprisingly not. Think of the Triumph as a 400cc gymnast who is simultaneously a meditation coach dressed in a neo-retro tuxedo. After spending the better part of a month with it, every successive ride turned into an event of heightened appreciation. Even if it's blacked-out and not how I like my retro designs, I stared at the finned and well-formed engine for several satisfying moments on each ride. And the sound it produced through its exhaust was also the loudest of the lot which I quite liked. That aural quality, though, was in stark contrast to the Speed's diminutive proportions; it was like hearing a giant bark behind me and expecting a Great Dane, only to find an English Cocker Spaniel. Contrary to some opinions, I think the Speed's compactness is what made it such a fun bike around town. With its short-geared eagerness, it darted across traffic-infested distances with ease. Sure, it wasn't as comfortable in the continuous windblast of open highways, but I felt I could get used to it nonetheless, since it was always fast and stable. And even if all I wanted to do was potter around town at 40 kph, the Speed was completely happy to do so. There were no connected features to fiddle around with, so I could just get on and ride. The brakes were strong enough to control the Speed (heh) at all times, and the suspension proved to be the best combination for low- speed urban comfort and high-speed manners. The tyres were the only thing I'd change for the best possible grip on a bike that invites fast riding.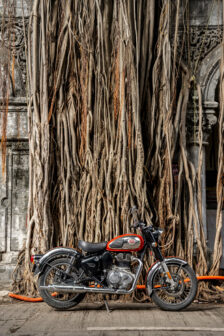 The Classic, on the other hand, invited me to chill out as it always has. It's suffered more than two years of abuse at my hands, and it still looked and felt as lovely as ever, and has not lost any of its meditative qualities. In this company, it is hilariously outgunned, and with the recent brace of Classic-aimed launches, the bike might wonder what the fuss is all about. And that's the character of the machine — it doesn't want to race, it doesn't want to dominate, it just wants to be. And that's the kind of person it appeals to which, I'm pretty sure, applies to all of us at some point or another. Which is also why it won't go out of fashion anytime soon. I'll bet you a Classic on this point.
Even above 100 kph, at which point the Classic began to lose steam, it felt enveloped in a mist of calmness. The brakes and suspension went about their business in a quaint and cushiony manner as well, adding to the motorcycle's immutable leisurely charm. And all the while, the engine felt like a solid lump of torque, which is exactly what it is. Even ridden hard, the engine was stout in feel and loud in sound, as authoritative as the rest of the bike. The Classic was always nimble and steady no matter what shapes I provoked it to make, though at the highest end of its dynamic abilities, it did wallow around like a wino after a week-long binge. But no one should or does ride a Classic like that. Everything else I asked of it, the Classic did in its own inimitable way that no other bike does. Nonetheless, I haven't stopped wishing for a Classic 500.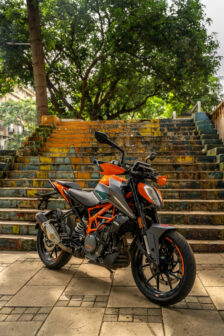 And then there's the KTM. I didn't gaze at the 390 Duke so much as frown appreciatively at its audacity. And when I swung a leg over it, the hard plank of a seat announced loud and clear that the bike wasn't here to mollycoddle anyone. It wasn't born in a wind tunnel but in a moto-gymkhana arena, and it felt exactly like that, too. Everything on the 390 Duke happened with an immediate vividity, every input amplified to produce giant-killing velocity. An endless number of fast corners is what the Duke lives for, devouring them in bouts of tilt-to-tilt feeding frenzy. It demanded the most commitment here and rewarded it with horizon-slanting shifts of perception. The Duke's barely-disguised appetite for chaos was infectious.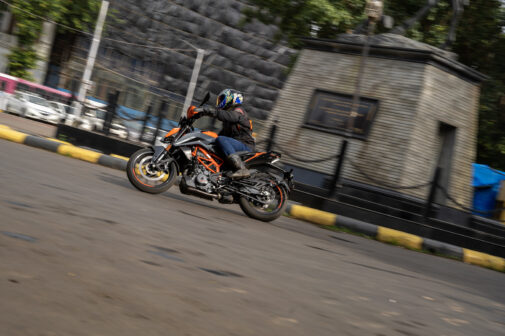 The longer I rode, the more feral it became, and it encouraged me along all the time. No wonder the Internet is increasingly full of KTM-mounted riders becoming part of the scenery around the country. You really need to know what you're doing on these orange bikes, no doubt about that. Whether it was the brakes or the engine, the response was sharp and it demanded a measured precision. The suspension, surprisingly, was not as unforgiving as most people make it out to be, though perhaps it was also my 90-kg self settling it down a bit. Among this trio, though, the Duke offered the most direct connection between rider and machine, like those alien things in Avatar, but without the weird hair-fibre coupling. And though the 390 Duke may have mellowed into its second generation, I assure you that it's lost none of its inborn edge. At the end of my time with these three motorcycles, I sat back for a long look at them together. Visually, of course, the Duke left me wondering who in their right minds would design something that stabs your eyes each time you look at it. That is a big reason why some people are attracted to it and most people are not despite the performance it offers. I felt its quality was reasonably good, but a mess of cables and wires should not be readily visible on any motorcycle, really. Then again, it had the TFT screen and adjustable hand levers going for it, and that beaky headlight grew on me after a couple of days. Also, by the time you read this, your world will be awash with the new-gen 390 Duke and its dazzling knicknacks. Nonetheless, this will still make sense as a used bike if you want nothing but to go fast, especially since the newest one will be a lot more expensive.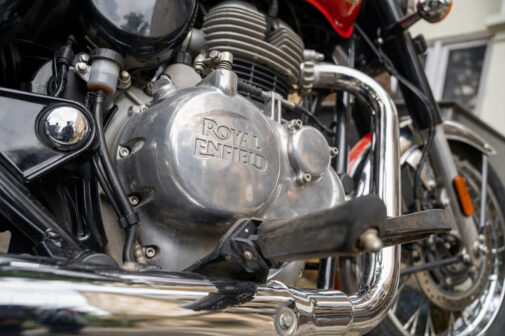 The Classic, to regurgitate the flogged-to-death word, is timeless. It also feels every bit as special as it should to ride. After two and a half monsoons with me, everything still shines like it did on the first day it joined our long-term fleet. It has proved to be as reliable as a hammer, with nothing but regular services which were carried out with no real adherence to a schedule and only when the mechanical empathy/guilt set in. Looking at it, I recalled the moment when all three bikes stood at a signal earlier that day. As the Classic's steady air-cooled idle pulsed through my body, I was suddenly left irritated by the other pair's loud and busy humming, and the whining of their radiator fans. That's when I realised that all those who proclaimed that the Classic is finished after the recent arrivals of new rivals were comfortably wrong.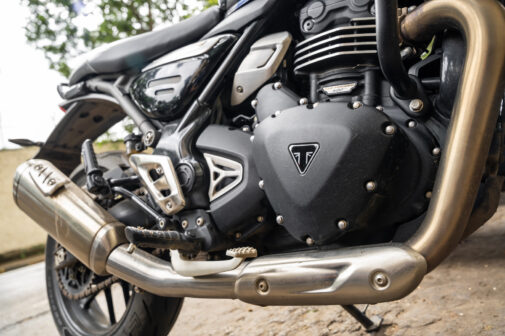 As for the Triumph, I wondered why it didn't get adjustable levers and why it had those couple of rough welds on its subframe. Then I looked at the rest of the bike and realised it didn't matter one bit. It was easily, to repeat myself, the new benchmark of design and finish for an Indian-built motorcycle. I only hope that we can one day see that engine in all its buffed-metal glory, preferably on a café racer variant. But the Speed will probably remain the lightest motorcycle built on this platform, and that's an advantage that cannot be taken lightly (heh heh). And its performance makes it a direct rival to the Duke — only that the Triumph is far more welcoming in its approach than the decidedly left-of-field KTM. The suddenly-crowded Triumph showrooms these days amply prove that point. In all the days with these bikes, each one made me wake up before sunrise and head out for a ride.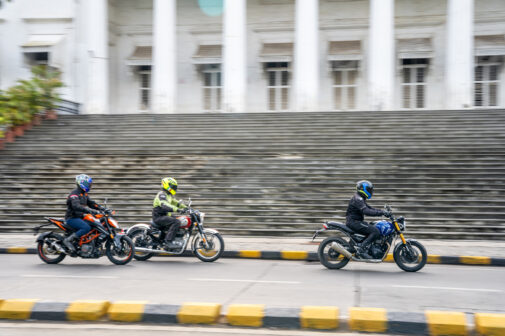 That automatically makes each bike a winner in my books, and it's no wonder that these bikes hold unique appeals to riders all around the world. Not bad for a pair of Punekars and a Chennaite, eh? However, if there's a Duke-shaped devil on one shoulder and a Classic-shaped angel on the other, the Speed represents the Middle Way and is objectively the best of both worlds. This one rare time, it is truly as good as it means to be. And the other two continue to prove that when it comes to motorcycles, things don't remain that simple for long.