I see the number everywhere. And I don't forget it. I see it at traffic lights, sometimes in red, other times in green, and take it as a sign. I see it on registration plates in the seas of traffic. It's the height of the Statue of Liberty in metres, from base to torch. It's the number of Lucy Liu's apartment in Lucky Number Slevin. It's the age at which St Francis Xavier, the patron saint of my alma mater, died. It's the number of teeth on the rear sprocket of the Ducati Scrambler. Seawise Giant, the longest ship ever made, had this number of tanks. It's the number of chromosomes we're all made of. There are too many such instances to mention here; I see the number and I never forget it. Quarantasei. 46. I suppose I'm heading to the right place, then. The place where the number came from.
I've always loved superheroes. Indeed, despite being into my thirties, half my clothes feature these inspirational characters. The most important of them pay tribute and announce my fascination with Valentino Rossi. It's understandable, too; I've watched him since his second season in the 250cc class of Grand Prix racing, growing up alongside his career with his antics fuelling my raging passion for motorcycles. He's the best at what I love the most, it's that simple. He's a real-life superhero. And superheroes have symbols.
Rossi, like most racers, is known to be superstitious. He is extremely particular about the symbols he surrounds himself with. He chose the number 46 because once, as a youngster, he saw a Japanese wildcard racer riding his heart out with that number on his motorcycle. Later, he learnt that his father, Graziano, used to race with that same number on his motorcycle. And so he decided that he would stick with that number. Now, I'm not a superstitious man, but I do understand the importance of belief. And anything that facilitates and strengthens belief in good things is always welcome. I once noticed a bright pink 46 on an autorickshaw in Chennai and asked its driver why he'd stuck it on. 'Good luck, saar!' came the reply. Oh, well.
THE ARRIVAL
Late in this cold Italian afternoon in November, I'm leaving from Milan for a town called Tavullia. Surprisingly, there is no looming sense of occasion. Perhaps it's because all of my attention is taken up by my half-frozen fingers which are finding it hard to type in my destination into the GPS in the middle of a coughing fit brought on by the cold. A runny nose can take the romance out of everything.
In any case, a few hours later, I find myself driving into a dark and cold Tavullia. Or at least I hope it's the town I'd aimed myself at. However, given that my navigational skills are worse than those of a deceased homing pigeon, I find myself lost before you can say 'directions'. Moreover, the GPS informs me that I 'have arrived at my destination' right next to a bunch of small bushes. I get out of the car and walk a little, hoping to breathe some life into my phone's signal when I see the signboard announcing the town just a little down the road. I feel compelled to run up to it and deliver a bearhug, but decide against it. Instead, I only mutter, 'Hmm. Wow,' and my profound eloquence momentarily hangs as ghostly vapour in the cold air before vanishing into the night. I have indeed arrived, it seems.
Long before I even got here, an exchange of electrons via a piece of glass and plastic had ensured that I have a place to stay. It belongs to a gentleman called Alberto Bartolucci, I chose the place because the bed has a Rossi flag over it, and all that remains now is to find it. Of course, my lifelong tradition of blundering around prevents me from finding it right away. Instead, I find myself driving into the heart of town, with eyes as wide open as they'll ever be. The number is everywhere; on flags mounted on light poles, on shop windows, on doors, on cars — but it doesn't look tasteless at all. It looks like it belongs. Well, of course, it does.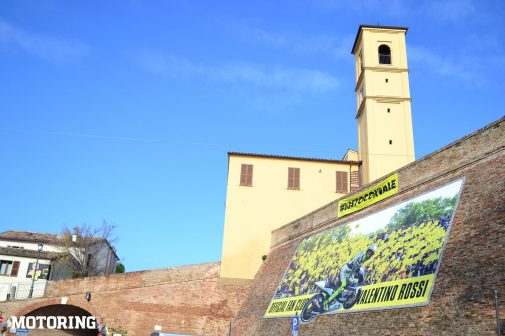 The most amazing sight, though, is that of a gigantic poster of Rossi outside the Valentino Rossi Official Fan Club headquarters and his bar, da Rossi, on a big stone facade. It's only been a couple of weeks since the nail-biting finale of the 2015 MotoGP season and the message that signifies the support that rose worldwide still hangs above the huge image of Rossi on his Yamaha. It says '#IOSTOCONVALE'. '#IAMWITHVALE'. There's not a soul in sight thanks to the cold night, so I take it as a sign of welcome meant especially for me.
I finally make my way to Alberto's place and find myself parking in front of a lively place called Cafe Soleluna, the name being a tribute to the sun and moon design theme of Rossi's racing leathers and helmets. And hence the basis of a very robust merchandise collection as well.
I don't have to look around for Alberto; he wafts right over dressed in a long, black overcoat with a head that holds white hair. He looks like a wizard who's lost his wand, with an arm outstretched for an enthusiastic handshake. It takes about five seconds for us to hit it off and I proceed to tell him what my plan for the duration of the stay is — to meet as many people from Tavullia as possible. He asks whether I intend to meet Rossi and when I tell him that I don't, the transition of his face's expression instantly reminds me of the comedy and tragedy masks of ancient Greece. I then explain to him that I want to write about the town itself and the places and people it contains, except for its most famous export, Rossi. He straightens out and with a determined look on his face he says, 'Okay! I will take you on a tour!' He reminds me of someone I know, but I can't quite remember whom.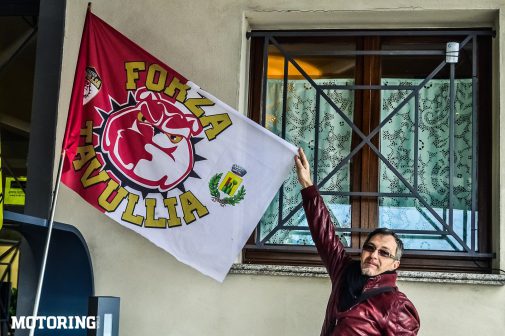 THE TOWN
The next morning Alberto stuffs me with what he calls 'a great Italian breakfast', essentially a lot of croissants, toast, butter, juice, frozen yogurt and about 5 litres of coffee. The last one goes a long way in explaining why the cheerful Alberto is always bouncing off the walls. I ask him where we're headed and begin to list out the places I'd like to see when he says, 'Keep quiet. You will see.' Well, he keeps his word. We get into his old Volvo (I really like Volvos) and drive off into a gloomy and cold morning. I doubt his passenger seat has ever contained such a massive amount of fervent anticipation, though.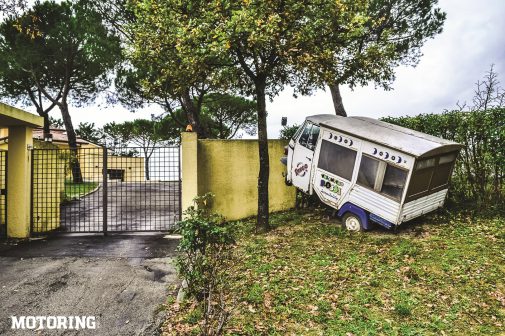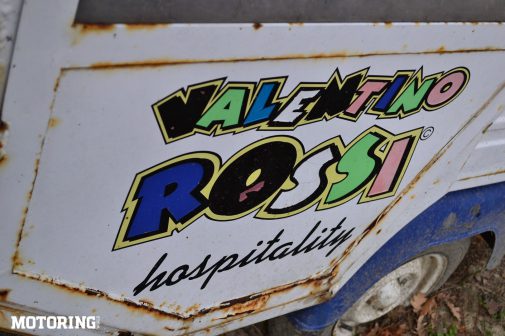 The first stop is significant enough to reduce me to a puddle of dreamy fanboy-ness. It's where Graziano Rossi lives and outside the house is the Piaggio Ape that Rossi used to drive the wheels off as a teenager on public roads along with his friends. More often than not, such drives turned into races and then into all out bumper-car matches, with the police often ending the 'enthusiastic' drives. Here, then, stands one of the most important hooligan machines of all time, a humble three-wheeler built to carry daily provisions. Amazing what legacy can do to a machine. The Ape seems to be permanently installed in place with its front wheel in the air, with a mould-ridden mannequin in the seat. Alberto asks a neighbour who is either planting or uprooting plants if Graziano is at home, but from what I gather, the neighbour isn't too keen on divulging such information. Just as well, because I don't know what I'd say to him, really. So it's back into the Volvo and off to the next stop — the VR46 Ranch.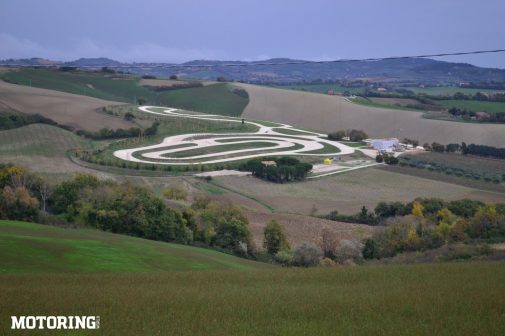 We pull over at a spot where the Ranch is clearly visible. It's the place where Rossi trains and rides with his friends and members of the VR46 Riders Academy, a project started to help young and upcoming Italian motorcycle racers. It's a gravel course on which they ride flat-track style — best for developing all the controlling skills you need on a motorcycle. Alberto says, 'Nobody gets to go in there without permission from Rossi himself, of course. People who live around here complain about the noise his motorbikes make… can you believe it?!' I nod along, half listening, half looking for the fastest lines around the multi-layout track. From here, it looks like a sandy and fast oasis in a disinterested dull green valley. Just as I start imagining shapes of the sun and moon in the track's lines (I might have looked worryingly like I was about to make a run for the track at this point), Alberto says, 'All right. Let's go!' Next stop, the Fan Club.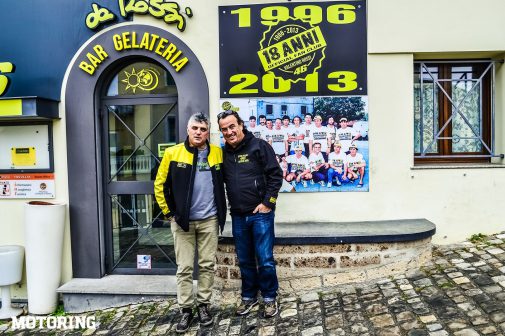 I'd decided that the first thing I'd do in Tavullia was become a member of the Club. You can do it over post, too, of course, but doing it in Rossi's hometown only seemed right. Unfortunately, membership for 2015 is closed and the one for 2016 only begins in January. Sigh. Alberto walks into the office and announces my arrival to the people there, requesting a few minutes to speak with them. Out comes Claudio Moretti, Rossi's old friend and founding member of the Fan Club, with salt and pepper hair and a look of curiosity on his face. I explain to him what I'm there for and even though there's a Italian TV crew inside the office, interviewing the members, he takes time out for this strange Indian chap.
'You should have seen this place on the day of the last race. There were thousands of people in the street outside the Club. It's the same street that Vale used to ride on as a youngster. The police that sometimes caught him then, now had to close off the road that leads through the town. It was an amazing atmosphere. People walked for kilometres to get here.' I can only imagine what would've happened if Rossi had won the title that day. He'd led all season long only to lose at the very final round. I could almost see the disappointment still hanging thick in the air.
Before I can voice my lamentations, though, a gentleman with what seems like a permanent grin joins us. A round of introductions later, I learn that he is Cesarino Salucci, president of the Fan Club and father of Rossi's best friend, Alessio whom everyone calls by his nickname, Uccio. Uccio is now famous for accompanying Rossi to every race, and I'm hoping to run into him later. In the meantime, though, the senior Salucci ducks into the office for a moment and comes out with a bright yellow VR46 cap and hands it to me. I'm quite grateful for the gift, but I keep myself from proclaiming my strong aversion to caps, and try to think of someone else who deserves it. Oh, I also avoid asking for a Rossi replica AGV Pista GP helmet instead of the cap.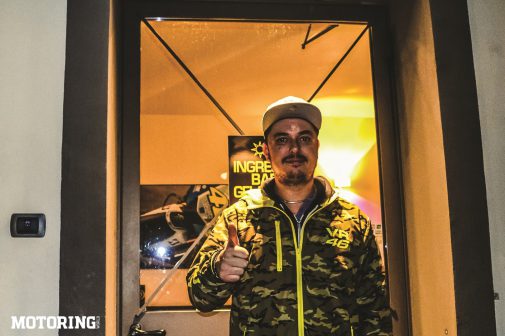 We stand around chatting for longer than I expect. I get the distinct sense that Rossi's circle rallies around him, to protect his privacy and peace of mind. Not like I intend on prying, but it's just that I don't learn anything that I already didn't know, really. So I soak in the atmosphere, listening to these jovial Italians talking animatedly. Over the next few days, there are to be many such conversations in which I'm 
totally clueless.
THE SIGHTS
Night falls quite early in Tavullia, so a lot of my walks through the town are in the dark. I don't mind the cold anymore, even though the wind seems to want to slice my nose off my face. I have to check several times to assure myself it's still there. The upshot of the near-lethal cold is that there's no one on the streets. The odd car comes along once in a while as I'm walking, their drivers no doubt wondering why someone would go through the trouble of becoming a mobile icicle. It's a steep uphill climb to the bar or at least it seems that way to my largely sedentary physique. But the 46 flags on the light poles flap wildly in the wind, egging me on.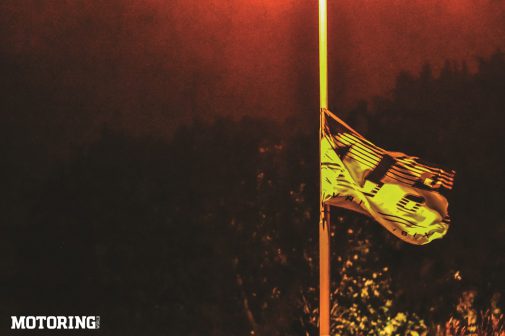 I come across a roundabout, almost all out of breath, and notice the 'give way' sign. It's no ordinary sign, of course — it has a silhouette of Rossi sliding completely sideways on his flat-track Yamaha — and I stand there laughing out whatever little breath my lungs hold. I'm glad no one is around to see this. If anyone did, I'm sure they locked their doors and windows, and armed themselves adequately.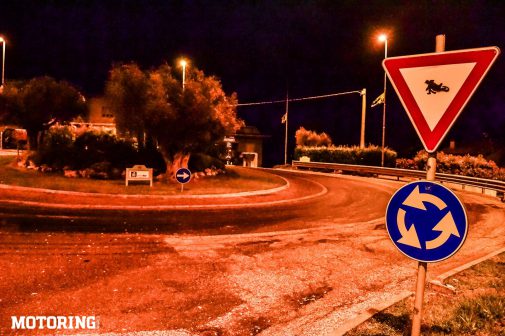 Almost everywhere I go, I seem to be heading uphill, like an ever-ascending version of the Penrose stairs. I nod approvingly at every 46 I see. The voices of excitedly hoarse MotoGP commentators over the years echo faintly in my head, the background score for my lonely trudge. They're chased away by the tolling of bells, the very same ones that ring out every time Rossi wins a race. Indeed, every morning I'm woken by those bells thinking, 'What… did I miss the race?' It is, without a doubt, the best sound in all of Tavullia and one of the best sounds that have ever reached my ears. The frigid gale seems to agree, too, carrying the sound as far as it can, taking along my nose for company. Oh, wait. It's still here.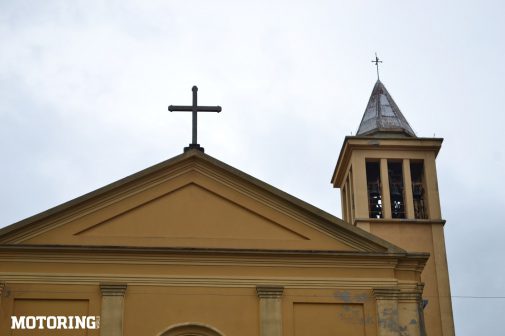 I can't help but notice how nice the roads are in and around Tavullia. They're a tad narrow for cars, but perfect for motorcycles. It appears as if a heavenly hand poured thick and black tarmac all over the countryside with maximum fun in mind, practically inviting people to test their metal and mettle on it. No wonder this particular part of the world turns out so many racers, eh? Other than the racers, though, even the normal folk of this region are brilliant, with their warmth and friendliness. Even though communicating with them can be a bit of a problem most of the times.
Their English is like the proverbial china shop that the bull visited, but I got by just fine by repeating myself very slowly. Over and over again. Most of them seem surprised by the fact that I speak English. 'But you are Indian, no? How you speaka English?' My response is a well-worn 'Ah, we have the British to thank for that', an attempt at humour which usually falls flat on its face, after which I have to tell them that Inglese is prima lingua for most urban Indians, to which their response is a shrug. Too cool, these Italians are.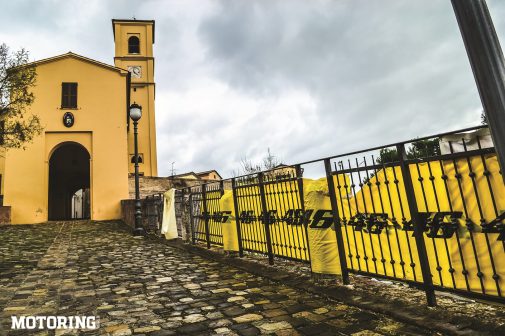 One night at Cafe Soleluna, Alberto and I join some of his friends to empty 
a few glasses. There's a policeman named Nico, an elderly gentleman called Fabrizio and a DJ whose name I've forgotten. And there's Barbara who keeps giving us glasses to empty. We raise our cups and glasses, and I hail, 'Qurantasei!' and they do the same, only louder. Nico, looking quite indulgently pleased, asks me, 'So you're obsessed with the 46, eh?' My not-so-modest reply, to which half the bar starts laughing, is, 'I'm afraid it went very far past that stage a long time ago.'
'Rossi is in town. You should meet him,' Nico says. When I say, 'Not this time,' the puzzled look on his face is priceless. Maybe it's all those glasses. Fabrizio, it turns out, stayed in India for a few months 'some years ago'. I ask him exactly when and he thinks a while before saying, '1980.' That was three years before I was born. I wonder what he'll think of the place if he sees it now. Everyone in Tavullia seems to be cheerful and welcoming. It's a pity I didn't see all the places there and instead parked myself dutifully at the only place in Tavullia I found fascinating — da Rossi.
BAR TALK
Indeed, if my monthly column in this magazine ever sprang to life, it'd look like the place Rossi owns. Its name simply means 'Rossi's', an unassuming name for some, perhaps, but that's all it needs to be called, really. There's the Pizzeria right next door, too, but I walk into it on the first day only by mistake. But it's at the bar that I sit for two nights in a row and re-read Rossi's autobiography, What If I Had Never Tried It, sitting at tables that have a carbon-fibre finish.
At least to me, it's an 'achievement unlocked' kind of thing. I frown at all the typos all over again. I wince at the thought of Rossi occasionally sounding like an Englishman, no doubt the work of an overzealous copy editor at the publishing house. But largely, it's exactly like he would talk, only in cleaned-up and edited English. Pity. I'd have rather transcribed what he said exactly in his musical Italian accent, word for word.
Between massive swigs from a tall golden glass and turning the pages, my mind wanders to the memories of meeting him. The first time I met Rossi was in Delhi in 2010 and I was in a state that bordered on being delirious. One of the opening pages of the book has a photograph of Rossi about to torpedo Sete Gibernau out of his way at the final corner at Jerez in 2005. I'd asked him to write what he was thinking at the exact moment, to which he mischievously hid the page from the sights of others and wrote a word that cannot be printed here. But I can tell you that it rhymes with 'Duck!'
One other time was in Malaysia at the Sepang GP in 2012, his final of two miserable years at Ducati. I'd wanted another autograph on a photograph of ours from 2010, but thought, 'Why am I getting another signature? It's not like it'll have changed, right?' I looked around at my friends waiting with similar expectations and decided that I'd give him my autograph instead. And so I did. I wonder what he'll say if he happens to walk into the bar right now. People tell me he often comes in when he's in town and it's late at night and he can sit in peace.
In any case, I'm so lost in the book and in my head, he might come, perform a series of somersaults and leave, and I wouldn't know. My reactions to the book are sometimes audible, too, so if people walk in they usually keep a substantial buffer of distance. I'm sure he'd have done the same. Virtually every person that walks in is wearing a VR46 something or the other. A toddler stumbles in with a VR46 pacifier in his mouth. It's perfect, really. The chaps who run the bar, Luca, Mattia and Marco, and a young girl named Martina, are fun people to be around when it's a slow night. On one occasion, we even lock up and hang back to talk about mostly everything under the sun as happens when there's been one too many glasses that needed emptying.
One night, Uccio walks in with his little daughter. I'm torn apart like flimsy restaurant-grade tissue paper. I don't want to bother him on his time out, but if I could get a few anecdotes from him, it'd be priceless for the story. I mean, he's Rossi's best friend, right? Unfortunately, that's precisely why I don't get much. I walk up to him and introduce myself and ask for five minutes of his time, confident that time won't be a limitation once we start talking. 'You can have two minutes,' he says, before displaying a polite grin.
We laugh and talk a bit peripherally about the VR46 Riders Academy and a bit more about Rossi's life — which I've re-read over the past two nights — but that's about it. Between the broken English and a general feeling that he'd like to see the back of me as soon as possible, it's clear that I won't learn anything new. So I leave him to it and go back to my table, wondering how I could convince him that I'm not a headline-chasing scribe. But of course, I don't persist. Rossi is a big deal in this part of the world, after all, and his close circle might be understandably wary of people who carry around cameras and put words together for a living.
THE FRIEND
One evening, I decide to make a visit I promised myself some time ago. The place is called Coriano, 20-odd kilometres from Tavullia. It was home to the late Marco Simoncelli, one of MotoGP's fallen heroes and Rossi's friend. Now, I don't think there can be such a thing as friendship between two racers of the highest level. But Rossi and Simoncelli's relationship came closest to such a thing. Both were jovial Italians with a killer instinct on the track. Many saw Simoncelli as Rossi's successor as a beacon of Italian motorcycling.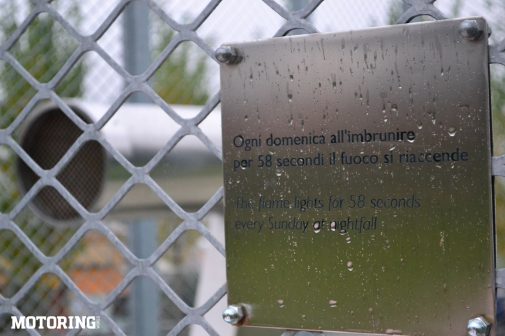 Rossi was languishing at Ducati just as Simoncelli was beginning to win over people on his Gresini Honda. And at the Malaysian GP in 2011, Rossi's was one of the bikes in the accident that killed Simoncelli. Rossi was a part of his life and sadly a part of his death, too, though certainly not a reason for it. Racing is a sport in which life wins over death, but not always. It's true for all of us who ever get on a motorcycle. Simoncelli's star, it seems, was destined to shine short but brighter than most.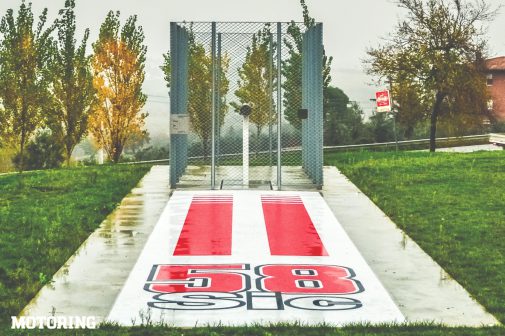 Coriano has a museum dedicated to Simoncelli right opposite the church in whose graveyard he's buried. A small group is leaving just as I enter. I buy the ticket and walk around the museum all alone with a helmet-sized lump in my throat. His bikes, from the minibikes to the MotoGP Honda, are all there. The MotoGP bike is displayed in a replica of a pit box. His gloves lie on a chair; his torn leathers, probably from one of the many crashes he was famous for, are thrown over a stand; the helmet along with them. It feels like any moment now he might walk out, get kitted up and jump onto the bike.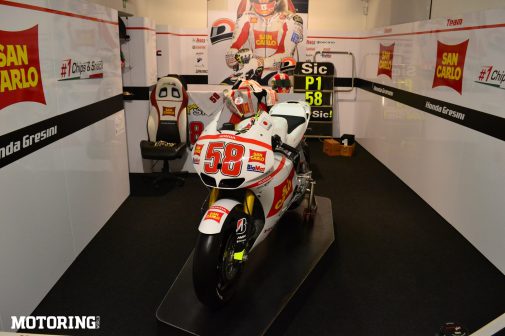 There are medals, trophies, champagne bottles and other parts from his racing life that are displayed in simple cases, the achievements of a life cut short too soon. There is also an Aprilia RSV4 Superbike that he raced once as a wildcard and finished on the podium. It's displayed next to a photo of him stuffing it up the inside of Max Biaggi, the other Aprilia rider and then reigning world champion. Never took any prisoners, this chap. And all through my visit at the museum, Pink Floyd's Wish You Were Here keeps playing on loop on the speakers. It's a miracle tears don't flood out of my eyes and it's also the reason why I decide against visiting his grave, because I'm certain my eyes will put firehoses to shame if I do. 'There's always a next time for those who are still around,' I think to myself.
THE MEANING
On the morning of my last day in Tavullia, I find myself being scrutinised by a sharp pair of eyes. The voice that belongs to the person with the eyes is a firm but soothing one. Alberto, ever the willing guide, announces me, probably for the 46th time in all these days, and we're gestured to enter and granted an audience. The lady is Stefania Palma, Valentino Rossi's mother.
I wasn't really expecting this meeting, but thanks to the dogged Alberto, here we are and I'm a bit lost for words. Mind you, Alberto and I have barged into her office first thing in the morning, so her demeanour is completely understandable. She understands English, it seems, but prefers to talk in Italian instead of fumbling for words in English. Through Alberto she asks me, 'So you want to meet Valentino?' When I say that I have no such intention, she says, 'You're the first person to come to Tavullia and not want to meet him!' With this, I think she's decided that I mean no harm and relaxes.
I'm still sweating, though, waiting for her to call a guard to throw the two of us out, but it surprisingly doesn't happen. Encouraged, I ask her what it's like being the mother of a legend and instantly regret asking such a foolish question. She replies anyway: 'To me, it's not about him being a legend, but about being a professional in the true sense. He's very particular about his daily schedule, he's like a Swiss watch. He was not like this before. But now, since he is older and facing much younger competition, he is very dedicated about doing things the right way.' After that, she pretty much keeps talking on her own and I keep listening. I know most of it anyway, but her voice is enchanting to listen to.
'He takes care of his friends. They make him happy. When he became successful, he made sure they were happy, too.' I mention that I met Uccio a couple of nights ago. Perhaps she knows what her son's best friend is like, which is why she says to me, 'Uccio was like his bodyguard in school.' 'I'm sure,' I briefly respond. She suggests that I speak with Valentino's father, Graziano, since he loves talking to people and speaks better English. I ask her if she'll oblige me with a photograph and she agrees instantly.
She makes faces as I take a picture, reminding me instantly of Rossi's goofing around. She says she always feels awkward in front of the camera which I don't buy for a moment. I can't help but feel that this is where Rossi's charismatic personality and playful behaviour comes from. As I shake her hand with two of mine, a sudden realisation dawns on me and I say, 'Valentino has your eyes!' She says, in Italian of course, 'Yes. And the nose, too!' Like mother, like son? Above anything else, it's the warmth she exuded that reminded me of her son, so it very well could be so.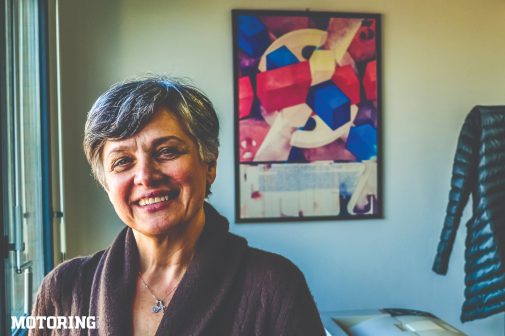 Speaking of warmth, there is Alberto. He doesn't ride a motorcycle, but adores Rossi and everything to do with him. He is a living reminder of the fact that there is a certain freedom in having unconditional faith in things. After that, things simply seem to fall into place one after the other, seemingly without any noticeable effort. Which is pretty much the effect his presence had on my stay in Tavullia. Nothing would have happened without him. If there is such a thing as God, I wish all of his blessings upon this lovely Italian man. And he, along with every other person who took the time out to talk, reminded me how much of a difference just being nice to others can make. No wonder Rossi is as nice a person as he is, no matter what the Lorenzos and Marquezes of the world might say. No wonder the world likes him more than any other rider in history.
I see the niceness in my friends who are my family back home. I see it in my team at Motoring. And it's something I always knew, too. But sometimes, to be reminded of and truly understand something closer to home, it's necessary to go to a faraway place, I suppose. On my last day there, I ask Alberto how old he is and he said he'll be 50 next July. Since it's the month of my own birth, too, I asked with more curiosity than normal what the date was and my eyes widened dramatically (I had no other way of expressing my surprise. My hands and mouth were stuffed full of food by the time) when he said the date. Yup. Same birthday. Turns out, he was reminding me of myself. Perhaps it's the common obsession with the magic number.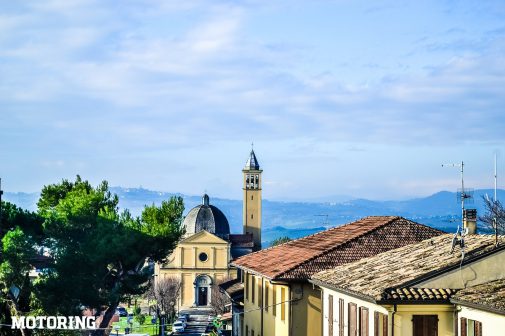 With Tavullia, I saw a place that, with its people and its roads, is exactly where a living legend might want to live. Its people are quite vocally proud of their hometown hero, but in a dignified way — at least in front of a stranger. And perhaps the place itself is a big part of the motivation Rossi needs to do what he's doing at his age; when he starts the 2016 season, he will be 37 years old, far older than anyone else on the grid. Maybe he lives there because for him time stands still in the place… and it does. It's always 46 o'clock in Tavullia, and it's exactly how I imagined it'd be.
Before I left my own home for Rossi's, I didn't know what I'd come back with. As I drive into my parking lot back home, I heave a sigh of utmost relief. There have been no profound philosophical revelations for me to ponder over — just timely reminders of things that matter. Events transpired in a way that the trip is now the most memorable one in my life thus far. I climb up the stairs to my house, dragging my bags behind me with a satisfied smile on my face. As I reach my door, I'm thinking about signs, how I see them everywhere and their importance or lack thereof, when I see something on the door that's never been there before. It's a clay half-sun, half-moon. Soleluna. The signs have followed me home. Well, actually, my sister happened to hang it on the door. Perhaps it's the stars welcoming me back or maybe it's just a coincidence. Deciding not to ask, I open the door and go in.
[This story was originally published in our January 2016 issue]