Do you need to modify a stock bike? Yes and no, and both answers are equally correct. It depends on where you come from. Not your address, I mean, the mindset with which you approach motorcycles. The various compromises of planning and production leave manufacturers' hands tied when it comes to details, even on the most focussed of machines meant for large audiences, so most motorcycles are not perfect, if there is such a thing as a perfect motorcycle. And outside all motorcycle factory gates, there exists a need to personalise a machine, to elevate it to a level that is both personal and separate from the madding crowd.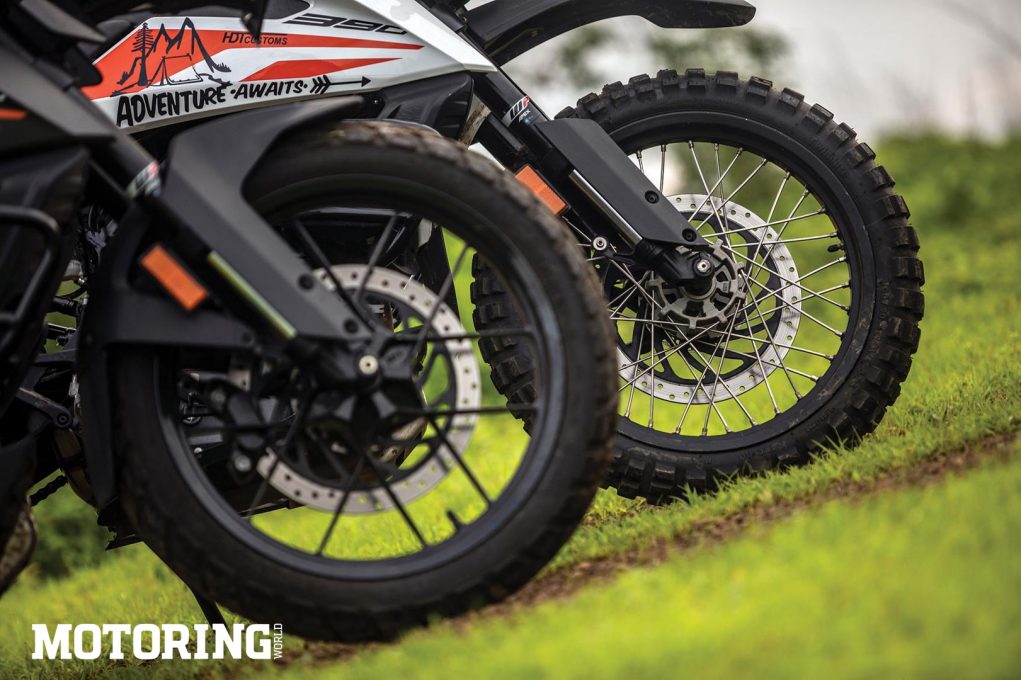 What we have here is a KTM 390 Adventure that in one spoked-wheel flourish silences the loud complaints that foghorned all over the Internet the day the bike was launched in India. Now, the 390 Adventure is one of the most versatile bikes you can buy under Rs 5 lakh in India, and this job by HDT Customs from Mumbai improves the off-road/long distance capability of the bike via some simple and effective mods, not least of which are the spoked wheel rims. I and my 390 Adventure joined Hemant Darbar of HDT Customs on his bike on an early morning ride to check out his bike. But the wheels were not the first thing that grabbed my attention.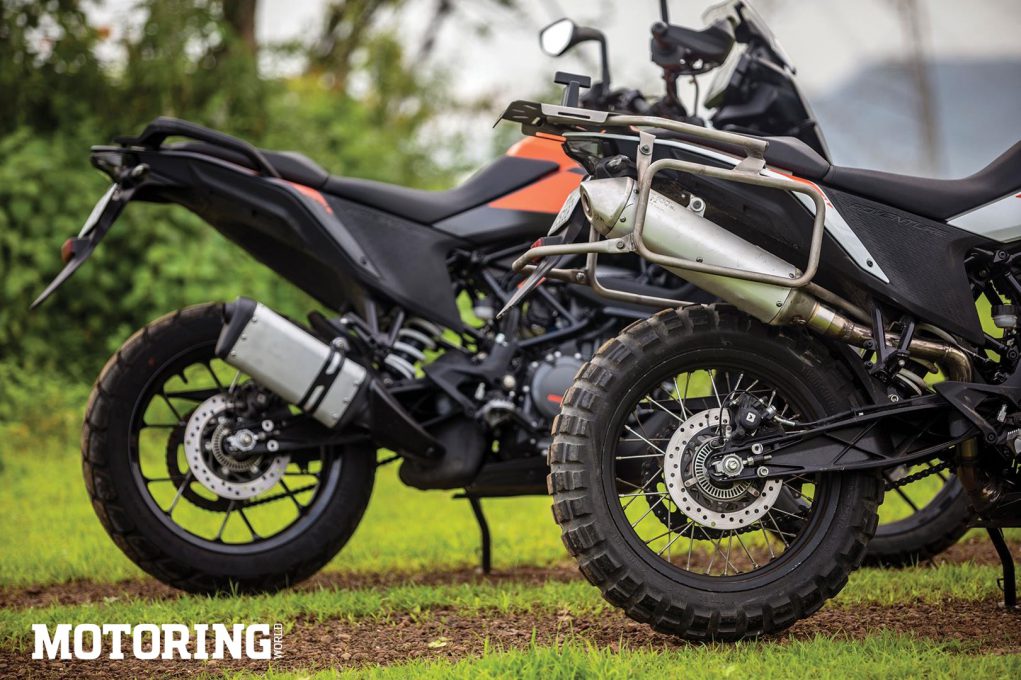 A thumbing of the starter on the white bike let forth a lovely sound from its high-mounted exhaust which, as it turned out, was a used unit from a KTM EXC, one from KTM's line of enduro bikes, complete with 'KTM Racing' engraved on it. It's not obnoxiously loud nor does it sound tinny; it's a sound that suits both the bike and my ears, and those of the noise police, too. Needless to say, I immediately wanted it, and I will find one as soon as I can. In addition to the motor's liberated voice, the rerouted piping also reduces quite a lot of weight. Which means I can indulge in my twice-a-week pizza sprees.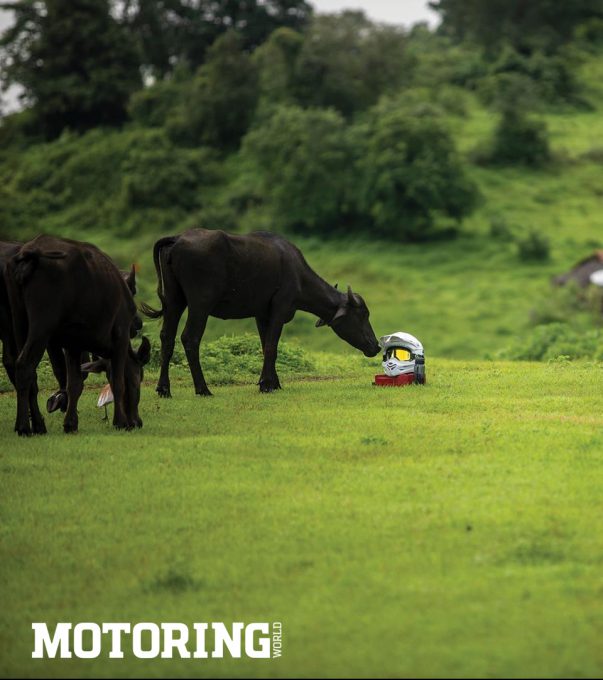 Wrapped around the exhaust and the tail section of the custom bike was a lovely luggage rack finished in silver. It was reminiscent of the ones you see on those jumbo-sized adventure bikes, but scaled down to fit the 390 Adventure's more reasonable dimensions, and both rack and the top plate are made out of 304 stainless steel. In all, the mounting and quality of the tubes and welding seemed to be great, and every long-distance rider understands and will appreciate the extra luggage-carrying capacity the rack offers. What's more, the top plate holds a robust 5-litre can with a screw-on system, and that means two things: less hunting for petrol pumps as well as riding longer into the wilderness without the fear of taking increasingly desperate selfies with a motorcycle that's run out of fuel.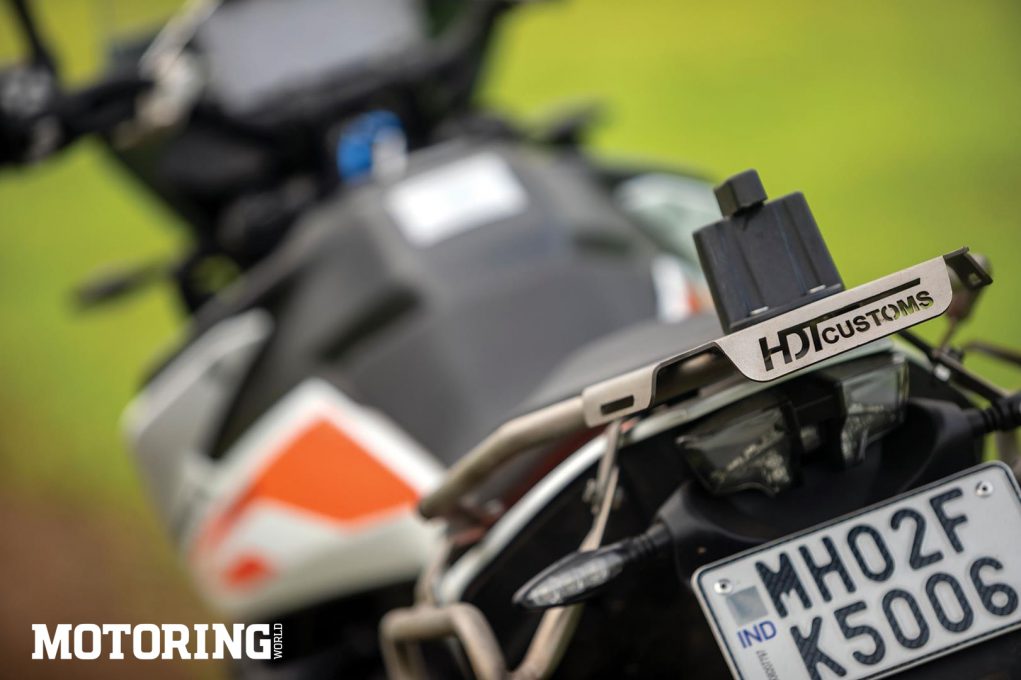 Then there's a new front mudguard, too, one that fits higher up, and relocates the number plate to the 390 Adventure's gawky forehead. The mudguard itself is off the Bajaj Boxer's export version, though I imagine finding another suitable candidate shouldn't be too much of a problem between the Impulse, the Xpulse and the Himalayan, or many of the aftermarket ones that you see online. I'd prefer a KTM one if I could find one, though at least Darbar has kept things in the Chakan family by opting for a Bajaj part. However, the deployment of a raised mudguard comes down to the most important change to the modded bike, one that sees no familial parts, though it does take help from dual-purpose bikes that came before it.
The spoked wheel rims and the proper dual-sport Continental TKC 80 Twinduro tyres are the biggest and most important changes on the bike, and what a lot of punters were baying for. The tyres are highly rated by dual-sport riders, including Darbar who has them on all his bikes. I do hope they're all dual-sport bikes; imagine a scooter with these. Anyway, Darbar achieved this holy grail of wheels by employing a Himalayan hub at the front and an Impulse hub at the back, and lacing them to wheels acquired from the shop called the Internet. The wheels are of the stock size, so the KTM's electronics won't kamikaze themselves into idiot-light oblivion.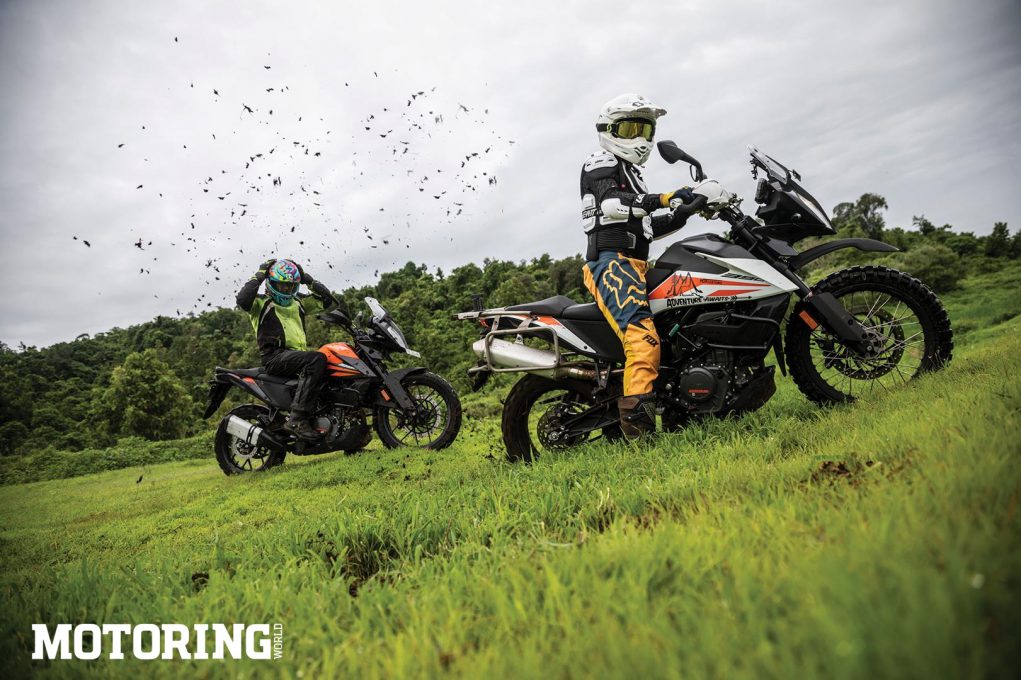 Overall, I'd say the modded bike looks far more purposeful than the stock one, and that's because it is. There's more grip for tricky situations, more practicality via the luggage space, and more feel-good sounds from that exhaust that only get better the more you ride. I'm no off-roader, but it was fun watching Darbar do things on his bike, things that my decidedly single-purpose self would rather not attempt. The modded bike slid, jumped and landed hard enough to show that the bike is a tough build; it has to be, since all those custom bits have to live with the motor's 150-kph capability. With the HDT bike, the 390 Adventure is that much closer to being a 390 Enduro. I don't covet most of the mods myself, except for that exhaust, but I am most certainly thinking of how to go about converting my bike into a 390 supermoto. Stock is for suckers and all that.
If you want to enduro-fy your motorcycle, give HDT Customs a call at +91 9819184823. And then drop us a line to go for a ride!