It was well past sunset time for the rest of the world. But this is South Island, New Zealand, where there is plenty of sunlight till 9 PM in the summer months. We were heading for Haast, a one-horse town, where we were supposed to stop for the night. The road, on the foothills of the Southern Alps, leading to the Franz Josef Glacier township, was twisty and was soaked with water from fresh rainfall. Slanting rays of the sun gave a golden hue to the strangely tropical forest. And I was loving every inch of the ride. You, dear readers, don't need an introduction to the concept of 'being one with the road', and when you are riding one of the finest motorcycles on the planet, that concept gets even better. The Harley-Davidson Dyna Low Rider was gliding along with a magical drone from the Screamin' Eagle two-into-one pipe with the occasional pops playing second fiddle to distant thunder. I forgot the cold that was piercing through my rather inadequate gloves and socks, and I was not worried about rogue traffic nor about the one-lane bridges that characterise NZ roads. It was sheer bliss all the way and I will never forget the couple of hours that took us to reach Haast from Queenstown.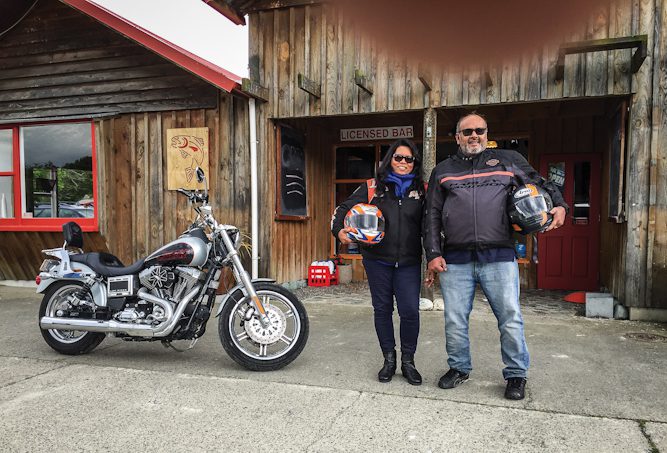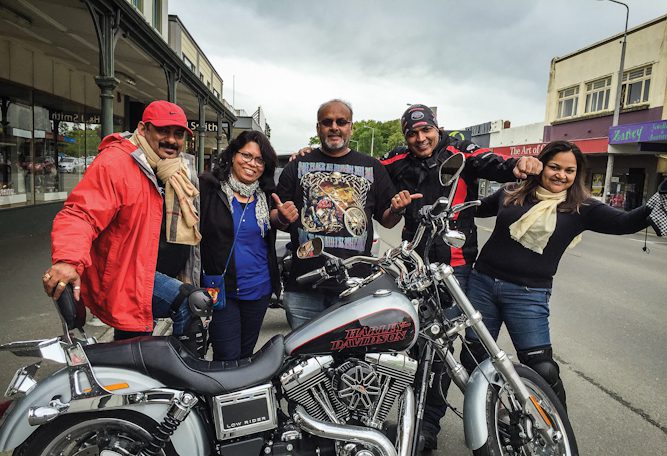 So there, you have figured out that we were riding in South Island, NZ. Why? Well, like all good projects, the seed for this ride was sown when a few friends got together. I was fresh from reading about the brilliant roads in NZ and suggested that we should tour the South Island on Harley-Davidsons. We were 17 hours of flight time away back in Mumbai when this discussion happened. Why NZ? Well, being a right-hand-drive country with a population of just 4 million people meant we could adapt easily to road conditions and enjoy 80-110 kph touring at its best. Everyone agreed and one thing after another fell into place over the next six months — motorcycles, riding gear, flight tickets, accommodation on the route and so on. And one fine morning, we fired up our rides from the parking lot of Rolling Thunder Harley-Davidson, Christchurch, and pointed the wheels even further south.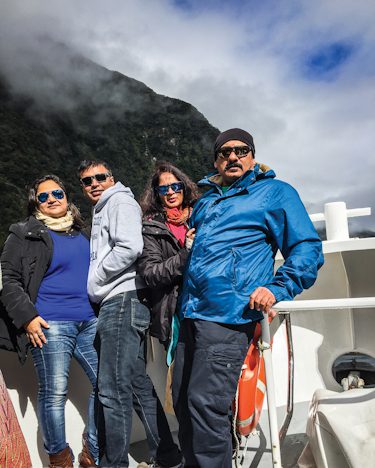 At this point it will be good to tell you a little bit about the group of people involved. We were three couples, Mandeep and Pragya who normally ride a Royal Enfield 350 back home, Sanjay and Seema, who prepped for this ride by spending weekends on my HD 883 Iron, and Rekha and myself. To tell the truth, none of us had extensive touring experience on motorcycles in India just because the conditions are not exactly conducive to long-distance motorcycling, depriving us from experiencing the mighty touring capabilities of these great American motorcycles.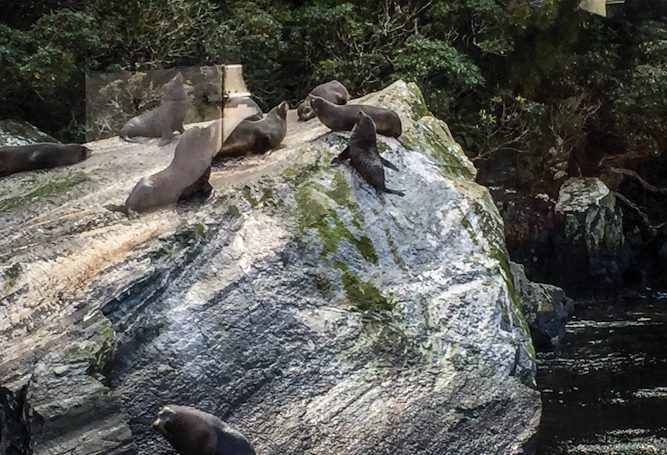 We hired a minivan to carry our luggage and took turns on the two Harley-Davidson Lowriders. NZ is so tourist friendly that organising things like accommodation is a breeze if you are net savvy, and in Pragya we had just that. Getting out of Christchurch was not that easy since we were getting familiar with GPS systems, the unique traffic signals where for right turns you need to wait in the middle of intersections, and so on. But we learnt a brilliant lesson about New Zealanders — they are polite and cheerful to a fault. No one honked at us as we blocked traffic and, as we would learn over the next nine days, they would go out of their way to help us whenever we approached them. Perhaps this is because they don't have enough people around to talk to and are extremely happy when they meet new ones. Perhaps.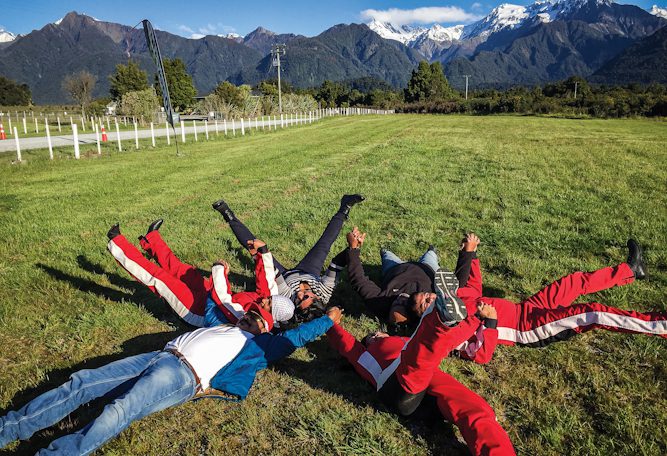 Adrenaline was pumping as we were all excited at commencing our ride after months of planning. Traffic tapered off an hour into our ride as we passed the large, flat lands of the Canterbury Plains and got introduced to the most distinguishing feature of the NZ landscape — the sheep. They were everywhere, millions of them grazing in the picture-perfect green pastures. With sixth gear engaged, the Lowrider's speedo stayed a tad above the 100-kph mark. Mandeep, though new to big motorcycles, was easily keeping pace as the mini convoy eased across the famous salmon rivers of Rakaia and Ashburton. We skipped the picturesque little town of Geraldine and veered off the highway to the high country.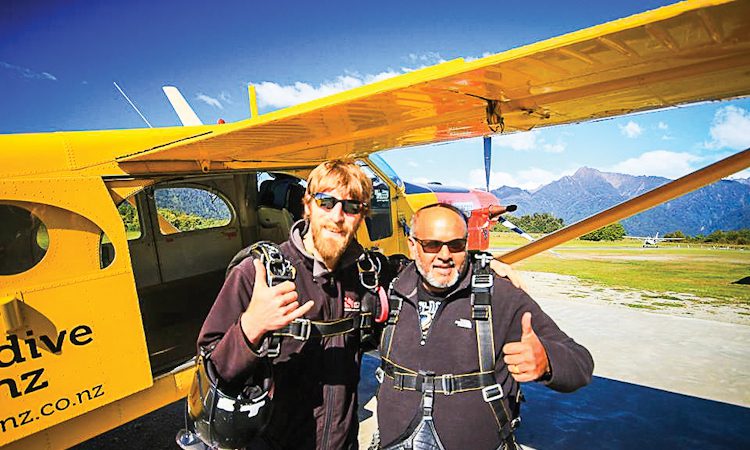 Suddenly, the scenery was straight out of travel magazines with rolling meadows and a well-manicured ribbon of asphalt laid out just for us. We stopped at the town of Fairlie for a well-deserved coffee and some fuel. It was the week after the rugby world cup and even small cafes had the famous 'all black' flags fluttering to celebrate NZ's famous win. Hitting the road again, we rode to Lake Tekapo with brilliant views of the Southern Alps greeting us. And of course, we reached the milky blue glacier-fed lake with ample sunlight remaining. One could have ridden another 55 km to get an even better view of Mount Cook, but we decided not to overdo it and reached our homestay at Twizel. Nightfall meant gazing at the stupendous sky with the southern constellations and the Milky Way in full view. We couldn't have hoped for a better end for our first day.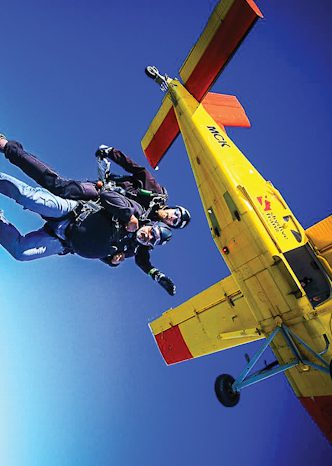 The next morning, we enriched the economy of Twizel by shopping for our trip (we were staying in homestays and that meant carrying provisions) and then toured the landscape that was made world famous for being the backdrop for Lord of the Rings. After a quick stop at the salmon factory, we turned towards Dunedin. A piece of advice for those who would like to ride in NZ — always add a couple of hours to your riding time since you will be forced to stop to take photos. Our excursions and stops meant that we reached well into the night at Dunedin — but hey, the stop at Moeraki Boulders where we got to see the Southern Pacific for the first time and then an adventure on gravel roads to the nearby lighthouse to say hello to little blue penguins was worth it. Riding in the cold night with occasional rain was not exactly romantic, but at times it is the pain that makes a motorcycling trip memorable, right?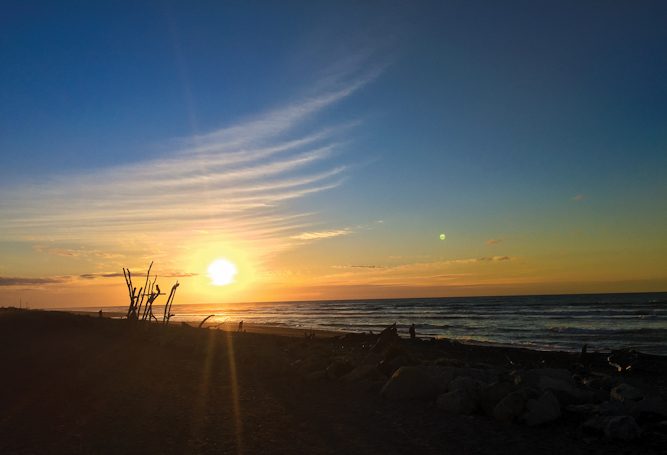 The scenic route to Invercargill (yes, of Burt Munro fame) via the Catalans would have been better for riding and the views (much recommended), but we decided to take it easy on our third day and rode 267 km to Te Anau, our base camp for two nights and an excursion to Milford Sound. Our homestay was 20 km before Te Anau and in the middle of a sheep farm with snow-capped mountains forming an excellent backdrop. Perfect settings, then, for a barbeque? Of course, yes. The Milford road that leads to the biggest tourist attraction in NZ, the Milford Sound (a huge crevice on the mountain created by thousands of years of glacial erosion). The 144-km road is perfect for some seriously fast motorcycling despite its winding nature. We left early from Te Anau so that we could catch an early boat into the fiord and were rewarded by the sighting of two humpback whales (pretty rare according to our guide) and more penguins and seals. It may sound a bit too touristy, but I do recommend the trip as long as you can avoid bus traffic around noon that can ruin some good riding. Those who are missing restaurant food and some music can rejoice — the town of Te Anau is ready for you.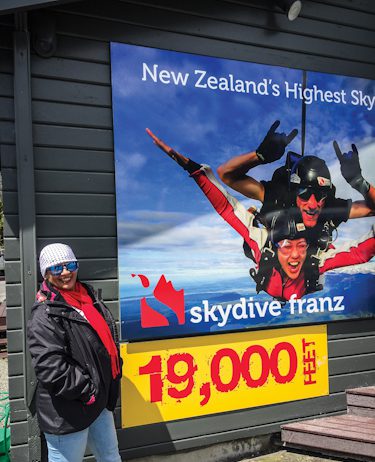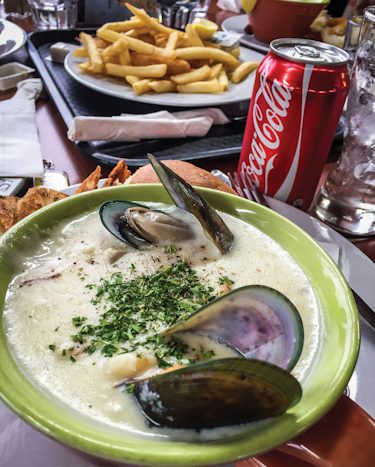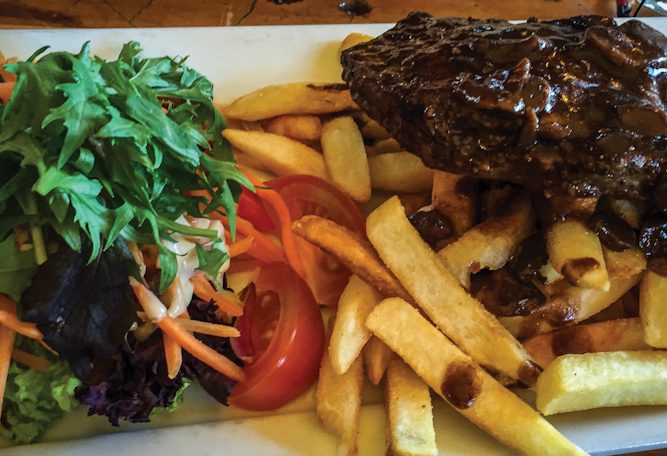 A beautiful ride along Lake Wakatipu awaited us on our fifth day — the road flanked the lake for 40-odd km and it was difficult not to stop for pictures. Trust me, everything looked straight out of a picture postcard, clichés be damned. The road eventually lead to Queenstown — just when we were ready to park the bikes for a day and enjoy the city break. A jetboat ride left us hungry for burgers and nightlife saw us camping at a Cuban bar sipping some sweet rum. Yup, Queenstown has all the tourist trappings indeed, though it is up to you to like it or not. We cut short our stay and rode to Haast, where we started this story from, so that we were not doing the 356-km haul to Franz Josef Glacier. It may have been summer in the southern hemisphere, but the rides were getting seriously cold. And that meant stopping every hour for some steaming coffee in small towns and gunning for the next coffee shop (Café racing on Harleys?! — Kartik). While Mr Sheep continued to be the common factor, the topography changed as we headed north.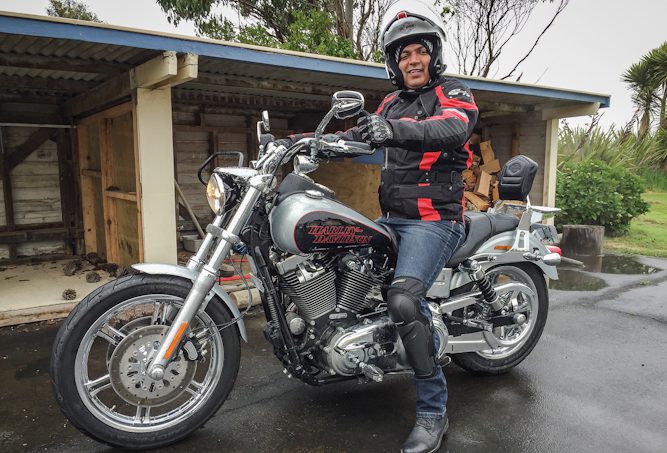 The ride from Haast to Franz Josef was a breeze as by now we were well and truly veterans of the South Island roads. The big idea of reaching Joseph-Franz was to do something almost all of us wanted to do — jump from an airplane. And what an incredible experience the skydiving bit turned out to be! We jumped from an ancient Pilatus PC-6 aircraft at 13,000 feet, with Mount Cook and the glacier below us on one side and the Tasman Sea on the other. It may have nothing to do with motorcycling, but as a sensory experience it is something that can match the experience. Just do it, I say! (Caution: Don't watch 'skydiving gone wrong' videos on Youtube before that).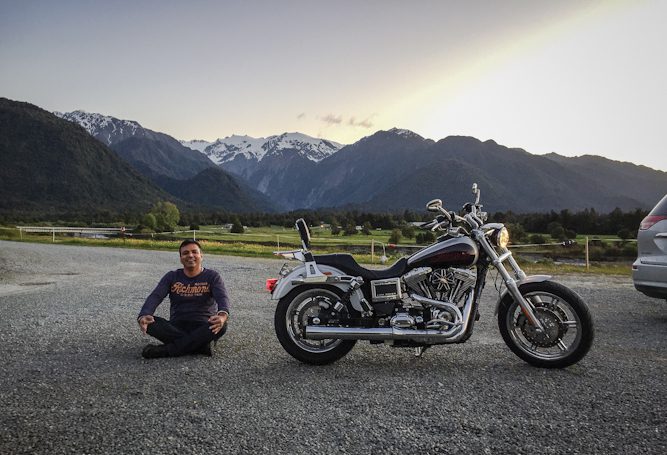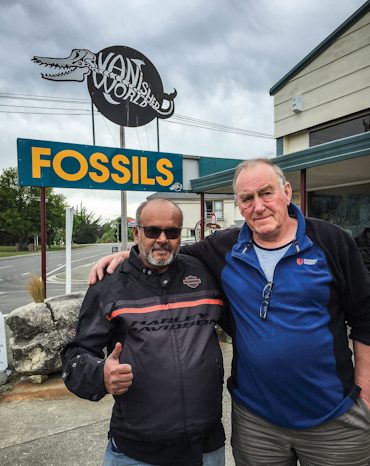 The eighth day on the road saw us cruising to the coastal town of Hokitika with a neat square, clock tower and a sunset worth the night halt. Our last day on the road was to Christchurch through Arthur's Pass and we left early in the morning. Big mistake — it was incredibly cold and for the first time we realised how inadequately attired we were. Wind chill turning it even worse as bitter cold poked through the minutest holes that our riding gear revealed. It took two steaming cups of hot coffee at a railway station/museum/restaurant close to Arthur's Pass for me to get thawed and hit the road again. But the motorcycles had not missed a beat — they bombed through the corners despite their freezing riders. It was as if they were on a mission to complete our lap of South Island. It may have something for everyone but for a motorcyclist this is well and truly a dream come true. As we rolled back into Christchurch later in the day, we had covered 1800 km and one glorious lap on motorcycles around Mount Cook.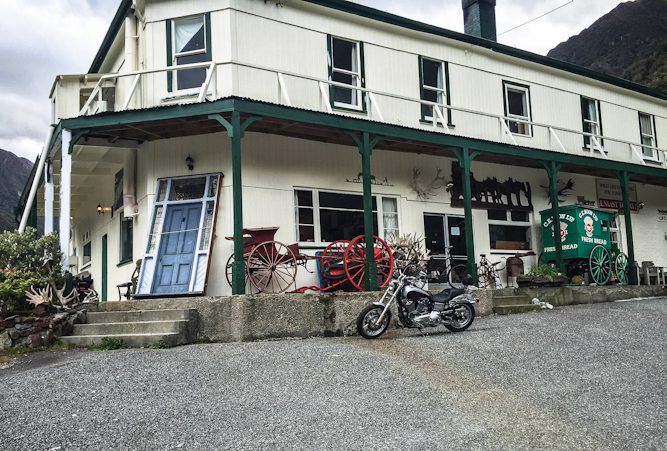 Also, PHOTOS Mandeep/Sanjay