Having grown up on a farm, I am no stranger to the slush and muck involved in getting down and dirty to get work done. I also know the importance of being able to kick back and have a good time every now and then. Finding a point of balance between the two is essential to live a fulfilling life (or that's what everyone says). The point is that we are not afraid of the slush, and there is no reason that we can't have a decent amount of fun with it over the weekend.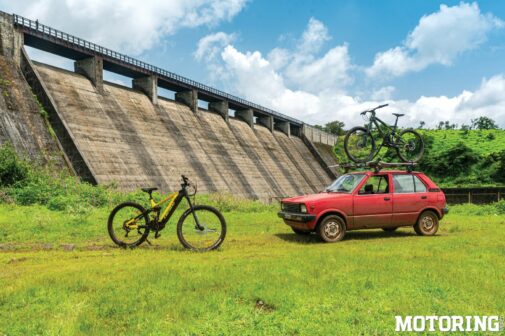 With that in mind, the next point of concern was the choice of weapon with which I was to tackle said slush. The choices were abundant, with anything from two-wheelers, four-wheelers, ICE, EV, and maybe more, but this time we wanted to work with something slightly subtle, but fun nonetheless. The conclusion we came to was to take the EMotorad Desert Eagle e-MTB on a weekend trip to Pro-Dirt Adventure, in an attempt to keep our carbon footprint in check, while also kicking up some dirt in the process.
Situated near the Andra Dam, in Rajpuri, Maharashtra, Pro-Dirt Adventure has a pretty scenic setup, not to mention a killer dirt track, camping grounds and even flat track for good measure. We reached there just before sunrise and pitched our tent overlooking the lake, and then we waited.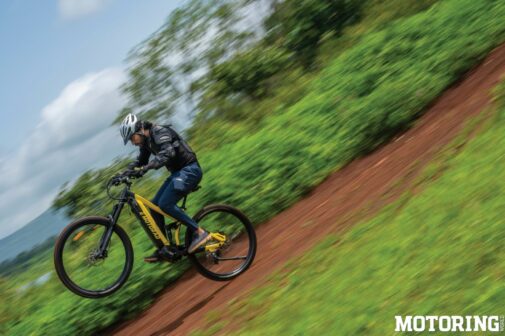 Before I forget, let me tell you a little bit about why I chose an e-MTB for this particular story. You see, in my younger years, I used to cycle around quite a bit, involving a few hilly trails and various downhill shenanigans. Back then I wasn't really exposed to MTB as a sport, but rather a fun pastime. Fast-forward to the present, my younger brother is pursuing MTB cycling on a professional level, and though I do try and keep up with him now and then, it generally ends up in me huffing and puffing behind him, as he pedals away to glory. A constant reminder that maybe I should just stick to motorised wheels for now. It also goes to show that there is a clear distinction between casual and professional cycling. That actually makes me think, where would the e-MTB place in terms of this distinction?
To help me wrap my head around that, I enlisted the help of Nilesh 'Nelly' Dhumal — former competitive MTB cyclist, and current chief riding coach at ProDirt Adventure. In conversation with Nelly, I found out about the current infrastructure of the sport in India, as compared to the rest of the world, and how there is a lot of unharnessed potential just waiting to have a go at it. On another note, as far as electric-motor-assisted MTBs like the Desert Eagle are concerned, there isn't a competitive aspect to it yet, and if it were to pick up, it would need a whole new category in itself. You see, in all practicality, the consumer base for these e-MTBs would be people who are looking at it from a recreational perspective. There is also the possibility of catering to professional cyclists who have been out of the game for a while, and are maybe looking to relive the adrenaline rush, but with the convenience of the electric motor assist.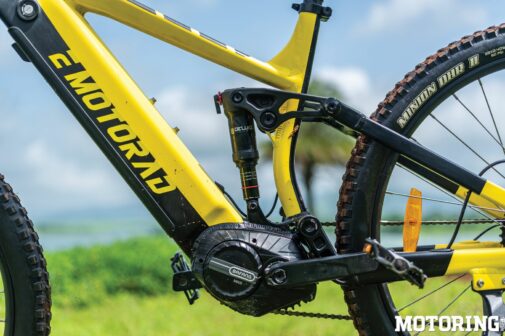 Anyway, taking a closer look at the EMotorad Desert Eagle, the first thing one notices on the Rs 4.75 lakh e-MTB are the components, which fall into the premium range, with RockShox suspension on both ends, complemented by Maxxis Minion DHR II tyres. It also gets a Bafang 36V 250W mid-drive motor paired with a 48V 17.5Ah Li-Ion battery pack, which gives a claimed range of
90 km on a full charge. While all of this may try to justify the price tag, one thing I can assure you of is that it is a fun contraption all in all, and we have the pictures to prove it.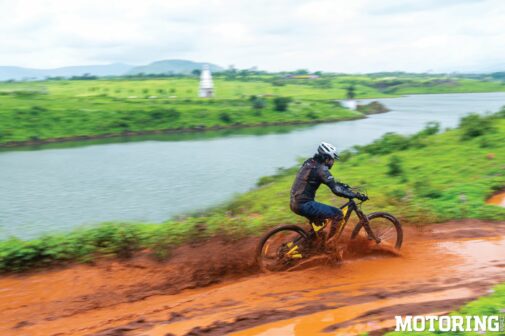 Back to the matter at hand, I soon got to attacking the slush on the dirt track, and let me tell you, the pedal assist was a lifesaver for me. Repeated downhill runs through the dirt, with the electric motor pushing me back uphill saw to it that I had a great deal of excitement, while barely breaking a sweat. Now for those looking to put in their daily quota of exercise, the electric motor assist can be switched off, and the e-MTB can run totally on pedal power (I'll stick to the assist, thank you). By the time I was done, I must have picked up a good deal of slush and mud in all available crevices, and by the time I started to hose down the e-MTB, I was more in need of a wash than the cycle itself.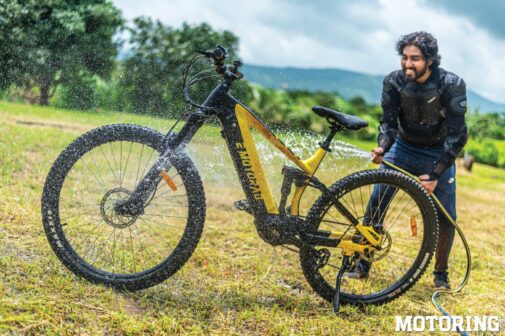 As far as the handling and ride quality of the Desert Eagle is concerned, it is a pretty comfortable steed, credits to the RockShox setup, no doubt, tearing through berms with precision. With respect to the handlebar, compared to the rest of the e-MTB, it seems slightly less premium, not to mention that the rear derailleur calibration was slightly off. There is also a slight lag as far as the motor controller is concerned, but I feel that can be overlooked. The Tektro hydraulic disc brakes offer a more than decent amount of bite, while the dropper-seat post is massively convenient too.
At the end of the day, I felt a wave of satisfaction, and fulfilment in general, radiate through me as I packed up my stuff and got ready to get back to regular days. I looked back at the setting I was leaving behind and thought to myself, this is how I would like my weekends to be. More carefree sessions in the dirt and muck like I used to have as a kid, and what do you know, maybe one of these days I'll finally be able to keep up with my younger brother (though I'm sure he'd insist that having an electric motor assist is cheating).