Photographs by Helmets for India
'Riding a motorcycle isn't dangerous. It is just inherently less tolerant of mistakes'
I can't remember where I read that, but it seemed to define motorcycling perfectly. To improve our odds on a motorcycle then, a helmet seems like the obvious choice. But anyone who has ever seen a road in India knows that the helmet is not very high on the list of the average Indian's priorities. Motorcycle accidents are responsible for 327 fatalities every day, and most of these are due to head injuries. Astonishingly, this doesn't seem to really bother anyone. But a year ago, a certain Niels Peter Jensen, an extreme sports athlete and TV host from Germany, witnessed an accident while he was here and that affected him profoundly. The more he looked around, the more appalled he got as he saw riders, pillions and children not wearing a helmet. And as an avid biker and father himself he felt compelled to bring about a change and do something. After many discussions with friends and colleagues in India and abroad, he launched Helmets for India.
Helmets for India is a non-profit with the goal to raise awareness for the cause of motorcycle safety, through art and the unity of the biking community, and give away at least 1000 helmets to people in India. In the long run, the aim is to collaborate with non-profits in India to bring about a more lasting change. And it all started with its very first helmet art exhibition right here in Mumbai, which I attended.
Called the Moto Art Show, and curated by Mallika Prakash, a biker and engineer turned moto artist herself, it was the first step in this mission. It unites art and motorcycles in a formal art space in a way we aren't used to experiencing in India. There were paintings, drawings and illustrations by 10 moto artists from India, USA and Mexico that I would never have heard about or seen had it not been for this. HAMerRed 49 and and Tauseef Ahmad really stood out for me personally as their work was edgy, and small enough to fit inside the average urban home. Plus they were in the Rs 2000-10000 price bracket, which made it a little more affordable to me. But there was some fantastic artwork on display. Some of it really expensive and large, but if I could afford them I sure as hell would take it all. But that was only half of the exhibition.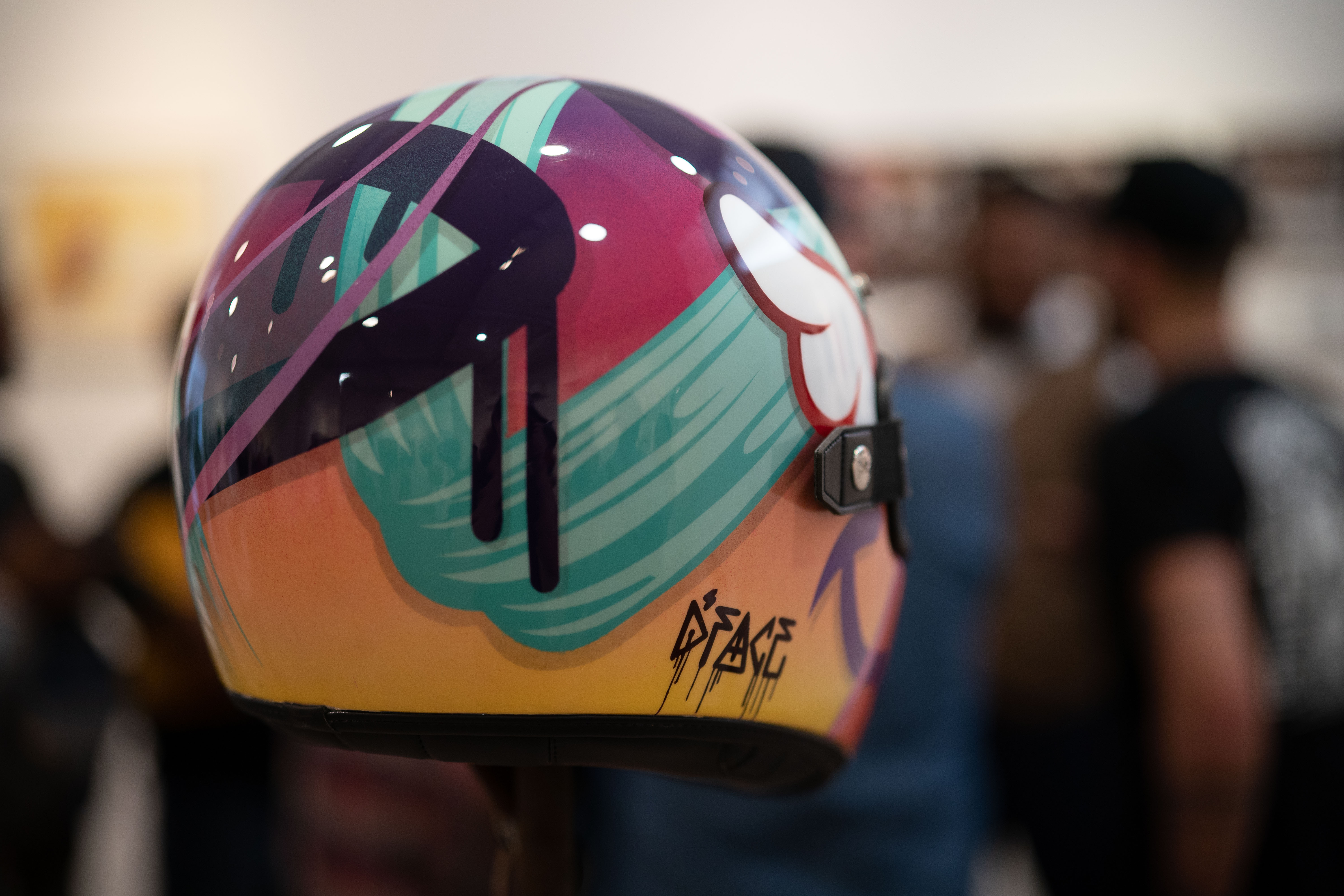 The other half was helmets customised by artists from across the world conveying different messages from representing culture, to using the surface of the lid as a canvas to tell a story. Among the helmet artists were big names such as D*Face from the UK, as well as local heroes like IRONic from Hyderabad and Mallika Prakash herself. It was all quite stunning to look at, and while it did reflect a sombre and serious message, the visual impact was unmistakable.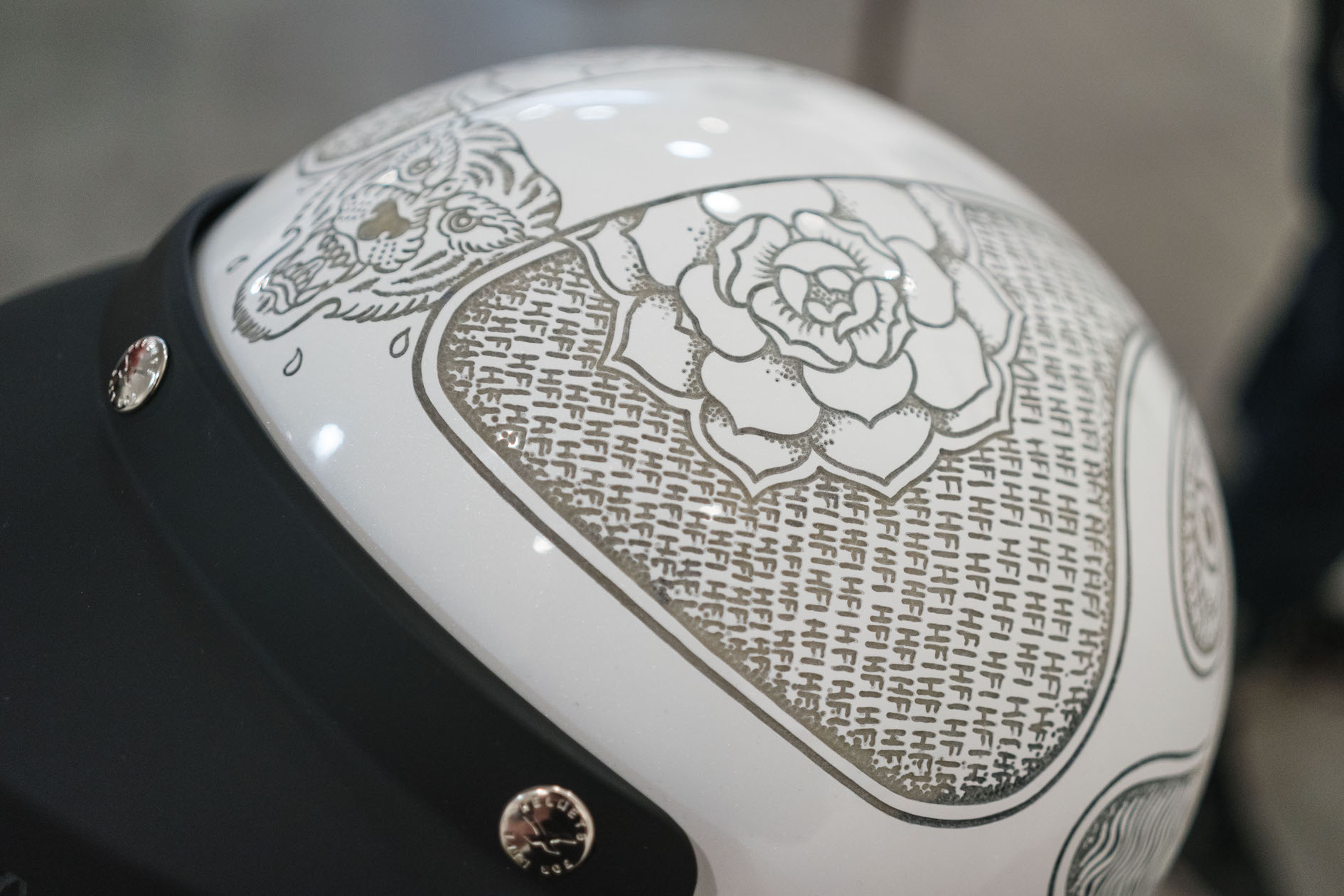 The show was also a good opportunity to meet and interact with the entire Helmets for India team. You see, this was just the first step for the project. Along with the art exhibition, a helmet giveaway had been organised for school children in Mumbai, and a ride for safety to Goa after that. I wish I could've ridden along with them, but the exhibition is all I got, but it was enough to understand these guys are serious, dedicated and committed. How committed? Well, they managed to convince D*Face himself to come down, and seeing him in the flesh was quite a pleasant surprise. Niels is the brain behind the project, but he invited people who shared his vision. There was Francesca Gasperi, an Italian test rider, race track instructor and an avid enduro fanatic. She has a 17-year-old son who she rides with quite often, and the fact that a lot of Indian mothers could lose theirs was all she needed to hear to come along. Caro Fitus is a former motocross rider from Germany who has raced at the national championships. Yes, she's the one with the bright pink hair. Tom Bing is a photographer from England who recognises the potential of motorcycles uniting people, and is the man responsible for all the pictures you see here. And then there was local hero Ganesh Shinde, known as Miles on Canvas, who offered to support the project not just with his work, but to join the group on their ride too. I spent a few hours at the exhibition chatting with them and I saw a reinvigorating passion toward road safety that had been beaten out of me through the hopelessness in this area I've seen growing up. Accidents are so common that a large part of me has become desensitized to it, but the reality is that it is a solvable issue. One that can save actual human lives. And this group of individuals have taken up that cause with all their heart. This country really needs a lot more like them.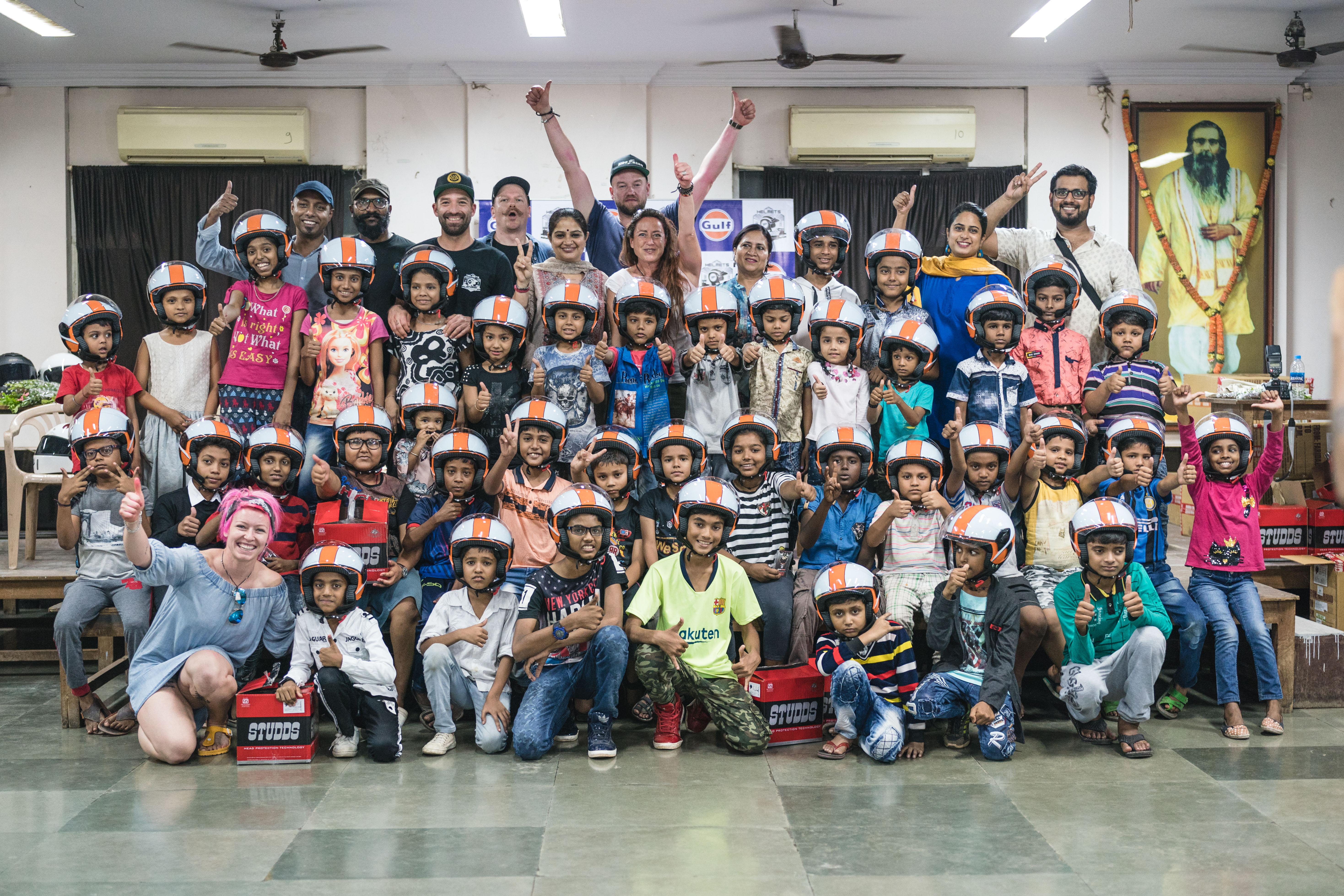 After Mumbai, the group headed to Goa and distributed helmets along the way. They did it at random places they stopped at. They organised get togethers to pass them on. And they even worked with the police in Goa where they distributed helmets at anaakabandi. Now the naysayers and sceptics might scoff at this by saying helmets are cheap enough in India. People don't wear them because they don't want to, not because they can't. But there is one major difference that might change the tide somewhere along the way. One of Helmets for India's goals is to change the perception of helmets. Make it something people would want to wear. And when they distributed helmets, they were from top manufacturers like Nexx, Hedon,Nolan, Arai and Sena, and their helmet sponsors who were more than happy to supply the lids. This is significant. It unintentionally addresses a crucial problem for helmet users in India- quality. The helmets available to most Indians are cheap. The ventilation is poor, the inner lining is non-removable, a sweat magnet and coarse. The visors are terrible, they are uncomfortable in general and are visually unappealing. In a country that is generally very hot and humid, these factors are detrimental to the desire of wearing a helmet. I remember how it felt the first time I put on my Shoei RF-1200, and I remember thinking 'If more Indians tried on quality helmets, they would wear them more often'. And finally, a small section of them has. I think this is fantastic. A part of me is ashamed that it took a non-Indian to care enough to make a genuine effort. But another part of me is incredibly happy and proud that it is happening.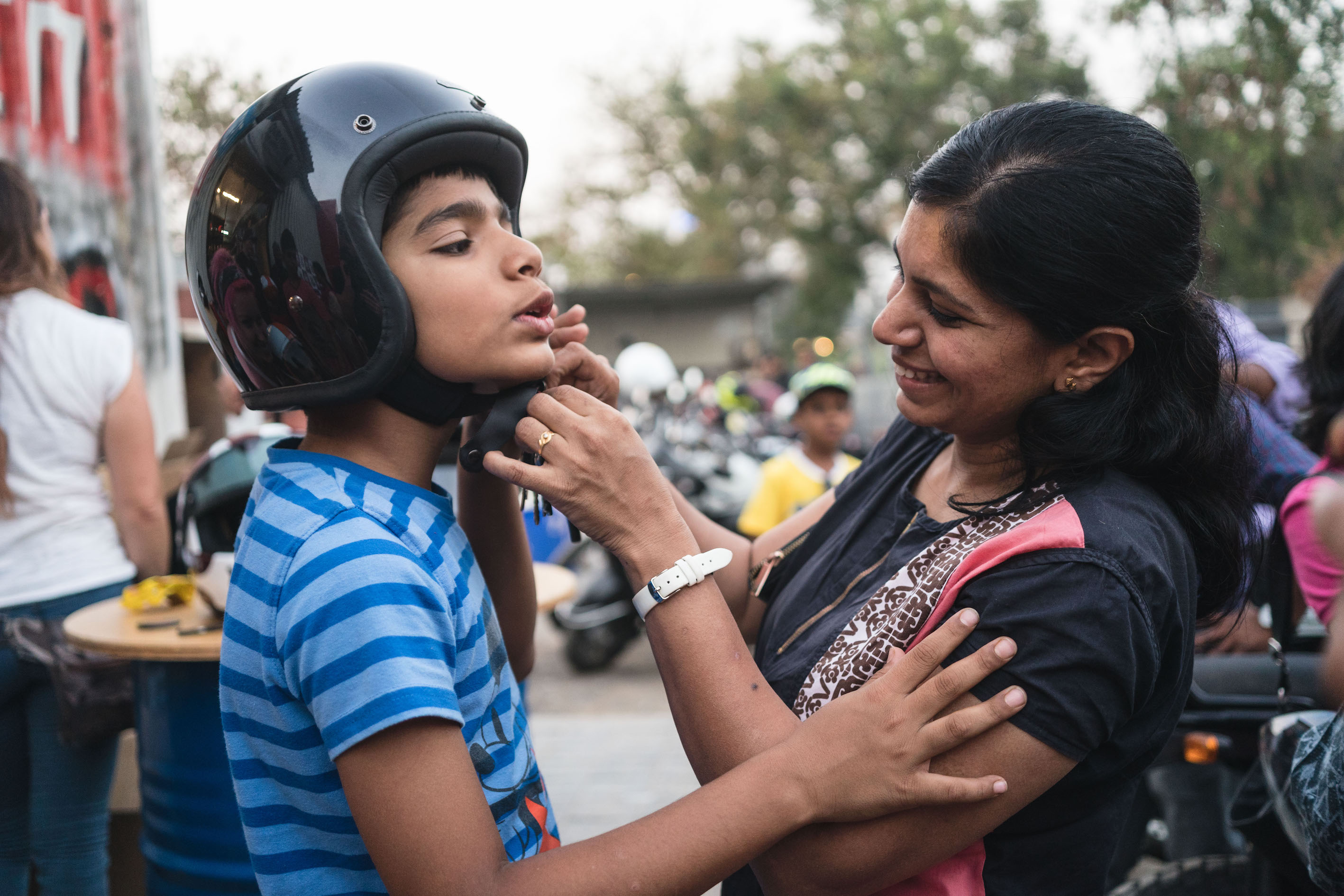 So what happens next? As far as the art exhibition is going, if you missed it then there is some solace. Moto Art Show already has a website, and the artwork will be going on sale online shortly. The customised helmets will be travelling to art shows across the world, such as The Handbuilt Motorcycle Show (USA), The Bike Shed and The Malle Mille (UK), Wildays (Italy) and Moto Circle (Austria). At the end of 2019, the helmets will be auctioned off to raise money to further the cause, and yes you can bid on it. The team distributed 250 helmets on this trip, and aim to raise that number to 1000 before the year is up. There will also be another art exhibition in India later this year, and I strongly recommend you go to the Helmets for India and Moto Art Show websites to stay in touch. Or do the millennial thing and follow them on Instagram with the handles @helmets_for_india and @motoartshow.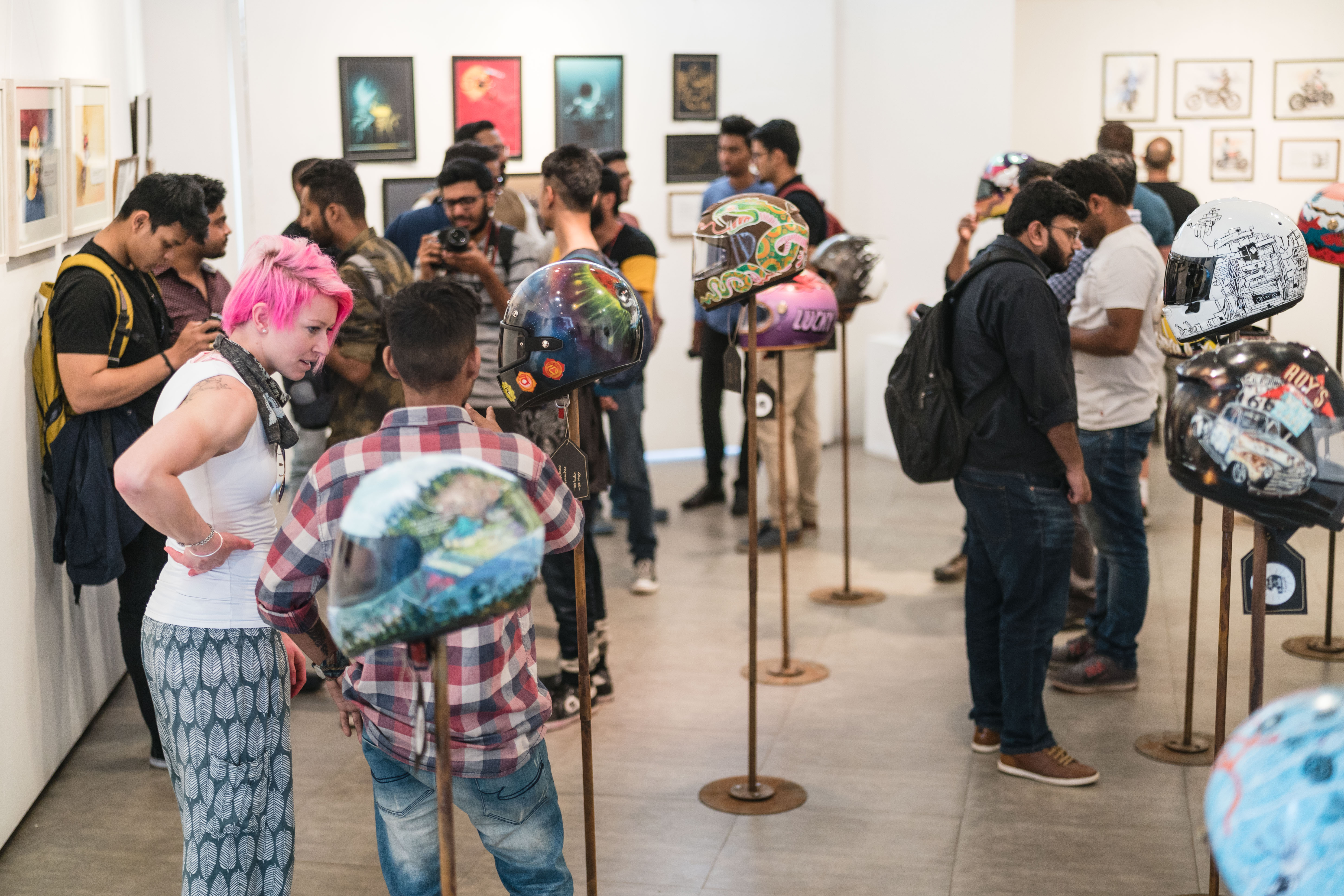 These guys are really on to something here, and it is our duty to do our bit by supporting them in every little way we can. Go and purchase some artwork. Or just spread the word. And while you are at it, ride safe.