This motorcycle is one that you'd expect to see from an outfit called Crazy Garage. In fact, we suppose it'd be a downright demand. Called the GT 650 RS, this transformed Continental GT 650 is a machine that has no time for indulgent gazes and easy conversations — it rips every polite notion to shreds in favour of a thousand-yard stare and a grin inside the helmet that grinds the teeth like only a racing motorcycle can. And you thought kimchi and K-Pop were the hottest things made in the Republic of Korea.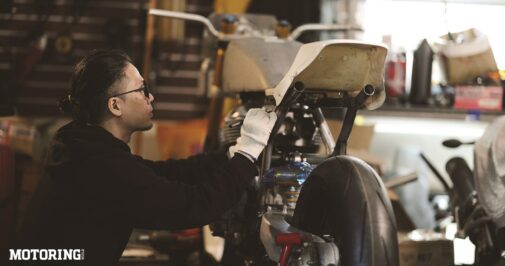 Kim Chi-hyun has a thing for racing-inspired motorcycles, and this one harks back to the AMA superbikes of the 1980s that showed off their mechanical muscle and shunned aerodynamic drapery of any kind. And that's the reason for that big black number board on its head, a throwback to times that were simpler and way more DIY. However, absolutely do not mistake this bike for a ham-fisted race-intended simpleton — this GT 650 RS is armed to the teeth with modern go-faster technology.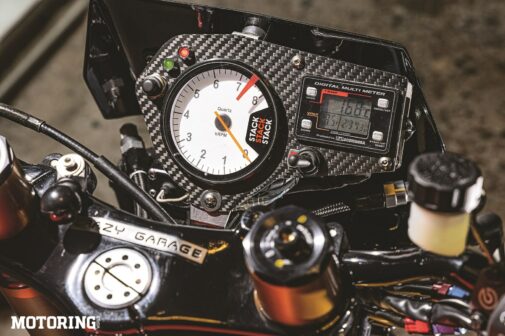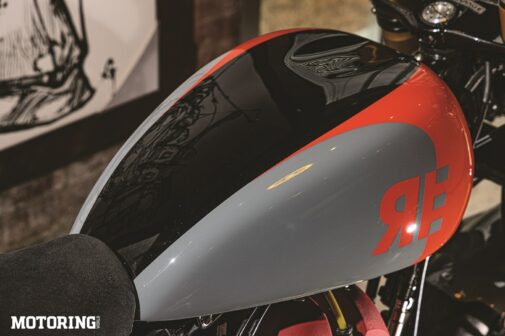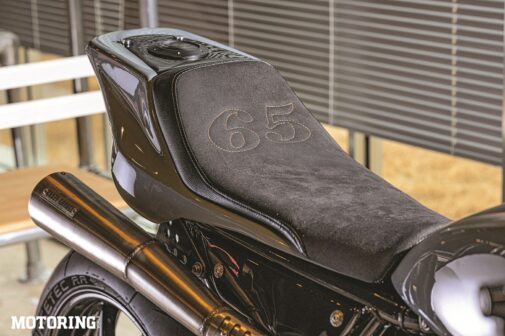 The list of mods is pretty close to endless, but let's fixate on the ones that matter the most. To begin with, the usually friendly 650cc paralleltwin has grown more teeth than a frenzy of sharks. S&S Cycle provides a performance camshaft, highcompression pistons, and a heavyduty clutch to turn tarmac to dust with. Dynojet provides the fuelling wizardry to make sure the ride can manage it all. And a handmade pair of individual stainless-steel exhausts let it all blow out the back. The oil cooler under the number plate, by the way, is representative of the rider's wide grin, too. Or so we assume.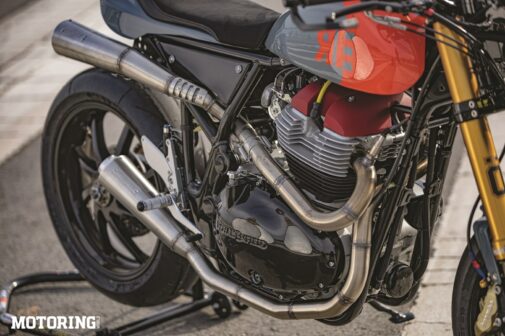 However, as with most passionate builds, the details are what matter the most — and you don't necessarily see them right away. Since this is a racing machine, there are more changes here than the casual eye could hope to see. An underseat 9-litre fuel tank leads that charge, and the brake cooling ducts are carbon-fibre cherries on the cake. A single-sided swingarm pairs up with Ohlins suspension units and sticky Metzeler tyres to guide the rider's intent on the fine line between glory and despair that characterises the act of racing. And there are many more hard-won elements to this motorcycle, too, but they pale in comparison to what the bike itself means.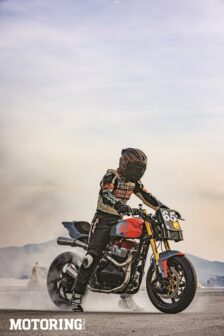 Custom culture, by its own nebulous definition, converges where it wants to and spreads without control. To see the GT 650 RS is to peek into a mindset where a builder like Kim Chihyun took it upon himself to realise a production motorcycle's innate potential that is a tribute to a bygone era of racing. It's a unique execution of a singular vision — or obsession. It's hard to tell the difference when it comes to motorcycles as mad as this one. But that's besides the point. What matters is, can you imagine what it'd be like to be barrelling into a corner with those pipes blaring into the bike's wake? If you can, even for a moment, this build has been worth it.