I have a graveyard's worth of bones to pick with these two bikes. It's not their fault, of course; it's never the bikes. However, diluting a term so elemental to the world of motorcycles is rarely a good idea. The unbroken march of concrete jungles and the inability of riders to get away from even some of 'it', let alone 'it all', mean that we now have scramblers made for the crowded voids. Are these good motorcycles? Yes, in their own respective rights, I absolutely believe so. But are these really scramblers? That's a touchy topic and a losing battle for this pair. But first, let's find out what the Royal Enfield Scram 411 and the Yezdi Scrambler have to offer.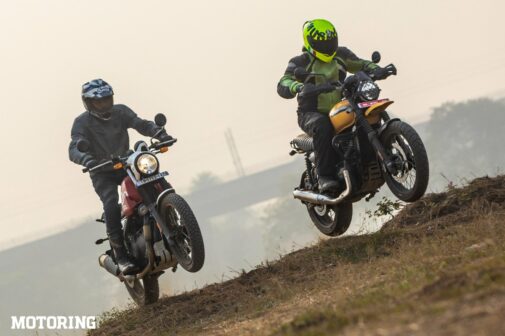 Cool looks, good on-road performance and moderate off-road capability are the three promises this pair keeps. That last bit is quite all right, too, since not everyone is an expert on Earth's most natural surfaces. Visually, however, it's the Yezdi that fully lives up to its name, with the Royal Enfield falling short, a bit like its name. The Scrambler you see here is kitted out with the full list of options: the headlight guard, the flyscreen, the hand guards, the engine guards and the tiny tail rack. Even without them, the Yezdi looks pretty cool and scrambler-y. The Scram, meanwhile, has its only option on offer, the Tripper navigation pod. It looks like a Himalayan after a trip to a swanky mall, which is no bad thing, either.
Between these two, there are 13 paint options on offer, with six for the Yezdi and seven for the Royal Enfield; it's probably the simplest way to maximise appeal when you're unsure of whether people will like the motorcycle for what it is. Not sure if that actually works, though, since I like both the bikes in yellow. Also, when it comes to build quality, both bikes are similarly solid — however, the Scrambler is quite rough around the edges compared to the Scram, and quality's been a bit inconsistent in the handful of Scramblers I've seen so far. On our test bike, the hand guards were misaligned, a squeaking sound came from the rear wheel, and ungainly welds were strewn about like a Jackson Pollock painting. However, if you don't mind a motorcycle that's a bit scruffy, it shouldn't be a problem. It wasn't for me, either. All told, the Scram looks slick, while the Yezdi looks rough‐ready.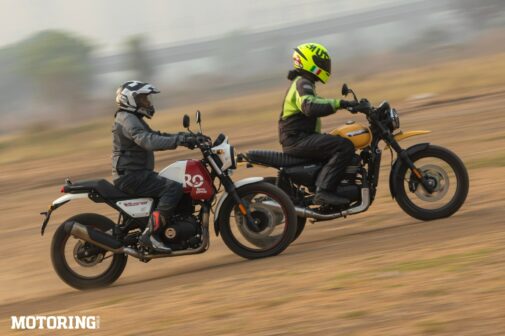 The Scram has the Himalayan's likeable 411cc single, but it definitely doesn't have the J-platform's next-level finesse. That said, it's difficult not to appreciate the Scram's long-stroke strides. Barrelling through traffic with the Scrambler for company, I thought the Scram's 5-speed gearbox might run out of breath compared to the former's 6-speeder. No such thing happened, though, and the two were neck and neck all the way. And even if one had to slow down, it'd catch up before long. Engine-wise, the differences amount to 77cc, 4.4 bhp and 0.39 kgm; the Scram uses its extra cubes to make more torque, while the Scrambler makes more power, and the former weighs 185 kg at the kerb to the latter's 182 kg.
Throw potholes, speed breakers and rough roads their way, and these bikes live up to the 'urban scrambler' tag with their identical 200 mm of ground clearance each. The Scram is more accommodating, though, even if the Scrambler isn't exactly harsh. With 190 mm and 180 mm of front and rear suspension travel, the Scram exhibits the right kind of long legs for comfort. The Scrambler, with 150 mm and 130 mm, feels tauter and more responsive, though, and that creates a lot more feel in corners. Off the road, the Scram's Ceat tyres seem better than the Scrambler's MRFs, while the advantage is reversed on the road. It seems like these two can keep swinging at each other till the road runs out and then keep going on the dirt, too.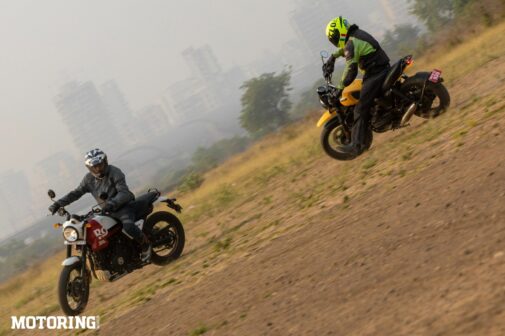 Jumps don't faze either bike, and you can confidently attack any ramp that offers a safe landing on the other side. We did a few runs over a small mound, and both the bikes flew through the air with ease, seeming more like scramblers than I'd thought possible. Not bad at all. However, with a neutral body position on both, there were more nose landings than I was comfortable with, so a yank on the handlebar and leaning backwards was required. And that doesn't come to me naturally or artificially. Nonetheless, the bikes again proved that they can take a bashing and have fun while at it.
Thanks to its slipper clutch, the Scrambler keeps both wheels in line, even if you're a bit lead-footed with the gear lever. The Scram misses out on this feature, but honestly, it never feels like it needs it. In any case, the Scram's wheelbase is a lot longer than the Scrambler's and it feels quite a bit more stable, too. However, I noticed a slight front-end weave at high speed on both bikes; on two bikes with considerably different steering geometries, it was an unusual commonality, and it was more curious than worrying, too. In both cases, though, the brakes worked well; the Scram's front-brake feel was a bit soft compared to the Scrambler's bitey unit, but either is just a matter of getting used to.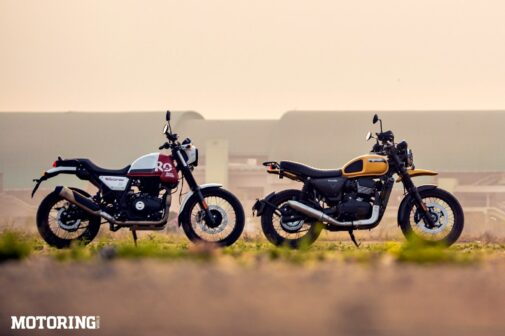 Also, the Scram's new one-piece seat is the more comfortable one if you're the Iron Butt type. The Scrambler's is decent, but only works for hour-long rides. That's plenty of wheelie time, though, which the Scram doesn't do. The Scrambler is the livelier motorcycle, while the Scram is the composed one. This was even more apparent when while riding the Scram, I found myself getting annoyed by the Yezdi's engine clatter behind me. That was a first for any bike, though I didn't really mind it when riding it myself. A bit of gruffness doesn't ruin what is otherwise a fun motorcycle. Also, a direct comparison when such opposing characters are involved almost seems unfair, and it is. They both have their own individual strengths which cannot be ignored.
But a common weakness, one that is also the reason why manufacturers race 450cc singles at the Dakar and not their respective giant ADVs — simplicity in the relative sense, and weight in absolute terms. It doesn't matter if a 200-kg bike makes 200 bhp, it's still heavier than a 150-kg bike. And these two make less than 30 bhp and still weigh north of 180 kg. The feeling of weight is inescapable on both motorcycles, and not in a good way (I'm not sure if such a good way even exists). Am I being a bit too harsh? Probably. Is a bike like the one described below even possible? Undoubtedly, and it's high time, too.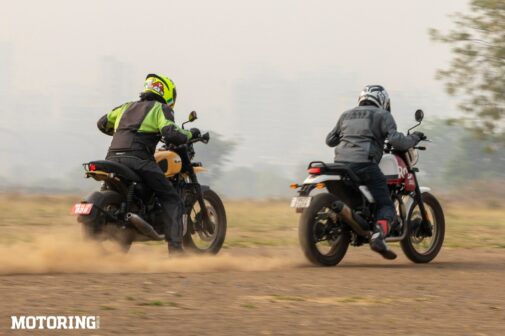 What makes an ideal scrambler? Anywhere between 30-50 bhp, plenty of low-down and mid-range torque, and a weight between 130-150 kg. Ideally, a 50-bhp 130-kg machine, but a motorcycle that lands anywhere between those numbers will be fun for its purpose, a true all-rounder. You could probably get away with making a portly café racer, but a scrambler? I think not. A scrambler's supposed to fly, not stick to the road. But maybe that's just me. And maybe these two are the eggs that need to be broken now to make a proper scrambler some day.
MOTODATA
Yezdi Scrambler
POWERTRAIN
Displacement:
Max Power:
Max Torque:
Transmission:
334cc, single
28.70 bhp@8000 rpm
2.87 kgm@6750 rpm
6-speed
CHASSIS
Type: Double-cradle frame
BRAKES
F/R: 320-mm disc / 240-mm drum
TYRES
F/R: 100/90 R19 / 140/70 R17
DIMENSIONS
L/W/H (mm):
Wheelbase:
Ground Clearance:
Seat height:
Kerb Weight:
Fuel Capacity:
NA/NA/NA
1403 mm
200 mm
800 mm
182 kg
12.5 litres
PRICE
Rs 2.06 lakh (ex-showroom, Delhi)
MOTODATA
Royal Enfield Scram 411
POWERTRAIN
Displacement:
Max Power:
Max Torque:
Transmission:
411cc, single
24.3 bhp@6500 rpm
3.26 kgm@4250 rpm
5-speed
CHASSIS
Type: Half-duplex split-cradle frame
BRAKES
F/R: 300-mm disc/240-mm drum
TYRES
F/R: 100/90 R19 / 120/90 R17
DIMENSIONS
L/W/H (mm):
Wheelbase:
Ground Clearance:
Seat height:
Kerb Weight:
Fuel Capacity:
2160/840/1165
1455 mm
200 mm
795 mm
185 kg
15 litres
PRICE
Rs 2.08 lakh (ex-showroom, Chennai)