They're all talking about these two, aren't they? It's only natural, I suppose. The Honda Navi and the Royal Enfield Himalayan are the two latest brave moves in Indian motorcycling. One comes from the world's biggest two-wheeled juggernaut and the other from the world's oldest motorcycle manufacturer, continuous production and all. However, there's no comparing these two breaks from convention. I, er, just really wanted to have a go at both and see what the fuss was all about.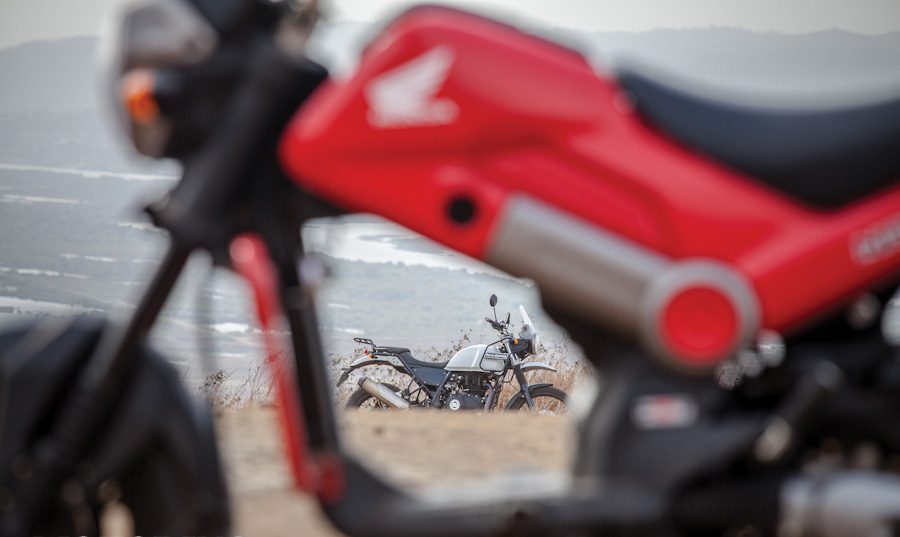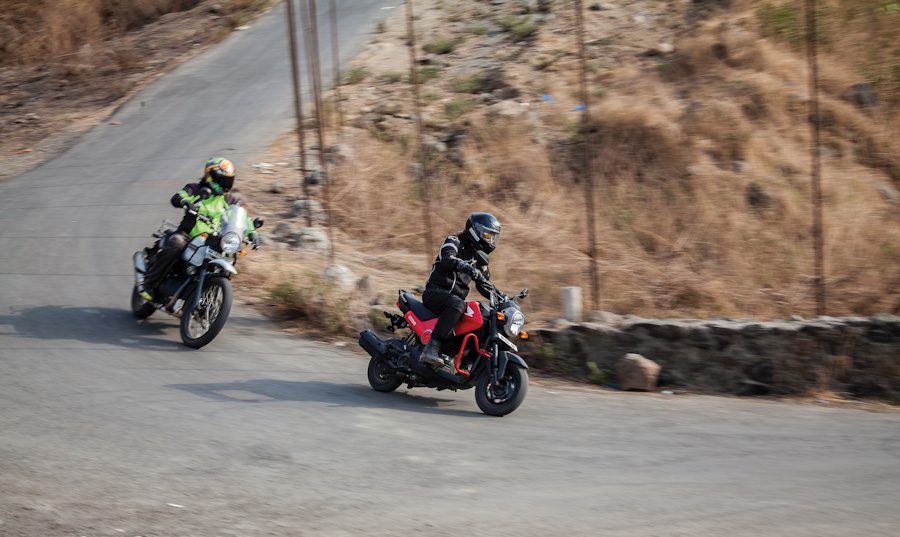 Flying in the face of unencouraging precedents, the Himalayan dives headlong into dual-purpose territory. This, despite knowing fully well that every single Indian motorcycle with on/off-road pretensions has bombed more spectacularly than all of Uday Chopra's movies combined. The Navi, meanwhile, is Honda's attempt at making bread and butter desirable. Now, Honda does make the Grom for most of the rest of the world. And it did make stylish economical offerings like the Twister, the Stunner and the Dio in India. Even so, I still can't believe that the traditionally traditional Honda has launched this thing. I say 'thing' because I don't know what it is and neither does Honda. Even on its website, the Navi is kept separate from motorcycles and scooters.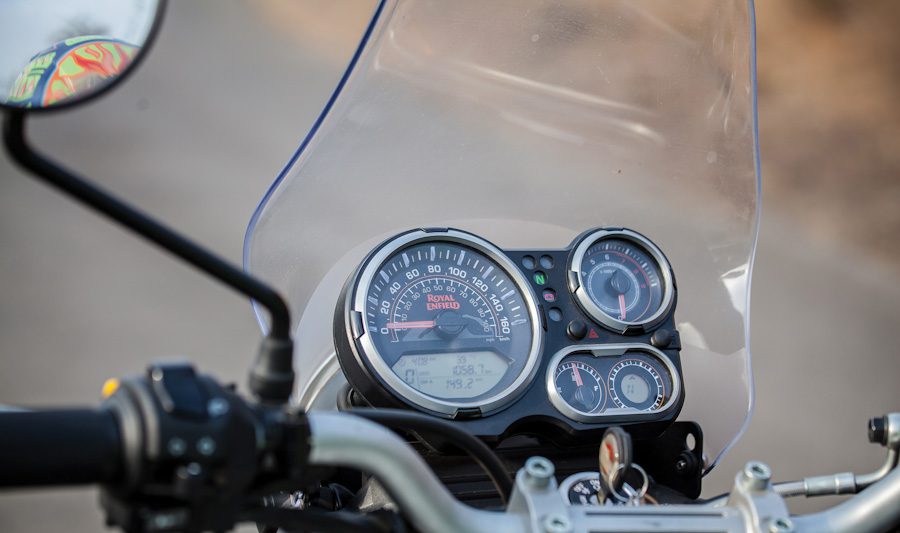 However, while the Navi is a bolt from Big Red, the Himalayan has almost an air of glacial inevitability around it. RE just had to make a motorcycle for the place that built half of its reputation. And it looks suitably determined, too, like you could ride to Ladakh straight from the showroom floor. The Navi, though, looks like you could have enough fun on it without even leaving the showroom floor. Call it amusing or intriguing, there's no getting away from the fact that it attracts more attention than a heavily bearded man at any American airport.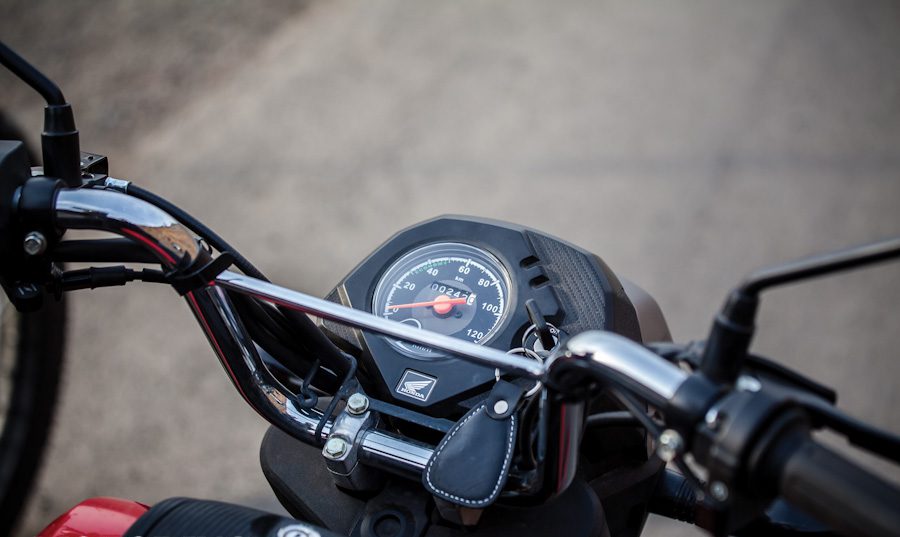 The Navi's dimensions might be similar to the scooter it's based on, but fitting a motorcycle's design elements into those dimensions gives it a rather light-hearted demeanour. It brings out the same reactions that the Rajdoot GTS 175 did a few decades ago. Small is approachable, small is jolly and small is for everyone. Fun-size, they call it, I believe. The Himalayan is on the other side of the spectrum of jolliness. At least next to the Navi, it comes across as solemn, its headlamp always looking at the horizon searching for answers to deep questions, no matter which way you turn the handlebar.
The Himalayan also has what is probably the smallest tachometer in the world. Given the healthy amount of torque it makes, I'd say that's all right. It also has a digital compass which will most likely find itself pointing at skyscrapers rather than snowy peaks almost throughout its lifetime. Still, it'll at least keep nagging you by being a reminder of where you'd rather be, what you're missing out on. The Himalayan does have all the right bits like the 21-inch front wheel, the capable suspension and the great riding position, so you can venture out pretty much wherever you wish except the really hardcore stuff. I make that exception due to the bike's 182-kg weight that won't be easy to get back up if it happens to go down.
The Himalayan's new LS 410 motor might feature overhead camshafts instead of pushrods actuating its valves, but it still sounds too noisy. It's the smoothest RE yet, that's for sure, but this particular test bike had a lot of clatter coming from its motor. Maybe RE just couldn't let go of that, eh? Also, the recesses in the tank were pretty much useless for me, a six-foot guy. But that's about it for the rain on RE's parade.
That's because the Himalayan is a lovely motorcycle that is comfortable and dynamically sound, no matter how hard you ride it. It always seems to remain calm regardless of its surroundings. Ever-present torque gets you where you have to go. Its ride and handling are leagues ahead of what RE has ever made. And it feels solid enough to withstand the substantial abuse that wanderlust so often brings with itself. The fact that any 200cc bike will flog the Himalayan on the street doesn't even matter. Well, it does to me, but not to the people who will buy this bike.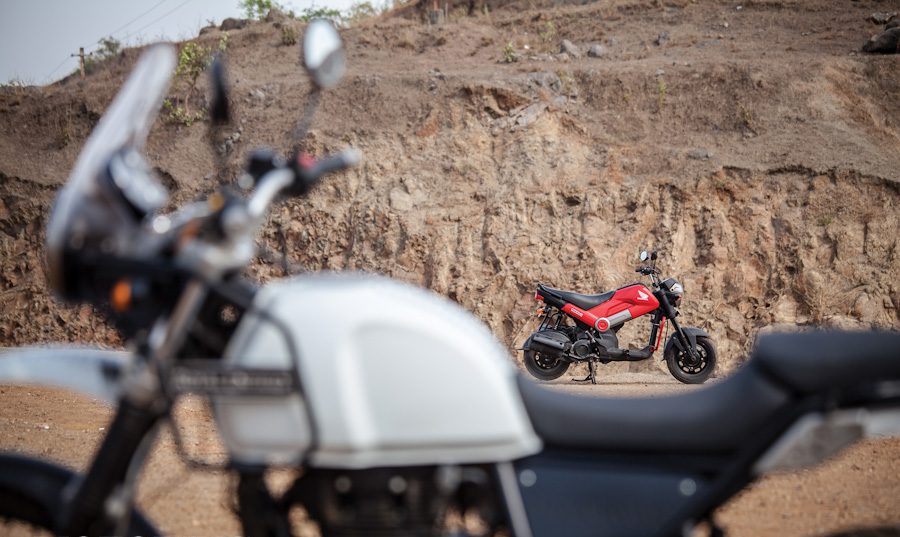 The Navi is exactly the opposite of the Himalayan when it comes to, well, everything. It has this toy-like feel to it, especially with the brighter colours it comes in. The 12-inch front wheel makes life an endless chain of steering corrections. Crosswinds redefine two-wheeled physics for you. The motor surprises with its eager nature off the line, but confounds with its stubbornness to go beyond an indicated 70 kph, even on a downward slope. And the 130-mm drums at either end make life very interesting when called upon to slow down in a hurry.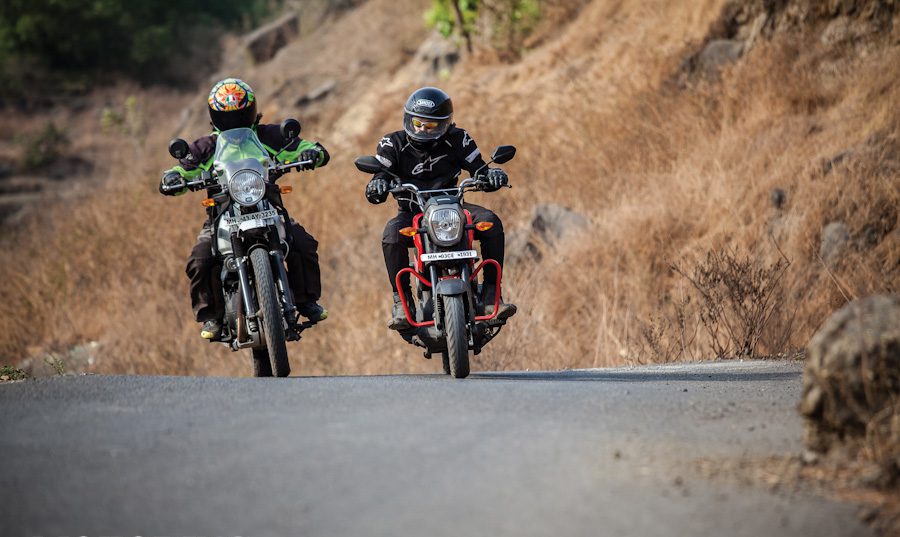 However, confined to city limits, I doubt there will be anything more effective than a Navi in the right hands. I, for one, kept looking for levers to prod with my feet, so I'm far from owning the right pair of hands for a CVT bike. It is smooth and comfortable, though, and makes light work of navigating tight spaces. But most of all, it's the way the Navi spreads cheer wherever it goes. Few bikes get that as right as this one does. Both the Himalayan and the Navi need to be applauded for what they set out to achieve.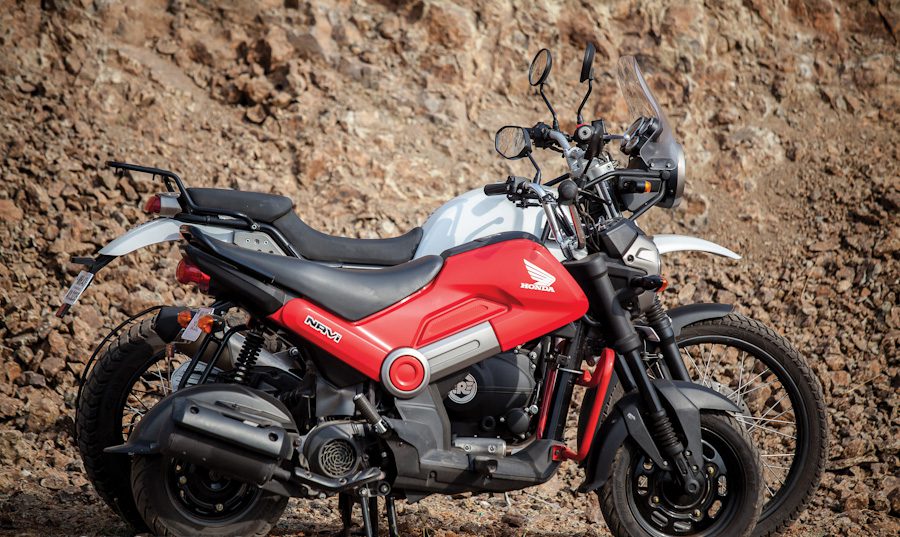 Now, there are things such as profit numbers, marketing idiocies, advertising pretenses and many other symptoms that are endemic to any sphere unfortunate enough to call itself an industry. However, despite the best efforts of these symptoms, the chunk of fun niches is growing, slowly but steadily, and the Himalayan and the Navi are proof of that fact. I sincerely wish the best for these two bikes because if they do succeed, other manufacturers will have no option but to sit up and take notice, and hopefully do more than just that. Let's talk about these two a bit more, then, shall we?