They say time moves faster in the mountains. This isn't some esoteric metaphysical statement, but a scientific fact. Time also moves slower in a motorcycle crash, as every unwilling participant will tell you. And unfortunately, it was the latter that I experienced on the very first day of the Royal Enfield Himalayan Adventure on my way to Upper Mustang in Nepal. The fall continued a long tradition in the history of my crashes because, like all the others, it happened when I was slow and distracted.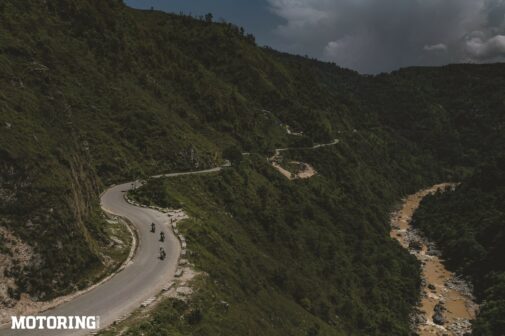 It was my first crash in ten years, but that thought didn't make my mangled fingers feel any better. There were still ten more days of riding, all through terrain that absolutely does not come naturally to me, and my right index finger was roughly the size, shape and colour of a sweet potato. And that was before five other fingers, a swollen right shoulder and a cranky right knee decided to get out their torches and pitchforks. Twenty minutes after patching myself up with the help of fellow riders and tentatively resuming the ride, my Himalayan's rear tyre found itself stabbed by a nail. Shortly after that, it started raining. As far as omens go, I'd gotten the message, loud and clear.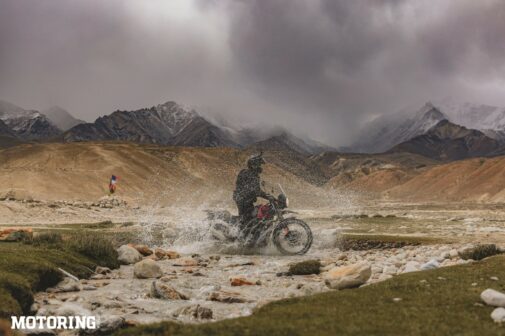 This was only my second Royal Enfield ride after the inaugural Astral Ride in 2019. After that first one, my mind was made up — I'd go for as many of these as possible. And the pandemic arrived almost on cue. Nonetheless, the RE rides team has more or less perfected these journeys, and everything is as easy as it can get, even with a large group of riders. You just have to get on the bike and ride, and I quite like that.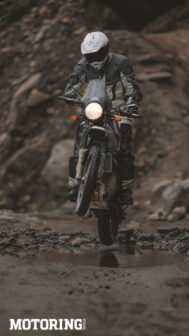 However, no one can safely predict anything, especially in another country, and a stubborn Nepali customs official made sure that we couldn't set out from Kathmandu as originally planned. Nepal had banned the import of bikes over 350cc and he was adamant that RE was 'importing' the bikes for the ride, and that each rider had to ride the bike into the country themselves. So to collect the bikes, a terrifying bus ride took us to the border town of Siddharthanagar, where Gautam Buddha was born, a trip full of white knuckles and zero-gravity moments.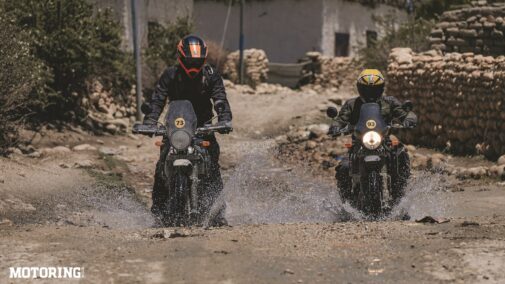 Despite all odds and the bus driver's creditable attempts at turning all of us into a giant fireball, I found myself standing in front of the plain black Himalayan assigned to me. A row behind stood the Himalayan I rode on the Astral Ride, and I felt the happiness of meeting an old friend. Nonetheless, I had a new friend for this ride, and we'd be taking the following route to the Nepal-China border on the Tibetan Plateau: Siddharthanagar-Pokhara-Kalopani-Lo Manthang, over three days. On the way back, we'd stop at all the places we rode past: Lo Manthang-Chhusang-Marpha-Tatopani-Pokhara, over four days. And I had to do it all feeling like a wounded animal attached to a mechanical contraption. This man-motorcycle centaur was decidedly on the back foot.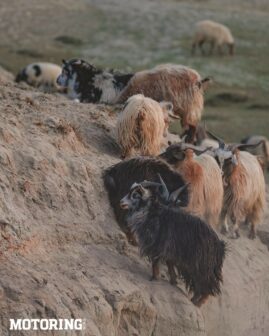 On the second day of the ride to Kalopani, the first 60-odd km went past in a smooth tarmac blur. After that began the first of many tortures on a road that the most limb-hating human mind couldn't come up with. My eyes could only blink in disbelief at what passed under the Himalayan's wheels: round rocks, slush, sharp rocks, long water crossings, loose rocks, more slush, gravel, mud, sand, you name the treacherous surface and it was there. I'm as at home in such an environment as a lamb in a wolf's lair, but I'd already decided that one crash was already one too many, and that I'd ride to Lo Manthang with my feet down if I had to. Keeping it upright was also encouraged by the fact that most of this ride was along one of the world's deepest gorges. Everyone knows that motorcycles and steep drops don't go well together.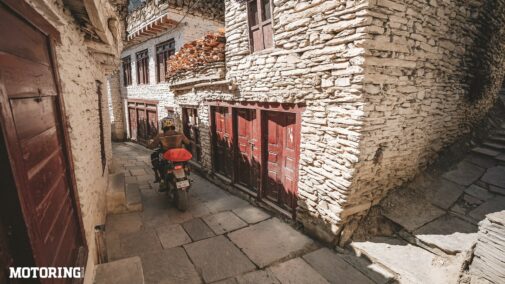 The Kali Gandaki Gorge was quite the sight and it seemed oblivious to the road that hung to its side. I relied on the Himalayan to get me over and up every obstacle, and it simply did just that, chugging away in second or third gear, with first reserved for the really gnarly stuff. The human mind has a way of forgetting its trouble, as I'd discover over the next few days, because a few kilometres before Kalopani pristine tarmac presented itself, and I forgot that I had more or less been through hell. It was only at our stop for the night that I took off my right glove to let my bleeding finger breathe in the fresh mountain air.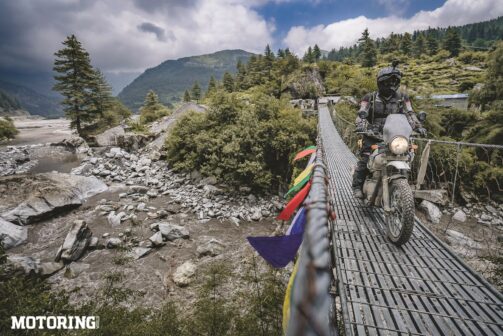 Waiting for our luggage to arrive, I sat with RE's Santhosh Vijay who pointed out that we were in the shadow of Dhaulagiri, the seventh-highest mountain in the world and one of the 14 eight-thousanders. It was covered by clouds, but even so I could tell that it was one serious piece of rock. The clouds briefly cleared to make a window, and I realised that the peak was at least twice as high as I had imagined it to be, a scale beyond comprehension if not seen with your own eyes. Or even then. Against this stunning backdrop, Santhosh continued to tell me about ammonite fossils found in the Kali Gandaki river. 'Isn't it amazing how the sea became the most stunning mountains in the world? History of billions of years, and here we are fighting over the past few hundred.'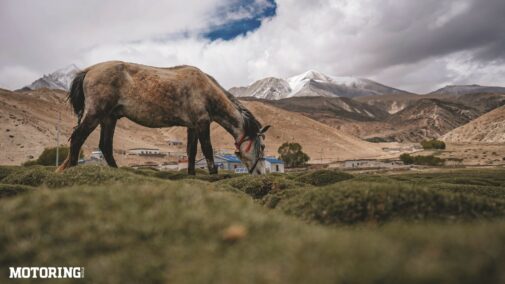 In the mountains, there is no concept of distance, only time. At least that's what I told myself when I forgot to tank up at Beni the next day. I had no idea where I was or how long I'd ridden. Earlier in the day, right outside Kalopani when I thought I'd survived the worst of the 'road', a water crossing presented itself and thoroughly drenched my boots. Obviously, it was the right time for the rain and wind to test my fortitude, and they duly obliged, all day long. Or at least till the rain-shadow region began past Jomsom, but there's no such thing as a wind-shadow region on the Tibetan Plateau, so I was a mass of frozen dust before long.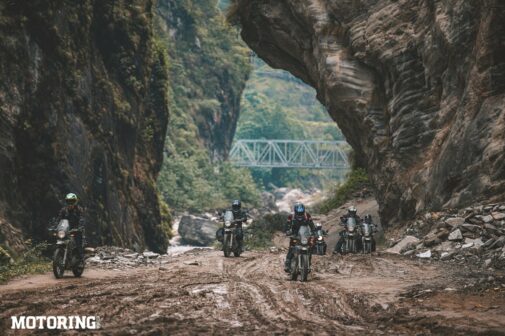 The Himalayas had decided to batter my body and confidence, so it was slow going. The slowest, in fact, and RE's Arjay Pramanik kept me company. Just as well, since he's ensured for two rides now that I end up with the '93' sticker for my bike. I'm the guy who's shown up with the '46' helmet, after all, though Arjay's bike is always number 73 so there may be some fraternal affection to it and not a wry conspiracy. Arjay is a treasure trove of military information, the Gurkha regiment in particular since his father served in it, and every stop was illuminated with anecdotes that will certainly stay in the Himalayan wind, if not in my mind for immediate recollection. I realised that a big part of the ride was having someone to speak my mind with. And that an incomplete thought usually causes more harm than good.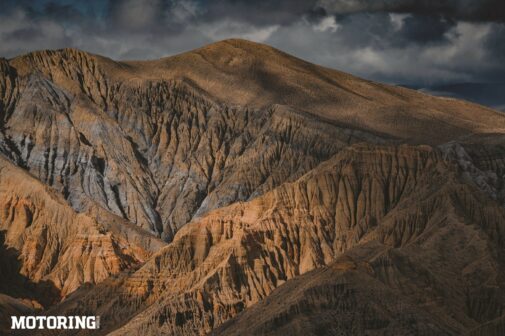 On that note, I must confess that I was dreading another longstanding tradition in my crash history — every fall has always shortly been followed by another. And shortly before Lo Manthang, after having covered the most treacherous terrain imaginable, I had the most comfortable fall of my life in the 'fesh fesh' on the descent into Lo Manthang. This impossibly fine and dense sand did send the alarm bells in my mind ringing at first, and I gingerly entered it with both feet deployed as outriggers. I observed with relief that the Himalayan's front wheel seemed to be sailing through the sand without any trouble, brought my feet back to the footpegs, and promptly went down. Arjay, my personal bike lifter, thought I was calling for help with my leg trapped under the bike. I was only asking him to take a photo.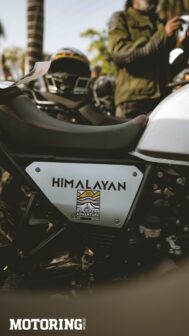 A short while later, before the steep gate to Lo Manthang, a pair of local dogs chased us. While I marvelled at their lung capacity and wished them all the best for getting their fangs through my Leatt enduro boots, I suddenly remembered that I might keel over if a loose surface presented itself, which would make the canines' job considerably easier. But as soon as we were far enough from the herd they were admirably guarding, they stopped dead and soon I could only hear their deep barks in the distance. As we entered the 'forbidden kingdom', I thought that history is the biggest collective story that we continuously tell ourselves. And that dogs have been chasing us long before motorcycles came along.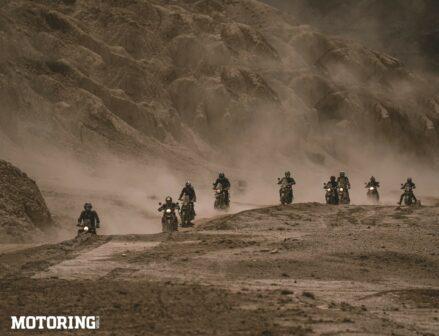 When I was a young guy, I thought I'd make history one day. And here I'd ridden through and to it. And guess what? My phone even had a perfect Internet connection, which I flogged for all its worth. We had two and a half days in Lo Manthang, most of which I spent trying my best to ignore a high-altitude headache that'd occupied the right side of my skull. It only cleared up on the last free day, and I headed out with Arjay to walk around town. In a local tea house, a concept that characterises this region, we found local beers to down and local people to chat with.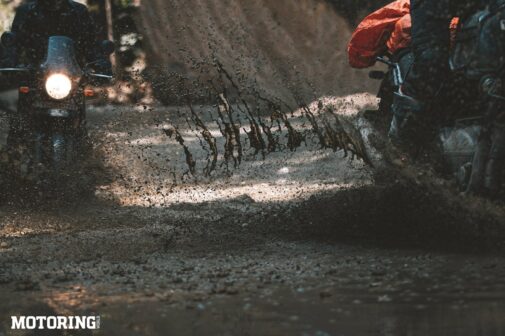 An elderly gentleman sat next to us and was naturally curious about two strange chaps emptying bottle after bottle of the golden stuff. He then announced that he'd spent half of his life in India, and that his grandchildren still studied there. With ease of experience, he explained how everything is interconnected, how the war in Ukraine had tripled the cost of sunflower oil in Lo Manthang. 'Not so forbidden, then, this kingdom,' I thought aloud. Meanwhile, at the next table, a couple of teenaged local girls watched a subtitled Tamil movie sharing a rather loud pair of earphones. Interconnected, indeed. And making history probably isn't some grand final event. It's more likely living each successive day as happily as you can.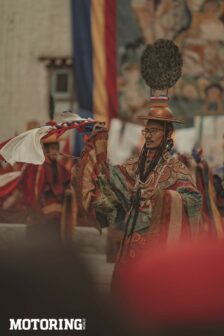 To say that the Himalayas always reduce me to a speechless speck would be an understatement. Human words, eyes and minds haven't evolved enough to fully grasp the magnificence of this land. The human settlements that dot this landscape are almost as unbelievable. Lo Manthang was a time-warped village from Tibetan antiquity, but with excellent Wi-Fi. Chhusang was a town that saw us light a bonfire and then smell of burning wood till we returned home. Marpha was a white-stoned wonder of a town, right out of a fairytale, and definitely a place I'm going back to. Sitting in a clean and narrow lane at a bright yellow table and watching MotoGP live on a smartphone remains a clear highlight. And all these towns were made from stones borrowed from the mountains, which didn't seem to mind at all. Nepal itself felt like I hadn't gone anywhere else. And yet, it couldn't be more different.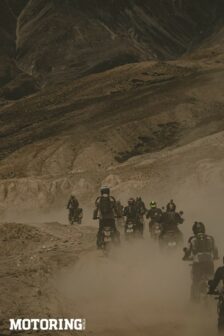 At the end of it, I was tired in body, but exhilarated in spirit. The mountains indeed make it all worth it. Spend enough time in the Himalayas, and you start to see temporal symmetries that may or may not actually be there. I thought of my teenage self who'd shrug these injuries off without a second thought. This time around, even after a month, I had to type this story with nine fingers. Time is never kind to bones anyway. Also, the idea of a second chance is not an arithmetic one; it's the one you make after the last one. That's some convenient maths if you never want to run out.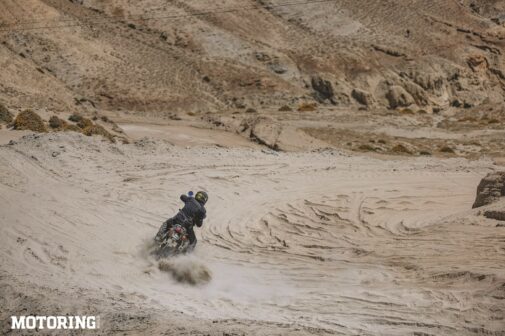 For me, the Himalayas were, are and always will be about trying to trap a feeling I've known all my life, a feeling this towering land breathed without effort. Certain places effuse certain thoughts — in goes certainty, out comes chaos. The jagged edges of the Himalayan peaks seemed to be the line between this duality, simultaneously dividing and joining both sides. And even though the Himalayas will eventually crumble, they always looked like they were beyond time.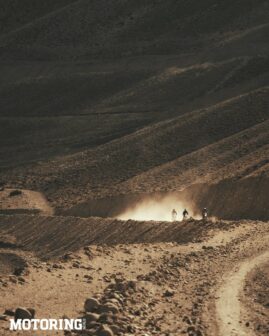 The mountains make one acutely aware of things that are usually lost in the white noise of 'normal life' in the 'real world'. All the branches of science converge at once to heighten the senses: the pressure of blood, the thinness of air in the lungs, the tensile strength of bone, and the malleability of imagination. At the end of the day, skill is everything, but imagination is anything. And more than anything else, the Himalayas are emphatic about the only thing that ever really mattered, the only precious thing we can give each other — time. And if I can ride a motorcycle to the land where time moves faster, I can ride it to the edge of time itself.
PHOTOS Royal Enfield