How do you not only retain the essence of a motorcycle but enhance it to the maximum? That's a tricky one for most people, but not for Arjun Raina, founder of MotoExotica, the custom motorcycle outfit nestled in the hills near Dehradun, Uttarakhand. It's absolutely poetic that a workshop based in the Himalayan foothills was tasked with conjuring up the Ultimate Himalayan — and that's been delivered and how! Anyone who's ridden the Himalayan in its eponymous region knows how good the bike performs there. And this mad mod raises the bar to 8848 metres. That's the height of Mount Everest, by the way, whose topographic map adorns either side of the Ultimate Himalayan's fairing. However, this is one motorcycle that's far — very, very far — from being just a sticker-and-paint job.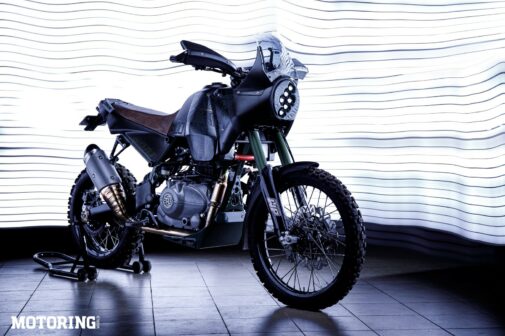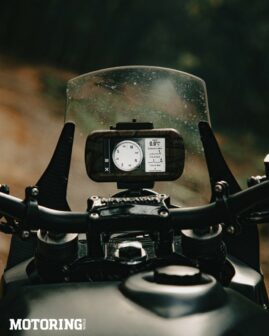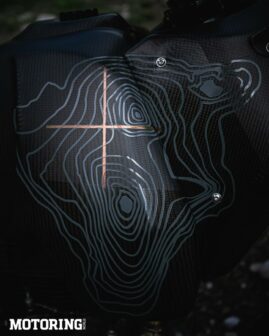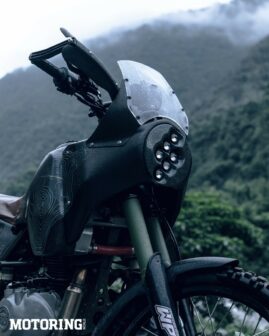 To begin with, all the bodywork you see is carbon-fibre, all of which was designed and formed in-house at MotoExotica. That's a lot of weight shed, and the custom rear subframe helped in that regard, too. And then came the trick bits that let the Ultimate Himalayan realise its full potential: a WP USD front fork, a custom swingarm with fully adjustable monoshock, a 320- mm front disc with a four-piston calliper, and a 21-inch front wheel complementing an 18-inch rear wheel, both wrapped in rally tyres. Needless to say, all of these mods come together and enhance the bike's terrain-tramping capabilities. But that's not all.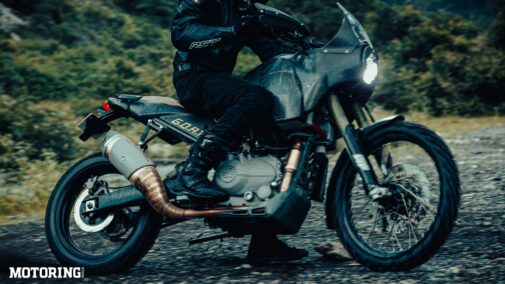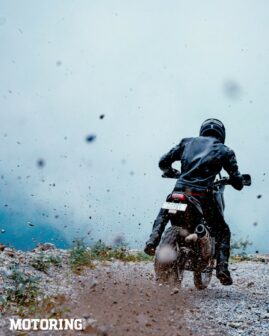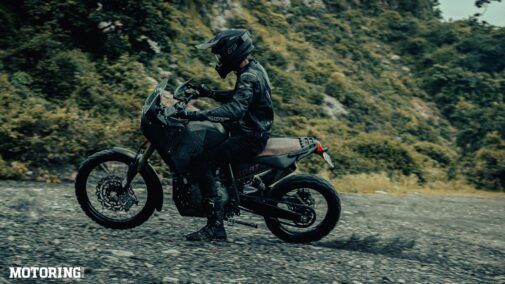 The motor breathes freer courtesy a big-bore 500cc piston and a high-lift camshaft. A standalone programmable ECU manages the extra mayhem, while a gorgeous custom megaphone exhaust finishes off this extreme project with a carbon-fibre cap. The headlight looks like a set of LED marbles which is apt in an ironic kind of way since this Himalayan looks like it's lost its own. This enduro-style machine is as exquisite as it is purposeful, and that's really not something you can say about a lot of custom machines. Full credit goes to Raina and his team, and also to RE's Custom World team that gave the former a free hand to craft this custom. Even as the new Himalayan is on its way, this brilliant machine makes us pause, gaze and wonder. After all, it's a machine that's as much about function as it is about form; indeed the former may outweigh the latter, and that's the single-minded focus that makes the Ultimate Himalayan worthy of its name. For this project, the brief given to MotoExotica was as simple as it was daunting — 'Build the ultimate version of the already capable Himalayan.' Not only has the mountain-dwelling outfit achieved that, but it has also made it unmistakably a Royal Enfield. The only thing we're not sure about is that 'G.O.A.T' decal on its flanks; does it mean 'greatest of all time' or 'go on and trample'?