In 1975, a Bullet 350 was made in Tiruvottiyur in Chennai. In 1995, I learnt how to ride on it in Mumbai. In 2014, the two of us set out for a ride back to the place it was made, in memory of the man who brought us together, my father. The means through which he came to buy the bike are a bit dubious, as he did so by borrowing money from my mother, even though he could perfectly afford it on his own steam.
Dr Prakash Ware was a bit of an odd chap, far from perfect. A lot like this bike, actually. He bought this Bullet, a second-hand one out of the Indian Army, because he couldn't afford the 650cc BSA twin he yearned for. Later, he did get that BSA and a Yamaha RD 350, and a Kawasaki ZX750R almost made it into his garage, too. But one day, probably in a characteristic fit, he sold all his bikes except this Bullet. I've debated his sanity ever since.
He once said to me, 'I'd like to ride this bike to the Royal Enfield factory just to see the place and chat with the people there.' He was never short of big ideas. 'I'd like to see you make it past the gate,' I replied, given our Bullet's legendary reputation for breaking down and my equally legendary prowess for irritating him. A few months later, the 4th of August, 2010, to be specific, the day began like any other. Except that after he'd performed his daily ritual of cleaning the Bullet after breakfast, he came into the house and said he wasn't feeling too well so he'd lie down for a bit. Fifteen minutes later, he passed away in my arms.
We're going to do this, you and I. Against my better judgement, I might add.
Work and health – two things that are always getting in the way of
doing things that actually matter to you. Because of these two minions of Murphy, it took me four years to start this ride. That, and the fact that the going would be slow. I'd done only two cross-country rides so far, one from Mumbai to Chandigarh in two days on a BMW R 1200 GS and the other a Bangalore-Mumbai 11-hour blast on a Honda CBR250R. For the Bullet to get to Chennai and back, I allotted 16 days. No trying to compete with teleportation, here. This was going to be the motorcycle-trip equivalent of the Louis Armstrong song, What A Wonderful World. Against the background music of a 39-year-old Bullet.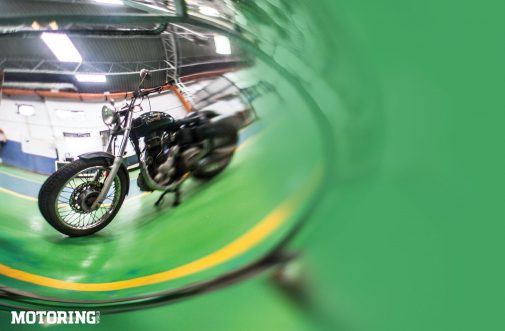 Also, as it turned out, I ended up doing everything on my Bullet that I've successfully avoided and actively scoffed at other Enfield riders for doing — riding long distance, riding in a group, and going to Rider Mania in Goa. It turned out to be a story in parts. Or as it goes with Bullets, a story in spare parts. My tank bag was confidently full of them. I couldn't help but notice an excuse of a resemblance to Zen And The Art Of Motorcycle Maintenance as I thought about this story. My apologies to Robert M. Pirsig and to you, though I must say it's difficult to go far on an old motorcycle and not end up with similar feelings.
Trepidation. Are you going to be good? Please be good. Okay, at least give it a try, will you?
I got the bike back from a thorough service on what would've been Dad's 63rd birthday, and the ride was to start in a couple of days. I wasn't thinking too much about it because it was too much to think about. Optimistically speaking, I must've ridden the bike for a total of 800 km in the previous four years. And here I was, staring down the beginning of a 3200-km road.
Over the years, I've had many names for this bike, but none of them can be printed here. All of them have to do with this bike's tendency to leave me stranded by the side of the road, I can tell you that much. Ex-BSM mechanic-turned-motoring-journalist-turned-corporate-suit, Kyle Pereira, did a fair bit of work on the Bullet in preparation for this trip. The front suspension was off a Thunderbird 500, the electrical system was all new, the clutch was overhauled and every little thing was checked and serviced. And Kyle still handed me a long list of parts I needed to carry with me. And the bike still managed to look like it was dragged out from under a scrap heap. Old bikes, you know.
The bike was also running an exhaust that was much louder than stock. Dad liked the bike to be as silent as possible, so people could hear him hollering at them to get out of his way. Said hollers were usually perceived as blue streaks launching from his cigarette-holding mouth. I'm much more polite, so I prefer the loud pipe. Like father, unlike son.
I wonder why people get involved with your kind. And then come together in one place. And have a fun time. Wait a minute…
Where there is an Enfield, there's a puddle of oil and a story to tell. Now imagine over 4000 parked in one place. That year, Rider Mania was bigger than ever. My personal highlight was meeting Pierre Terblanche and insisting that he was Glynn Kerr. Must've been all the green bottles that found their way into my hands. Rider Mania is always one big party, after all. In any case, if I ever have a child, I won't expect too much intelligence from him or her. And boy or girl, I'm naming the child Pierre so I don't forget who he was. The motorcycle designer who then worked for Royal Enfield. Actually, the last sentence can be the kid's middle name.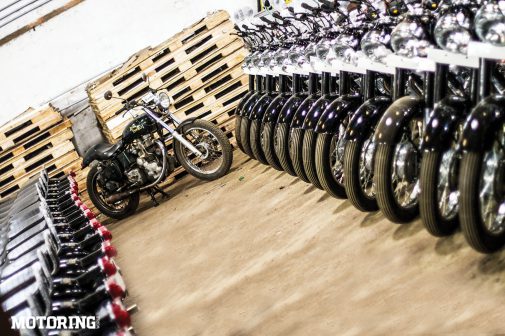 My moment of colossal idiocy notwithstanding, Terblanche was gracious enough to chat with me. 'I'm going to tell Glynn that I got mistaken for him. Let's see what he has to say about that!' he said, before we proceeded to talk about motorcycles. Of course, he couldn't say anything about Royal Enfield's plans, but I kept hearing the word 'scrambler'. That's one of the things I plan to turn my Bullet into one day, after I'm done pretending to be a café racer.
The old one was parked among many shiny bikes. To me, it was a rusty oasis in a desert of shiny chrome. I watched people riding in and out of the venue at Vagator, making all kinds of fools out of themselves, though some were well behaved. Regardless of behaviour, all of them were having a good time. Rider Mania has a bunch of events and activities to keep these guys out of trouble. Unless it's the one where a bunch of guys race to the finish line — while carrying a bike. I don't know what it's called, but it should be something along the lines of 'Collective Hernia'. It's also good practice for when your bike breaks down, I suppose.
There was loud music playing, good food all over (especially at the Helmet Stories' stall) and I kept bumping into familiar faces all the time. It's a good way to spend a weekend. It's also a good place to observe bonding between motorcyclists. Blood might run thicker than water, but engine oil runs thickest. Where you end up depends on what grade suits your bike.
Hey, look… there's another old one. An even older one. Wonder what it's up to…
The old-style number plate on the front mudguard read 'SYD to LDN'. A luggage rack was the pillion. The rear number plate read 'AGV 51'. Thank god it wasn't five less or I'd have to steal it. And even a Bullet rider doesn't carry a spare number plate. Especially one that'd come all the way from Sydney. I walked away, hoping to meet this chap, and I ran into him at the Helmet Stories' stall where all the interesting people usually end-ed up at some point.
Jonathan Gibson was a 27-year old from Sydney, Australia. He was riding from Sydney to London to raise money for a charity that dealt with depression and anxiety issues, particularly in men. Jonathan had lost more than one person to suicide, which compelled him to ride around the world studying concepts of manhood, searching for answers to a problem he'd like to see vanish. Well, as far as studying manhood goes, he certainly chose the right bike.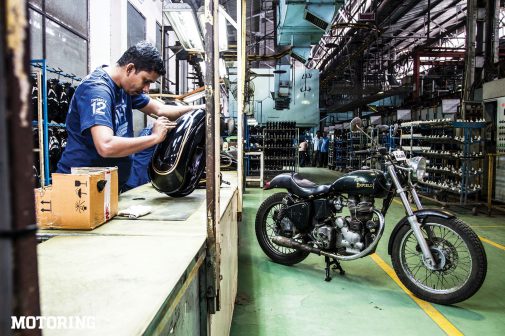 'Wonder why motorcyclists tend to wear black more than any other colour,' he remarked, as we found ourselves holding green bottles once again. 'Yeah, I wonder why…' I said, looking down at my own black T-shirt. I suppose we're so busy trying to stand out, no one notices when we all become identical.
We went out to the parking lot to check out each other's bikes as I explained to him what I was doing with my Bullet. Jonathan's a fourth-generation Enfield rider, so he was just as excited about my ride as I was. The feeling was mutual.
'Enfields are like zombies. You keep killing them, but they keep coming back!' he laughed, pointing at the broken piston tied to his Bullet's front fork. It seemed to be a lucky charm. Or perhaps it was a warning, like sticking skulls on a fort's ramparts. He'd been on the road for six months so far, and planned to finish the ride by May 2015. I almost spat out the inevitable question: 'Of all things, why a Bullet?' 'It's easier if you're on a Honda, yes. But if you take an Enfield further down the road, it's much more satisfying!' He planned to ride to Redditch, where the old Royal Enfield factory used to be. 'And what are you going to do once you get there?' 'I might be tempted to take a U-turn and ride back.' Jonathan was a cheerful reminder that all you need is love, fresh air, a sense of humour and a motorcycle. And I knew I'd be seeing him again. Bullets always find ways to come together.
When you're running fine, you're second to none. No, really.
It's like meditating on a jackhammer. I'm never more at home on any other motorcycle. I remember everything from when I started riding this bike for the first time. The joy I felt then is still intact today. The bike fits like the proverbial glove. Except that the rear shocks are shot, and the seat is hardened with age and that numbs my backside. The rearset 'pegs cut off blood circulation to my feet. The handlebar is not properly adjusted and the throttle action is hard, so my left shoulder and right wrist hurt all the time. And the heat from the old engine fries my knees. But still, everything is right with the world.
The tappets play their metallic tune, something I'm inexplicably fond of. Somewhere near my left foot, the chain makes a sound that only something joining two sprockets can. The exhaust roar, the ever-popular thump, lords over the mechanical symphony. Thanks to the rear-set 'pegs, I can't use the neutral finder. But that's fine because it's never managed to find neutral for at least 18 years and counting. I suspect it's because the gear lever's hoarding all the neutrals it can find.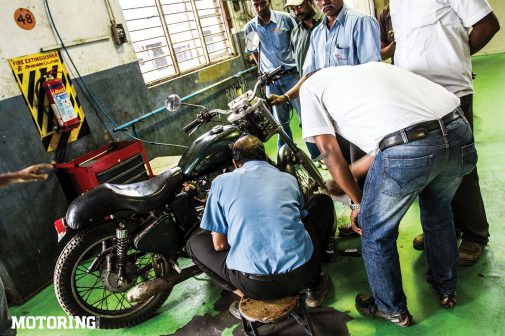 The cracks in the front tyre would shake the stoutest of hearts. It squirms under hard braking like the front wheel's encircled by a giant worm, not rubber. I still don't know why I didn't get a new one when I was getting a new rear tyre. However, as it turns out, during the entire trip, I checked tyre pressure once — it's perfectly fine. It's one of those things, I suppose, whatever those things are supposed to be. This bike still puts in 13-hour days on arrow-straight expressways that it wasn't built for. It loves medium-speed winding roads where it can thump a graceful line from one corner to another. Motorcycles that take you places you're meant to go are never about the whole 'point A to point B' thing. Most of the time, they're more about, 'Now, how the hell did you do that?'
This bike is and always will be about the things I love about motorcycles — sound, feel, and exploring limits, both mechanical and personal. It's also about two things I hate on a motorcycle — a perpetually loose steering head and the lack of satisfactory speed. Nonetheless, it never ceases to amaze me that a bike that's been around since before I was born is still teaching me things I ought to know and reminding me of things I once knew.
I'm not going to stop until you do. Uh oh. Now what…
In all my years with the old one, I've learnt one thing — any amount of praise or optimism means that disaster is imminent. I've hatched elaborate plans so that I always have company to ride with. Despite that, I'm to ride alone for three days and I'm dreading it. But I certainly didn't expect it to come to a spluttering halt 500 metres from my house on the first of many long days on the road. I'm shouting out my shock and despair inside my helmet, already questioning the whole ride, until I notice that the new fuel filter isn't letting fuel flow through. I promptly yank it out and slam it into the tool box. The bike runs just fine.
I won't say it out loud, but I'm expecting the engine to seize at any time. Mechanical denial is one of a Bullet rider's strong suits. On the second day, while riding with the Helmet Stories gang, the throttle cable snaps, necessitating a roadside-repair workshop. Bumpy roads make the old one start spluttering again, until it finally stops rather conveniently on an uphill right hander. A fuse has blown, prompting a search for a short in the system that is never found. I'm grateful for being with a bunch of people who know what they're doing. The bike runs just fine.
From Goa, I'm riding to Davangere where I'm to join Ruman and the other Kartik who are driving the support car. The initial part of the route is one of the most beautiful stretches of tarmac I've seen, winding and climbing through an isolated forest reserve, 150-odd km of pure motorcycling road. It's one of those days every motorcyclist lives for. And sure enough, 5 km into the ride, the old one starts spluttering mildly. 'Here comes the seizure,' I go in my head, convinced it's the beginning of the engine's death rattle. I begin to hear noises that are possibly only in my head, and by the 30-km mark, I've freaked myself out enough to turn back. A fox hears me coming from a long way off. He crosses the road and sits by the side, watching me as I splutter past him. There are people riding back to Bangalore from Rider Mania, so I know I won't be stranded in the middle of nowhere. At least that's what I tell myself. But the bike keeps going and carries me along.
I learn that every small town along the way has a Bullet specialist. That's probably true of the whole country. In Davangere, it's a chap called Mohammed Ali, and he assures me the problem is fixed. The bike seems to be running fine in the city, but out on the highway, the splutter returns. So we dive into the town of Chitradurga, where another Bullet specialist called Mansoor has a look at the bike. He tells me there are over 200 Enfields in the town and two Continental GTs, too. He's only 18 years old and likes working on Enfields. This one's been bitten early, too, I suppose.
Nonetheless, the problem doesn't go away, and I splutter my way to Bangalore where I'm shown the way to a Bullet specialist called Kishore Kumar. With his traditional mundu and big sandalwood smear across his forehead, he looks more like a priest in a temple of Bullets. He fixes the problem nice and proper, and the bike runs just fine. It was a clogged air filter. Quite far from the catastrophe I was expecting. Now, it's just the ride to the factory.
We made it. My God, we actually made it.
It's not the momentous occasion I'd imagined. I ride down a dusty, broken road lined with trucks and pull up at the factory's gate. People from Royal Enfield greet us and usher us in. But not before someone notices that the old one's carb is leaking petrol at an alarming rate. I wheel the bike around the factory, getting all the photographs I need. Slowly but surely, an overwhelming sentiment starts taking over me. I miss the man who should've been here with me. I look at the bike as it leaks oil all over the clean and shiny factory floor. The black spots seem to say, 'The old one was here. Can you believe it?'
Chatting with the Royal Enfield gents, we reach a collective realisation — this is probably the first motorcycle factory in the country. It was built in 1955 to make Bullets for the Indian Army, the same reason for which the old one was made, too. I wonder who rode it then and if they're still around. The old assembly lines are all gone, though, as are the cast-iron engines. I still don't know what I feel about the new Unit Construction Engine, though it is a lot more reliable than the old one. And it also means that the company is bursting at its production-capacity seams. The oldest motorcycle plant in the country still sends around 130,000 complete motorcycles out of its gates every year. That's mighty impressive.
I'm looking for anecdotes and trivia about the factory and the people who work there. We reach the booth where two gentlemen are hand-painting the golden stripes you see on Bullets even today. It's an incredible display of effortless talent. I wonder how many tanks they go through in a day. Around the same time, a gentleman I'm chatting with says, 'Actually, we're not supposed to talk to the media,' and the corporate communications chap from RE says, 'If you have any questions, please email me and I shall get back to you.' In that singular moment, I look at all the UCE engines around me, and I'm ready to get on the old one and ride back home. It's an epiphany along the lines of 'they don't make them like they used to.' The same could be said of my father.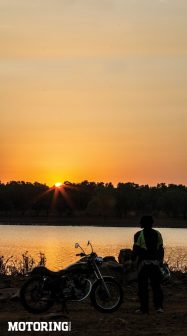 In any case, in the time it takes to fix the leaking carb, I've become restless yet again. I want to ride and not stop. The trip isn't complete till I get back home, just like summiting Everest isn't complete until you've come all the way back down. George Leigh Mallory probably made it to the top first, but Edmund Hillary made it back to tell everyone he'd been there. Analogies keep flying in and out of my head as I think of the long ride home. But with the old one, I'm always home.
We're going on, you and I. Though you'll probably go on longer than me.
The old one is as unpredictable as life itself. And just as enjoyable, too, if you pay attention to the small things. Until now, I thought that this bike was destined to gather dust in my garage. I was wrong. This old thing is far from done, and it probably never will be. A lot of time has passed, and the old one is still doing what it's supposed to do. And as long as there's a leg around to kick it to life, it will keep going. Stories might end, as do people. But motorcycles go on.
On the way back home, the old one never misses a beat, and it covers the distance between Chennai and Mumbai in three riding days. At a steady 70 kph, of course. I get pulled over by a cop with a speed gun. He says, 'Speeding. Limit is 80.' 'I don't know what to say. 'Sir, old bike. Eighty not possible,' I reply, even as Ruman is beginning to stare murderously at the cop. He's been tailing me at 70 kph on a road where twice that is safely possible, so he deserves the Nobel Prize for patience. The cop lets us go with a stern warning to not do it again. I make a mental note to come back down this highway soon on a 200-bhp motorcycle and hope the cop's there, too.
All along the way I've met people. Most of them look at me funnily, some of them voice their encouragement. And all along the way, I never met someone who asked, 'Why?' Just as well, that, because I don't think I'd have been able to explain. It's just two of us in this together, in honour of a man's love for motorcycles. If not for that, this is little more than a needlessly long ride on a somewhat old motorcycle. And the ride, as they say, goes on.
Perhaps it's not for us to know why we love motorcycles. But that spirit needs to grow deeper and richer. To me, the old one is the embodiment of the spirit of motorcycling. It's yin and yang rolled into a cathartic experience that is mechanical, electrical and ultimately, emotional. It never gets boring with this bike, even when you're riding across the country at 70 kph. I hope everyone has a bike like this in their lives.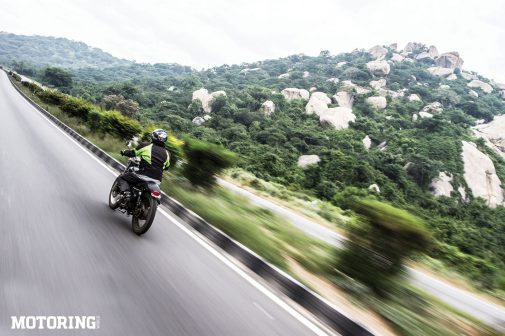 Ten minutes from home, I stop for one last time. The old one is throbbing away, held upright by its centre stand. Its registration papers still bear my father's name. I didn't have the heart to transfer them over to my name so far. But maybe it's time I do. Maybe now, ten minutes from home, I've earned it. The RTO charges a stupid amount of taxes for old bikes these days. I paid almost Rs 10,000 to get the papers up to date before I left for the ride. Papers are the most useless part of a motorcycle's life. But sitting there, soaking in the smell of oil and grease cooking on hot metal, a smell that's been the biggest part of my life, I realise how trivial these thoughts are. 'Anything to keep you going,' I say. Just like Dad did everything he could to get the bike, which includes his inexplicable borrowing of money from my mother. He never paid her back.
You're mine now.
[This story was originally published in our January 2015 issue]