There is always something to write about. Because each day and each ride is a different story.' It wasn't too long ago that our bare heads were nodding along in unison at that statement. Right now, though, our helmeted heads are bobbing along at a steady pace, simultaneously nudged by the wind and compelled by the road. I look into the mirror and see the white helmet that contains an extraordinary mind that answers to name of Melissa Holbrook Pierson. And, as with most things in life, I can't believe my luck.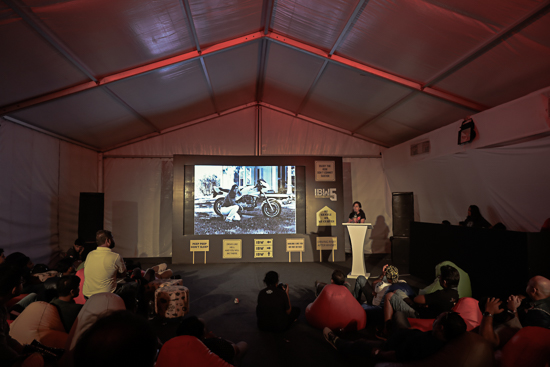 That's us standing in the photograph, the dusk tracing our outlines. Either side could not be more different; a British motorcycle and an American lady facing a Japanese motorcycle and an Indian chap. Both sides rode from Bombay to Goa to get to this cliff to breathe in the sound of gentle waves and the soft light of a setting sun. The ride itself was a study in contrasts that make up most of our lives.
It all began around five years ago when I first read her book, The Perfect Vehicle. To this day, I still think it's one of the most uncomplicated yet profound titles for a literary work. The book itself rides along those lines, too. And, as I found out over the course of several Facebook messages, that is indeed how Melissa is in real time. All that was left now was to get her to India, put her on a motorcycle and go for a ride. India Bike Week presented a perfect excuse to do so and, with not an insignificant amount of help from Thanush Joseph, one of the main guys behind IBW, Melissa finally made it to Mumbai, riding gear and jet lag in tow.
Kyle, Janak and Vishnu are tagging along for the ride, and it is with them that Melissa shows up one fine morning. It's impossible to remain unaffected when one of the best motorcycle writers in the world shows up outside your house. I glance at the big block of concrete that contains in it the pocket that forms my living space, and glance back at the motorcycles, a Triumph Bonneville T100 and a Yamaha YZF-R3, and wonder which to call home. I wonder this knowing fully well that I'll never really find out. Through this, Melissa acknowledges our first meeting with a smile, her head slightly cocked to one side. I somewhat awkwardly return the greeting, and not for the last time in my life, look to the motorcycles to rescue me from fumbling around.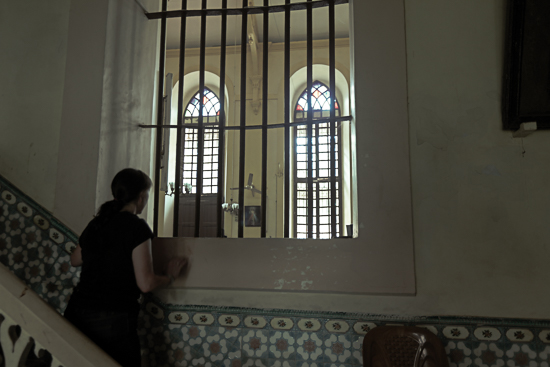 This is a real first for me; I've never met someone for the first time and started on a 600-km ride with them within 15 minutes. And I suppose I couldn't have asked for a better person to break the mould. Despite having ridden enough, Melissa still takes the time to make sure which button does what, a sign of the thorough training that Americans receive, I suppose. And I think of the number of times I've jumped on motorcycles with labyrinthine electronic packages and figured it out on the go, a display that typifies the characteristic combination of how-hard-can-it-be and the-devil-may-care that is found in all Indians when presented with pretty much anything. We don't ask for help, we cannot say no, and we pretty much do what we like. Nothing and nobody can escape this blithest of attitudes, as Melissa is about to find out.
As we set out, I'm preparing for a steady day, not the kind you'd usually associate with us Motoring chaps. Melissa's new to our roads, Kyle's on an FZ25 (much slower than the other two bikes), and there's a support car bringing up the rear. I'm leading the way, hoping to keep our guest out of trouble; I find group rides nerve-wracking in essence because I can never seem to completely focus on my own riding. After about an hour and a half into the ride, we stop for the first time. 'Are there any rules on these roads?' asks a visibly shaken Melissa. 'Yes, there is only one — don't die!' is my rather unhelpful answer. I try to keep up the levity, but as soon as the helmet's back on, I know exactly how serious it gets. Which is why I all the more appreciate Kyle acting like a motorcycle-mounted bodyguard for Melissa, stopping/directing traffic whenever required. And I wonder what she's thinking.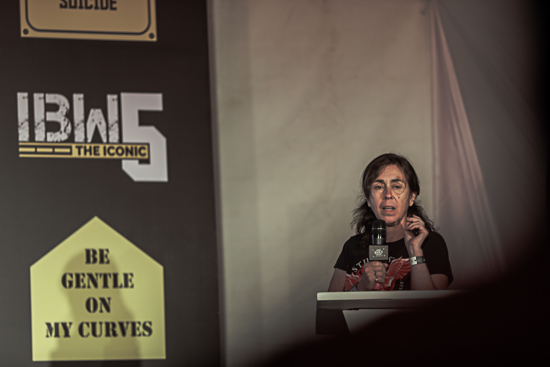 As with people in any part of the world, we tend to take local occurrences in our stride… or at least learn to ignore them. But imagine if you were to land up in a part of Afghanistan or Vietnam where losing a limb due to a forgotten land mine is a regular incident. I doubt any of us would feel particularly welcome or comfortable, and that is how I suspect Melissa feels. 'Use the horn liberally,' Kyle advises her. She nods along, wondering if that's going to be enough. Or so I imagine.
On the whole, Indian motorcyclists are afraid to lean their bikes a lot. We make up our time through the gaps. Melissa is proving to be the opposite. Every corner is dealt with confidently, the sign of an assured rider. However, every gap is considered with a life-or-death approach, the sign of a rider out of her usual place. I suppose we're used to all the near-misses by now, or perhaps our definition of a near-miss is in the millimetre-ballpark rather than metres. Or perhaps not everyone is used to or meant to be riding through an F-grade action movie.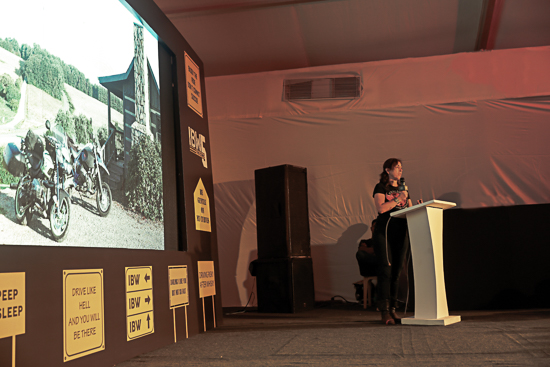 As we ride along, hours filled with steady pace, the world looks at us. Maybe it sees right through us, in both senses of the term. There's a large number of motorcycles headed to Goa, even though IBW is still a couple of days away. And as is the case every time I get out of the city, I feel happy to see so many gear-clad riders out on the road, a sure sign that serious motorcycling is certainly picking up in India. More and more people are discovering what wonders a real ride can do to them.
It is one such bunch, all on litre-class bikes, that comes past on one occasion. It takes everything I've got to keep from chasing after them. The R3 is one hell of an underdog, way more capable than that Conor McGregor chap turned out to be some time ago. Fine, on a straight road, it'll fall behind a bit, but there's not much those litre-chaps can do on our roads anyway. I also notice that most of those chaps' gear and bikes looked squeaky clean, so unless they'd all trooped into a store for new gear the day before, I'd wager that they're all weekend warriors. Perhaps even once a month.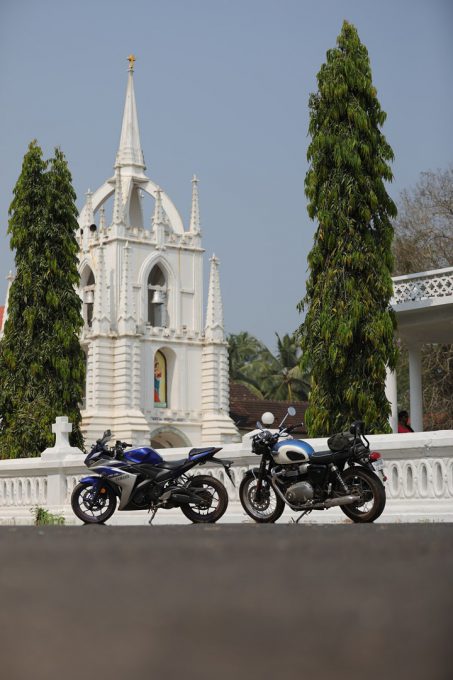 In this moment, the bunch promptly opens its throttles and leaves my arrogance in the booming wake of aftermarket exhaust pipes. And the R3 sits at 7000 rpm, spinning at a speed where it's just about waking up from a cruising state, wondering if I'm asking it to go for it or take it easy. It highlights the perennial fight in the motorcyclist's mind, one between juvenile abandon and righteous responsibility, between greed of mind and memories of broken bones. I take one look in the mirror and see the white helmet again, and pat the R3's tank. I don't think the action pacifies either of us.
However, after a couple of hours, the Brit-American entity behind me hits its stride. And I finally see the rider emerge. The gaps are still an issue, but she's doing perfectly well for someone thrown into the deep end of the Indian motoring pool. She's at home with the throttle and brakes now; it also helps that the T100 is such a sweet bike to ride. She says it's just perfect, and I'm quite inclined to agree. Just the previous day, I'd ridden it back from Pune at much the same pace as the Street Triple RS I'd ridden there on. For someone looking for an all-round motorcycle for Indian conditions, I'd have to say the T100 has the makings of a keeper. And this is coming from a guy who's in love with the T120, mind you.
At what would turn out to be our final stop on the bikes at dusk, I ask her, 'So how's your ride on the other side of the world, so far?' The helmet comes off to reveal a slow, disbelieving shake of the head. 'This is the most intense ride of my life so far,' she says, and going by her face, I completely believe it. I want to tell her that she's actually ridden on one of the most peaceful stretches in India; NH 48 is nowhere near as chaotic as most other parts of the country. But I don't say anything to take away from her experience. Instead, I thank myself for not taking her down NH 66 or the Coastal Highway to Goa. I can only imagine how that would've turned out. I wish I could explain to her how the expanse of India is exceeded only by its intensity. But even after all these years of riding across this amazing land, I don't fully understand it myself.
The final 100 km to Goa are covered by car; Melissa doesn't want to ride in the dark, and since I want to spend as much time with her as possible, I promptly put Janak and Vishnu on our bikes. On the dark Amboli Ghat, I ask her if she gets carsick and she says, 'Not in the front seat.' A few kilometres later, I hear a troubled voice asking me, 'Kartik, remember what I said about not getting carsick…' followed by an alarming dry-heave. I let off the throttle, relax my hand on the wheel, and promise not to get carried away again.
We reach Goa and are joined by Sherman. The last time we found ourselves in Goa, he was on his way out of Motoring. This time around, he's on his way back. Life always seems to come full circle on a motorcycle, especially for people who are always around them. Back in the car, it's a wide range of topics that are unravelling themselves, much in the way that most conversations flow, like the chaos theory. You have no idea where you began or how you got there. But it leaves you with a feeling of catharsis, just like a ride does. Only, with one you communicate directly with a person's mind, while with the other you meet the world through a motorcycle.
We end up for the night, as is usually the case, at a watering hole. It's not one we're particularly fond of, but it's the only one open this late. And as it will turn out, it's the place we end up at every night, complaining without fail as we do so. And as it will turn out, we will end up having fun each time without fail, too. I try to ambush Melissa into holding an impromptu motorcycle writing workshop, and she deftly sidesteps the attempt, but not before saying something meaningful as she seems to have a permanent knack for. I hope the other guys remember what it is because at the time of writing this, I don't.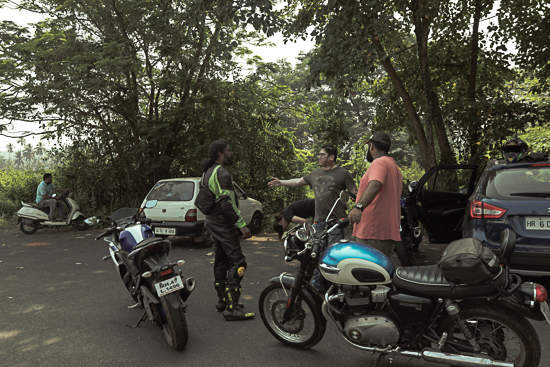 Over the next couple of days, we manage to annoy Melissa a fair bit. We're never on time (it's all Kyle's fault), we're mostly distracted (this one's all Sherman) or we're falling asleep at the dinner table (Janak and Vishnu). At IBW itself, I don't see much of her, since she has a talk scheduled at the big air-conditioned tent called Big Trip. I'm only there for a day, so I have a bit of running around to do myself, taking in all the sights, meeting all the people I can, and I also find myself as one of the judges for the custom bike competition. In all of this, I manage to get Freddie Spencer's autobiography signed by the man himself, before remembering that I'm late for Melissa's presentation. She's already talking by the time I rush in, and I join the audience in listening captively to her words. From time to time, I wish I could go out and smash the needlessly redlining exhausts on their riders' heads. But before all of this, we ride around Goa, letting her take in as much of the sights, sounds and food as she can. And one evening we find ourselves on the cliff whose image this story begins with.
All of us talk about the places we grew up in. We're looking down at a typical Goan beach party place where we'll soon end up for the Triumph pre-IBW gig. But mostly, we keep looking out at the sea. We exchange thoughts, stories and jokes against a grand backdrop made sweeter by the sight of two motorcycles that have completed a ride. After a while, it's only our breaths that fall in sync with the sound of the waves. Every ride has to have a fitting end, and for me it was that moment right there.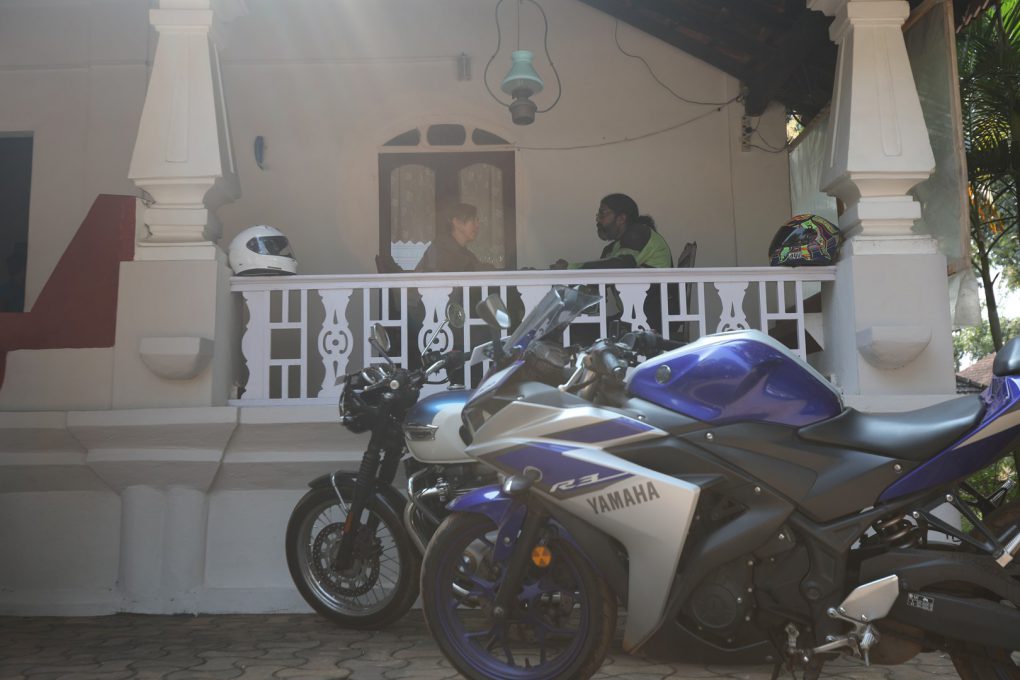 If I haven't managed to paint a good picture of her, it's only because I can't. She's one of those people whom you have to meet to know. All I'll say is this much – I suppose it's in the nature of the machine itself that makes a true motorcyclist always ride towards the left of the field. If you want to know more, go read her books; trust me, you won't regret having done so. There were many thoughts that flew in and out of my helmet on this ride and on the many rides before this one. A great number of those would not have happened if she wasn't writing or riding along.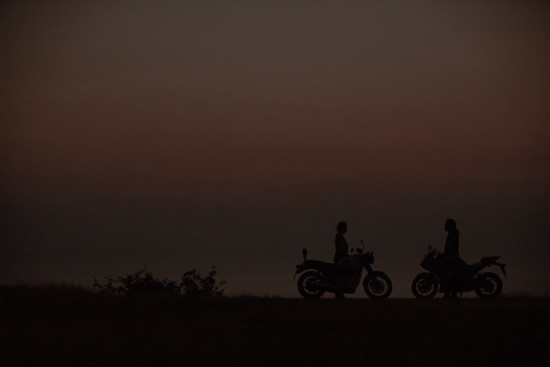 It's difficult to describe such events adequately. The frequencies of four pistons, the solidarity of four cylinders and the motivation of two throttles, all heading towards the same destination. The miracle of engineering lights up neurons to form inextinguishable memories. And the fires of internal combustion forge two kindred spirits from opposite sides of the world. On the bike, we're nothing more than the sound of rising revs and shadows on the road hurrying past. Off the bikes, we're the words we speak to each other, we're feelings waiting to ride again. On a motorcycle, there is always hope, love and imagination. And that's why there's always something to write about.
[The story originally appeared in the January 2018 issue of Motoring World]