Not all lunacy results from a realm without reason. But the only way to truly understand the madness is to become one with it. In other words, it's okay to go mad sometimes. Trust me, it's quite fun. The Pune Off-Road Expedition is an annual event held on the outskirts of Pune city. And as you can imagine, it's timed to be in perfect sync with the wettest time of the year. Downpour, mud, slush and grime are just the beginning of what can only be described as absolutely marvellous mayhem. And then some.
You give a monkey a mandolin and it will have endless entertainment right until the point it breaks the mandolin. I'd like to think of myself as the monkey in this scenario and the TVS Ntorq 125 my scrappy little mandolin. Since almost everyone I know already thinks I'm missing a few nuts and bolts in the upper floor, nobody really questioned my reasoning behind deciding to take a scooter to an off-road event. But like I said, there is some logic to all the madness. I've had the opportunity to ride some of the most gargantuan ADV motorcycles off-road and I've felt the 250+ kg struggle down to my very bones. This time I just wanted to see how far a 116-kg scooter could really go off-road without me needing any chiropractic adjustments. Or something like that.
Here's where the tricky part starts, though. The event was to be held a few kilometres from Panshet village, on periphery of the lake. I now had to travel about 200 km one-way aboard a scooter that's designed to make urban travel easy. As soon as the thought entered my mind, muscle memories of the back pain that resulted from long rides aboard uncomfortable motorcycles came flooding in. Would I even make it to Pune? And to make matters even more interesting, I had a Triumph Tiger 800 for riding company. And Kawasaki casually forgot we were on our way to pick up the Versys-X 300 after we had already ridden all the way to Pune. Way to be on the ball, Kawasaki India.
Anyway, in preparation for negligible traction and meticulously emulating Bambi on ice, I searched a fair bit for proper knobbies for the Ntorq but to no avail. As it turns out there aren't knobbies that come in a 12-inch profile. So I settled for a set of dual-purpose Ceat Gripp tyres that cost me Rs 3200 for the pair instead. Some traction off-road is always better than none. So I strapped the tyres to the Tiger and decided I would change them somewhere closer to the destination.
As we departed from the core of Bombay city, we were greeted by stretches of road so horrendous I wondered if I'd even need to reach Pune to experience this whole off-road sensation. My greatest worry, however, was the highway. The Ntorq zipped through the city with its lively engine like a feisty little Jack Russell Terrier. My weight didn't seem to dampen its enthusiasm much. But I imagined I'd be counting snails by the side of the road as soon as the highway stretch started. Trust me, I was wrong. The Ntorq managed to keep a healthy 80-100 kph pace on the highway. Given the constant presence of torrential downpour, low visibility and a crater-filled surface most of the way, this was a pretty decent pace, even for a big bike.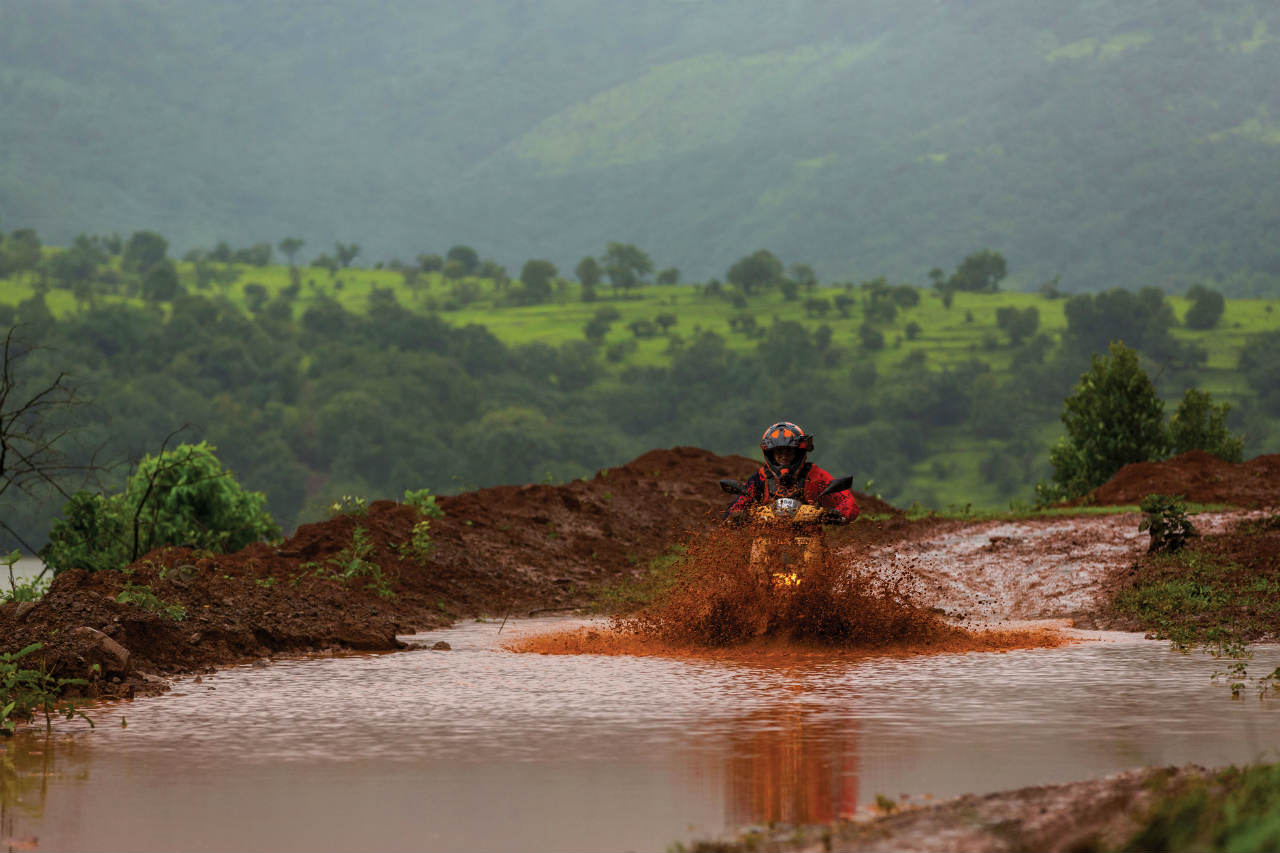 But I think one of the coolest parts of this whole trip is once we left the highway. The sun had bid us farewell for the day by now since we had left in the afternoon and made a stupidly long pit stop to get the tyres swapped. We now had about 40 km of unknown inner roads, no light, and constant showers. Constantly taking my non-waterproof phone out to check the route with gloves on would be nearly impossible. But like a sudden burst of light from the heavens, I realised the Ntorq has navigation assist. Who'd have thought a little 125cc scooter would have an in-built feature so practical for touring, and which still hasn't made its way to actual touring bikes? Anyhow, one Bluetooth connection and a whole lot of help from this speedo-based feature and we made it to the destination without ever needing to stop anywhere.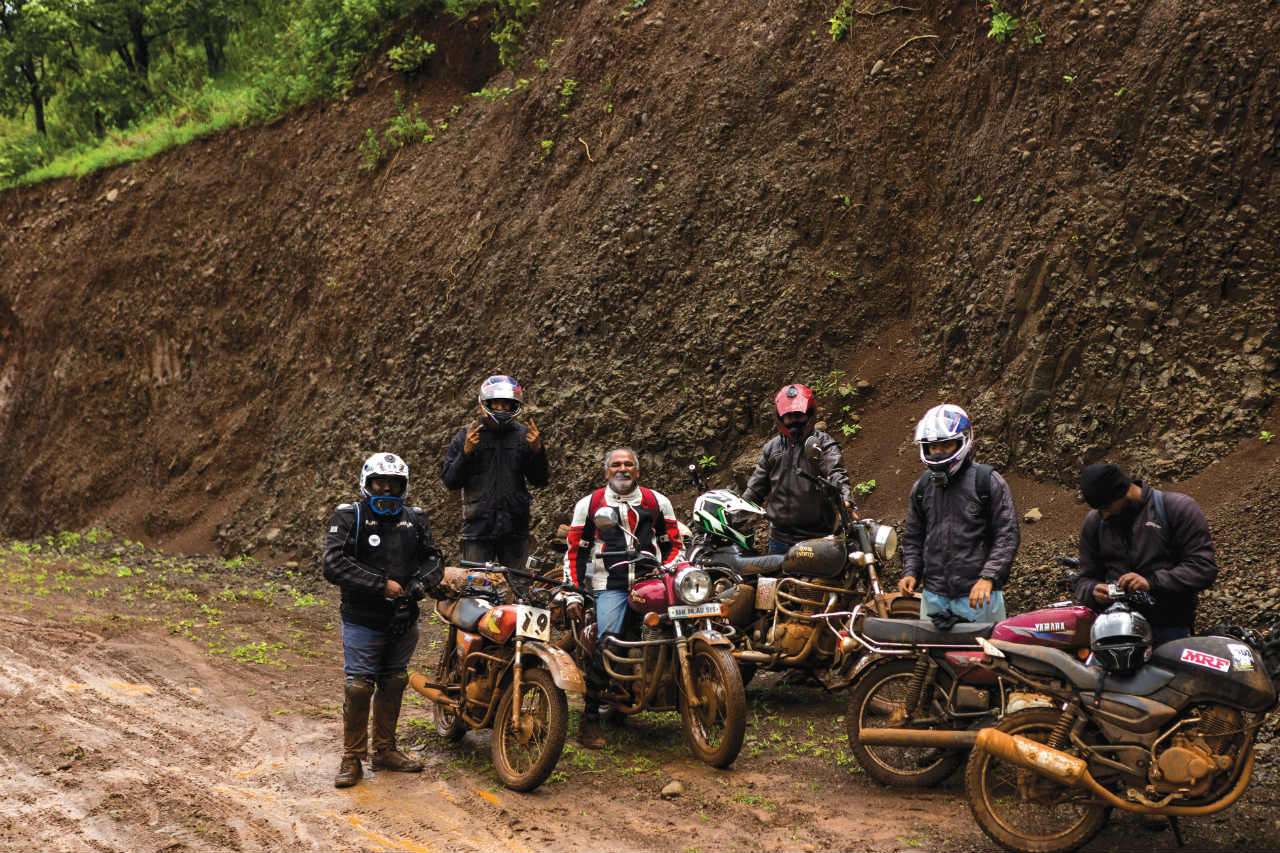 The next day arrived, and it was time to see what this Expedition was all about. I pulled into the assembly area filled with everything from a Bajaj Avenger to a BMW R 1200 GS. Hell, there were even two stripped-down Yamaha R15s! Naturally, people were drooling over the bigger bikes and nobody really paid much heed to the little Ntorq. Not until the trails started, that is. While the Ntorq may have struggled over bad roads, its featherweight standing meant it was a breeze riding through the slush. Sure, it kept moving around and I constantly worried about water and sludge getting into the low-slung air filter. But I soon realised that if I carried enough speed, its bow-like front end would simply create a wave that went around the air filter altogether. And its diminutive size meant I could muscle it out of almost everything.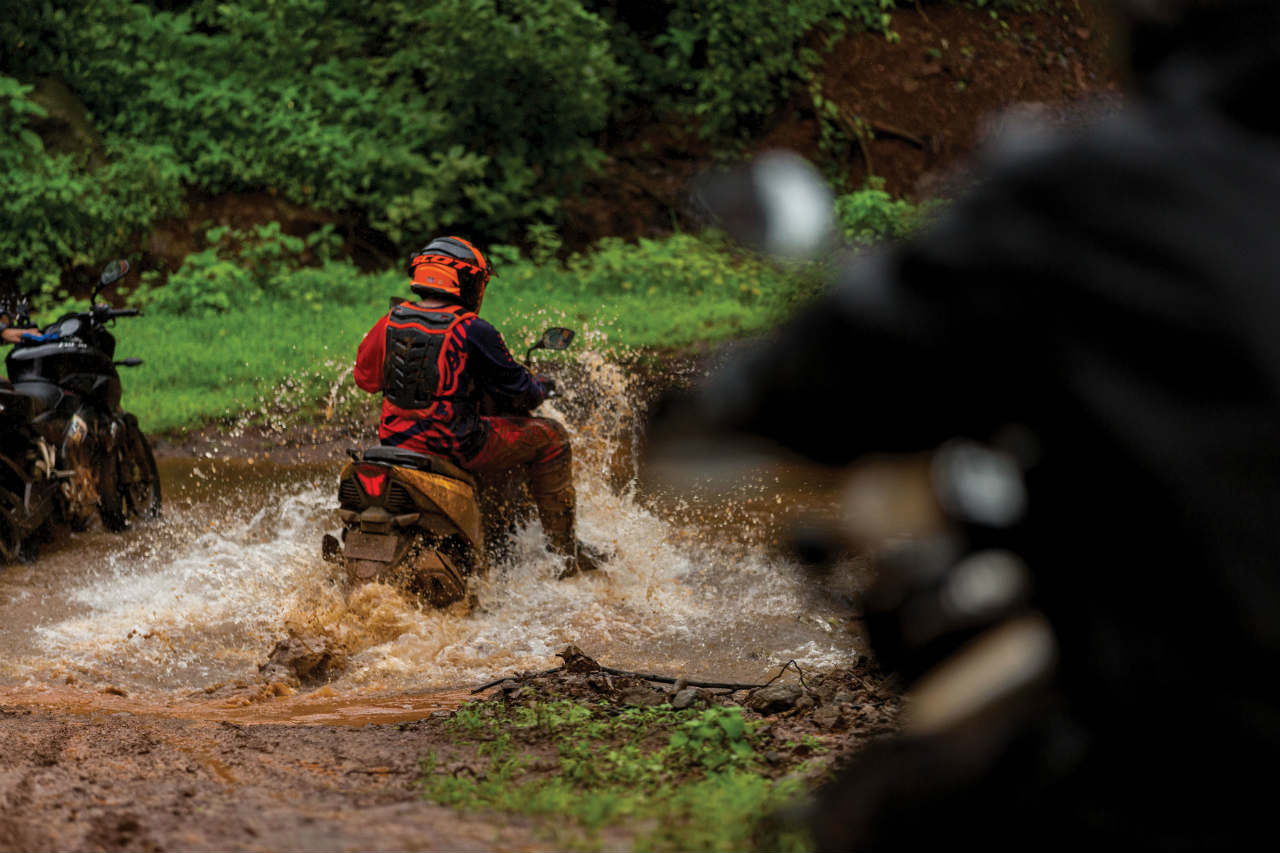 It even happened to be quicker than some of the stock Hero Impulses around, no jokes. The only bikes that were actually a whole lot quicker were the proper dirt bikes that weren't even ridden to the location, and the even lighter two-strokers that left trails of the sweetest smelling, most heavenly smoke. Not bad at all for a little 125cc tyke, eh? It even almost made it up a steep hillclimb filled with deep, thick muck and foot-deep ruts. Only to find a lovely little traffic jam up top that wouldn't let us go any further. But to add a little twist to an already ridiculously fun day, I had Aadil ride pillion with me about 18 km back to the
meeting point.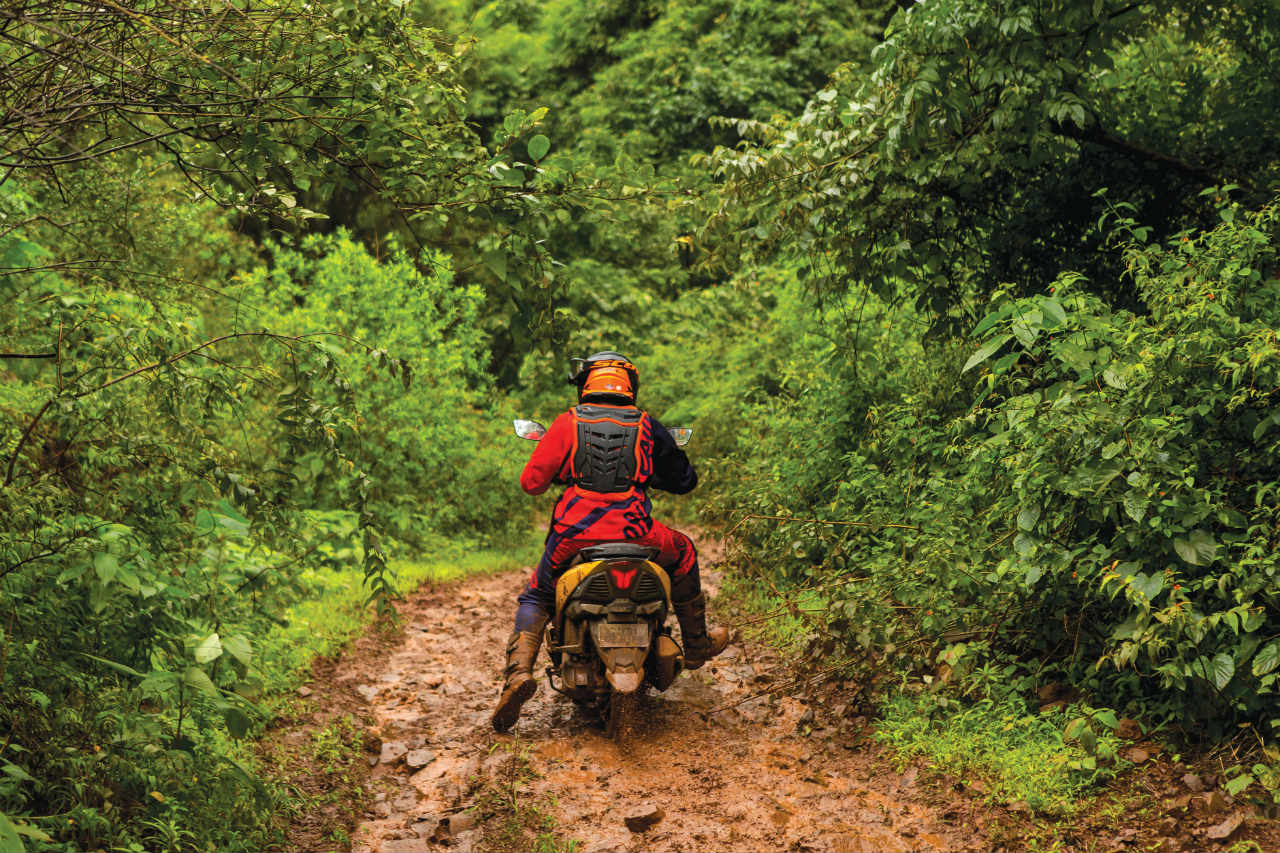 Heck, to say I'm impressed with the Ntorq would be an understatement of gargantuan proportions. This is a scooter that costs just about Rs 70,000, obliterates city traffic, can handle highway runs and needs just a Rs 3200 tyre change to throw it around in the rough stuff. How's that gigantic ADV bike that costs around Rs 15 lakh and needs tyres that cost another Rs 20,000 sound now? This isn't even including all the additional guards and accessories you'd probably end up spending another lakh on. Of course there were a few other oddballs and unique cases at the event. And far be it for me to be the one questioning logic, so here's a little information straight from the horse's mouth, er, fingers, wait… hooves?
=======
Vikram D'lima
Triumph Tiger 800 XRx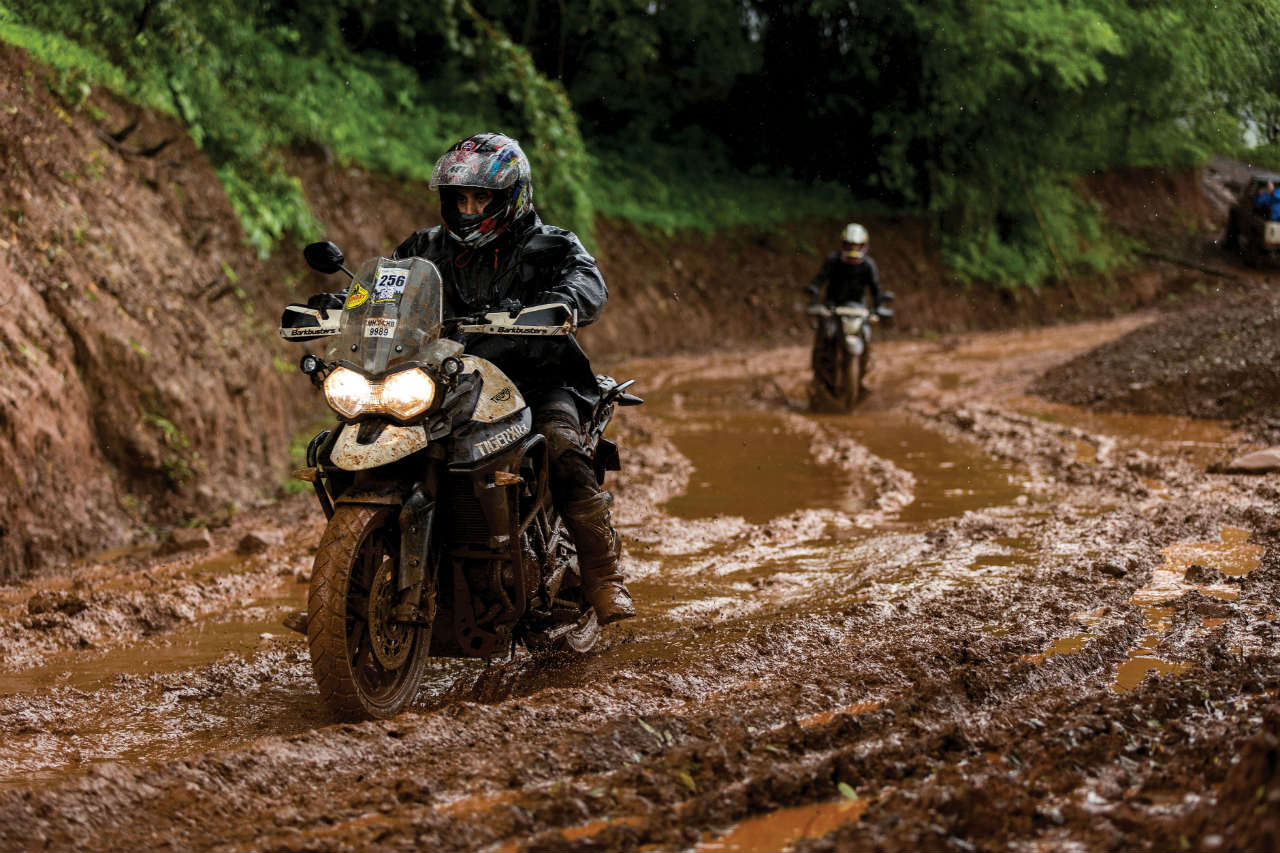 Corporate slaves like me long for the weekend to rest and enjoy their boring lives. The only difference is that I love to ride my motorcycle at every chance I get. This massive beast and mighty companion, the Triumph Tiger 800 XRx, takes me to different picturesque destinations ensuring I get back with a huge smile. Well, this one weekend was similar to the other weekends, but with a twist. My good friend Sherman convinced me to participate in the Pune Off-Road Expedition held at Panshet. And I never back out from something adventurous. Something I'd come to regret later. I've ridden off-road (mostly Mumbai roads) and on dirt trails all over the country. But this time I took the Tiger 800 to a place where everyone else basically brought bikes that I could carry over my shoulder. This was going to be a mighty task. Sherman (smart ass) rode the TVS Ntorq 125 from Mumbai. A puny scooter. I laughed. Post the flag-off, we had fun slipping and sliding. But as the course got more intense, my laugh disappeared and turned into anxiety. Could I really do this? Sherman, on the other hand, was gliding and sliding along the entire course with so much ease and finesse that, to be honest, I was quite jealous. This puny little scooter was giving every other motorcycle and rider a huge slap in the face. We were all simply wondering, 'How?' So while I struggled to stay on course with the Tiger 800 and all its glorious torque, the bike seemed to have a mind of its own. It was madness. After a point my brain just gave up and I was simply praying to get out alive. I had never seen so much muck and slush in my life. Even pigs (no offense to that cute, delicious animal) would have had an overdose. After almost 40 km and six gruelling hours, we came out alive. Sherman with his Ntorq wanted to go back again. He even took a pillion on the way back. That bike was like a jet ski. I say kudos to him and the bike, it's a perfect match. As for me, well, I did feel a sense of achievement after completing the course. But I said to myself, 'Never again!' Although another thought did run through my mind — a lighter bike with knobby tyres? Until next year, then…
======
Deelip Menezes
Hero Impulse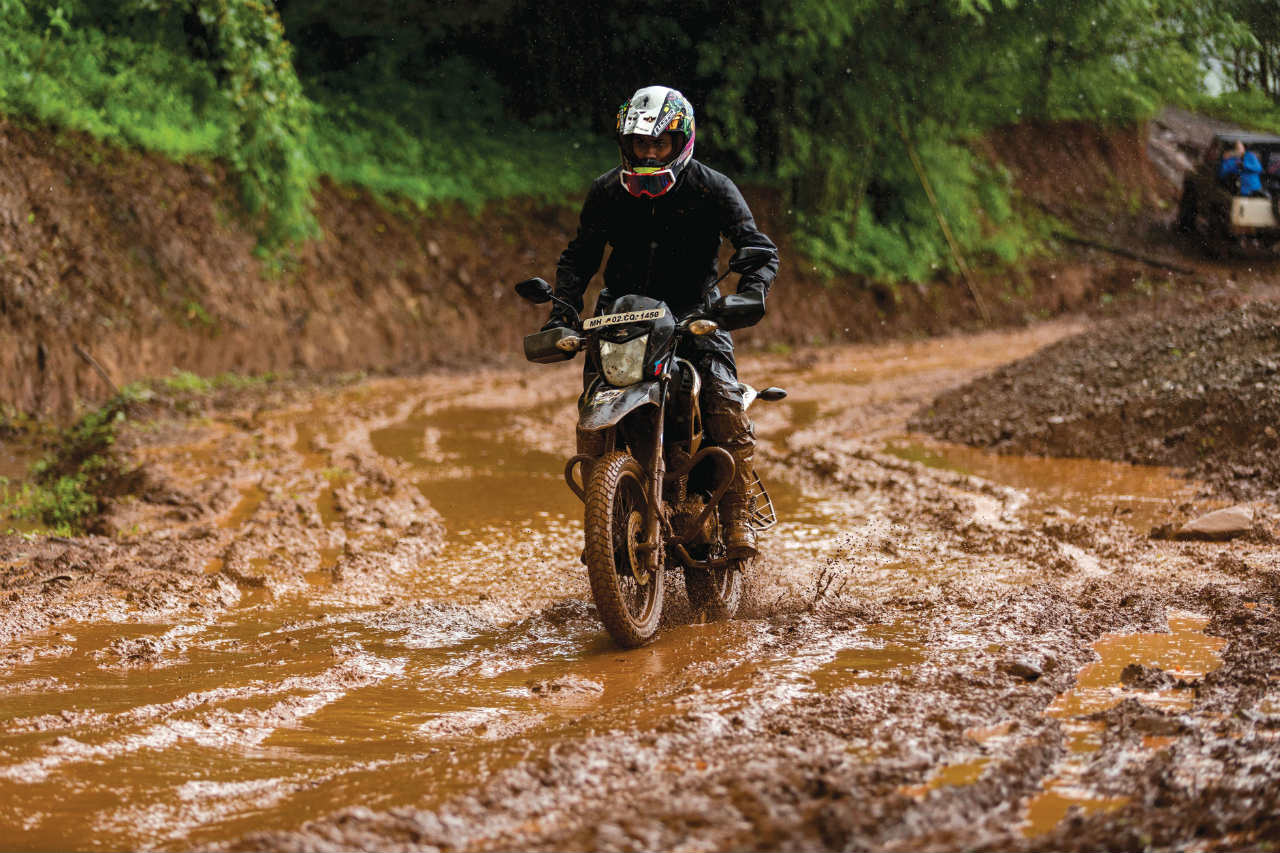 This is my third consecutive year at the Pune Off-Road Expedition and honestly, it just keeps getting better each time. Although we have similar trails in Goa, we choose to ride all the way to Pune to be a part of this annual madness. I like to call this the 'leave your brains at home' ride. It's quite simply because of the kind of motorcycles you see here and the energy of the people riding them. From a Honda Navi to a Triumph Tiger 800 and everything in between, people ride whatever they have and have a blast while doing so. Most of us from Goa chose to ride our Hero Impulses, quite simply because that's the best-suited motorcycle for the terrain and track conditions. Its light weight and excellent suspension let us really have fun while riding, instead of being constantly worried about dropping the motorcycle. This is a true off-road celebration and I intend to come here every year. It was also really nice to see Sherman ride the Ntorq out here, and go further and faster than the other purpose-built adventure bikes. I have always maintained that to have a good time off-road, you need use a vehicle that you can manage, not one that people expect you to manage. Point proven!
=======
Aadil Naik
The pillion experience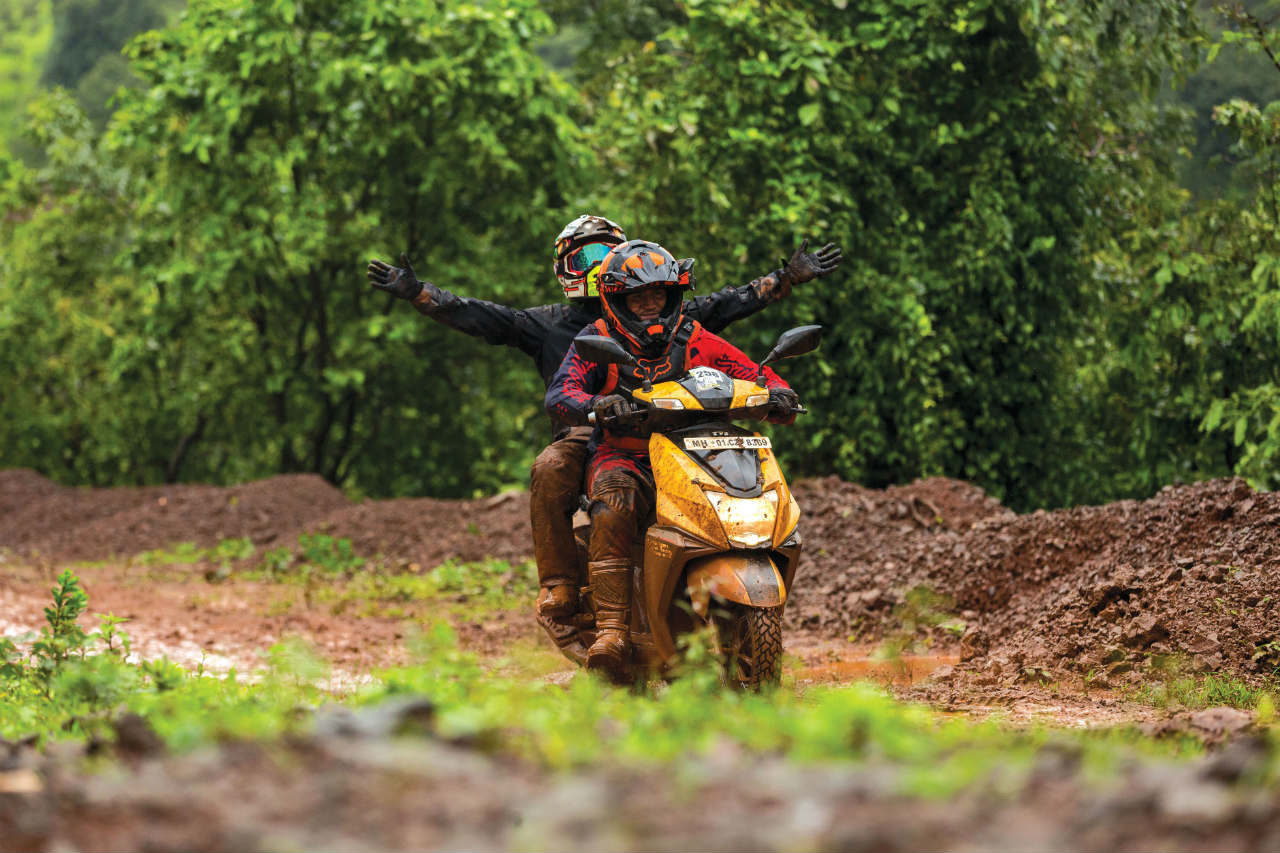 Sherman was having too much fun, and I'm a jealous guy. So when he stopped, I promptly hopped onto the back. After failing to get rid of me, he gave some strange advice: 'If you feel like we're falling, just don't put your legs down.' And off we went. Now, scooters, with their limited suspension travel, aren't too comfortable two-up. But with all that soft slush, it was perfect! However, since everything was wet, I kept sliding inappropriately into Sherman ever so often. But he stayed true to his word, and through streams and slush we battled, without falling. Of course, I had to get off and push every time we got stuck, which was a reminder of my fitness level. And I got sprayed with mud every time I did that. But hey, that's the point, isn't it? So was it a wise decision to ride pillion? Hell, no. Was it fun? Would I do it again? Oh, absolutely without hesitation.
Photos by Vishnu Haarinath