The spirit of journalistic inquiry lives strong and bright at Motoring World. Or at least we have a tendency to spiritedly pursue answers to questions that nobody bothered asking. For this particular story, the questionable line of questioning went roughly thus: does power really matter? Especially if we happen to be wading through the great equaliser named Traffic? Can a 100cc bike beat a proper big bike over a decent length of the city during rush hour? Is it possible for David to defeat Goliath in a motorcycling context? How awkward can we make this story? Most importantly, where do we have breakfast? Fundamental questions, all, as you can see.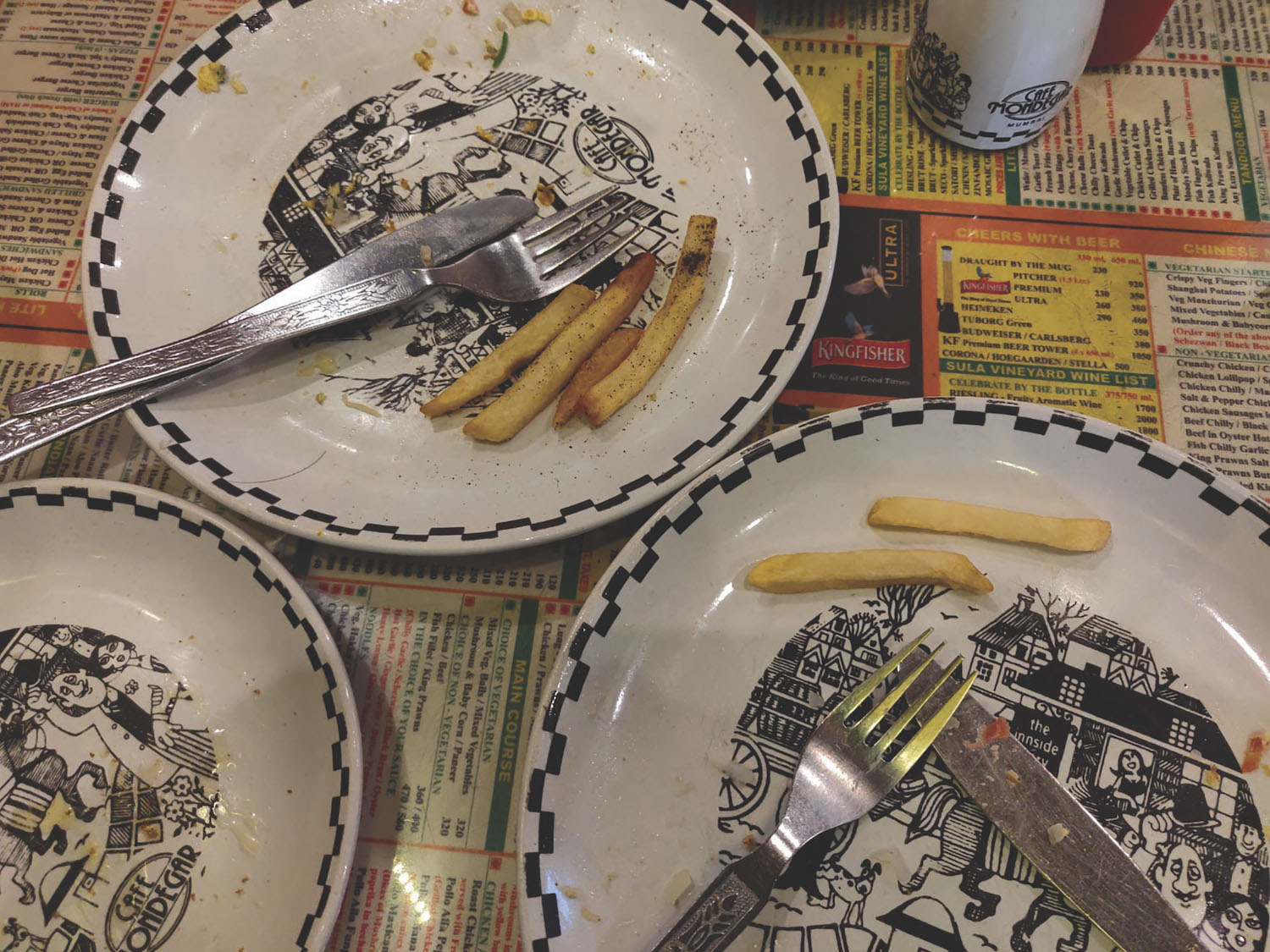 And so, one lukewarm morning, Sherman and I found ourselves riding to Cafe Mondegar in Colaba, Mumbai. He was on the Suzuki GSX-S750, probably the friendliest inline-four in town, and I was riding the TVS Radeon, probably the best 100-odd-cc motorcycle right now. And TVS and Suzuki officials reading this may or may not be feeling a bit awkward right about now, you know, how exes feel on running into each other at the same party. On the way to Mondegar, and right through breakfast, I was contemplating which bike I should ride for the story, and ultimately decided to go with the underdog (more like underpuppy in this case). It helped that Sherman had already firmly bolted his phone mount to the Suzuki, as if to make up my mind for me.
The idea was to ride up the length of Mumbai, from Cafe Mondegar in Colaba to the Barista on Bandstand in Bandra. Colaba, the old Bombay, and Bandra, today's happening suburb. Along the way, we'd time ourselves between waypoints, ten in total. At the end, we'd add up the sector times and see who emerged the winner. As we all know, life isn't fair — the Suzuki has 113 bhp and I have rank over Sherman, so I decided to add a penalty to the big bike's total time, and I'd be the sole and fair judge of said penalty. The way I saw it, the unfairness more or less cancelled out each way, via both rank and horsepower.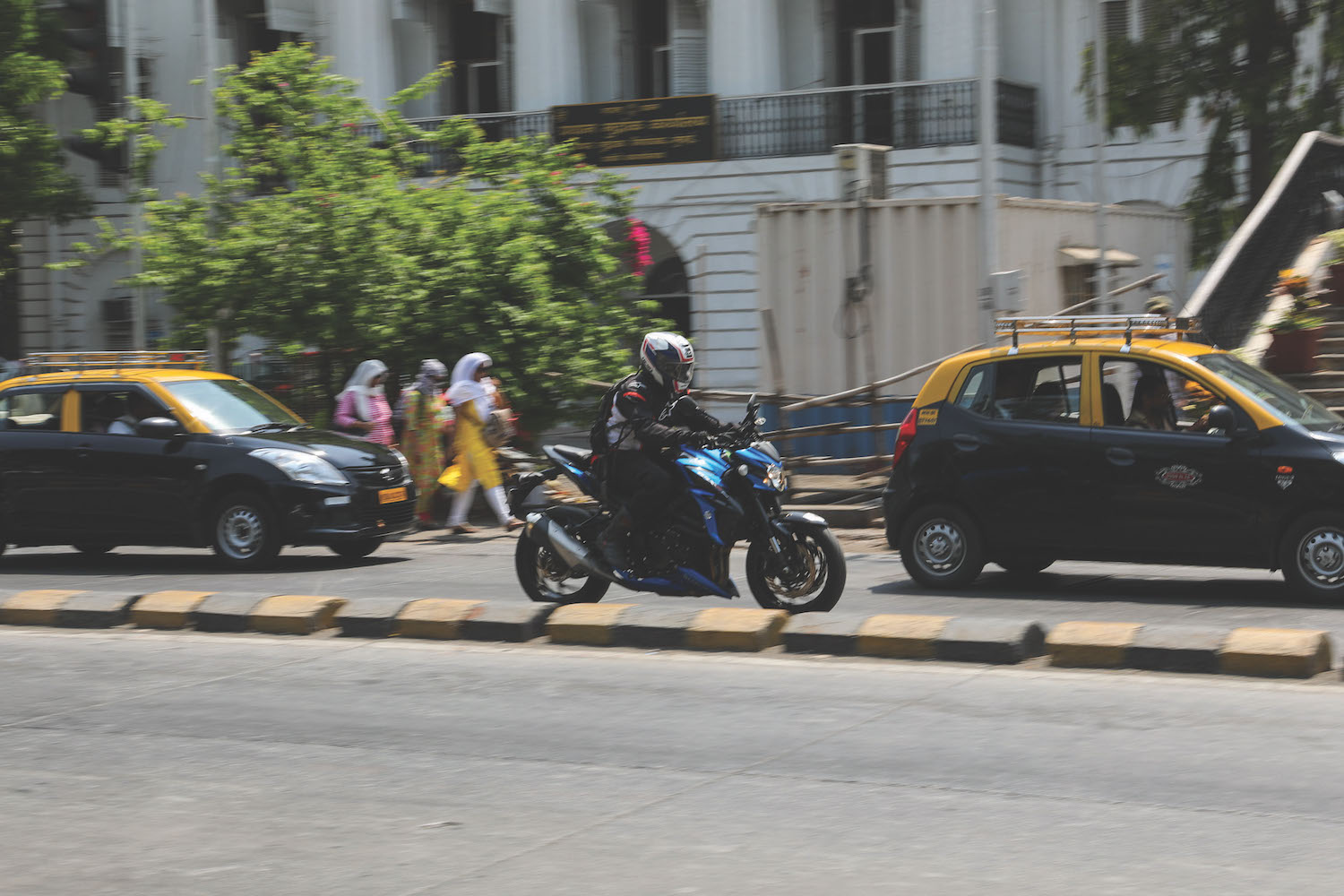 Over the last piece of buttered toast, I also firmly established the fact that this was not a race. We were to follow all the rules of the road, and ride as we normally do without doing stupid things. Initially, speed was conveniently and vaguely determined as not slow but not flat out, either. Until I thought it best to keep the Suzuki restricted to a safe 80 kph since that was the speedometer-indicated limit for the Radeon with me on it.
As you can probably tell, I was determined to throw as many spanners into the Suzuki's works as possible. And I was pretty optimistic about the whole thing, too. After all, a massive part of the route featured roads I grew up riding on, racing with/against childhood friends. Knowledge is power, I thought, while Sherman was at the mercy of Google Maps sitting on his handlebar. My intimate knowledge of these roads would surely give me an advantage. Maybe I could eke out a crucial advantage in tight places and with a bit of luck, Sherman and the Suzuki would get held up by a few traffic lights which would let me get away. But in Mike Tyson's everlasting words, 'Everyone has a plan until they get punched in the mouth.'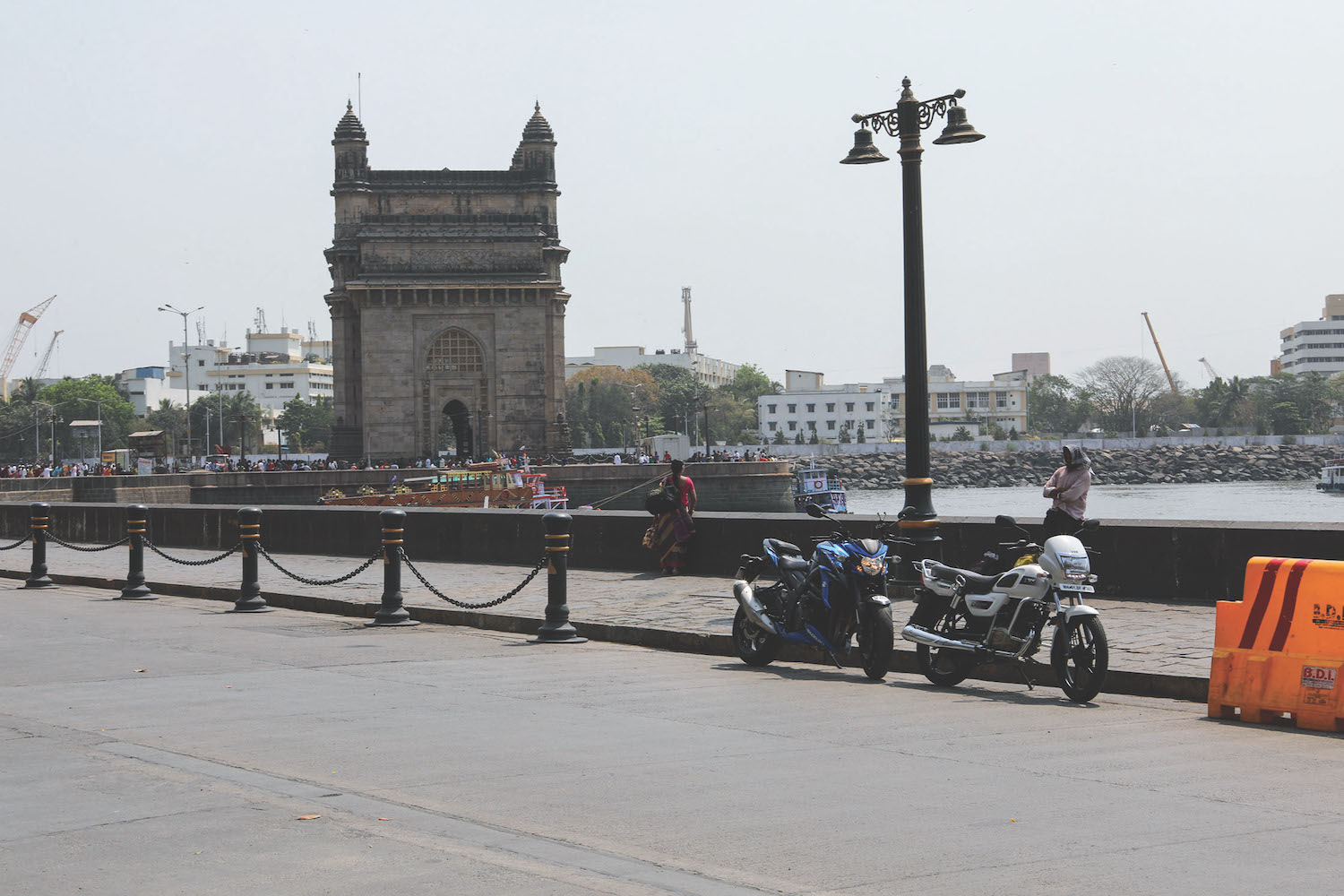 You just can't put two idiots on two motorcycles, throw in a couple of stopwatches, and expect proceedings to remain civil. It's against all known laws of physics and psychology. As soon as we synced our stopwatches, we knew there was no taking it easy. How? Well, perhaps it was the funny way in which we tried to get on our respective motorcycles while hurriedly trying to put on our gloves and turn the keys, all at once. Our first waypoint was the Gateway of India, only a few hundred meters from Cafe Mondegar. And so began a ride that, in retrospect, reminds me of crooks in black-and-white movies trying to whistle their way into innocent nonchalance but failing spectacularly.
After that short first sector, which the Radeon completed in a little over two minutes, and already behind the GSX-S750, I realised that playing nice wasn't going to get me anywhere in a hurry. So I called upon every bit of gamesmanship I could muster, and tried to catch Sherman unawares as much as possible. The problem was, even if I managed to get away, it took the Suzuki as much time to catch up as Tyson would need to knock me out. The second stop, Asiatic Library, a famous landmark with its white stairs that I rode my bicycle down as a kid. Again, Sherman was there first, that infernal inline-four howling around Horniman Circle, while the Radeon felt like an elderly asthmatic in feeble pursuit. My home roads wouldn't back me up after all.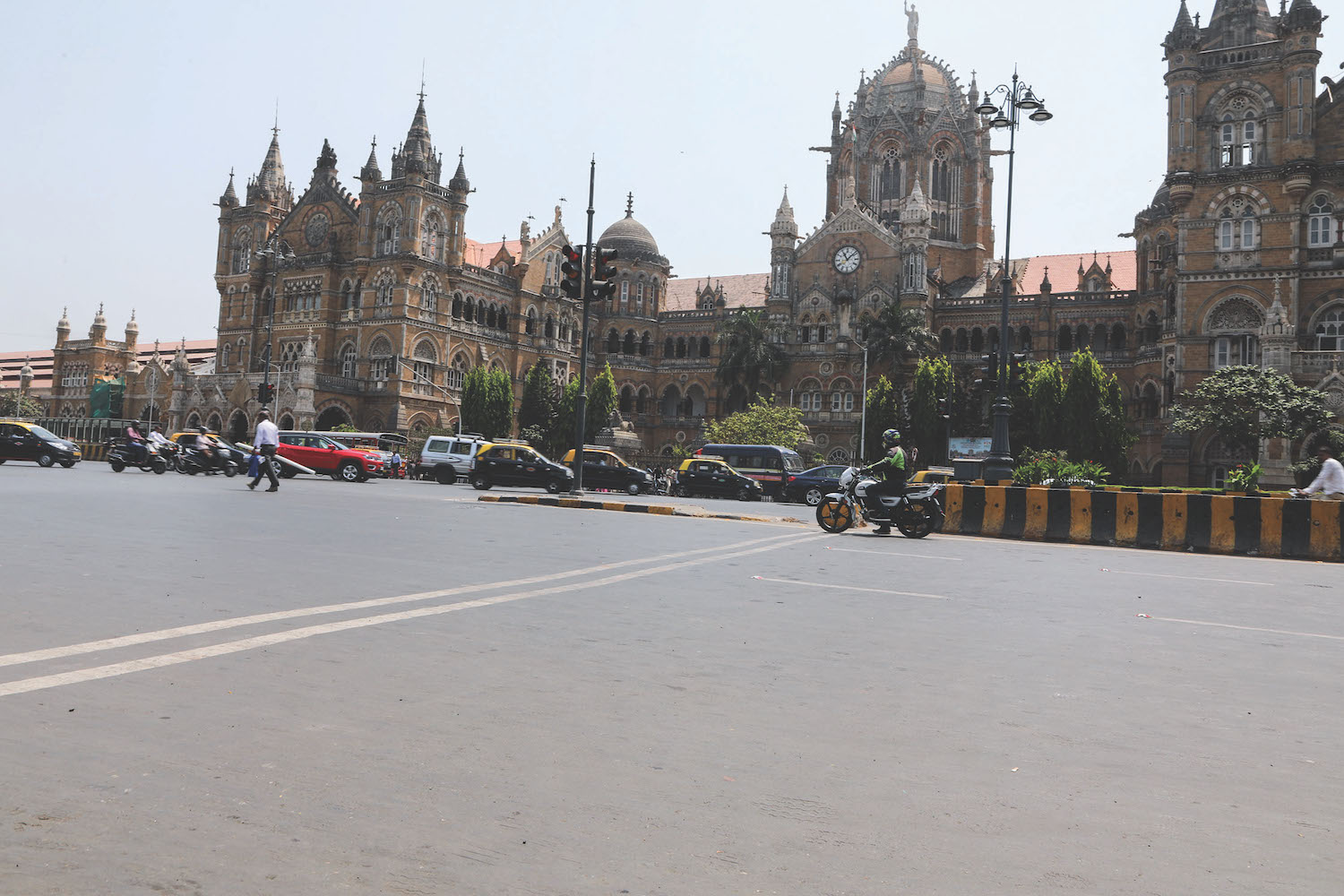 Then, it was on to the iconic monument that almost every movie about the city begins with — Victoria Terminus, today known as Chhatrapati Shivaji Maharaj Terminus. And, like the beginnings of those movies, I was again full of hope — I got there first! Maybe the Radeon had a chance, after all. Wriggling the little white motorcycle through traffic and pedestrians through the Fort area, past the GPO, and to Capitol Cinema was almost too easy. The Suzuki was briefly ahead, and even though it is easy to manage in traffic, you can't manhandle and sneak it through tiny gaps as you can with the Radeon. Also adding to my renewed optimism was the fact that I almost stole a march on the Suzukified Sherman and put a pretty lengthy traffic signal between us. Well, almost, but didn't because I didn't want to be called a cheater.
On the way to our next stop, just after the Marine Drive flyover, we flew past the Mecca of calories called Parsi Dairy Farm, once lazily guarded by stray dogs so fat they should've been a breed by themselves ('Parsi Dairy Farmdogs' does have a ring to it, no?). And as we swept up the flyover, I wondered how it now seems so narrow; 15 years ago, it was like coming down the main straight at Phillip Island, heading straight for the sea. Back then, it was a freeing experience, one that dived sharp right and into the high-speed embrace of Marine Drive. Today, as the TVS followed the Suzuki, the buildings on either side seemed closer, and we were greeted with the forbidding glare of overhead speed cameras.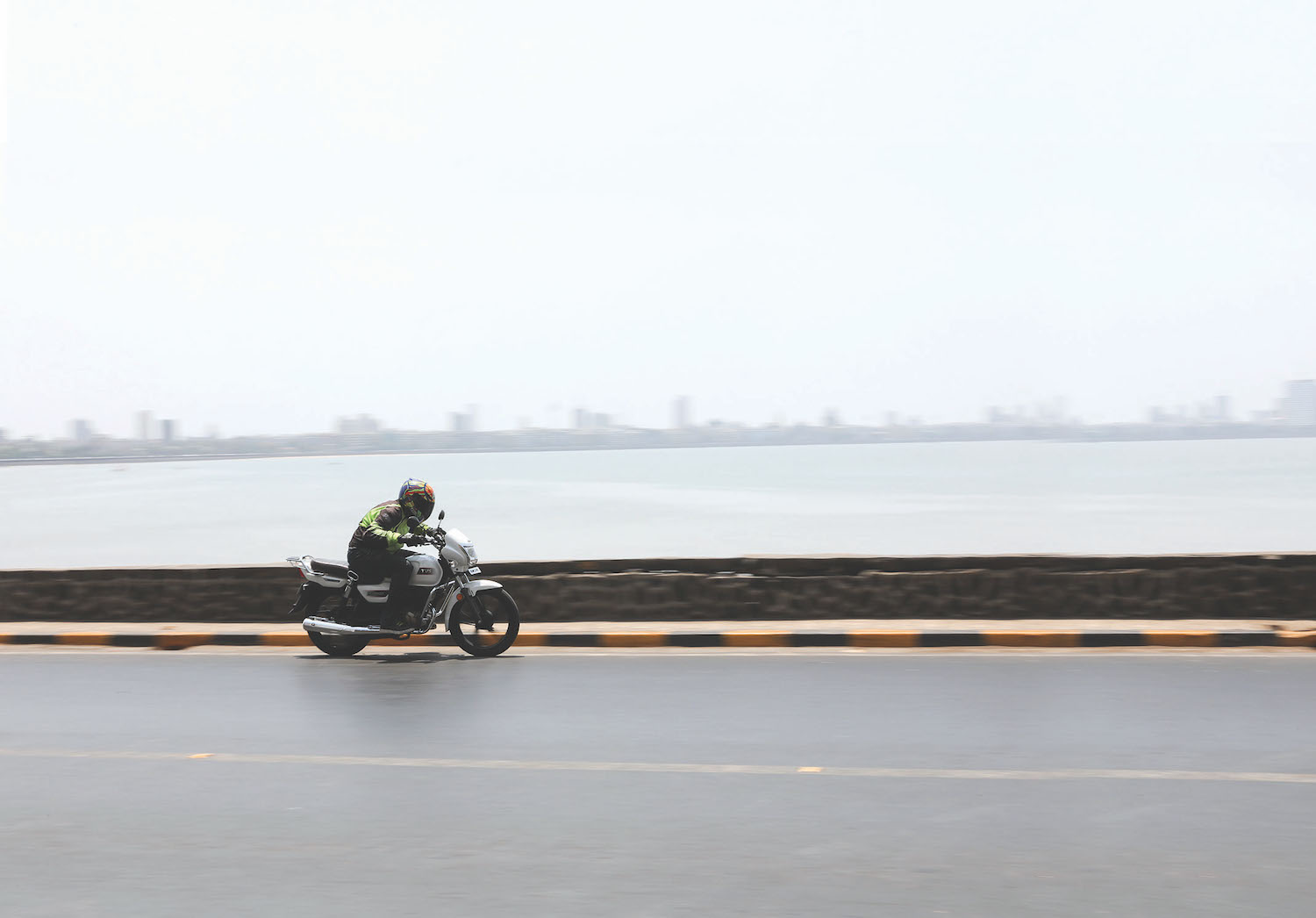 So far, the Suzuki was ahead of the TVS in terms of overall time, but only marginally so, and it was far from over. The next stop was what is popularly known as Hanging Gardens, actually named Pherozeshah Mehta Gardens. But before that, it was the almighty struggle to keep up with the Suzuki over half the length of Queen's Necklace. On all fast stretches, my mind was a singular thought that screamed, 'Should've done this on the Continental GT 650!' Ask any rider, and they'll tell you how demoralising it is to watch a bike pull away, even if it is to an artificially enforced top speed. Up the Walkeshwar road, the Radeon could only watch the GSX become a speck in the distance, though it did catch up at the U-turn at Teen Batti. The cops manning the signal looked curiously at two chaps who seemed to be balancing on a hair-trigger.
All that alertness didn't help at all when the Suzuki simply sailed smoothly past, even though I managed to get the holeshot. And after being held up by a few dawdling vehicles, I had to concede first place to the blue machine yet again. Still, there was a long way to go. And that was not entirely a good thing, either, since we were both already sweating through our boots and helmets. A hot Mumbai is unforgiving, especially under riding gear, though I don't remember it being that way when I used to barrel up and down Malabar Hill back in the day. The giant Old Woman's Shoe in the opposite garden still looked out over the dividing road, a sight I've been familiar with since I was a toddler and TVS-Suzuki was still a thing.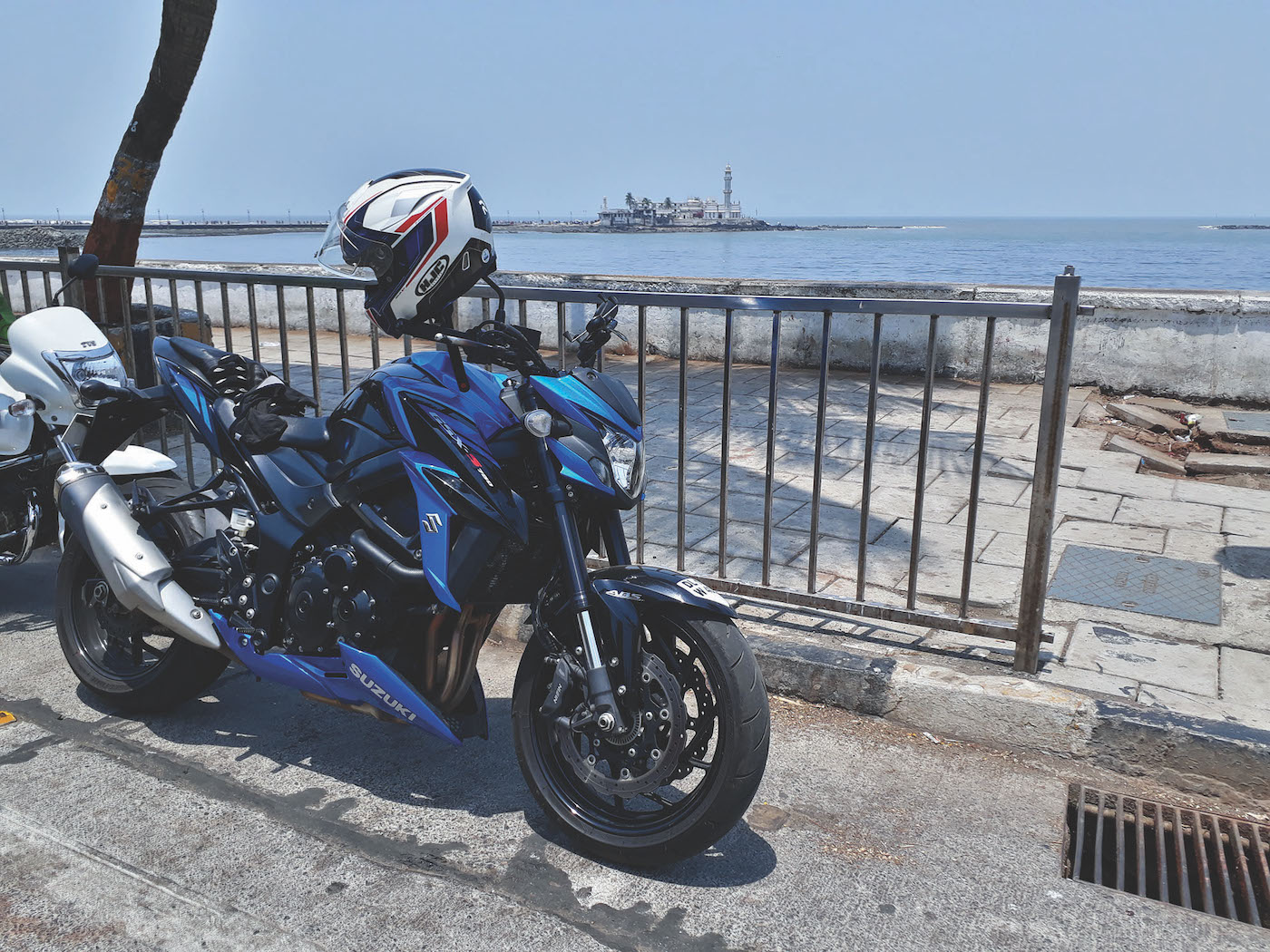 After suitably rehydrating ourselves, it was down the hill and onto Peddar Road on the way to our next stop, Haji Ali. Well, we weren't actually going to ride to the dargah since that's quite some way out into the Arabian Sea, but to a point from where we could take photos. Again, the Suzuki pulled away for the most part, its power in the open matched by the TVS's proficiency in tight spaces. And since it was already past noon, I couldn't help but wonder — why are there so many people out on the road at this time? Is everyone running late? Wasn't it supposed to be 'rush hour' and not 'rush day'? Why won't this idiot get out of my way?
Part of the annoyance must've also been caused by the Radeon's rather soft seat and its commuter riding position — it placed the mass of my overweight torso squarely on my lower back, and it had started to hurt. This, despite its excellent ride quality. Also, I fervently wondered whether the penalty for the Suzuki should include time spent looking for additional gears on the 4-speed Radeon. And only Mumbai can make a 100cc bike seem like it's too fast to have any right to exist. The city that never sleeps? More like, the city that never gets out of your way. However, aiming for the Suzuki took my mind off the discomfort, physical and mental. Focus is indeed a great painkiller.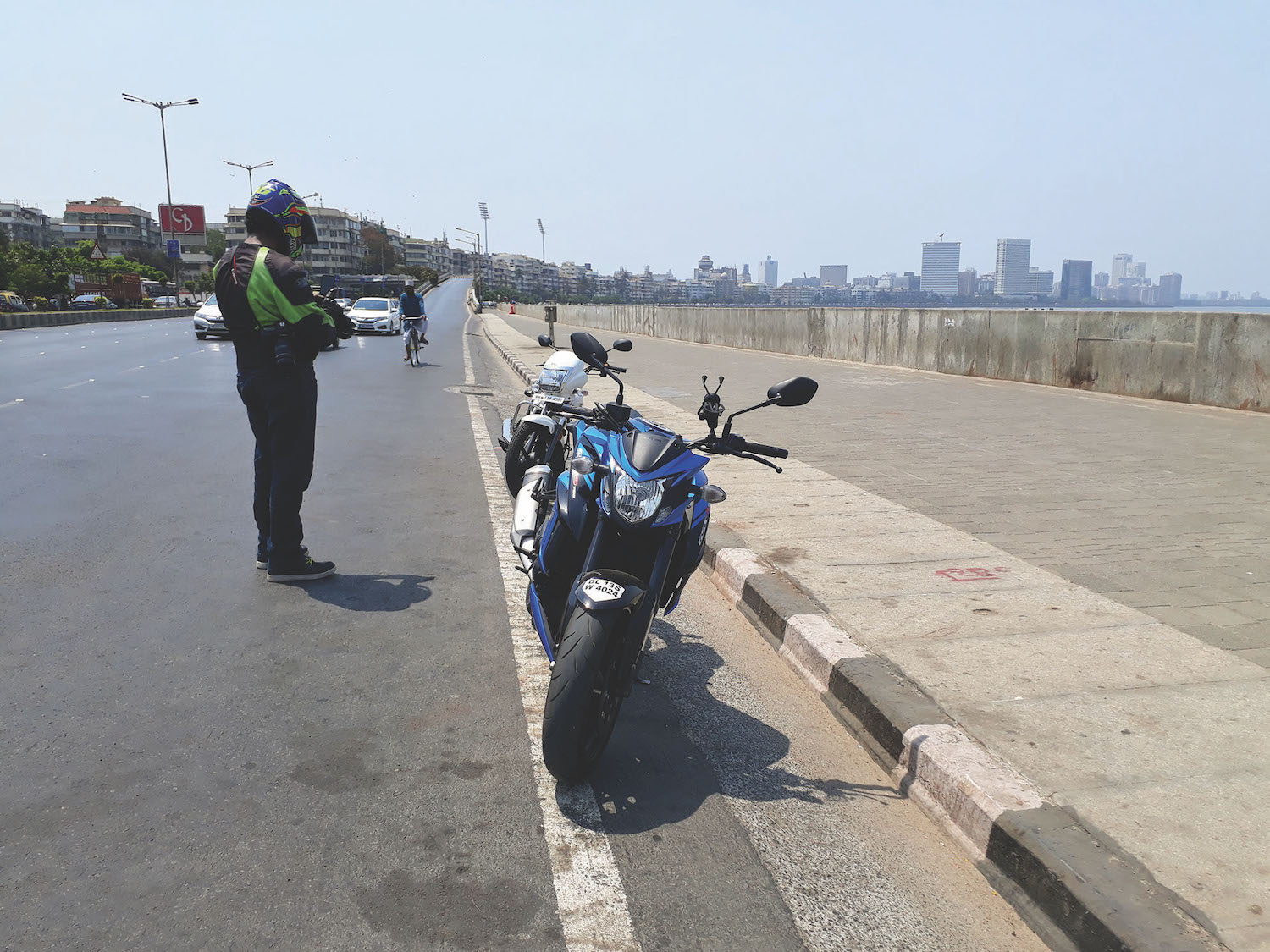 Burning in our protective shells under the sun as we regarded Haji Ali, we started off towards our next stop, Dadar Chowpatty, which affords a nice view of the Bandra-Worli Sealink, the latest in a long line of landmarks that represent the city. It's part of a coastal network of bridges across Mumbai's many small bays, aiming to relieve the city's existing roads that heave under the weight of ever-increasing traffic. Its effect may be debatable, but since bikes aren't allowed on it, there's no point in even going there. Again, Sherman was the first to reach, though the Radeon was right in the Suzuki's wake. A few quick photos and a jaunty donut on the Radeon later, it was time for the penultimate dash to Mount Mary church in Bandra. And that's where it all went wrong.
You see, the Radeon was more than keeping up with the big bike, and all I needed was one lucky break which I was confident that the ongoing metro railway construction on the way would provide. It's a whole mess of narrow roads and deranged traffic, before opening up at Mahim church and then onto Bandra Reclamation which leads to Mount Mary through typically quaint and narrow Bandra roads. But long before we reached Bandra, we found ourselves squeezing through an almighty traffic jam, and I found a smug smile on my face. It was only a matter of time before I made my move.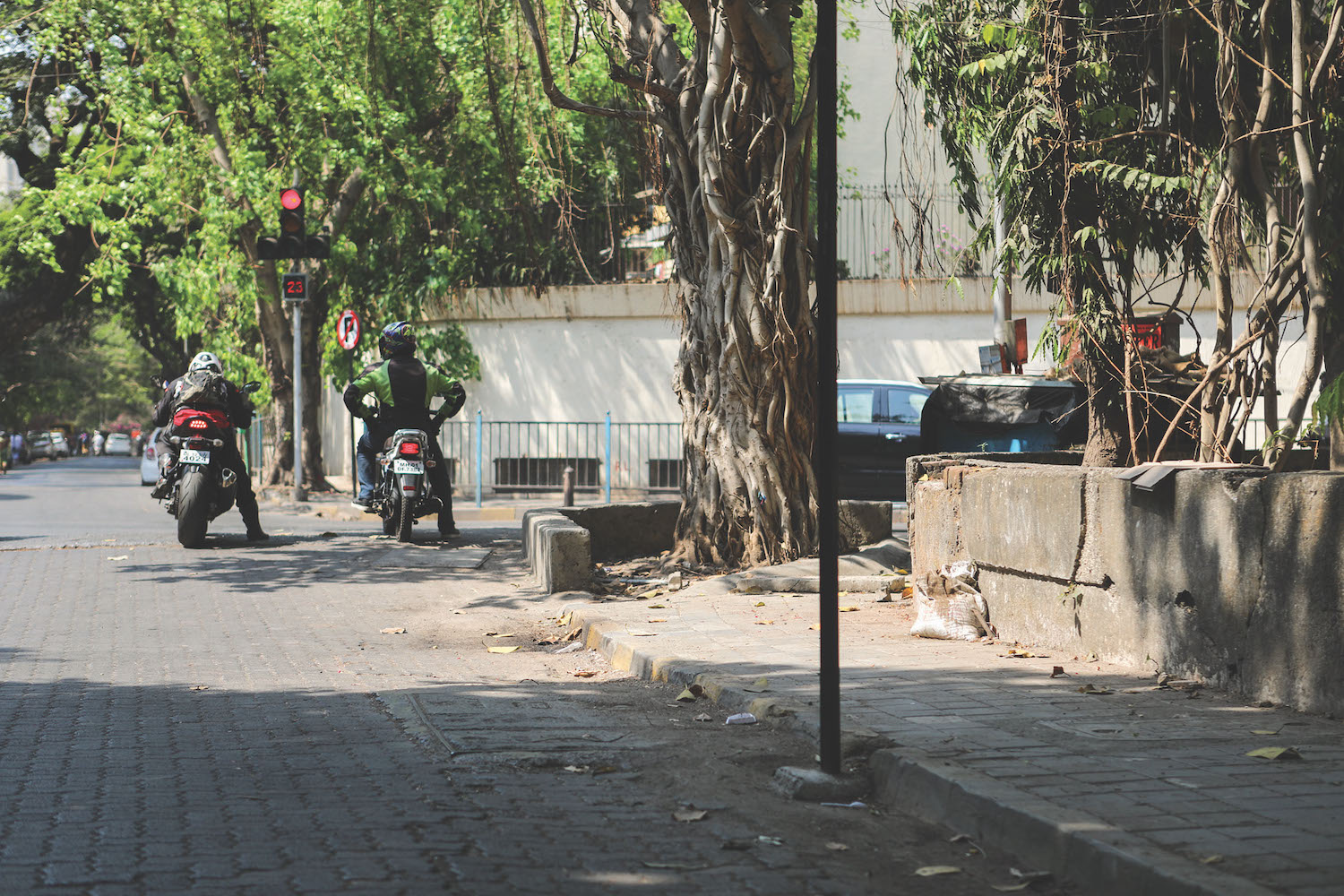 However, at a crowded manned junction, an angry and sweat-drenched policeman let Sherman pass and stopped me to let traffic through. My first thought was that of sheer rage, and I almost threw the Radeon at him. What was supposed to be my break turned out the exact opposite way. Once past the junction, I twisted the Radeon's throttle for all its worth which isn't much when you're trying to chase down a 750cc bike with a three-minute head start. What's more, I caught every traffic light on the way, too; the sight of me hopping mad on a motorcycle is a funny one. In hindsight, of course.
Once in Bandra, the Radeon was a white blur through the suburb that was once a collection of small villages. On a lonely speed breaker on an isolated road, I didn't bother slowing down, and the resulting jump was a feat that the TVS Racing folks could be proud of. Or so I think. In any case, I reached Mount Mary to find out that Sherman's smile can make its observer rather murderous. I tried to explain how I'd gotten held up, but then the words coming out of my mouth sounded sickeningly like excuses. Ah, to hell with it.
The final 500-metre stretch to the Bandstand Barista saw me try one last time to get away, but the Suzuki reached first. Again. The TVS had covered the entire 28-km route in 64 minutes and 23 seconds, while the Suzuki had done it in 57 minutes and 31 seconds. I can now confirm that knowledge may be power, but not with a 105-bhp deficit. In the end, I decided not to apply any penalty — it'd take away from what the Radeon achieved. The Suzuki did what it could, and so did the Radeon. There is a clear winner here, and you know which one it is. And despite being several lakhs and bhp down on the Suzuki, the Radeon was only a few minutes behind.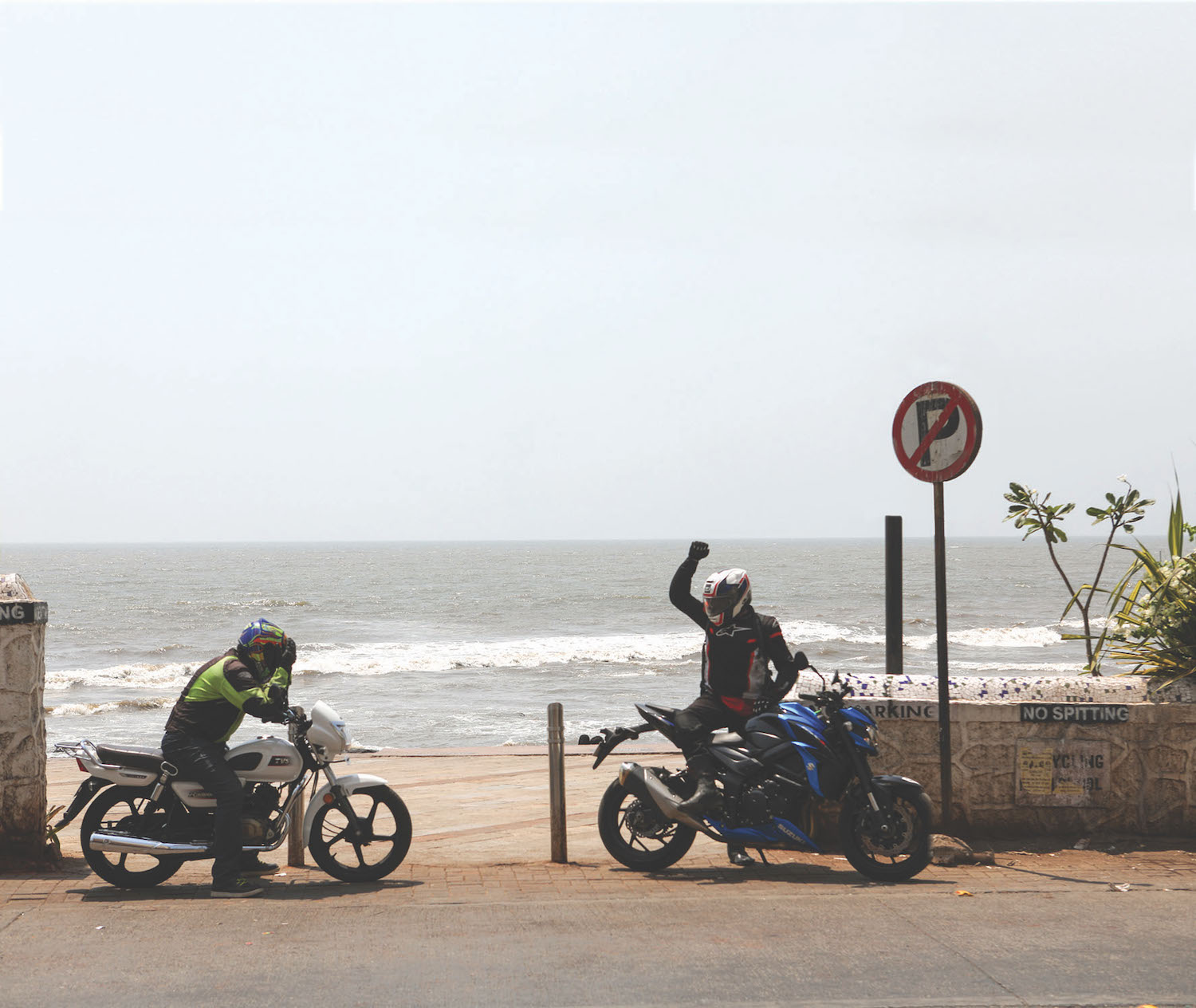 More than anything else, though, this story reminded me of just how much fun it is riding around one's home city, even if it is to prove something no one cares about. Mumbai, still more popularly known as Bombay, is strewn with landmarks, ancient and modern. There are old ideas made for old reasons which persist because they are still relevant. And there are new ideas which, if a bit excessive, form the future we live in today. Much like the Radeon and the GSX-S750. It's true that I saw the city in a much different light via the contrast between the the TVS and the Suzuki. It's equally true that I'd much rather forget it all. Moral of the story? There are days when no one likes to be beaten, no matter what the odds.