At the outset, there are two things you should know about me to set a context of sorts — if I seem serious I'm pretending, and Hormazd Sorabjee gave me my first job at Autocar India. These two facts are also disclaimers for whatever follows. Of late, the world seems to have gone mad, flirting with war and its inevitably disastrous consequences. Whether that's a top-down phenomenon or the other way around, I cannot say. But it is clear that the polarisation of public opinion on the Internet with nothing but a glib social-media post has now become a monster of its own.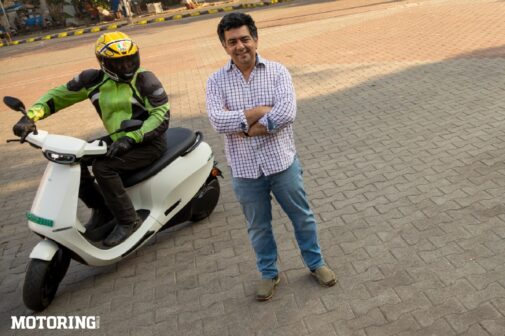 On my way to meet Hormazd Sorabjee, the Ola S1 Pro's Hyper mode hit a solid 117 kph on its digital dash. Keywords like 'disruptive', 'revolution' and 'bandwagon' were far from my mind, and I was quite happy riding what was clearly a fun scooter. It looked like a robotic Pixar character and had the right lines in all the right places. A huge underseat storage space held a spare helmet and my bag with lots of space left over. And the big touch screen looked quite trick as well. The S1 Pro delivered all the right feels, all right, but there were still a few things to be sorted.
The biggest gripe I had was that even a light touch on the brakes cut off power. Whoever actually rides a two-wheeler knows that a rider modulates the throttle and brakes in conjunction, especially in traffic. And the perceptible lag at moving off from standstill was annoying, too. Binary on/off systems like these show that the company is yet to understand basic two-wheeler attributes. And the '#petrolmedia' might be of some assistance to Ola here, if it's willing to listen. And I assure you we won't need ointments of any kind, either. Divisions are best left to those with conflict in their minds. After all, electric vs IC is only the latest in a long line of crisscrossing trenches dug between petrol vs diesel, two-stroke vs four-stroke, cars vs bikes, and print vs online, among many other needless ones.
When we caught up with Sorabjee, he walked over, pointed at the Ola's floorboard and said, 'Look at that panel gap. It looks nice and has a very organic shape, but these gaps shouldn't be there.' He took off for a short spin for the camera, and I couldn't help but notice that he sat on the scooter like it was a car seat. I suppose that's normal, considering he's been the editor of Autocar India since 1999. I imagine his feet missed the pedals below them. Later, he told me that while Autocar India had the scooter, it had overheated and even gone into reverse on its own. Nothing of the sort happened when it was with us, but it does point towards an inconvenient inconsistency.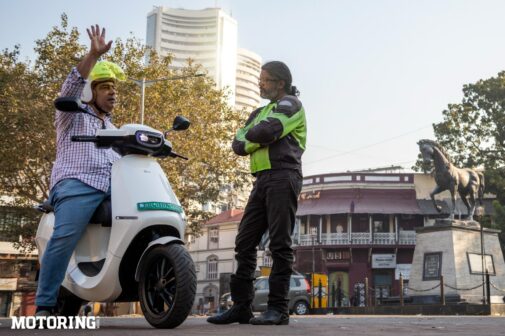 I decided to pick his brain about EVs a bit. Is there a certain critical mass that EVs have to reach to have any compelling say in the market? 'Two things come to mind: A critical mass of sorts will come only with a lower price for EVs. Already EVs are proving convenient in cities and infrastructure is growing. Getting the cost down is the challenge, batteries still cost a lot, and the widespread adoption of EVs will ultimately be price-led. We also have to see what manufacturers plan. By 2025, there will be a lot more EVs around that are right now in the pipeline. Secondly, the rate of EV adoption is much higher than expected, so this might happen sooner than we think.'
Do EVs make more sense as two-wheelers, specifically scooters? 'Yes. Basically they're practical and easy to live with. It's easier to package a scooter as an EV. That's why you see so many of them already.' What about electric cars? 'With electric cars, a certain democratisation has to happen. Tata has done an amazing job with its EVs and it has 80 per cent of the market share. They have proved that people don't really need fancy EVs, just affordable ones with decent range. And it also shows that it's not so much about charging infrastructure, just about affordability.'
Does he think EVs will, all their obvious strengths apart, ever have the charm of internal combustion? 'Absolutely not. That's not going to happen.' I agree, of course, though I also think EVs are generally better for those who don't care how they get from point A to point B. Their convenience and running costs just can't be beaten, at least until the cost of electricity reaches fuel prices. What? Never say never, these days.
EVs produce most of their emissions during the manufacturing process and from electricity sources. Manufacturing standards depend on the relevant country's norms, and even electric grids need to become significantly cleaner for us to reap the many benefits that EVs bring. There's also a finite amount of lithium on the planet and China controls more than half of the world's lithium processing and refining plants. So for more reasons than one, battery technology itself needs to undergo a massive overhaul sooner or later. If the answer was a simple one, Bajaj and TVS wouldn't have waited to go big with their Chetak and iQube electrics respectively, even if their legacies have deep IC foundations.
Then there is the question of the workforce, both formal and informal — millions of peoples' lives depend on IC vehicles, so we can't just dismantle existing assembly lines and convert them to electric. All this to say, there's still a long way to go for EVs, never mind the bravado. 'It'll be at least 7-8 years before we see a proper penetration and effect of EVs,' says Sorabjee, and I think that sounds about right. Until then, who knows what might happen.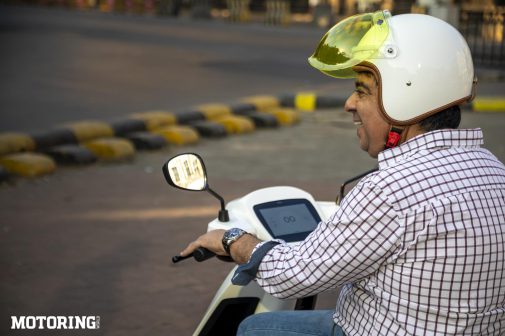 Does he think an us-vs-them narrative is spreading across media and society irrespective of the field in order to lure a support base? 'No, I don't think so. We've all always had cordial and collaborative relationships with everyone. It's always been a mature industry and everyone knows where everybody stands, and respects that. Of course, there may be an odd one out coming along once in a while. But not just traditional manufacturers, but also many startups have been eager to share their experiences with us. To each his own, I think. Elon Musk likes to talk to his audience on Twitter, so maybe others want to emulate him. It's all okay. There's definitely no us-vs-them as far as we're concerned.'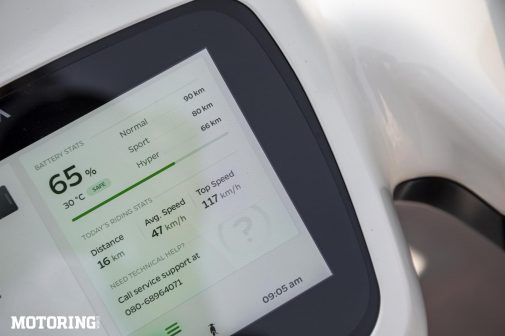 This Ola belongs to Dylan JS and it's spent quite some time in our hands. And when the folks at Autocar India asked if they could get it, too, we pointed them to the owner right away, who was as sporting as ever. Why? Because Ola has so far not acknowledged our combined requests for test scooters. I'm looking forward to it myself because I've booked a yellow Ola S1 Pro and want to spend some time with it in the real world before making up my mind.
In fact, Sorabjee's own red S1 Pro is on its way, and he should have it by the time you're reading this. Or at least that's what the app said. 'It'll be my third two-wheeler.' Curious as to what the first two were, it turned out that his first bike was the Yamaha RX 100 after which he moved to a Kinetic Honda. That was a long time ago, and when I showed him photos of my newly-restored RX 100, he filled the PIN code we were in with a loud 'Oh my god! This is amazing!' Now, when will an electric scooter get a similar reaction?
I wondered if he missed riding and if he thought the Ola will add two-wheeled fun back into his life. 'Yeah, I think it will. For short hops in crowded places like Mumbai with limited parking, it's perfect. Perhaps not as a daily commuter, but to beat traffic when I need to. I should've ridden more than I did, but there was always some car or the other to drive, so I couldn't take the time out to ride anything. Every drive always turns into evaluation one way or another, and there's never enough time!' And there you see why he's still at it, I suppose, still around after many have left.
Division, especially when it turns disrespectful, has to be addressed. As MotoGP racer-comedian Jack Miller once paraphrased Simone Elkeles, 'Opinions are like a**esholes. Everyone's got one.' Whether its opinions or manufacturers, only time can tell what lasts. And while we Indians have a knack for turning bluster into loyalty, it can just as easily turn into impatience, too, as many have found out the hard way.
Being sassy is always a race to the bottom; someone inevitably wins it, and it's not the person who's been around for longer than most. Manners matter, not just when you open your door once — most of all when you keep them open for everyone. It's also worth remembering that the S1 Pro is only here because of a fleet of thousands of internal-combustion cabs.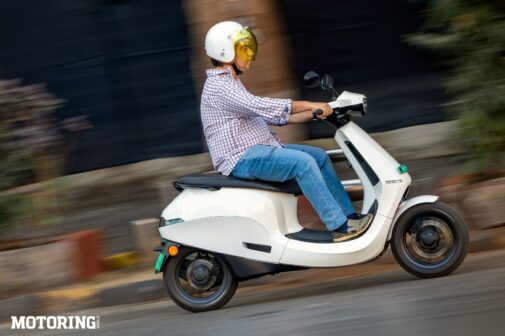 As journalists, our obligation is to work for the audience. As enthusiasts, our passion is for machines. For these extremely simple opinions, I'm often called naive by my seniors. Nonetheless, it's a fact that no one is the best forever — and hashtags are not written in stone, only in pixels. We're all only here for a short but good time, pistons or batteries. Just because there's a new green hashtag doesn't mean we should forget where we came from and where we very much still are. And I guarantee that petrolheads are far from done.