Culture, art and cuisine aren't the only things Europe is famous for. Quite in contrast to our Asian ideas of 'modesty', there also exists in Europe a little thing known as naturism. They happen to have entire beaches dedicated to just that! If you haven't figured out yet that I speak of nudism, it's about time you got out and travelled a little. Or started typing on your internet-enabled device. Now before we descend into a spiral of verbal vulgarity and cultural blasphemy, let me just point out that this concept isn't necessarily an offensive thing once you bring motorcycles into the picture. They do tend to be quite a worthy solution to most situations. These hallowed beings have evolved into many different forms, one more specialised than the other. But beyond all that, there is one base form that generally gives rise to the more sophisticated versions of road-going motorcycles. I speak, of course, of the nakeds. Naked motorcycles, not Europeans. Oh, wait, I stand corrected.
Enter the ragtag bunch of European hooligans that are hell bent on creating a bit of ruckus wherever they go. These middleweight nakeds couldn't give two nuts about Jap refinement and manners. They're just here to intimidate and pick fights with each other or any other motorcycle that they encounter, maybe even a hamster or two. These four motorcycles are designed with the same purpose in mind — attack everything. So while we were figuring out how to wrangle these hellions, Jared and Ravi from Auto X decided to jump right into the fray and lend us a hand, bless those good lads.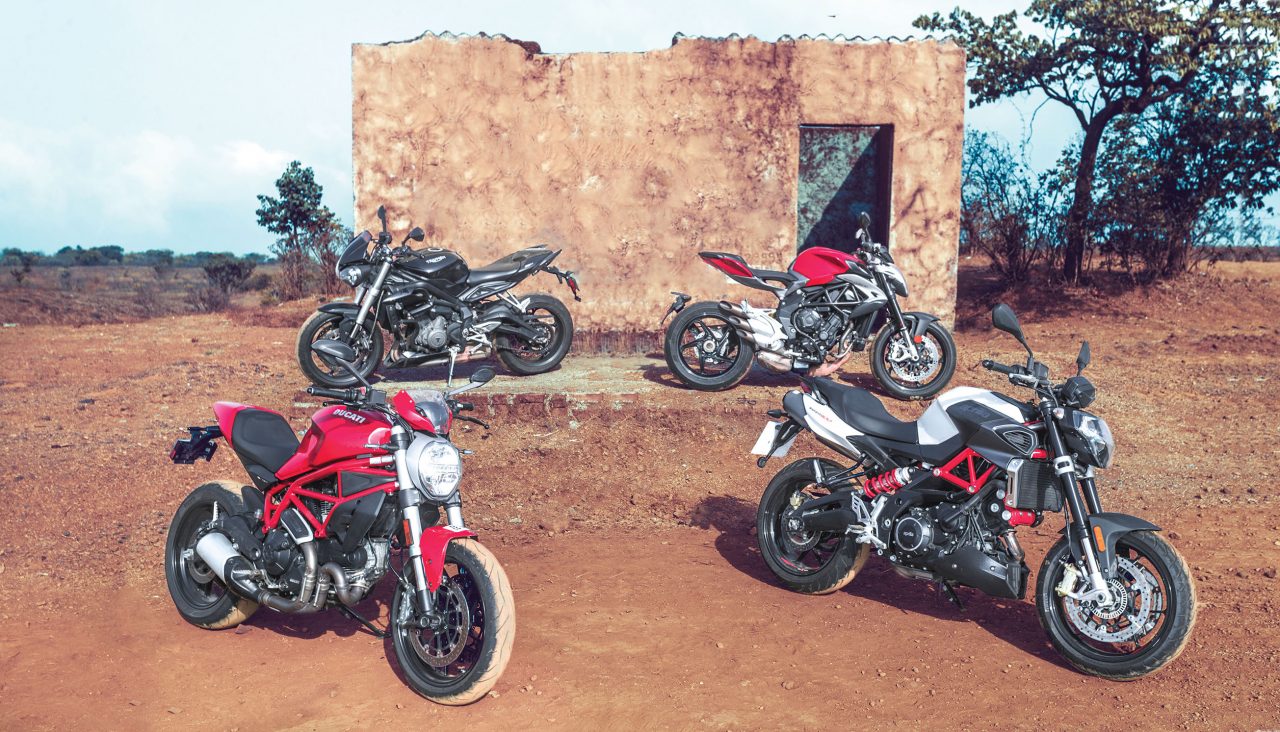 Now this middleweight-naked bunch consists of three Italians and a Brit, two twins and two triples. So before we devolve into some Renaissance-like debauchery, let's examine these motorcycles a little closely and understand what it is that makes them tick. Although they are direct competitors in terms of displacement and genre, each has such a rich history and is so full of 'character' that I wouldn't like to deem one better than the other. Instead, I'd like to appreciate each motorcycle for what it is — a testament to decades of passion, hard work and ingenuity in the pursuit of motorcycling nirvana. These are motorcycles that appeal to you in an emotional way and it all depends on what it is that floats your proverbial boat.
IV. Gimme Red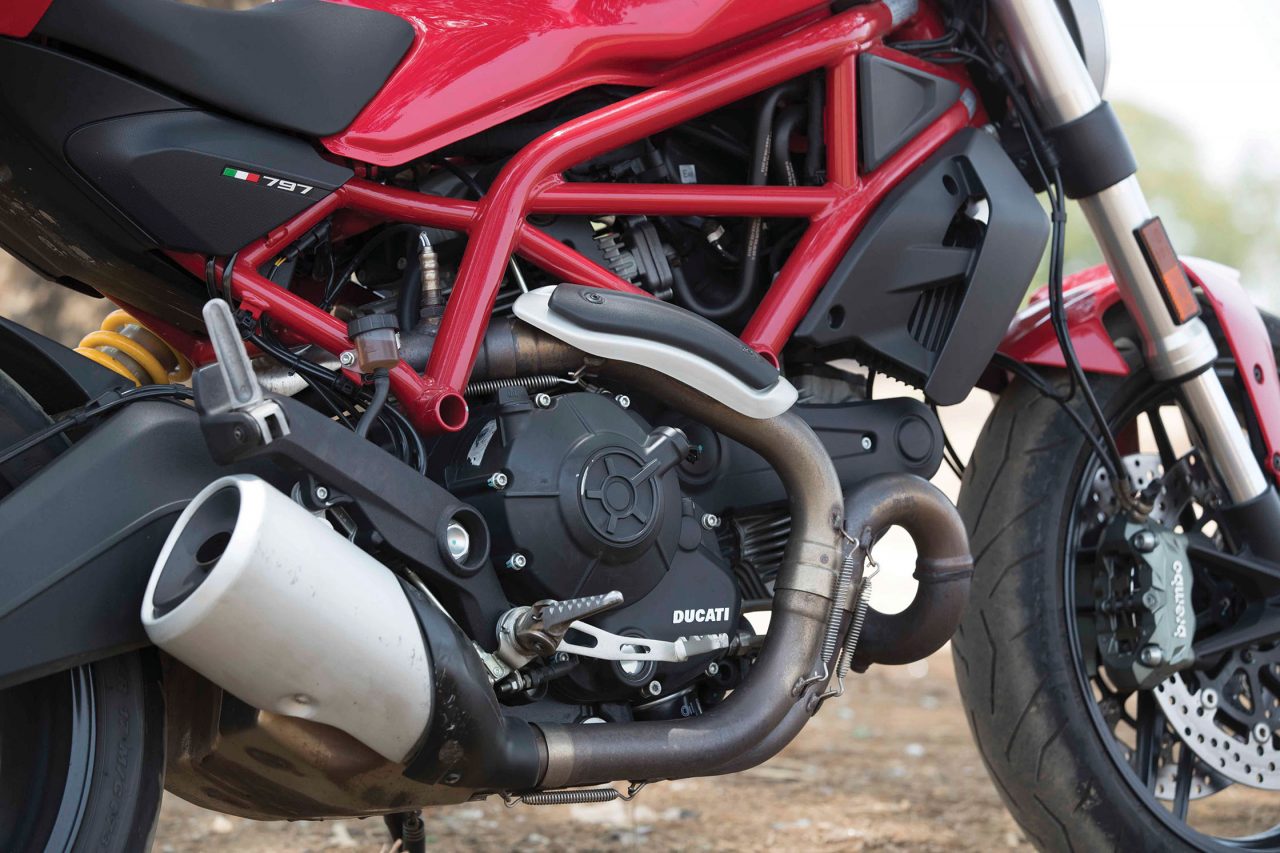 Let's start with the cheapest motorcycle here, the Ducati Monster 797, and also the friendliest of the lot. Now when I say friendly, I don't just mean on your pocket — it's also the least intimidating to ride. While 72 bhp might not sound like much in this crowd, it does of course mean that this is the most forgiving. Keeping in line with Ducati's philosophy in recent times, the easier the bike is to ride, the faster you get to go without wetting yourself. The Monster also happens to be the most conservatively designed bike here. And I don't mean it's boring to look at in any way. In fact, the split headlight with LEDs down the middle looks just delectable, so does the curvy tank and bikini fairing. After all, Ducati does know more than a thing or two about motorcycle design.
The Monster also has one of the friendlier ergo set-ups among these four. It's very neutral and comfortable. In fact, I'd say the Monster 797 is probably the bike I'd like to keep as an everyday rider. Think of it as a fitting upgrade from the KTM 390 Duke. It's great for blasts around the city while simultaneously being sporty enough in the twisties, without really being hell bent on making you declare bankruptcy. And it keeps things relatively simple, with ABS being the only form of electronic intervention. Which according to me is a good way of making you understand the motorcycle better, and consequently become a little more precise with what your inputs are.
III. The Freight Train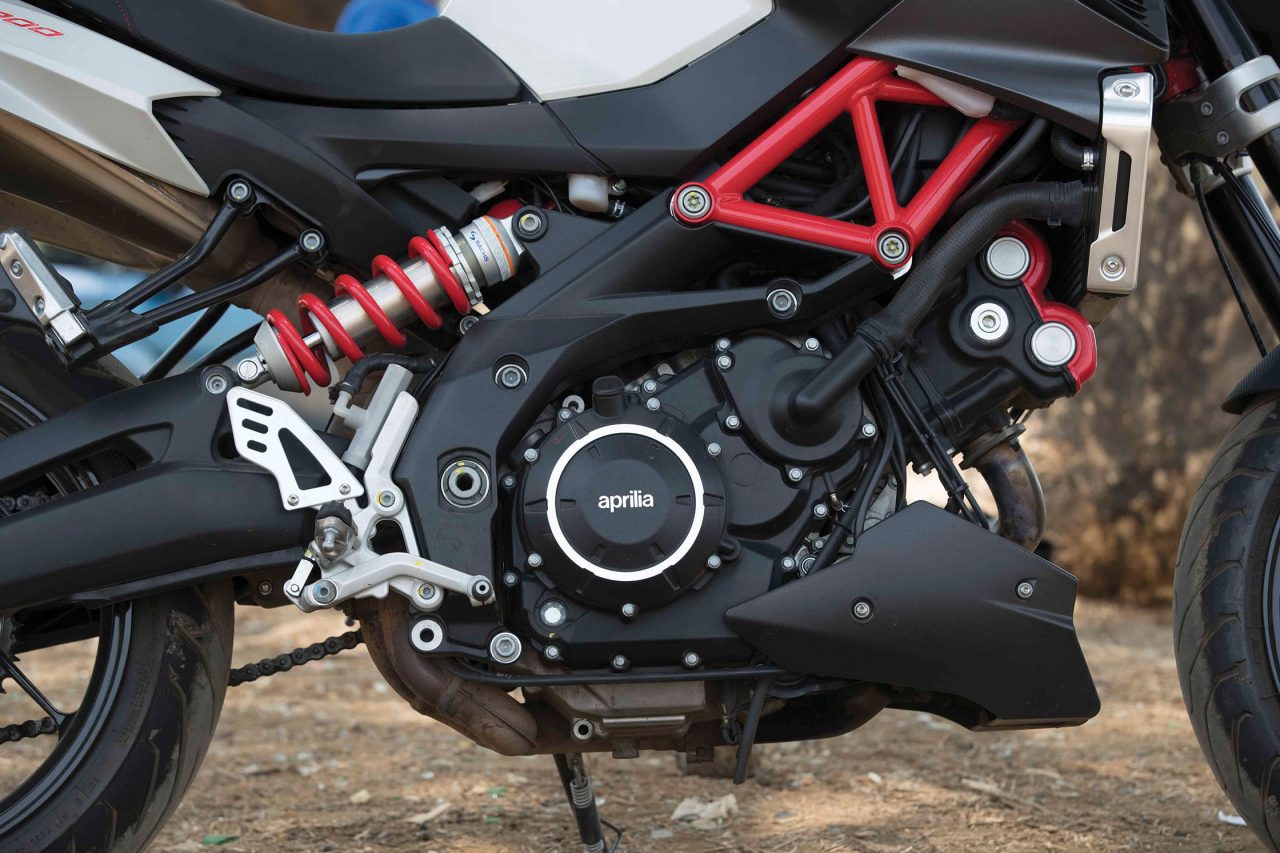 I think we ought to head a little further north into Italy and get a taste of another motorcycle with a red trellis frame that isn't a Ducati. I speak of a creation that rolls off production lines in Noale and happens to be the slightly stranger-looking motorcycle here, the Aprilia Shiver 900. While Aprilia does produce some exquisitely designed motorcycles, I wouldn't really say the Shiver stands among them. The underseat exhaust and TFT instrument cluster are really nice touches, but the rest of the motorcycle appears a bit disproportionate, if you ask me. But looks are subjective, so I won't really dwell on that.
What I will say, though, is torque! Lots and lots of it. Now, the Shiver 900 isn't really at the edge of its seat and raring to go. No, it's a very relaxed bike. And, at 218 kg, also the most portly. I'd like to think of it as a much better made, much quicker version of a Royal Enfield. The wide, soft seat will keep your derriere nice and comfy as you simply sail over the waves of torque that come flowing forth from the engine. At lower revs, the bike feels lazy and doesn't really seem like you'll get much out of it. But inch a little closer to the redline and the bike really comes to life. It won't dazzle you with any nimble or sporty handling, but it does stay planted around corners. And boy, does it sound good! Those twin exhausts give this parallel-twin a lovely bassy note that pops and crackles excitedly once you roll off the throttle. If I had to choose a bike for a bit of touring, I'd pick the Shiver 900 from this lot.
II. The Friendly Scalpel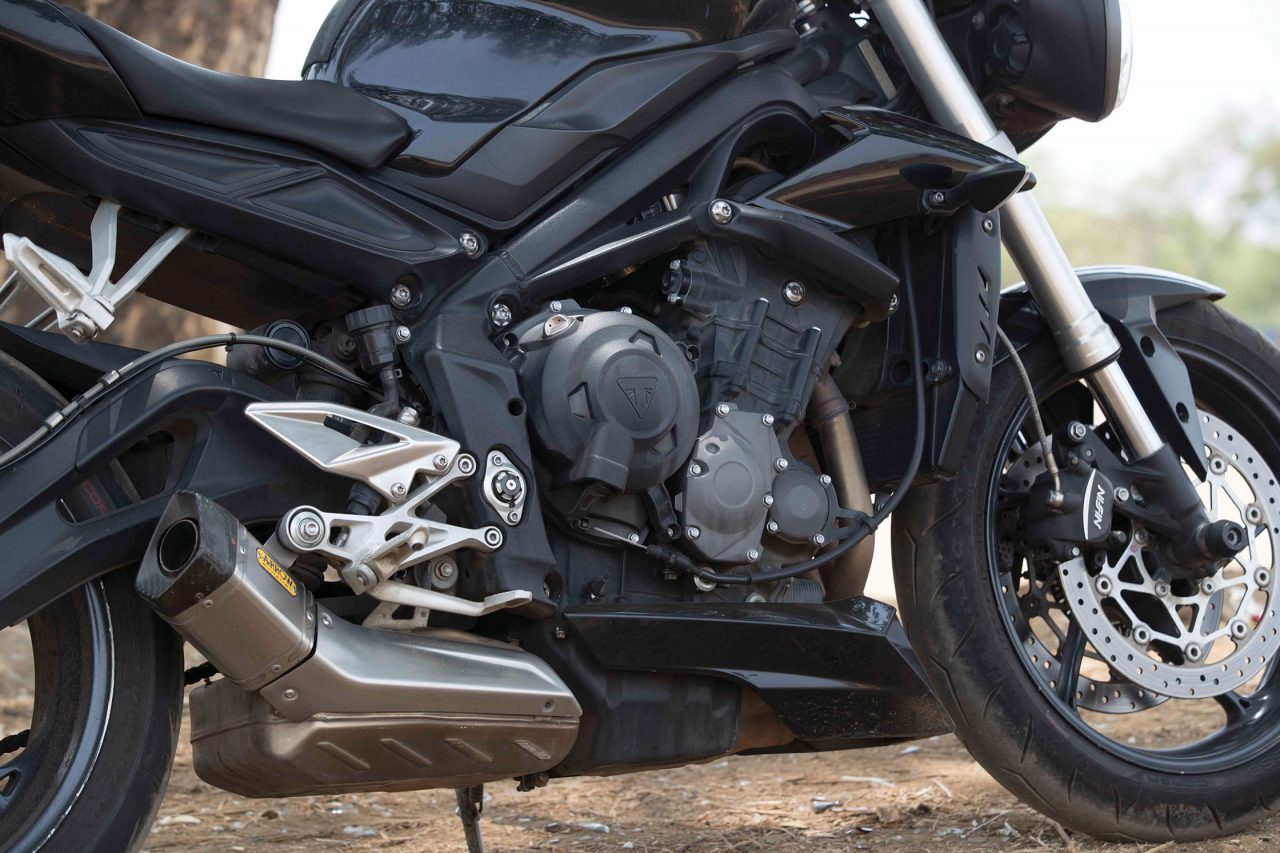 I think we'll take a little break from the Mediterranean nudity and see what skinny dipping looks like in the slightly more frigid Hinckley weather. It appears Britain seems absolutely unfazed by the horrid weather. It's gone and armed itself with a ballet dancer that's ready to shear off a head or two, and I mean from the neck onward, not just the scalp. The Triumph Street Triple S is just phenomenal. Period. It takes rider friendliness into a whole different realm, which essentially means you don't have to be a naturally fast rider to be quick on this machine. It just does things so effortlessly. The fact that the performance times come relatively close to outright litre-bike times goes to show that there's a lot you can do with 111.5 bhp when you throw the right ingredients into the mix.
It's not just the triple-pot motor that makes this bike special — the handling is simply sublime, too. Whether it's in the corners or out on the straights, the Street Triple's paltry 166-kg dry weight translates into an immensely sporty overall feel from the bike. And that's not even taking into consideration that there's also the R and RS versions that have even more specialised components. But this outright sportiness does come at a cost. The seating posture is a slightly aggressive one. While it's great if you're hitting the twisties or apex hunting at a track day, it might not be ideal for touring. But, it must be said that the performance on offer for the price is just ridiculous. Triumph has borrowed a page from the Japanese books and created an affordable performance-oriented motorcycle that will appeal to the masses, whichever way you look at it.
I. Diamond Cutter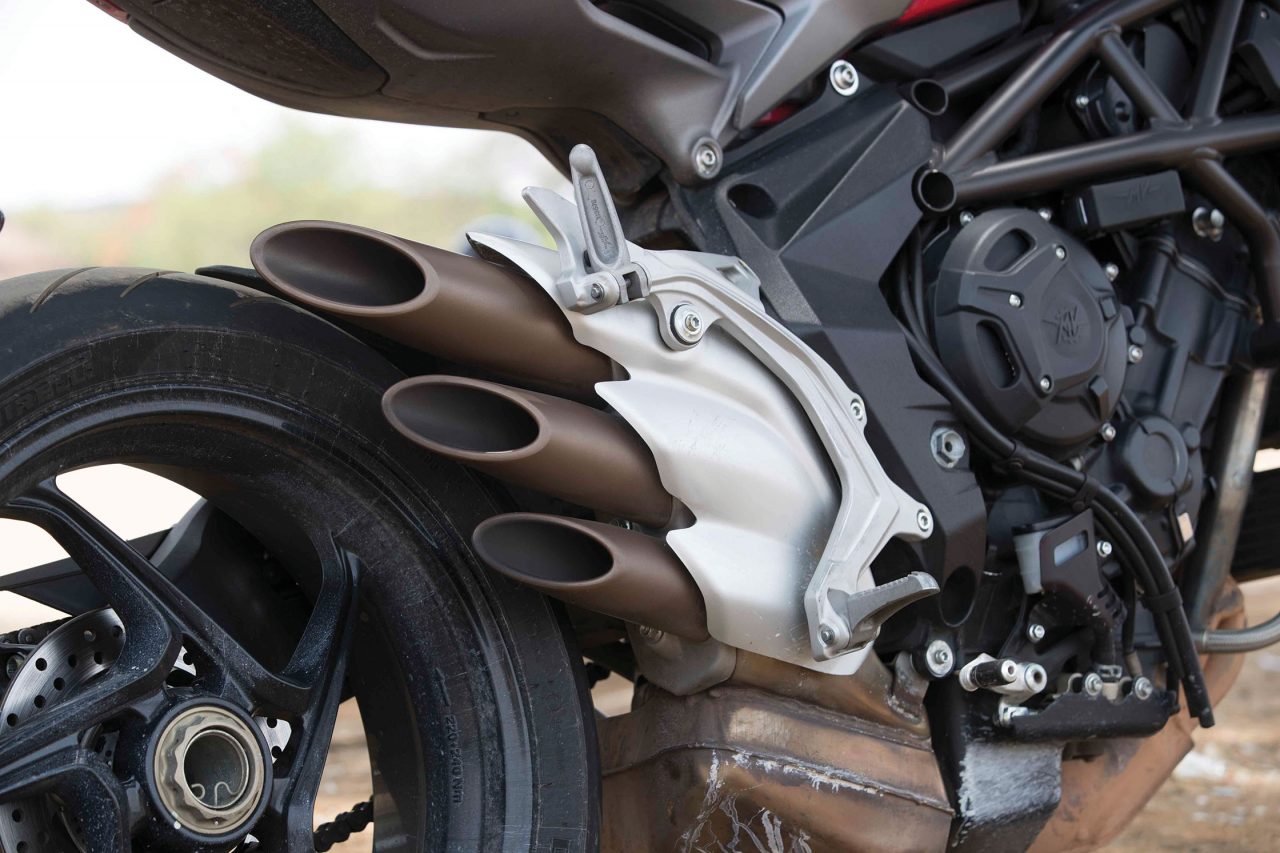 And finally, we take a stroll back into Italy and get a slight feel for the absolute triple-cylinder mayhem that rolls out of Varese. Believe it or not, MV Agusta has somewhat tamed the Brutale 800 down from the older model. Yet it still feels like an absolute wildcat that ingests a bit of meth every time you crank that starter button. The Brutale 800 is nothing short of a spectacle. From the headlight to the tank to the underseat cavern to the single-sided swingarm, Angelo Di Michele has added new meaning to the term 'sculpture on wheels'. Of course, to the untrained intellectually-challenged eye, art is absolutely meaningless. Proved only more so by the fact that I was asked by a fellow motorist where I got such a lovely modification done to a Bajaj Pulsar. That was probably the moment half my brain spontaneously melted and I lost even more hope in the human race.
But distractions are not entertained by this Italian monstrosity. The Brutale 800 demands your every ounce of concentration and involvement. I'd like to think that riding the Brutale is like dating a menopausal version of Wonder Woman. Ignore it for a bit and it will probably smash you against the wall with all its Amazonian might. But give it the attention it deserves and it is overly eager to circumnavigate the globe and then probably do a quick lap of Mercury as well. Inputs feel a bit over exaggerated. You will need to be extremely precise with what you do on the Brutale if you really want to extract its full capability.
It's not that the Brutale is an unrideable machine. It's just that you need to properly spend time with it, understand it, and modify your riding style to that of the bike. Only then will you realise just how much this bike can do, while still casually looking like a supermodel that's always in the middle of a photoshoot. Sure, you could say the Brutale isn't even close to practical. This is a bike that doesn't set out to be a people pleaser. It is what it is and it makes little sense with regards to cost. But who cares? With a motorcycle this exclusive and beautiful, do mere mortals' opinions even count for anything? I think not.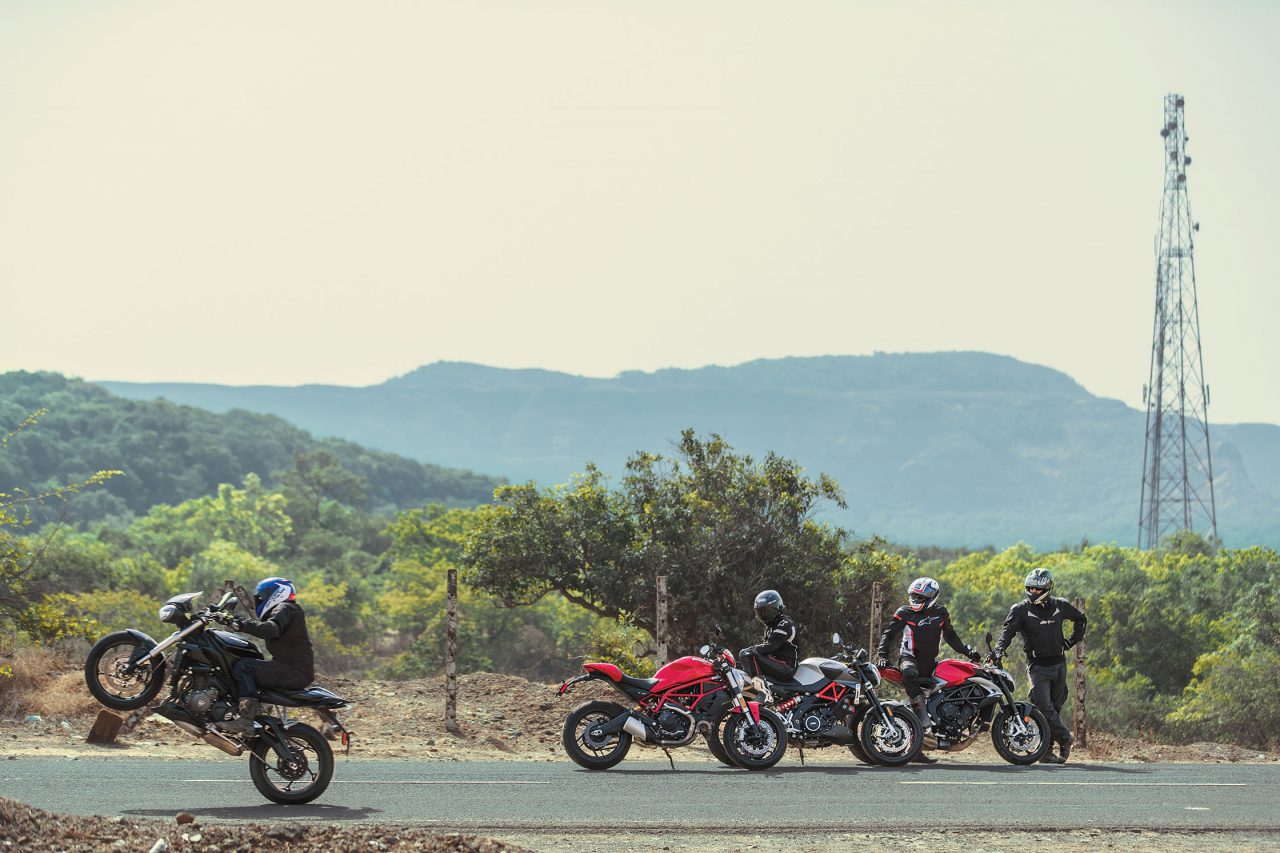 MOTODATA
Ducati Monster 797
POWERTRAIN
Displacement: 803cc, L-twin
Max power: 72 bhp@8250 rpm
Max torque: 6.83 kgm@5750 rpm
CHASSIS
Type: Tubular steel trellis
BRAKES
(F/R): Dual 320 mm disc / 245 mm disc
SUSPENSION
(F/R): USD forks / monoshock
TYRES
(F/R): 120/70-ZR17 / 180/55-ZR17
DIMENSIONS
L/W/H (mm): NA/NA/NA
Wheelbase: 1435 mm
Seat height: 805 mm
Dry weight: 175 kg
Fuel capacity: 16.5 litres
PRICE: Rs 8.12 lakh (ex-showroom, India)
MOTODATA
Triumph Street Triple S
POWERTRAIN
Displacement: 765cc, inline-triple
Max power: 111.5 bhp@11,250 rpm
Max torque: 7.44 kgm@10,421 rpm
CHASSIS
Type: Aluminium twin-spar
BRAKES
(F/R): Dual 310 mm discs / 220 mm disc
SUSPENSION
(F/R): USD forks / monoshock
TYRES
(F/R): 120/70-ZR17 / 180/55-ZR17
DIMENSIONS
L/W/H (mm): 2065/735/1060
Wheelbase: 1410 mm
Seat height: 810 mm
Dry weight: 166 kg
Fuel capacity: 17.4 litres
PRICE: Rs 9.32 lakh (ex-showroom, India)
MOTODATA
Aprilia Shiver 900
POWERTRAIN
Displacement: 896cc, V-twin
Max power: 91.7 bhp@8750 rpm
Max torque: 9.17 kgm@6500 rpm
CHASSIS
Type: Tubular steel trellis
BRAKES
(F/R): Dual 320 mm disc / 140 mm disc
SUSPENSION
(F/R): USD forks / monoshock
TYRES
(F/R): 120/70-ZR17 / 180/55-ZR17
DIMENSIONS
L/W/H (mm): NA/NA/NA
Wheelbase: 1435 mm
Seat height: 810 mm
Dry weight: 205 kg
Fuel capacity: 15 litres
PRICE: Rs 12.95 lakh (ex-showroom, India)
MOTODATA
MV Agusta Brutale 800
POWERTRAIN
Displacement: 798cc, inline-triple
Max power: 107 bhp@11,500 rpm
Max torque: 8.46 kgm@7600 rpm
CHASSIS
Type: ALS Tubular steel trellis
BRAKES
(F/R): Dual 320 mm discs / 220 mm disc
SUSPENSION
(F/R): USD forks / monoshock
TYRES
(F/R): 120/70-ZR17 / 180/55-ZR17
DIMENSIONS
L/W/H (mm): 2045/875/NA
Wheelbase: 1400 mm
Seat height: 830 mm
Dry weight: 175 kg
Fuel capacity: 16.25 litres
PRICE: Rs 15.59 lakh (ex-showroom, India)