Motorcycles have carried me to some fantastic people. Karan Lokhande is one of them. In fact, even after six years of knowing him, I sometimes have trouble believing he exists at all. But that's mostly because he never answers his phone when I call. Karan runs Motomatic Restoration & Design in Bangalore, an outfit that does what it says on the label. Old two-strokes are his passion, and at 29 years of age you'd think he doesn't have much experience with those. And you'd be quite mistaken because he's built almost 200 2T drinkers and smokers till date, with 150 of them reborn in the last two years alone.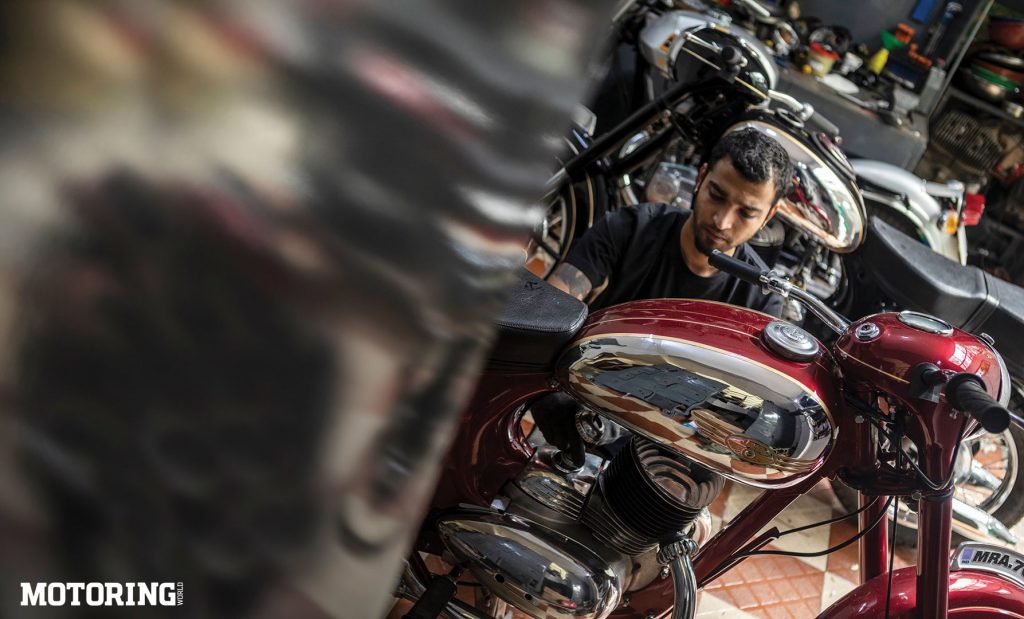 Karan is covered with enough tattoos to weigh down his skinny frame, but he continues to defy that possibility. Like the major states of matter, I've mostly found him in one of three: in a flurry of activity so intense, it's difficult for one's eyes to keep up; in a polar opposite state I call 'smartphone hypnosis'; and asleep. My favourite memories of Motomatic are in the cozy workshop, surrounded by the smell of Jawas, Yezdis and Yamahas mixing with cigarette smoke, one eye always on the lookout for misplaced bottles of petrol and/or fuel tanks left open. As with most things Karan Lokhande, his story with two-strokes began with laughter.
His first two-stroke experience was when we went to buy a Yezdi Roadking in 2009. A kilometre after taking delivery, the bike presented him with a puncture and the repair guy, an old hand, informed him that the bike wasn't in fact a Roadking, but a Classic 250D with a Roadking tank. Karan rode back to the would-be con man for a justified confrontation. Said trickster returned the money, took the bike back, and said, 'Thank you for fixing my puncture.' A few months later, Karan bought an Oilking for Rs 6500, rode it for an hour, and then dismantled it for restoration. That was the first bike he was hands-on with building, and he's been at it ever since. That crook probably motivated him to do it.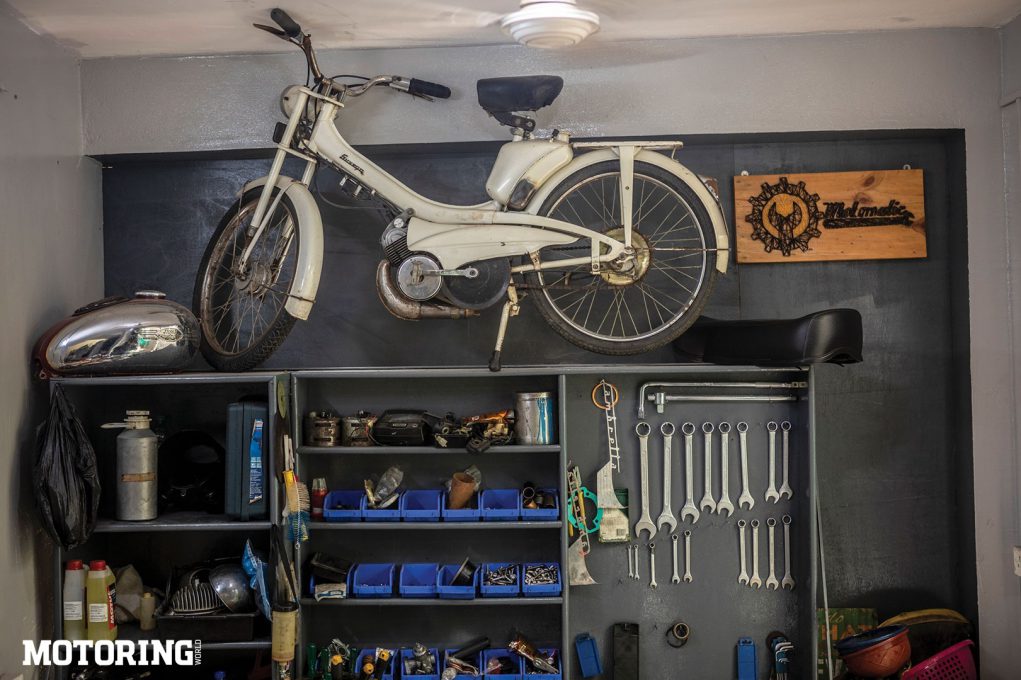 But why persist with an outmoded form of internal combustion at all? His answer is thus: 'Two-strokes are fascinating. They're so simple, and yet nothing compares to them. A common man's four-stroke is nothing compared to a common man's two-stroke; they just keep the adrenaline going. Two-strokes are lovely to work on, lovely to ride, and they don't disappoint. New bikes are fun, sure, but that feeling of being on the edge just isn't there. With two-strokes, you always get more than you expected. If you don't have a two-stroke, you're missing out on something special. You should work on them yourself, too, but if anyone needs my help, they're always welcome to call.' All the best with that last bit.
The people involved in Motomatic are as follows; Karan, the shot-caller; one full-time mechanic called Amjad Bhai; an off-site full-time painter and full-time metal fabricator; a part-time accountant in the form of his yoga-instructor wife, Ashrita; a man Friday called Shamidul; and the men required for the remainder of the week, Karan makes up for them with his trademark restless energy. I've seen it firsthand when he restored my own Roadking in 2018, a bike I somehow ended up buying on a whim when it was parked at his workshop. These things just happen at Motomatic.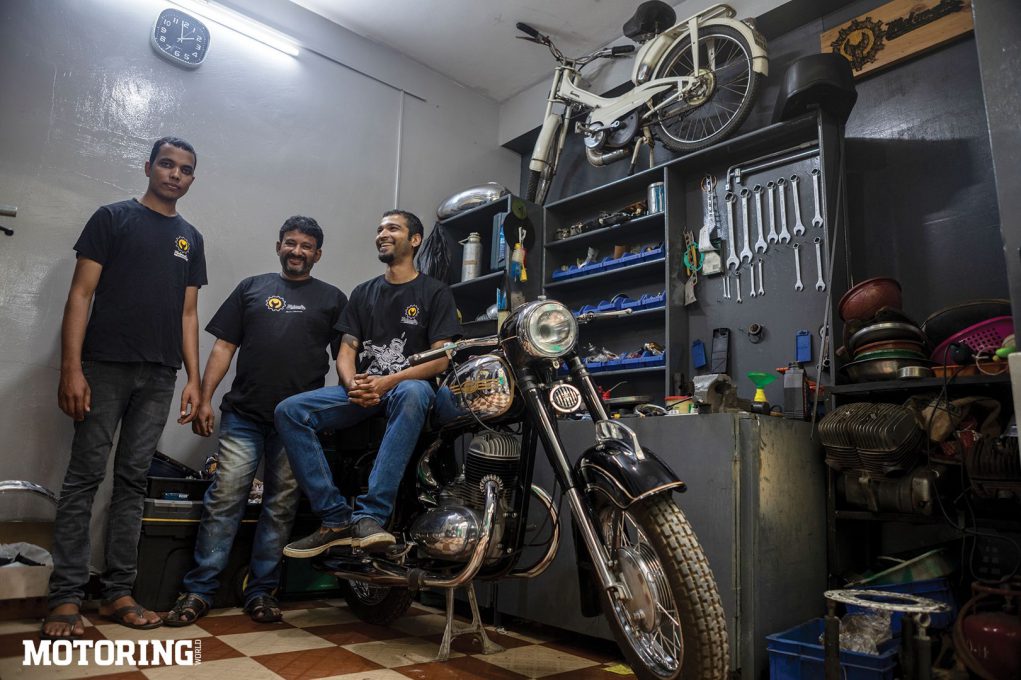 It's impossible to be objective about a friend, but thankfully I don't have to be. His customers flock to him from around India because he's already one the best in the country, and the silver Roadking you see here is proof enough. I took a spin on it and it simply blew my mind; it felt like a new bike in the way it was put together, and it was smooth and swift, even for a freshly built motor. In three short years, Karan's restlessness has yielded two-stroke magic of Gandalf-ian proportions. In Mumbai, most people complain about the unavailability of parts. I frequently think Karan should hold online classes on this topic because he never seems to lack the effort and parts required to make an old dream live again.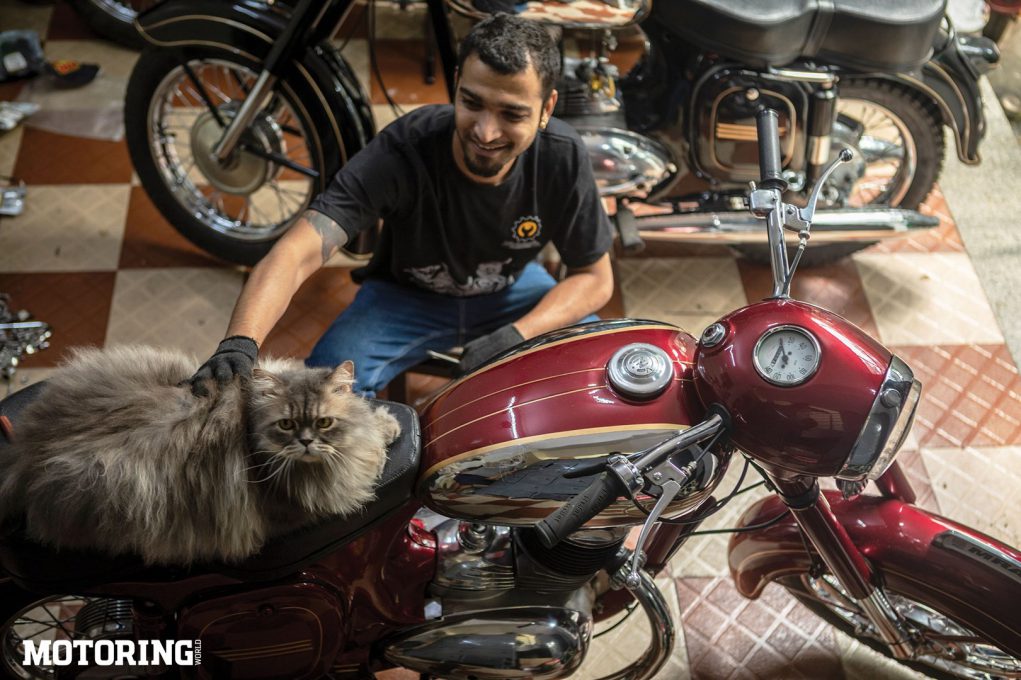 He started out with a Roadking because he couldn't afford an RD 350. He says, 'I always wanted a bike with twin exhausts because the logic then was that bikes with two pipes are fast. It wasn't. And before long, I got an RD. I don't even know what I was thinking back then!' This ability to laugh at himself is exactly what's enabled him to learn at the pace he has. Living with 12 cats helps, too, I'm sure. The aptly named Smokey is the oldest feline in the Lokhande household; he belongs to a specific breed called the Persian Idiot, and is as reliable as a two-stroke in his attempts at escape. However, all attempts, as with careless hands on two-stroke throttles, end with his seizure.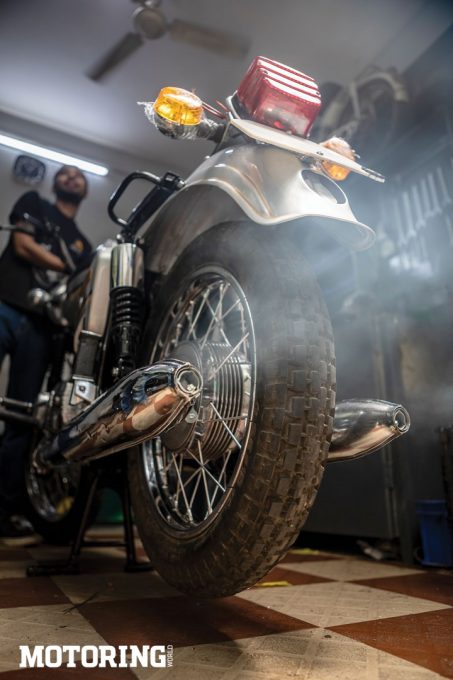 Over the years, Karan ended up collecting two-strokes, as anyone would. Eventually, with 47 bikes at one point, I suppose he finally saw sense and now he has five. He's had an endless fascination with mopeds, too. I thought it was because they were more his size, but he says it's because of their quirky designs, and he loved to keep them as showpieces until he ran out of space and patience. He's collected 23 mopeds, and even that's only half the number of all moped models ever made in India. He says there's still so much left to learn, and that goes for all of us.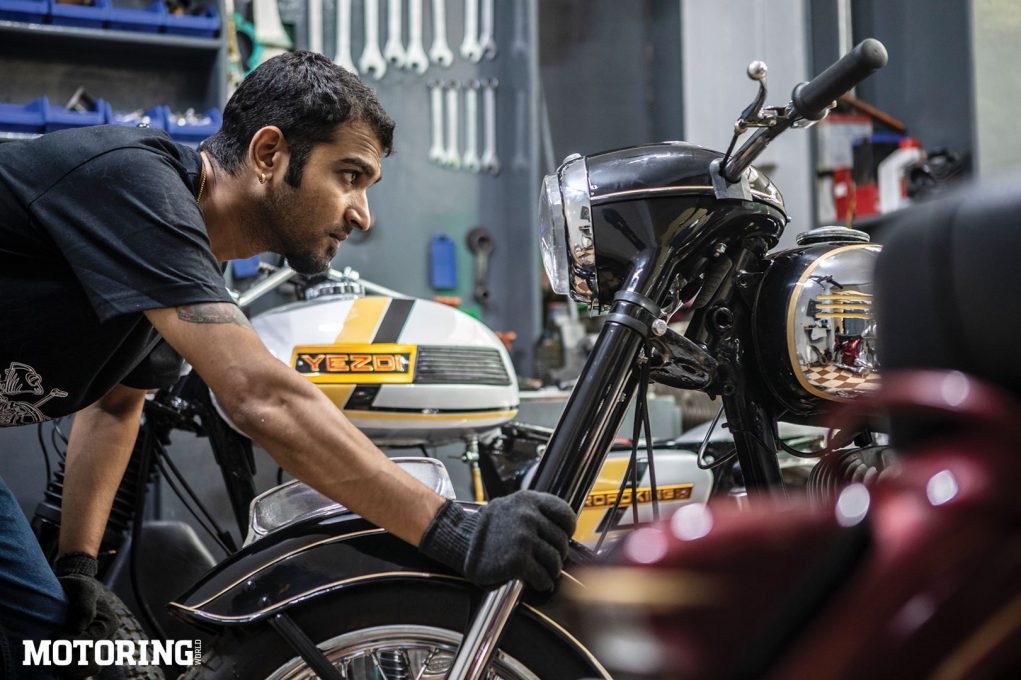 From what I've observed, he works more for the bikes than the people who own them, and that's what stands his builds in good stead. Having restored scores of Jawas, Yezdis, Vespas and Lambrettas, he's become most associated with them, though he also wants his stamp on the Jap two-strokes just as much. And he's as comfortable with the purists as he is with the more progressive bunch. Among the immaculate Jawas, you're likely to spot a monoshock conversion, too. That's probably because he's raced up hill climbs, down drag strips and around race tracks, and so he knows what a bike should ride like. That's what sets apart the best bike builders I know including Arjun Raina of Motoexotica India and Yogi Chhabria of YC Design — they all ride, and fast. Period.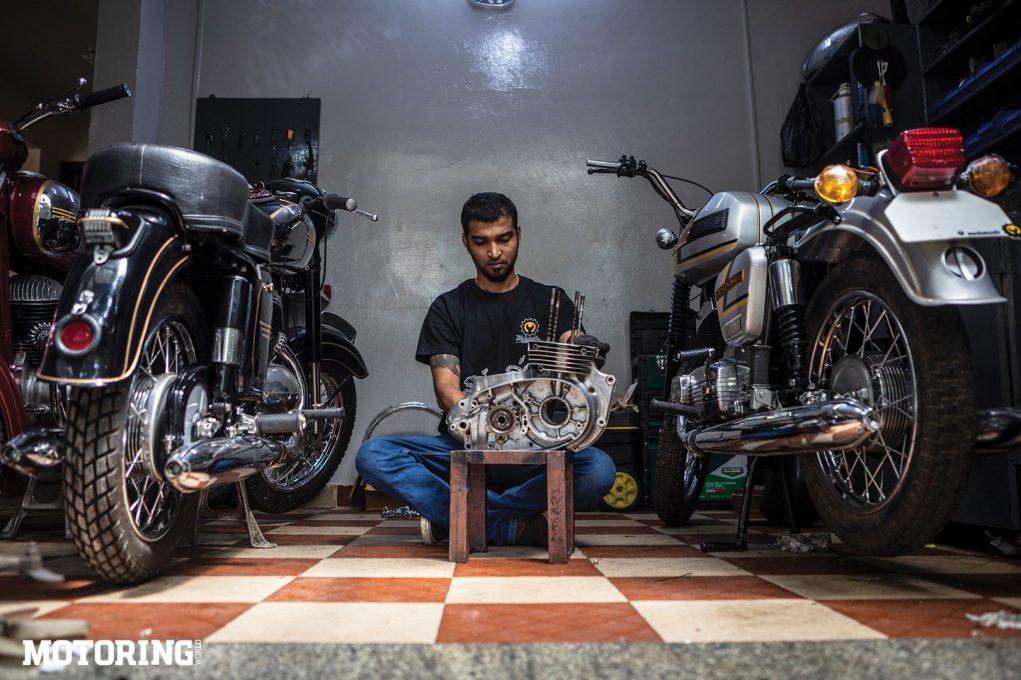 Karan thinks the most underrated two-stroke is the KB 100; 'A little bit of work and that thing can still fly.' And that best bike he's owned is a drag-spec RD 350, while his all-time favourite is the Kawasaki H2, not the modern supercharged abomination, but the equally mental two-stroke triple of the '70s. Over the years, a major part of our friendship has been spent laughing at horsepower figures claimed by all sorts of tuners, and Karan even toyed with the idea of opening a dyno-café at one point. It didn't take long to figure out that only we'd be running our own bikes on the thing, so that was that.
I wish he'd get around to restoring his Honda NSR 250 MC16, a 45-bhp 140-kg terror I'm likely to swipe from right under his backside. Not that the dull-dull-dull sound of those charming Indo-Czech bikes and the occasional angry rasp of a Jap two-stroke is a disagreeable soundtrack to the setting. More than anything else, Motomatic is a happy place, as a true motorcycle place turns out to be, and one I escape to in mind and at times in self, whenever life hits a flat spot. If you want to see what two-strokes can do to a person, go visit Motomatic some time. The high of 2T smoke is impossible to beat.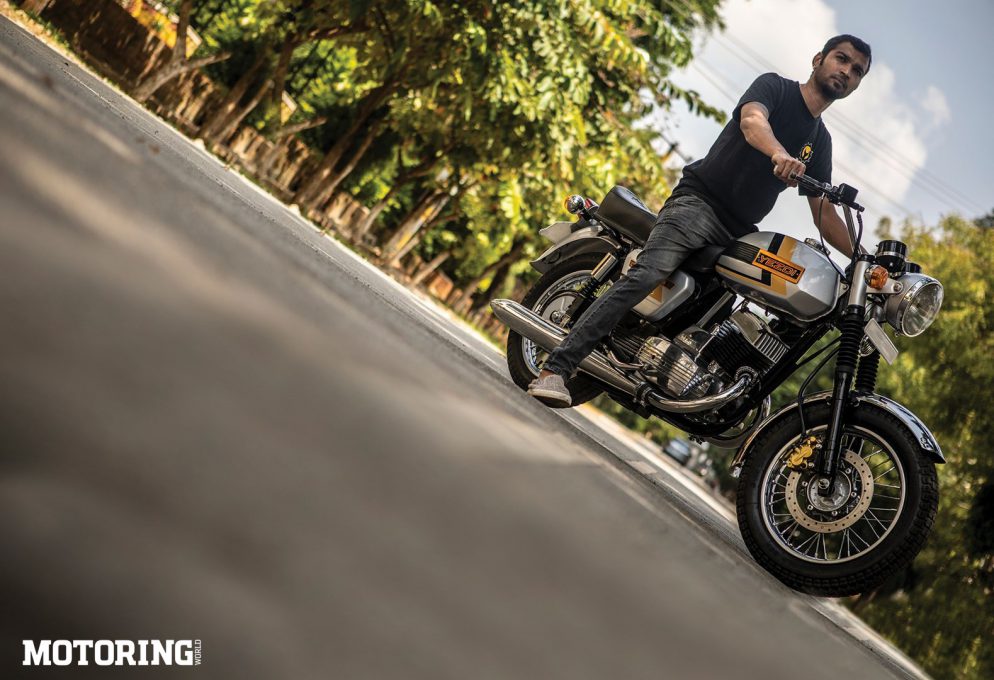 If you need help with your two-stroke, try your luck by calling Karan at +91 9886546826. If he answers, please ask him to call me back. Thanks.