An ideology on two fat wheels — that is what a bobber has always been all about. In its early years of existence, the motorcycle sprouted two offshoots, namely bobbers and choppers, and both gave the quest for individuality their stamp of approval. These weren't merely motorcycles of function but, instead, extensions of their owners. It was the rebels and revolutionaries that brought about this wave and while they have been all but erased, their motorcycles continue to live on. Motorcyclists care more about style and character than they do about practicality, after all, and this explains why motorcycles remain popular despite the heavy presence of weather-proof contraptions you and I know as cars.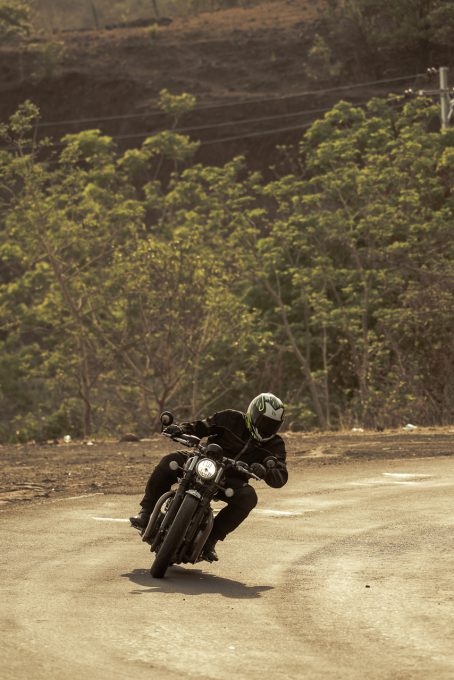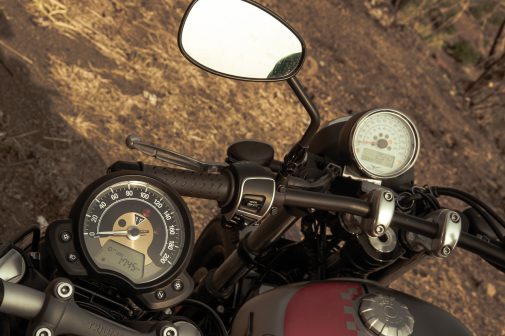 It's no surprise, then, that India, which has evolved phenomenally as a motorcycle playground in recent years, now finds itself being sold three gorgeous bobbers to. First to arrive was the 2016 Harley-Davidson Forty-Eight, which isn't here because its makers propagate a no-comparison policy and then came the Moto Guzzi V9 Bobber, which is here, because its makers are decidedly set in selling niche, exotic machines such as a, well, ` 12 lakh scooter. Now, Triumph has made its move and its entry is the absolutely gorgeous Bonneville Bobber (no points for imaginative nomenclature) which, I will declare right away, is the best looking motorcycle of the lot. So much for a storyboard and suspense!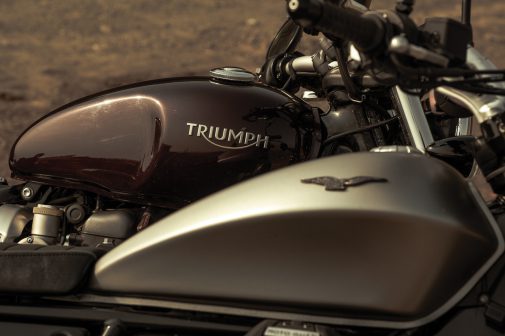 Understandably, both are pricey, made-of-the-good-stuff motorcycles and neither is particularly a scorcher. So is there a point in pouring your hard-earned savings in the name of a bobber? If you are comfortable in your skin with exactly what you want out of this type of motorcycle, then yes, there is one. Either of these bobbers, you see, are primarily motorcycles that are fun to ride and ones you can show-off with. Neither pursues a greater goal than this and you have to be firm in not nursing promises of immense versatility. Failing to do so will leave you disappointed, if not entirely bitter. But the disappointment itself is hard to come by given how classically cool both of these motorcycles look.
Let's start with the 'Guzzi V9. The Italians do 'retro' differently to others and the result, in the case of the V9, is a motorcycle that's a little difficult to digest. It's tall, partially angular and its teardrop tank seems confusing when you apply the general rules of bobber design to it. I'd call it 'quirky' and that's just me being polite because I really don't like the way it looks. Shift focus to below its waistline, however, and it gets more appetising. There's no denying the beauty of that transversely-mounted twin-cylinder engine and that is, clearly, the highlight of the V9's design. It looks like a cross between a street bike and a cruiser, somehow, but there are many I know of who think the V9 is stunning, so I guess I'll put it down to subjectivity.
The Triumph Bobber, on the other hand, pleases easily. It's got every inch of it designed to perfection and its low-slung, elongated stance captures your attention like few other motorcycles can. I love the effect Triumph has achieved with that tall front wheel, small-ish fuel tank, the 'floating' solo seat and the swingarm that snakes around the very old-school rear fender. The short-length dual exhaust pipes look terrific, too, and I would love to see what they'd look like with a few layers of chrome on them. The Triumph Bobber is the motorcycle equivalent of a Che Guevara T-shirt, really. You just have to own one, at some point in your life, and it instantly flings you into an eternally cool bracket of people.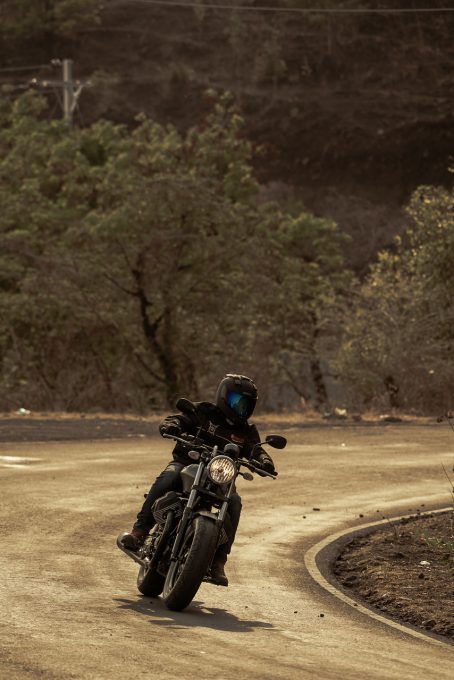 Just looking good isn't quite enough, mind you. Bobbers are motorcycles for the free-spirited and the free-spirited like to travel a rather lot. Having said that, being a resolute loner doesn't come cheap and since you have to spend this kind of money to stand out, you'd better get your money's worth, right? Of course you should and this bit is, more or less, where the winner of this comparison shines through. The V9's 850cc transverse twin-cylinder engine is a particularly torquey unit, producing 6.3 kgm at 3000 rpm, which is understandably enjoyable but when you compare it to the Bobber's 10.8 kgm (at 4000 rpm), it feels seriously insubstantial. The V9 also produces 54.2 bhp as opposed to the Bobber, which produces 76 bhp, and the disparity opens up wider than a hungry crocodile's jaw. It's no crime for one motorcycle to be less powerful than the other, and the Guzzi's numbers are certainly not weak, but when you consider the additional cash you have to shell out for it, you have a problem. Rather, you have a Triumph, and that's not a problem at all.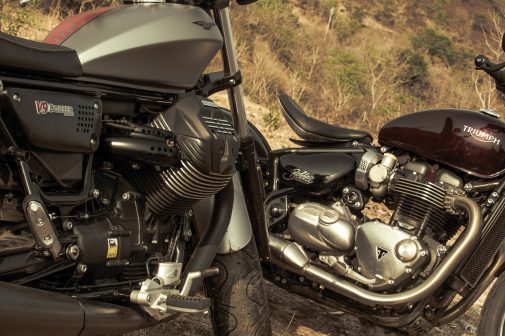 In the business of comparing motorcycles, you have to be a little more persistent than to be merely put off by what things look like on paper, however. There is, after all, no greater leveller than the open road. With Janak, our newest addition, in tow, I set out on a mildly overcast morning, leading on the Triumph. Oh, what a lovely motorcycle it is. I love the low saddle height, even if I'm uncertain about the long-distance comfort of its solo seat, and the riding position can only be described as 'revolutionary'. You do sort of feel like Che Guevara or Steve McQueen in the Triumph Bobber's saddle and that's a million-dollar feeling, considering that's exactly what any bobber worth its salt wants to achieve in the first place.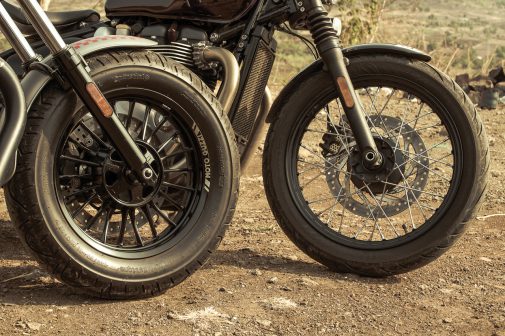 This empowering emotion the Bobber exudes isn't merely skin-deep either. Its 1200cc, eight-valve motor (same as on the T120, marginally less powerful but with more torque) throbs distinctly and vocally, quite unlike the regular Bonnie's. It's also unsurprisingly linear and responsive although the sensation of speed is more dramatic on the Bobber since it seats you closer to the road. I'd say it's comfortable cruising at 120 kph although you have to be good at reading roads because a concave undulation on the tarmac at that speed can cause the suspension to compress unnervingly. What I like, however, is the addictive stability and sense of road-holding the extended 1510 mm wheelbase (up by 65 mm from the standard Bonneville) lends to the Bobber, along with the charmingly low 690 mm seat height.
The V9 is a lot less involving in this area, although it chugs along inoffensively and in an appealingly mechanical manner. Its four-valve, 850cc motor feels relaxed and lacks any urgency whatsoever and this can be said of it even in isolation. There are many of you who will like this about it (I do, too) but it's just going to be difficult to justify it in the face of Moto Guzzi V9 Bobber kind of money. Having said that, there's a subtle charm to riding a transverse-twin at high speeds and as you settle comfortably at slightly over 100 kph, you almost expect the blurring scenery to turn monochromatic, and to be passed by a sufficiently liberal woman in an Alfa Romeo. Oh, well, these Italians, I tell you!
Before I get carried away, let's see what exactly these two are like up in the hills.
The Bobber, despite being substantially heavier, is a natural around corners of all kinds and its upright stance is both commanding and thoroughly enjoyable. In the run up to riding the Bobber, I wasn't too convinced about its sort of riding stance, especially given how much I love the Bonneville family, but the Bobber changed my perception convincingly. While I wouldn't prefer its stance over the regular Bonneville's, it is a perfectly involving way to ride a motorcycle that considers 'cool' as a function rather than mere happenstance. What I don't like about it is the suspension setup, which is way too soft over anything that's not a flat, smooth surface and over bumps and crests, it bottoms out in the most spectacular way. This is not something you would appreciate, especially over unfamiliar territory.
The V9, on the other hand, is the more grown up of the two. You sit taller on it and there is a lot more room to move around, although its transversely mounted motor can give your shins a few memorable knocks if you are tall or careless (I am both). Alright, so it doesn't give off a very 'revolutionary' vibe, but it's still a comfortable, easy-going stance that's low on attitude but more committed to keeping you happy in its one-and-a-half-person saddle. The suspension is definitely more forgiving on the V9 and, despite that monstrosity of a front tyre, it handles with grace and poise. I guess the Italians can make even a fruit blender handle well!
With that out of the way, it's time to pick sides. For all my love of everything made in Italy, I can't get myself to pick the V9 over the Bobber because the latter is simply one of the most beautiful and well-engineered motorcycles ever to be sold anywhere in the world. It's so good, in fact, that it makes me cry for its lack of a pillion seat which, in a marital reality, means I will never be able to buy one. It's true that, unless Triumph comes up with a fix, the Bobber can never be 'bike number one' but then it's not like you can wear your Che Guevara tee to work every day either, right? I'd say you should buy the Bobber over the V9 with your eyes closed (it may be fun to take this literally, don't you think?) and that's certainly what I would do. As far as ideologies go, however, these motorcycles are as different as chalk is from cheese and since this is a free country, you are free to take your pick. So long as you don't buy a car, I suppose.
MOTODATA
Triumph Bonneville Bobber
POWERTRAIN
Displacement: 1200cc, parallel-twin
Max power: 76 bhp@6100 rpm
Max torque: 10.8 kgm@4000 rpm
Transmission: 6-speed
CHASSIS
Type: Tubular steel cradle
SUSPENSION
F/R: 41 mm telescopic fork / monoshock
BRAKES
F/R: 310 mm disc / 255 mm disc
TYRES
F/R: 100/90 R19 / 150/80 R16
DIMENSIONS
L/W/H (mm): NA/800/1025
Wheelbase: 1510 mm
Dry weight: 228 kg
Fuel tank: 9.1 litres
PRICE: Rs 9.50 lakh (ex-showroom, Mumbai)
MOTODATA
Moto Guzzi V9 Bobber
POWERTRAIN
Displacement: 850cc, transverse V-twin
Max power: 54.2 bhp@6250 rpm
Max torque: 6.3 kgm@3000 rpm
Transmission: 6-speed
CHASSIS
Type: Tubular steel dual cradle
SUSPENSION
F/R: 40 mm telescopic fork / twin shock absorber
BRAKES
F/R: 320 mm disc / 260 mm disc
TYRES
F/R: 130/90 R16 / 150/80 R16
DIMENSIONS
L/W/H (mm): 2185/840/1160
Wheelbase: 1465 mm
Kerb weight: 199 kg
Fuel tank: 15 litres
PRICE: Rs 13.6 lakh (ex-showroom, Mumbai)
PHOTOS Suresh Narayanan