It is surprising how much sense these two motorcycles make. Other than delivering the satisfaction of riding a proper 250cc motorcycle and not a 200, each one offers a balance of performance and efficiency that provokes the question, 'Really, who needs more?' Then again, the Suzuki Gixxer 250 and the KTM 250 Duke might share similar-sized pistons, the same tyres and useless rear-view mirrors, but they're completely different in the way they go about impressing a rider. Why, it's even apparent in the way they look.
I had some hope that Suzuki would give the Gixxer 250 some bright colours, but the official website only shows two understated shades that look like they were picked out by a colour-blind person. Some call it 'stealth', I call it 'funereal'. I wish manufacturers would leave the stealth to reconnaissance aircraft and use other words like 'bright' and 'yellow' instead. Motorcycles need to be as visible as possible. The KTM, on the other hand, wears the colour of House Orange with pride. Well, actually, the bike we had was white, but there was enough orange on it. Plus nobody's going to mistake that shape for anything else but a KTM.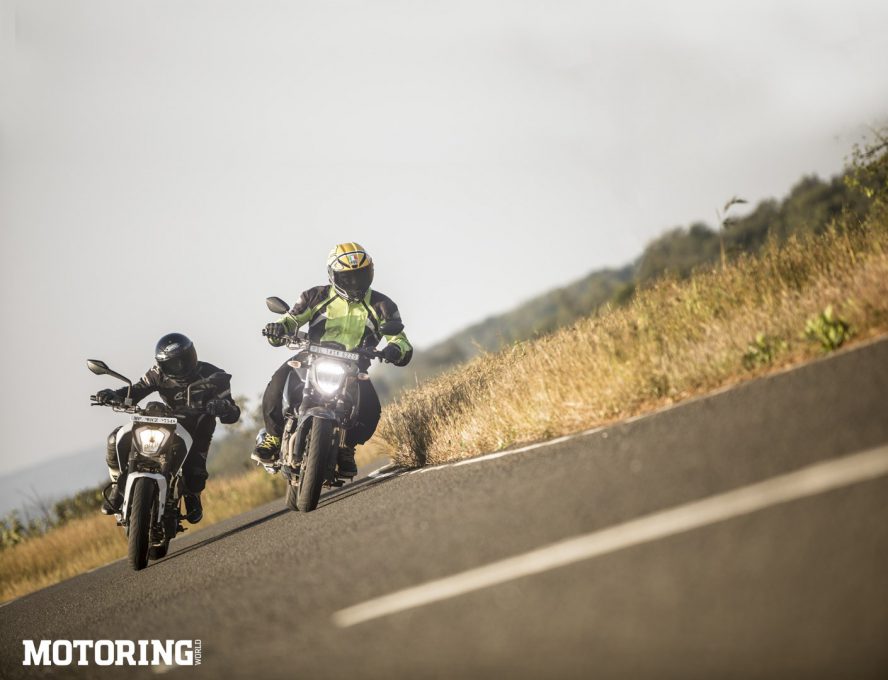 Build quality on both bikes is great, as it should be on machines that romp past 120 kph with ease. However, the KTM just feels a bit more premium than the Suzuki. With its inverted front fork, radially-mounted front caliper, slipper clutch and liquid-cooling, the 250 Duke is certainly the better-specced motorcycle here. Plus that Austrian-origami design is far more eye-catching than the Suzuki which looks like it repurposed Ben Affleck's Batman suit for its body panels.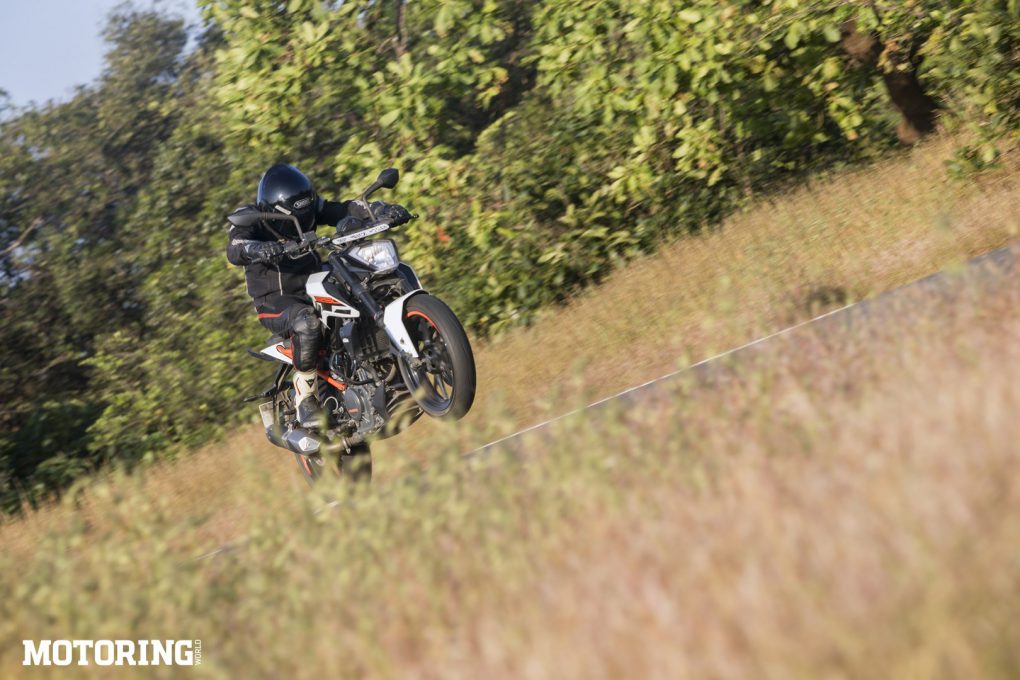 The Gixxer does try to counter the KTM's coolness with its LED headlamp and tail-lamp, but ends up feeling like a 150 nonetheless… which it basically is, sharing almost all of its components with the smaller Gixxer. It does have the better meter console, though; it's clear to read at all times, while the KTM's pod now looks incredibly fussy. Also, Suzuki's confidence in its thermal- management strategies is on display via the absence of fins on that oil-cooled motor. Don't know how it did it, but it's Suzuki and the company knows what it's doing. The first five minutes on the Gixxer are enough to understand that.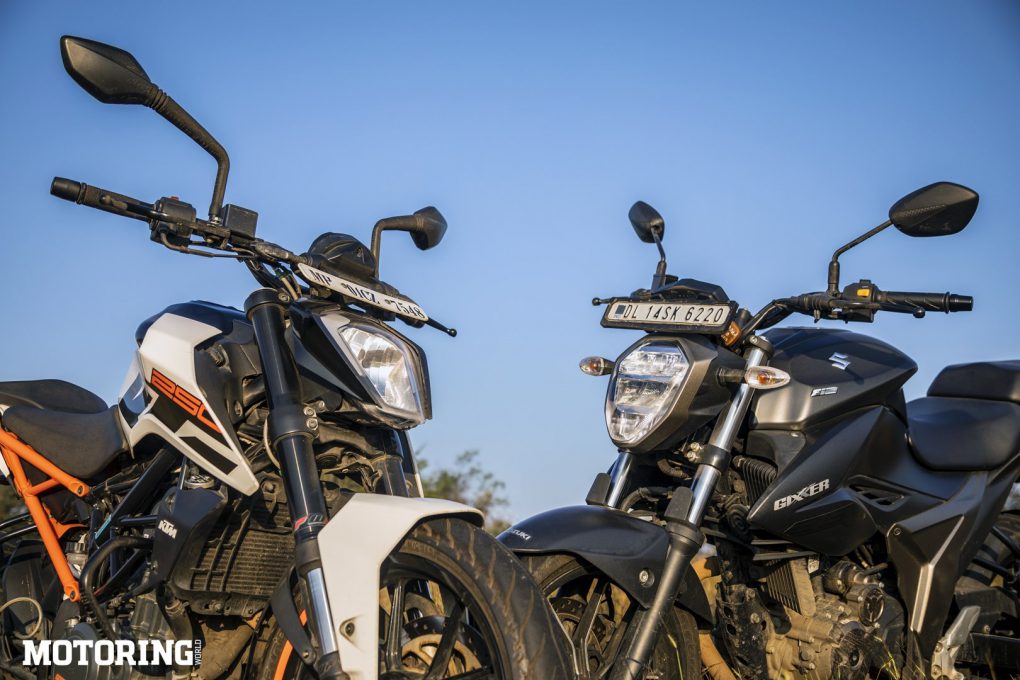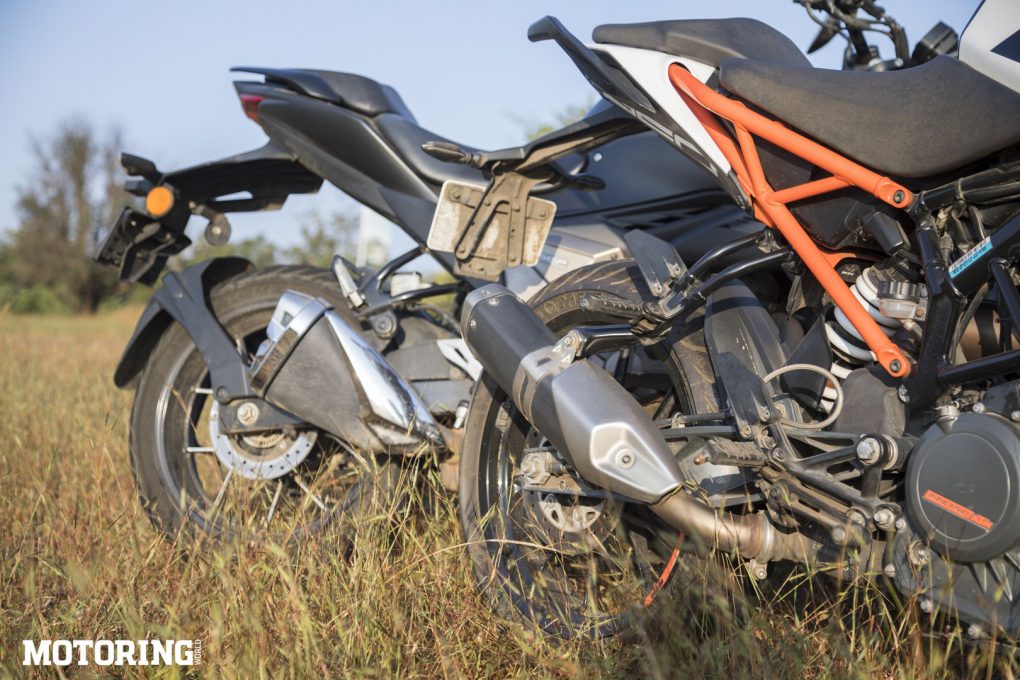 Most of those five minutes, I spent pulling wheelies after being goaded on by the Suzuki's ample mid-range. It's a pity my own ample mid-range didn't allow me to do that all day long, as the Gixxer demanded. That motor is quite something, always feeling smooth and strong. Also, there is an all-pervading sense of lightness to whatever the Gixxer does; at 156 kg, whether it's bombing through traffic, flicking it through mountain-road chicanes, or just wheeling it out of a parking spot, the Gixxer feels almost toy-like in its handling. Thankfully, it stops just short of being worryingly twitchy.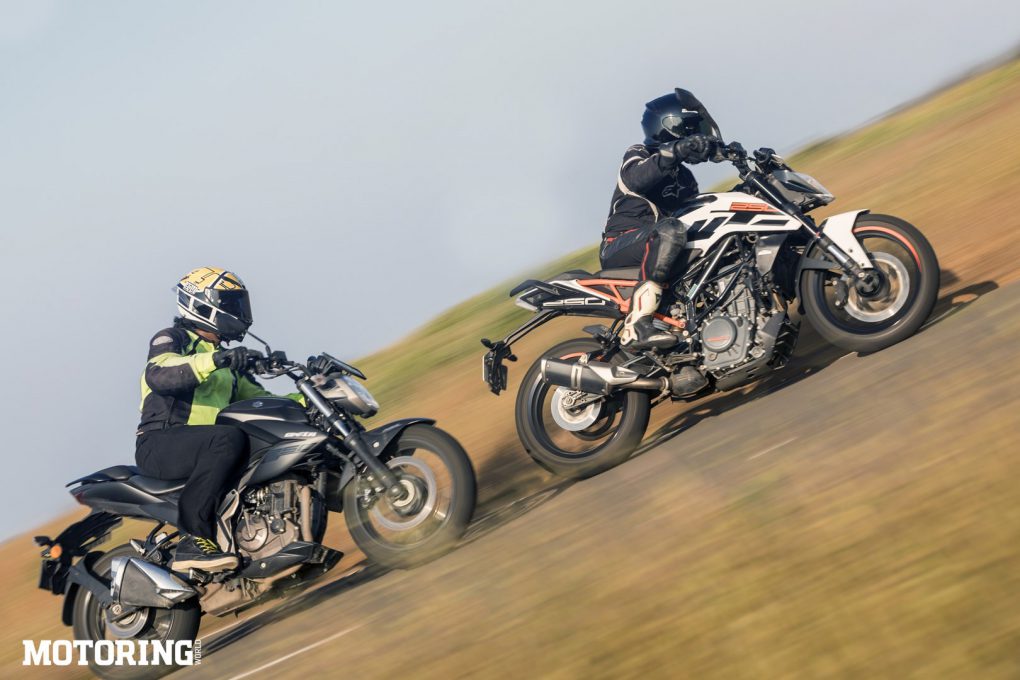 The Duke, despite being agile in its own right, almost feels ponderous after the Gixxer. And sure, it may be the mellowest Duke around, but it's still a KTM and is far more involving to ride than the Suzuki. Riding positions on both bikes are comfortably sporty, but the KTM offers more room to move around in. Also, both bikes feature ABS and feel at both levers is less than adequate. And, if the bikes race each other in a straight line, the KTM has a definite advantage; the Gixxer does stay with the Duke till third gear, but the latter pulls away in a decisive manner after that.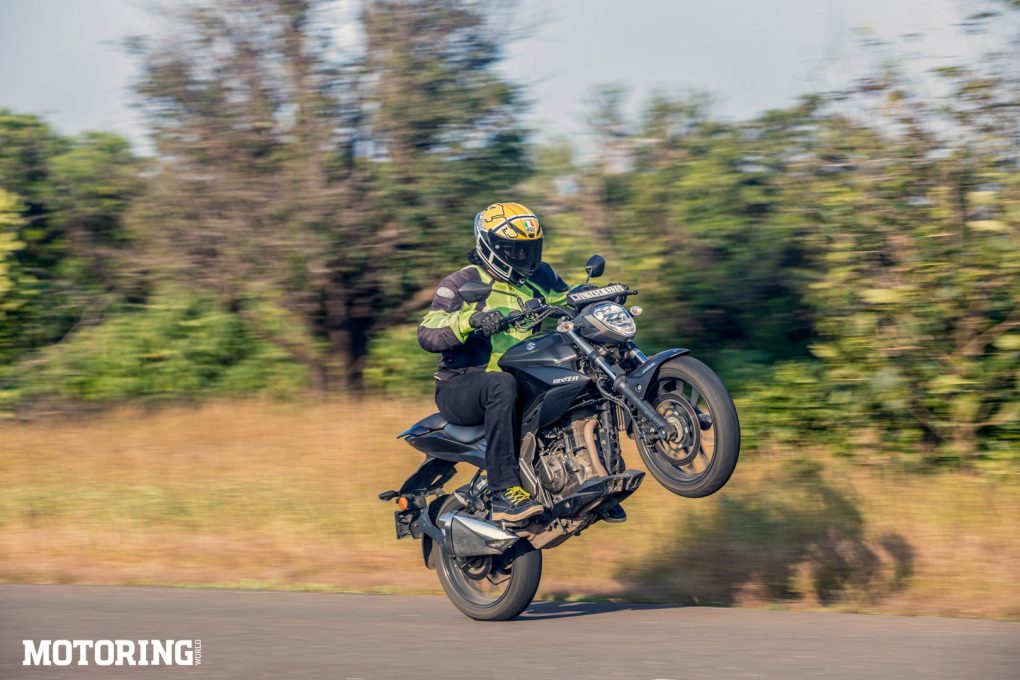 However, both bikes cruise at 100 kph without fuss; the Gixxer sits there at 6500 rpm, while the Duke does it at 6000 rpm, and both are smooth except when revved right out of their minds. Whatever performance advantage the KTM has is negated by the Suzuki's total friendliness. If there is a distinction I can make between the two, it's this — the Suzuki's compact dimensions and strong mid-range make it a near-ideal city bike, while the KTM's taller-geared nature and roomier proportions make it the one for highways. Not that each won't do well in the other's domain, mind you.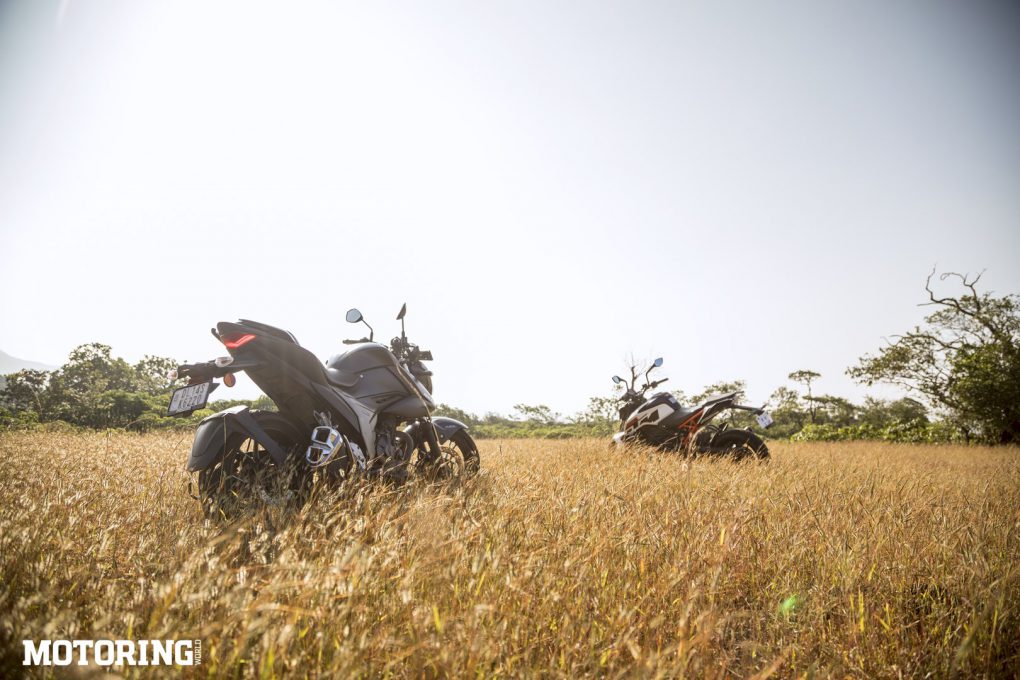 However, the Suzuki is far easier to ride, slow and fast. The KTM, charged with justifying its componentry, is more involving and hence demanding. And both are just as rewarding. And for those of you who are wondering why we didn't include the FZ-25 here, well, the hopelessly outgunned Yamaha would reach the shoot right about where I'm now, when it was about to end.
Anyway, these two motorcycles are two very different ways of making a 250, and are also confirmations that sensible bikes can also be fun. The Gixxer is a grown-up 150, while the Duke is a scaled-down 390. The KTM, with all its bells and whistles, is still a very good motorcycle for those who like their bike with all the cool bits and pieces. The Suzuki is the simpler machine here and its restrained engineering liberates it to be so much more than one would expect, not to mention being priced at around Rs 38,000 less than the KTM. And that is why the Gixxer 250 is my pick of the two. In a fight between two sensible motorcycles, that's the only logical outcome.
[This story originally appeared in our December 2019 issue]
MOTODATA
SUZUKI GIXXER 250 (BS4)
POWERTRAIN
Displacement: 249cc, single
Max power: 26.13 bhp@9000 rpm
Max torque: 2.30 kgm@7500 rpm
Transmission: 6-speed
CHASSIS
Type: Single-downtube frame
BRAKES
(F/R): 300 mm disc / 230 mm disc
TYRES
(F/R): 110/70 R17 / 150/60 R17
DIMENSIONS
L/W/H (mm): 2010/805/1035
Wheelbase: 1340 mm
Ground clearance: 165 mm
Seat height: 800 mm
Kerb weight: 156 kg
Fuel capacity: 12 litres
PRICE: Rs 1.59 lakh (ex-showroom, Delhi)
MOTODATA
KTM 250 Duke (BS4)
POWERTRAIN
Displacement: 248.8cc, single
Max power: 30 bhp@9000 rpm
Max torque: 2.4 kgm@7500 rpm
Transmission: 6-speed
CHASSIS
Type: Steel trellis frame
BRAKES
(F/R): 300 mm disc / 230 mm disc
TYRES
(F/R): 110/70 R17 / 150/60 R17
DIMENSIONS
L/W/H (mm): NA/NA/NA
Wheelbase: 1357 mm
Ground clearance: 185 mm
Seat height: 830 mm
Kerb weight: 161 kg
Fuel capacity: 13.4 litres
PRICE: Rs 1.97 lakh (ex-showroom, Delhi)