"The word 'soul' gets thrown around a lot, but it certainly lives in the W800's engine. The Japanese may have killed the British bike industry, but Kawasaki has kept a part of it alive, perhaps as penance. Or maybe it was just too much for the Japs to resist making an ultimate British twin with all the right materials and tolerances.
Whatever the reason, we must all be thankful for it because this is a truly special engine." I wrote these words over a year ago, and ever since then I wanted the W800 back to ride it with an old British twin. I wondered how faithful the W remained to that lost British rumble or if it had gone off in a different direction to find its own soul.
Ideally, it should've been the BSA A7 that the W traces its lineage back to. Back in the old days, Kawasaki bought a company called Meguro that made copies of the A7 under licence, and that bike eventually became the enduring bevel-driven-cam W series. But I wasn't about to throw away the chance of riding a pristine example of one of the greatest Brit twins of all time — a 1955 Triumph Tiger T100. This particular oldie belongs to Shivdutt Halady, a consummate motorcycle enthusiast and collector, and a simple message was enough for him to come along with his trusted mechanic Akleem Ansari who is the reason behind this Tiger's blue-and-chrome magnificence.
It was originally bought in 1956 for Rs 4410 by a gentleman in Pune who rode it till he was unable to, and after he passed away the bike was parked inside his house. Eventually, Halady acquired the bike in a battered state, original invoice and all; an old machine comes with a sepia-tinged story as standard fitment, after all. A painstaking restoration later, the story was ready to tell itself all over again.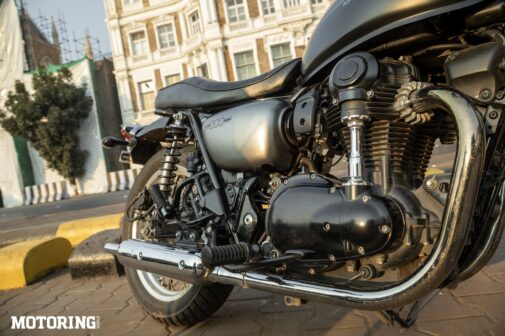 The W800's got a story, too, but it's more to do with the cult following it commands in mature motorcycle markets. People come to it from either side of the motorcycling spectrum and stay for the charm and feel it offers. That 773cc parallel-twin is the only engine of its kind, unique and unperturbed by what goes on elsewhere. The combination of a bevel-driven camshaft and low compression allows a high level of reliability, even by Japanese standards. It's built to last forever and feels like it, and the aura of the 360° crank is timeless as well. These two time-extending traits go together like the two hands on a clock.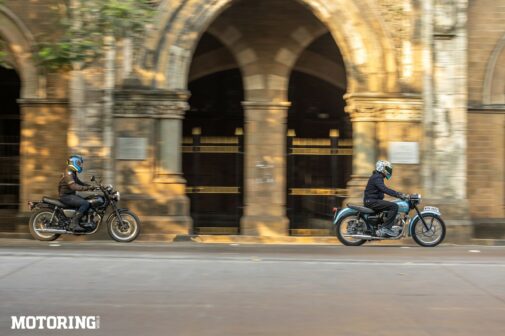 The W800 is sold in India only in this funereal all-black garb, though that didn't stop the motor from shining bright. The unique handlebar reached far back, almost as if it wanted to hug me. It was a bit testing like old bikes, too, as the brake pedal demanded an awkward angle from my ankle. The seat made my backside numb within an hour, and the MRF tyres on the bike were shot. And still, in a world now populated by 270° cranks, the W800 was a breath of fresh traditional air. That consonance of its firing order was full of uninhibited character from the moment I poked the started button. It was mellow until 4000 rpm, a calm and confident rumble wafting along on its supple ride quality. And again, it always felt like it could go on forever, amassing more and more followers in its sonorous wake.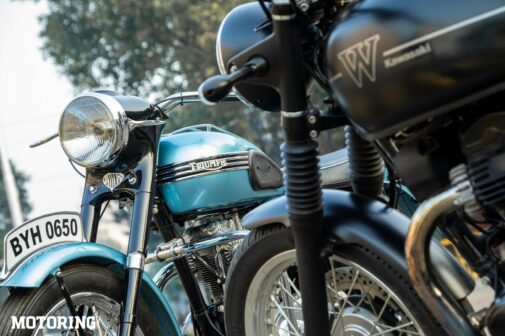 And then, between 4000-7000 rpm, the W800 sent its rear wheel skating along the tarmac with a strong torrent of torque. In this range, despite the promise of disc brakes, the W800 felt quite like a runaway Brit bike with drums at either end, and highlighted the need for more serious suspension, tyres and brakes. Then again, I was talking about a bike so retro, it didn't even get a pass switch. And I happily settled for getting carried away by the W800's simple bone-deep charm again and again. It's a motorcycle out of and beyond time, and that's why it endures to this day. And yes, it does feel quite close to the Brit bike.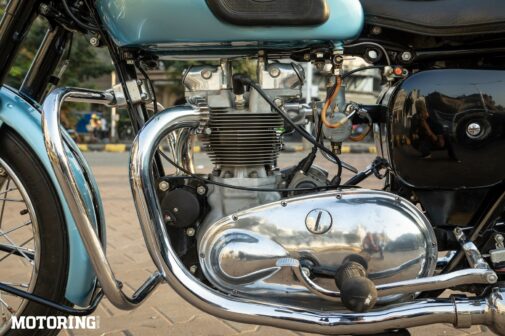 What I wasn't prepared for, though, was for the old Brit bike to feel and run like a Japanese machine. This Tiger just didn't seem to require the trepidation that is a traditional part of approaching an old bike — it just started and ran every single time. I suppose that's what happens when you find a bike that's only been ridden and cared for by one person. Also, Triumph had been making the Tiger since 1939, so I suppose it had ironed out most niggles by the time this one was made. The Tiger felt as analogue and British as Big Ben. A regular downward heave of the right leg made it roar to life and its 498cc parallel-twin was an Amal-carbed symphony of perfection, whether at idle or on the throttle. Listening to this bike always reminds me what a fitting name it has.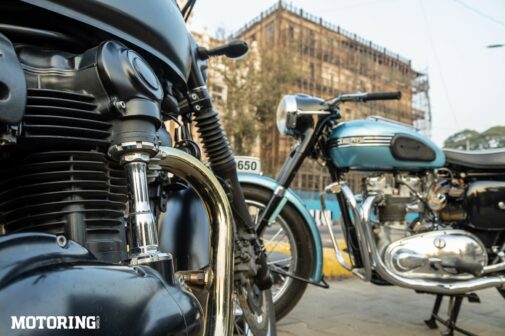 The clutch was surprisingly soft and I noted that the Tiger pulled away with more than considerable enthusiasm. A run through the pre-unit four-speed gearbox made sure the hair on the back of my neck stood right up in attention. It made a sound that, despite its metallic overtones, felt more organic than anything else I'd ridden in a while. Indeed, it felt like a live tiger, one that called to mind the saying about those who ride tigers being afraid to dismount. In this mechanical Tiger's case, though, it was more to do with the greed of riding it as much as possible as fast as possible. And on one occasion, the speedometer needle went past the 60-mph mark; even though it was some way from the 100 mph the Tiger was rated for, I had to remind myself that this was someone else's prized possession and not a test bike. One with ancient drum brakes at either end, no less, and I didn't want to leave a Tiger-shaped mark on one of Mumbai's old British-made buildings.
As I returned to the spot where Halady and the others were waiting, I braked hard, locking the rear wheel, the tyre screeching under the sound of the downshifting old twin. The Tiger didn't seem to mind at all; if anything, it wanted more of this, and in that moment a vivid image flashed in my mind, one of riders going mental on their Tigers far in the past. That was also the catalyst I needed to hit 100 mph on the W800 the next day, transferring the job of the old bike to the newer one, proving once again that it's one of the best engines ever made. Yes, that's indeed what I think of it. Those who appreciate machines with character will love the W. Those whose love for motorcycles runs shallow won't. And perhaps that's why, along with the seeming lack of equipment, the W800 has sold poorly in India.
Good thing, too, since the week I spent with it has ignited a permanent flame in my mind, and I'm already plotting to pick up a used W800 for as cheaply as possible. It's a keeper — it's not for everyone, but it certainly is for me. Also, even the W800's regular price seems all right when you consider that a mint Tiger like this one costs upwards of Rs 15 lakh. And all of that fades into the background when you consider that machines like these will always have stories to tell. The Tiger is a ballad, an ever-present echo that you can hear on the walls of the present. And the W800 is a moving British folktale told with typical Japanese accuracy. How could anyone not want the best of both worlds?!