Off-road events have taken my fancy of late, and any event at ProDirt Adventure was sure to be exactly as the name states, an adventure. So when Kawasaki sent the invite to the Off-Road Carnival, I couldn't pass up on the opportunity. Knowing Kawasaki, I could already envision the mean green mud-slinging machines tearing through my weekend. And so, I set off on a rainy Sunday morning, boots and helmet in hand, all ready for a mud bath.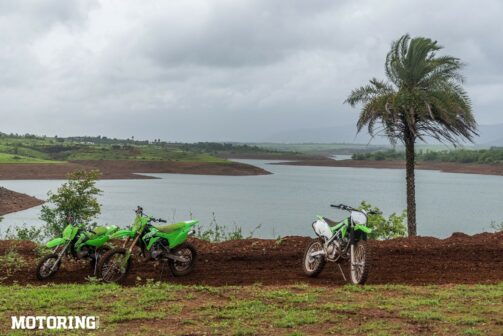 The day started with the launch of the latest updates to Kawasaki's KX and KLX range, namely the 2024 KX65, KX112 and KLX 230R S. The bikes were started up and almost immediately I was smitten by the two-stroke motocross bikes. Nothing like the smell of a good ol' two-stroke to wake you up in the morning. After a quick briefing by Nelly, Sunny and the Kawasaki team, we were allotted our bikes and soon headed towards the flow track.
I was to ride the KLX 230R S first, so I saddled up on the air-cooled, fuel-injected, four-stroke 233-cc trail motorcycle. Weighing in at 115 kg, it gets a 21-18 wheel setup at the front and rear respectively. It did feel a tad tall at a standstill with the 900-mm seat height, but that wasn't a problem at all once I got moving. Running it through the course, it felt pretty responsive and easy to manoeuvre. Offering the convenience of a button-start, the four-stroke did everything expected of a basic trail motorcycle, but at an ex-showroom price of Rs 5.21 lakh, it still tends to feel somewhat heavy on the pocket.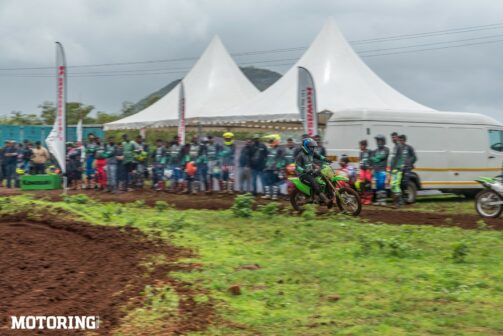 A few more rounds and I had to hand over the bike to the next person waiting eagerly in line. Time seemed to crawl by as I sat waiting for my turn again, and don't get me wrong, it was almost as much fun watching everyone else blaze through the course with the throttle wide open. It was just that the itch to get back on the saddle was almost unbearable. I sat twiddling my thumbs as Yogi, Sunny and Nelly let it rip, front wheels barely making any contact with the ground while the rear wheels dug into the earth with a vengeance.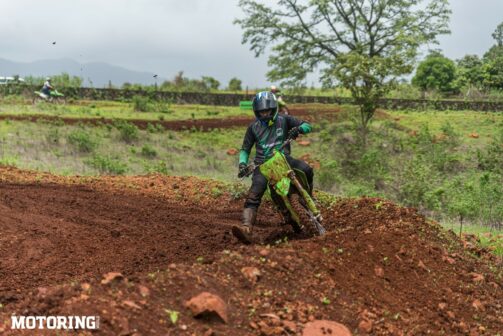 I had to practically wrestle Yogi off the KX112 when my turn came, such was the charm of the little two-stroke. Right from the get-go, I felt right at home in that little green seat, throttle pinned and the little trail of blue smoke left in my wake. Priced at Rs 4.88 lakh (ex-showroom), the 112-cc motocross bike weighs in at a scanty 77 kg, with a 19-16 wheel setup at the front and rear respectively. It also comes with adjustable long-travel suspension travel on both ends. The amount of power coupled with the insane handling, given its almost perfect dimensions, was a recipe for pure joy. I felt like Goldilocks with the perfect bowl of porridge; content and happy.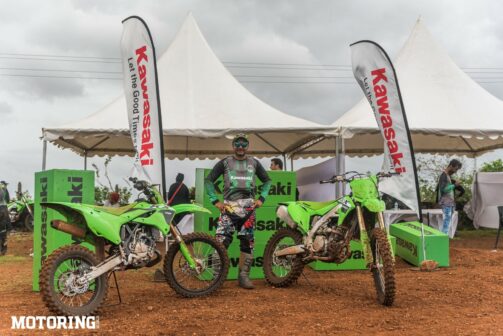 After my run on the KX112, I got to chatting with Rustom Patel, retired national motocross champion. He told me with much excitement that he owns an older KX112 himself, and the fact that Kawasaki had organised such an event for enthusiasts was commendable. He also went on to express that the new bikes are a ton of fun, and while he did ride all three, he still has a soft spot for the two-strokes. Reminiscing about his competition days, he said that the two-strokes have always had more character and intent as compared to their four-stroke counterparts and I couldn't have agreed more.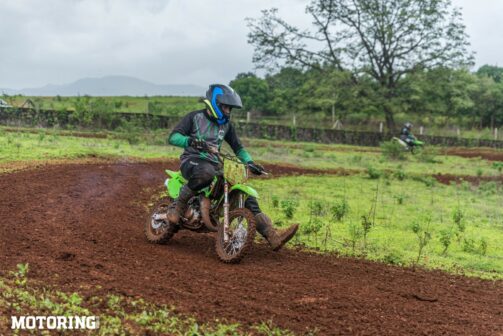 Not too long after, I found myself piloting the smallest of the three motorcycles, the KX65, and I say 'piloting' because that little two-stroke was flying through the dirt course. Meant for budding young riders, the 64-cc motocross bike is priced at Rs 3.12 lakh (ex-showroom) and gets a 14-12 wheel setup at the front and rear respectively with adjustable suspension on both ends. The small motocross bike was surprisingly fun and agile, not to mention, had quite a delightful kick to it.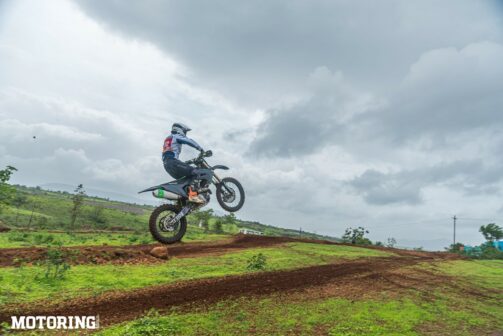 I might have overdone it, belting into a turn and managing to lose control resulting in one of those slow-mo flips. My landing gear failed to deploy and essentially rendered me out of action for the rest of the day. No matter, I went down with a grin spanning ear-to-ear and enough adrenaline to last me till the next weekend. This is where I would have to emphasize on the importance of wearing proper protective gear to be on the safe side whatever happens. Had I not been wearing protective gear, it would perhaps have been a painful case of broken bones and twisted limbs. It is always better safe than sorry.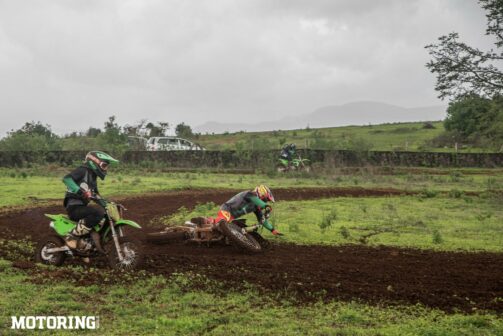 Having ridden the three dirt bikes, I would have to say that although all three were extremely capable machines, the KX112 seems to have struck precisely the right chord with me. The only thing holding me back from buying one for myself is the price point, and I feel that would be the case with most enthusiasts too. Also, with the fact that these are not road-legal, enthusiasts would be buying them purely for recreational or competitive use, so that takes away a large chunk of people from the potential customer demographic. Still, this shouldn't draw away from the fact that they are brilliant motorcycles.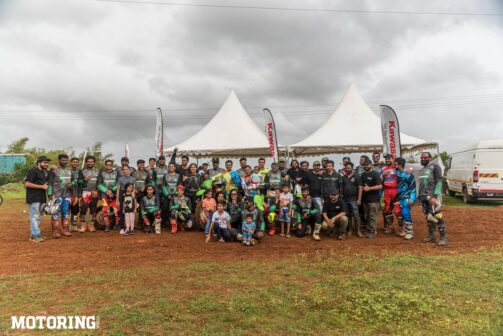 The event was quite evidently a hit among all those present, and I hope Kawasaki has taken notes from all the spirited discussions with the riders. Given the growing popularity of off-roading in India, especially now with the Indian Supercross League around the corner, Kawasaki played a power move by inviting many existing and potential customers to experience their updated range. Having had my fill for the moment, I head out in search of greener pastures to blaze through on a Kawasaki, hopefully someday soon.