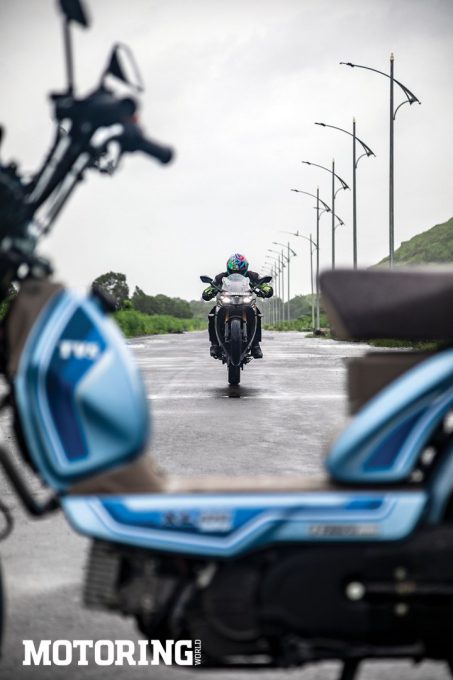 Horses are some of the most beautiful animals on the planet, and everyone likes them. However, more often than not they stink, tend to have a temper, are easily rattled, can bite, and if you're at the wrong end, kick you into low-earth orbit. I suspect these are some of the reasons why fed-up ingenious humans took to designing two-wheeled horses that other impressionable humans started buying in droves. And like their four-legged inspirations, motorcycles today are registered as many different breeds. In the Indian context, the company that finds itself farriering the most diverse stable is TVS, with a breadwinning workhorse at one end and a flagship thoroughbred at the other.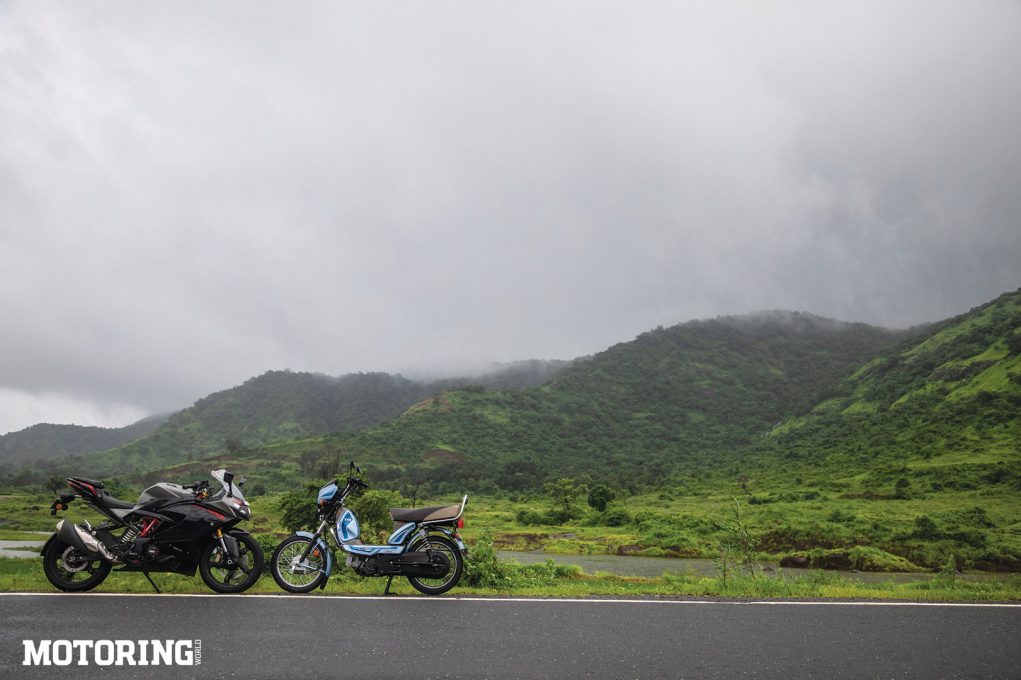 The TVS XL100 Comfort and the Apache RR 310 are as far apart as two-wheelers made by the same company can be, the former being the only moped sold in India. Yes, it doesn't have pedals, but calling it a step-through is less charming. Plus I like thinking that the past tense of 'mope' can also be a cheerful object. The XL is a 38-year-old idea, now polished with the grace and refinement of the modern era. It is BS6-compliant and has fuel-injection to boot. The RR 310 is a BMW made by TVS, and its BS6 version is a shocking improvement over the older one. However, the roots of all those TVS Racing badges on the RR 310 go back in time to the XL.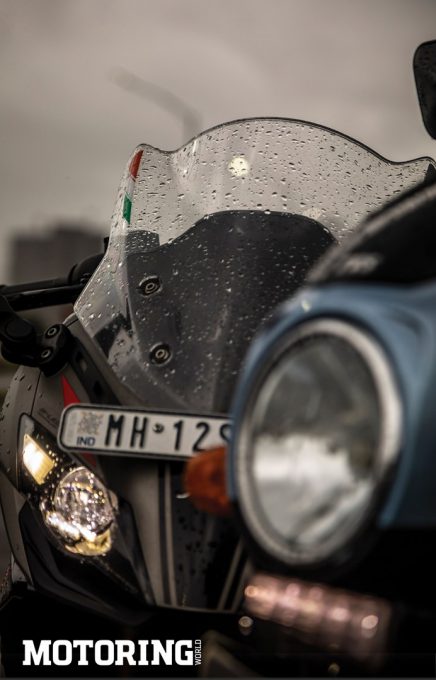 Riding the XL into a heavy downpour, I thought of the time I rode one of its two-stroke ancestors, a racing moped, at the Madras Motor Race Track near Chennai. I was far from a suitable jockey for it, and proceeded to burn its clutch till it started smoking, but not before I'd scared myself on the 110-kph machine in a manner befitting an overweight prey animal. However, this time around, the XL reassured me with its 60-kph refinement; it could probably go faster, but there was no point. Quite a swing away from its racing heydays, then. However, it brightened up a dreary monsoon day with its fantastic blue self, and that was good enough for me.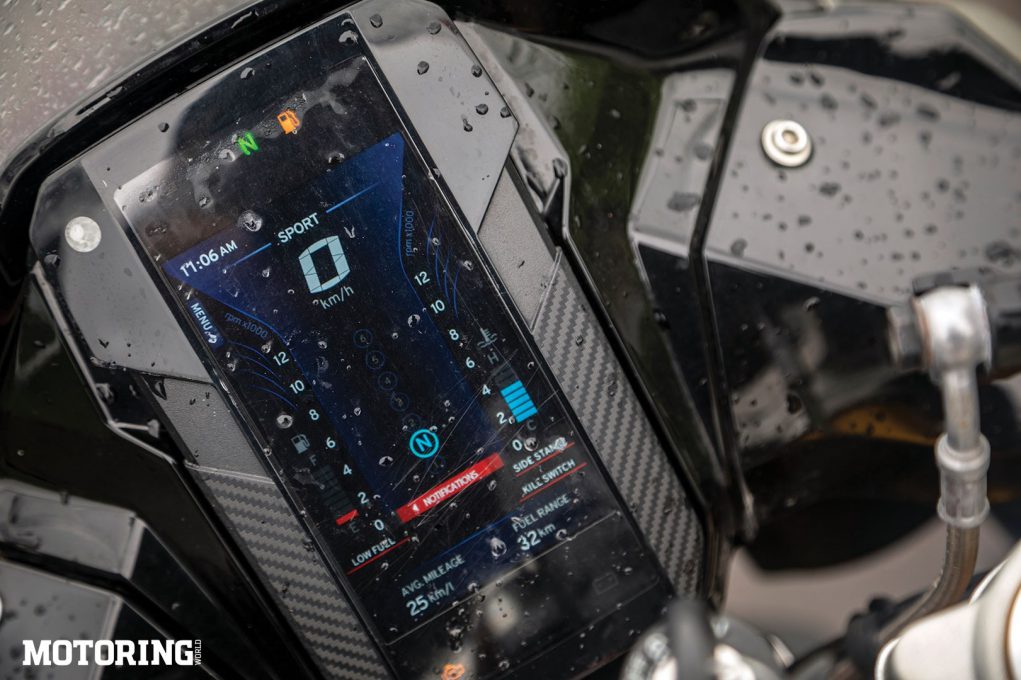 Doing the mood no favours was the Apache with its paint scheme that looked as overcast as the skies. I don't have a problem with bulk discounts on dark paints, but I do like my motorcycles as bright and visible as possible. That said, the matte-grey and black of the Apache wasn't all that bad to look at, and the red accents looked like well-earned bleeding cuts on a warhorse. And even that understated paintwork can't hide how attractive the RR 310's form is; its stance is near perfect, the devil's-horns tail-light is a fitting end to the bike, that triple clamp is a work of art, and its twin-LED stare is as aggressive as it is illuminating. The most aggressive part of the XL is its LED DRL sitting in that dinky fairing, one of the brightest known to mankind, as many Indian motorists will verify.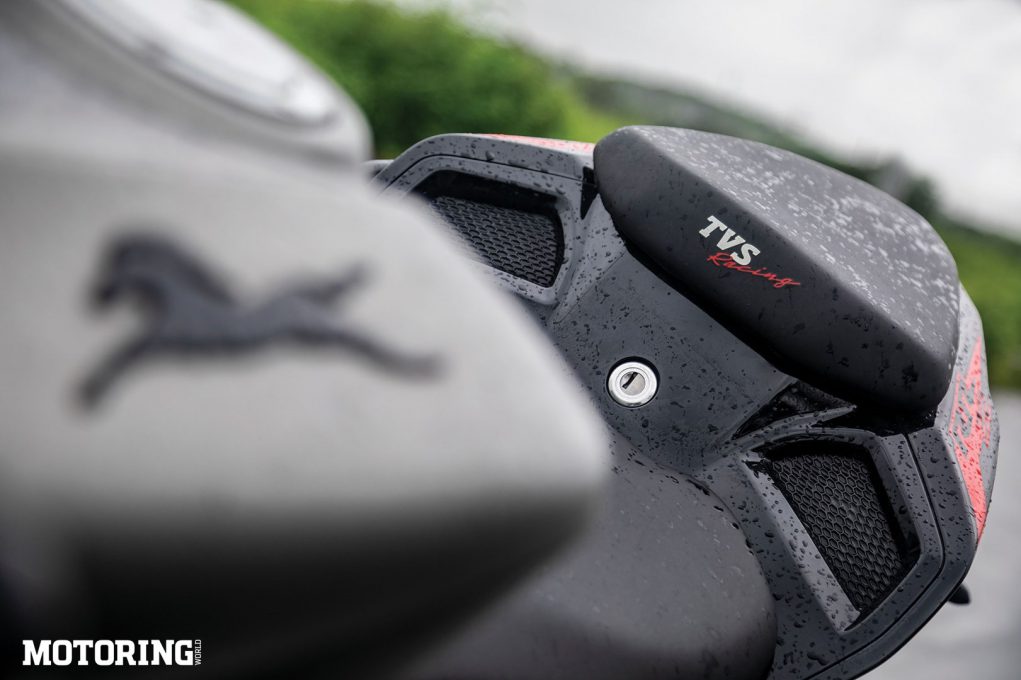 The XL's skinny 16-inch tyres dictate that all activity be conducted in a straight line, as Janak found out after almost executing the world's slowest highside in a wet cornering shot. The XL was toy-like in its handling, though, and its restrained performance could be fully exploited provided I was aware of the possibilities and, more importantly, the impossibilities. The RR 310's Michelin Road 5 tyres, though, were a revelation; they seemed to not recognise water as an impediment, and I rode in the wet as I do in the dry. The tyres set the tone for the rest of the bike to follow; as I mentioned before, the RR 310 is so improved, it feels like a different motorcycle, albeit with the older one's strengths still intact. I've seen improvements before, and this isn't just that. This is a transformation, one that brings to fore all the good things that make a TVS — refinement, poise and fun.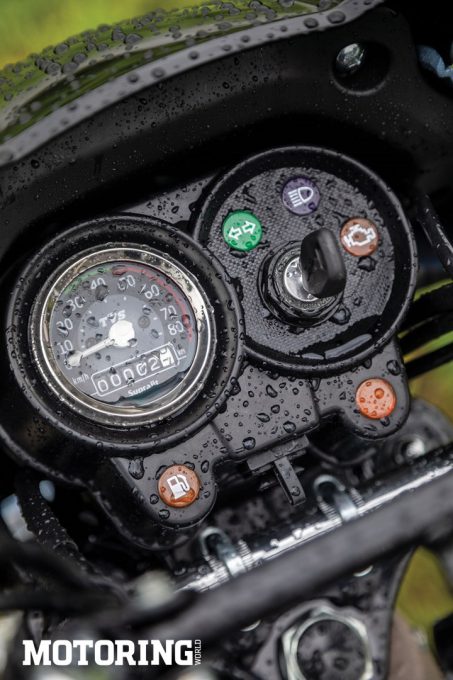 The Apache also features a smartphone-shaped screen that I find somewhat disturbing; I don't really want to look at a rectangular piece of glass any more than I already do. What's more, it connects to your phone via an app and produces enough data to attract Mark Zuckerberg's attention. The XL offers a connection for your phone, too, even if it's only a USB port. A USB port on a moped — if that doesn't prove that we're all now slaves to the screens, I don't know what will. Only friendly wheelies by the Apache prevented this story from reading like an episode of Black Mirror.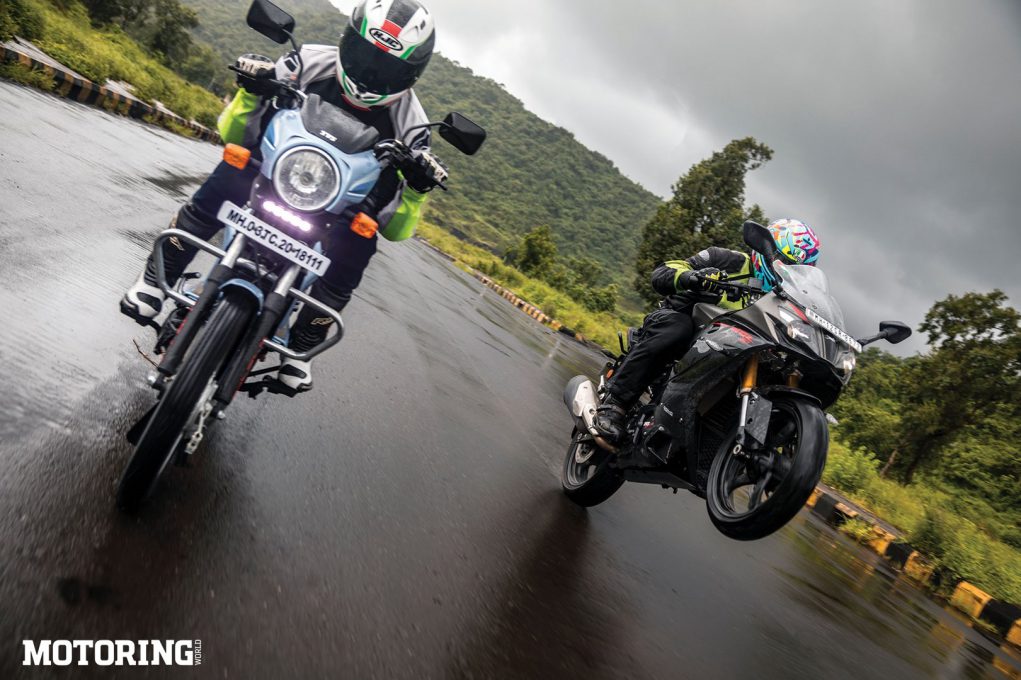 The RR 310 may not be an outright rocket like the KTM 390s, but its 33.5 bhp made for a rapid mode of transport. TVS claims 0-100 kph in 7.17 seconds and a top speed of 160 kph, though the top-speed recorder on the bike registered an impressive 170 kph. I didn't do that, of course, preferring to satisfy my curiosity with a few blasts north of 140 kph, plenty fast through vertical sheets of water. The RR 310's performance was impressive whichever way I looked at it. It now comes with ride modes and I must confess, I didn't really see the point of these. Sport and Track modes allowed the full release of 33.5 bhp and 2.8 kgm, while Urban and Rain modes reined in power to 25.5 bhp and 2.5 kgm, reducing peak revs by 2100 rpm and limiting top speed to 125 kph. It wheelied well in all modes, though, I can confirm that much. However, even the accomplished Apache will die of fright when it sees the XL in Rural mode.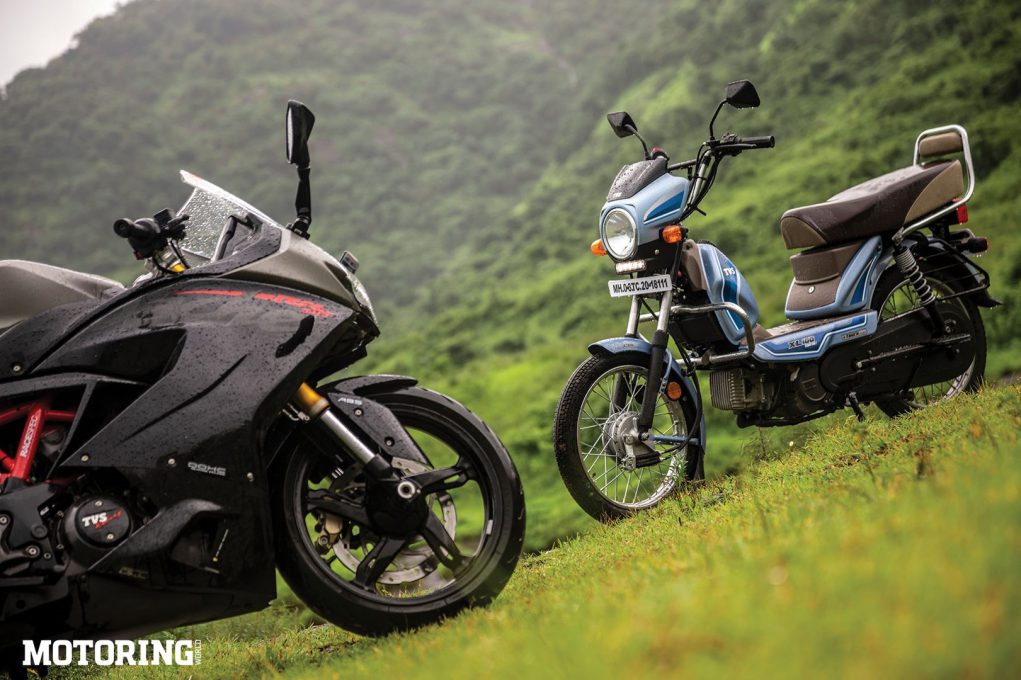 The XL wouldn't wheelie or even outrun a horse. No, really. A sprinting horse can reach 88 kph, and I doubt the 89-kg XL would get anywhere near that number with a 90-kg me on it. And its 99.7cc 4.3-bhp 0.66-kgm motor seemingly exists on fumes from the 4-litre fuel tank; at times I wondered whether it was bigger than the spec sheet suggested. Rated payload is 130 kg, but we've all seen the XL's ant-like capacity of carrying many times its own weight on roads all over the country. And its hardiness has been proven many times over, too, and over generations at that. I wondered why no one else makes a moped. Then again, beating the XL will take some doing, and I suppose the thought of such an attempt expedites the process of surrender.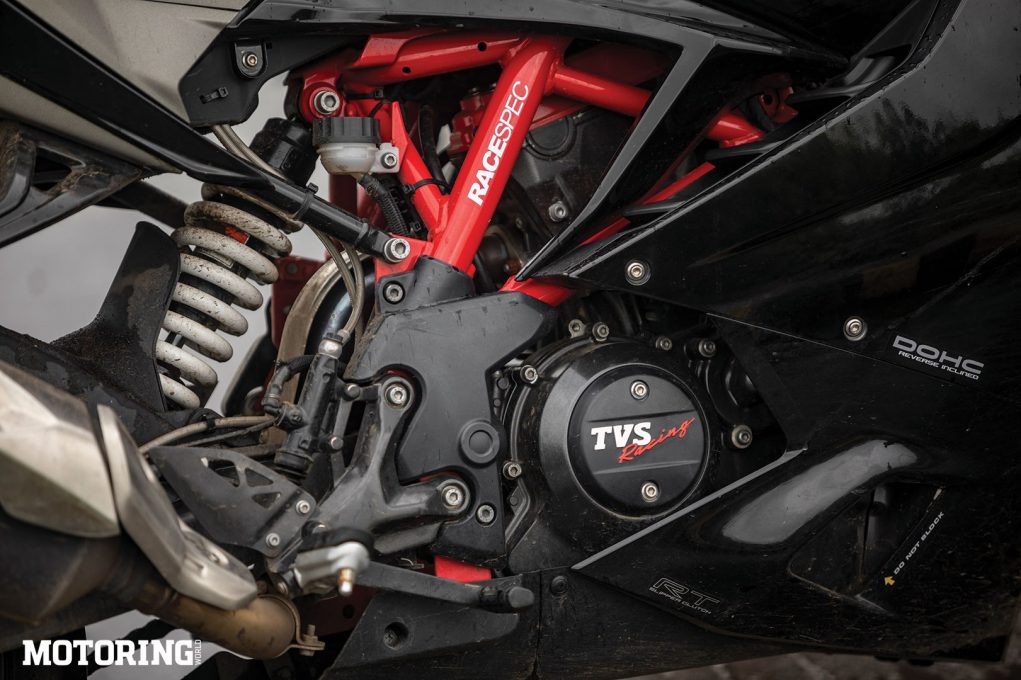 Racing has evolved, as has TVS, but I still can't help but wish for a grassroots scramble-type series focussed around the XL. After all, at an ex-showroom price of less than Rs 50,000, surely there is no reason why each one of us shouldn't have an XL to go racing on or simply have fun with. And I'd like an RR 310 for more serious riding, too. If you want a moped, you only have one option — and that lack of choice is in no way a negative. And if you want a faired sporty motorcycle, it is my honest opinion that the RR 310 is now the best one in India. TVS has raised two very different horses and made winners out of them, and the Apache owes its existence to the XL, possibly in more ways than one. The racing helped, no doubt, and it all began with the XL, TVS's true gift horse. History waits for nothing, not even fast bikes. But it somehow did for a moped.