If only we could get a Honda CB300R, we'd have a proper Matryoshka doll scenario here. That was indeed the original idea, but Honda didn't have a test bike for us, so we had to assemble the bigger and the biggest of Honda's 'neo sports café' machines. And that phrase is perfect, too — what else do these bikes look like? Okay, so the beautiful CB1000R belongs to Kartik Sadekar who's done a custom wrap job on it along with candy red wheels, and it does make the smaller CB650R look almost anonymous. The wrap job, by the way, is inspired by the Fujiwara tofu shop from Initial D, if you were wondering.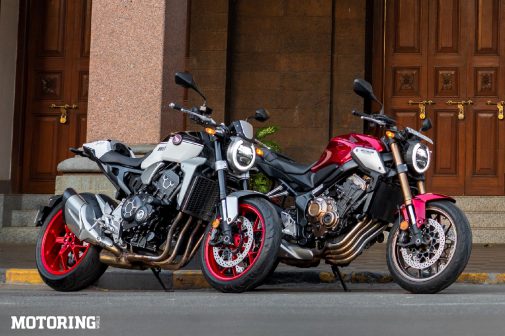 Even without the custom visuals, the biggest CB is decidedly more exotic, what with its single-sided swingarm and a modern café racer tail. However, the smaller CB's exhaust headers are the gorgeous ones, with the bigger one's appearing like incisors in urgent need of braces. The CB650R also sports a bronzed-out bits that add a bit of understated style, and when we finally noticed that the bikes' headlamps, wheels, front forks and some other parts were identical, the CB650R didn't seem all that starved of substance. The Honda's air is one of futuristic modesty — but it's also a stunningly quick and fast motorcycle.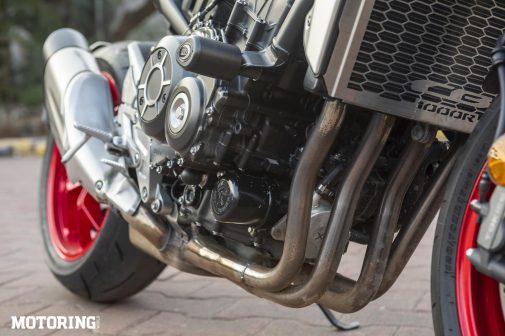 Honda is all about obsessive engineering and that always calls for numbers. The CB650R's 649cc four-pot makes 85.82 bhp at 12,000 rpm and 5.86 kgm at 8500 rpm. Those numbers in conjunction with the bike's tiny proportions and a kerb weight of 206 kg deliver 0-100 kph in 3.5 seconds, 0-200 kph in 14 seconds, and a top speed of 230 kph. Maxxing out the first three gears, I saw 110 kph, 145 kph and 175 kph respectively, and I never would've guessed that when I was humming around town at 40 kph in sixth gear. It's seriously impressive and even more proof that no one does inline-fours quite like Honda.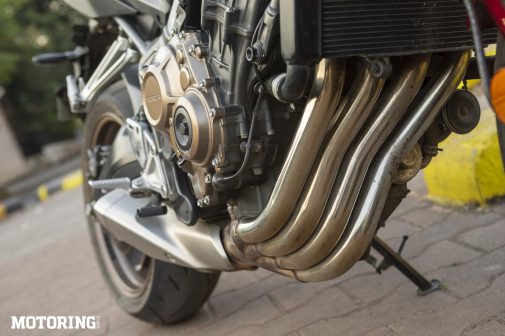 And it's a true everyday motorcycle, too. It's so compact and its clutch so light, you can treat it like a 150cc bike in traffic. It's quiet at low revs, too, so you can come and go anywhere without drawing attention. It's got excellent ride quality on all kinds of surfaces, and it's rock solid at high speeds, too. Overall gearing is on the shorter side, so it does low speeds in higher gears with ease, and it can really go berserk in lower gears. Wheelies? Take as many of them as you want. Just make sure the tyres are up for it, though.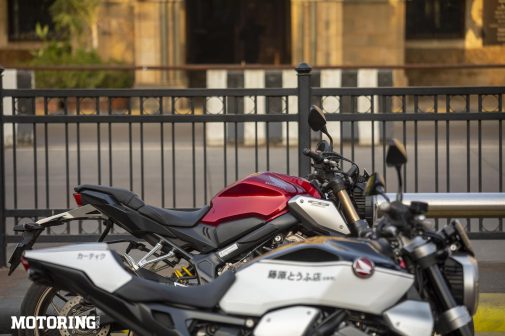 Our test bike's tyres were a bit shot, so there were a few moments where the front end tucked in corners and the traction control bogged the bike down when acceleration was called for. So I turned it off and went sliding a little bit everywhere. And the CB650R was still the friendliest thing in the entire city. I can't think of another motorcycle that offers this blend of hair-raising performance and everyday benevolence.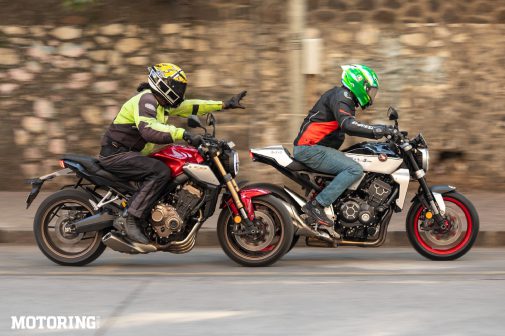 The CB1000R, as you'd imagine, turns every inline-four characteristic up to 93. It has a far more authoritative hum at idle, deep and all-permeating, bursting with 143.5 bhp at 10,500 rpm and 10.60 kgm at 8250 rpm. Performance numbers stand at 0-100 kph in 3 seconds, 0-200 kph in 9.8 seconds and a top speed of 250 kph. And it loses none of that daily rubber-band flexibility of riding, either. However, in Sport mode, it leaps around like a deranged cat, always willing to claw at the sky with its front wheel. If the CB650R is a knockout punch, the CB1000R is a sledgehammer to the head.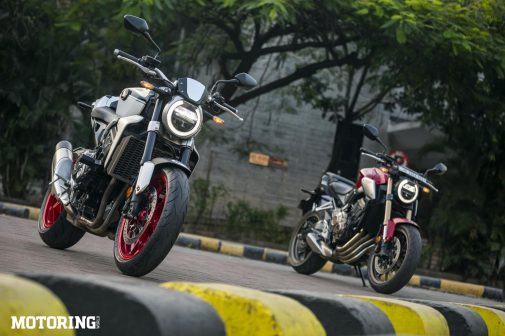 Also, that Initial D inspiration is all too apt. The CB1000R's single-sided swingarm, like all types of offset suspension, sends the rear wheel skipping to the right under hard acceleration. So a brave rider could certainly go drifting the thing around mountain roads if they wished. I liked it because it kept me engaged with the motorcycle and squarely avoided that universal criticism of Honda making bland motorcycles. They aren't bland, really, you just haven't ridden them hard enough. And that's not what anyone wants to admit, right?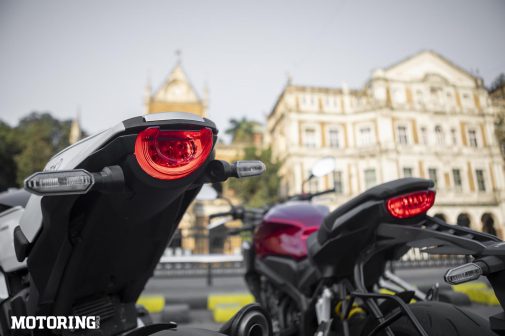 These two Hondas have a lot in common; some things are obvious, others not so much. I quite like their design language and it seems to be the universal consensus, too. Their daily abilities are commendable as is their welcoming disposition. And both command a premium over other bikes of their kind. Well, the CB1000R did when it was last on sale in India. At Rs 8.67 lakh, ex-showroom, Mumbai, I thought the CB650R was a tad overpriced — until I rode it. After seeing what it has to offer, well, I can't complain. If you didn't/can't get the biggest naked Honda, the CB650R will do more than just fine. And it's an inline-four, after all, so you just can't compare it to a 650 of any other kind.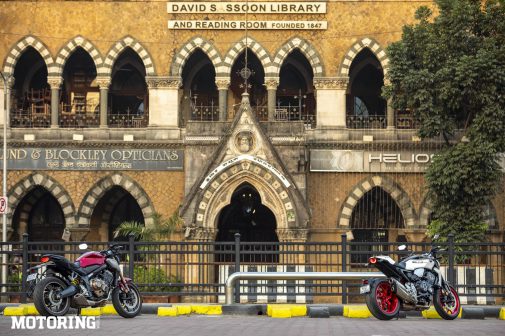 A Honda inline-four comes with a pedigree that's equalled by few and beaten by none. These engines that now live in street bikes come from a long line of sportsbikes, small and big, and that particular edge is hard to miss when their throttles are opened. They make the saddest internal-combustion sound off-throttle, lamenting the loss of velocity. And they scream their souls out on the throttle, stamping their inline-four authority on the wind. You simply won't get that with anything else.