Let me get one thing clear from the start. I have never liked Enfields. I found them vibey, heavy, sluggish and pointless. Yes, they have that old school vibe, and I almost bought a Thunderbird 350 back in the day, but that's that. In short, I was a true sceptic… But RE took my opinion, rolled it into a ball, and sucker punched me with it in my face, because in just 10 days on the 2016 Himalayan Odyssey, I went from sceptic, to complete fanboy. This is that story.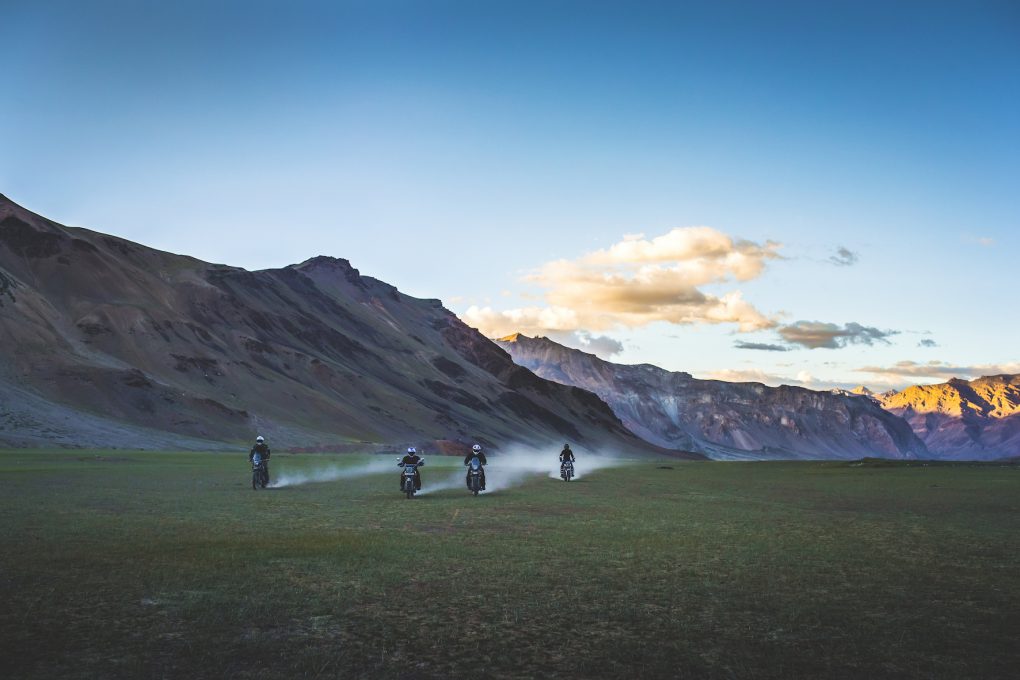 If you read this magazine, you are well aware that riding through the Himalayas is on the bucket list of every Indian motorcyclist. A trip through this though consists of difficulties, discomfort, impracticality, drastically increased fatality rate, domestic disputes, but bucket loads of soulful beauty. Now I don't know if I'm describing motorcycling or the Himalayas… but perhaps we love it so, because it represents why we ride so perfectly. And I think Royal Enfield understands this. They are the only ones here in India who have been really serious about building a community of riders, rather than being just a selling machine. They have a separate "Rides & Communities" division to handle this, which organises some of the best road trips that we Indians can access – that's how serious they are. At the top of this list of road trips is the annual Royal Enfield Himalayan Odyssey. A 14-day extravaganza, celebrating all that is good about biking, across some of the most note worthy roads you can ride on. 75 riders, yes 75, set out from Delhi, to ride through Ladakh and Himachal Pradesh till Chandigargh, on a trip organised and managed (to perfection, as you shall see) by good guy RE. This trip is such a big deal for RE, that they now have a bike made specifically for this terrain, the Himalayan, and yours truly managed to get his paws on them for 10 days of the trip, starting in Leh, Ladakh.
DAY 1: Hello (Not so) Old Friend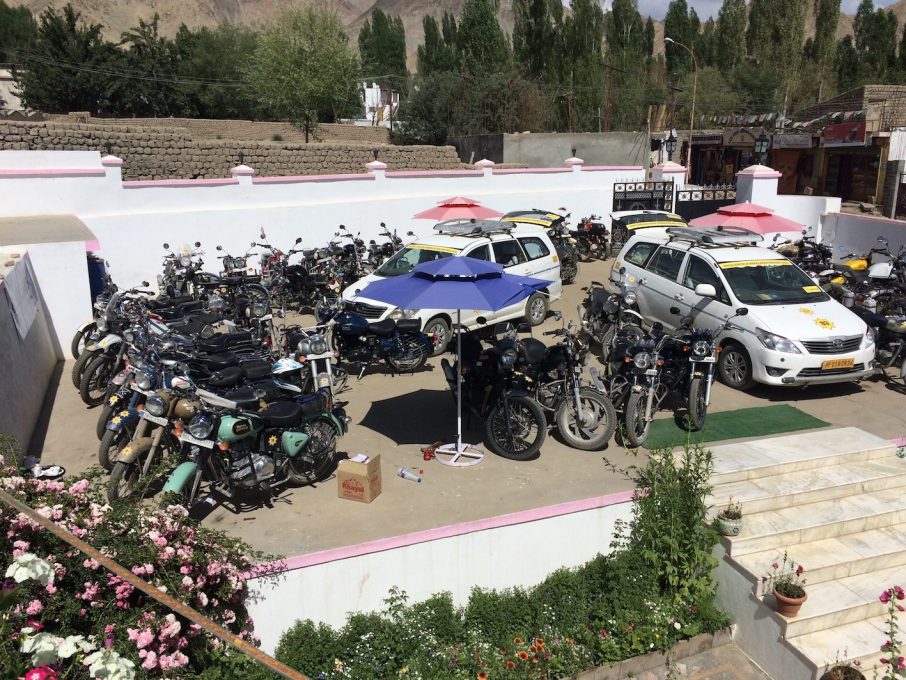 I caught a 6am flight from Mumbai, which got delayed at Delhi for over an hour, before heading to Leh. Atleast that's what they told me. I was fast sleep before take off, thanks to all the shoots I had to complete before leaving. But once I landed in Leh, my thoughts moved to the RE Himalayan. I had ridden one for a day back home, and was decently impressed, though not bowled over. Had RE improved on the clutch tightness? The notchy gearbox? Will the altitude drastically affect performance? These musings were cut short though soon as I stepped out of the plane, and was instantly blinded. If you haven't been to Ladakh before, that is the first thing you will notice, how harsh the sunlight is! After putting on my Oakleys, I headed for the hotel, which was just off the main market. A short meet and greet with the good guys at RE later, I headed up to my room. It was at that moment I realised the altitude was going to have an effect. I was gasping for breath, and panting after climbing just two flights of stairs, with one more to go! I did drag myself up, and promptly fell asleep, before waking up to the sound of rumbling engines, and went down to meet man and machine. The Odyssey participants were super friendly, came from across India, and all united by the single bond of motorcycling. The only talk in the air was bikes and tours, as I headed out to see the Himalayan. It still looked the same, and still had the same flat (no Enfield 'thump') noise. It still felt comfortable, and actually looked so much more at home here in this place. I, however, still had some sleep to catch up on before the ride next day…
DAY 2: Highest Motorable Road in the World! (128km)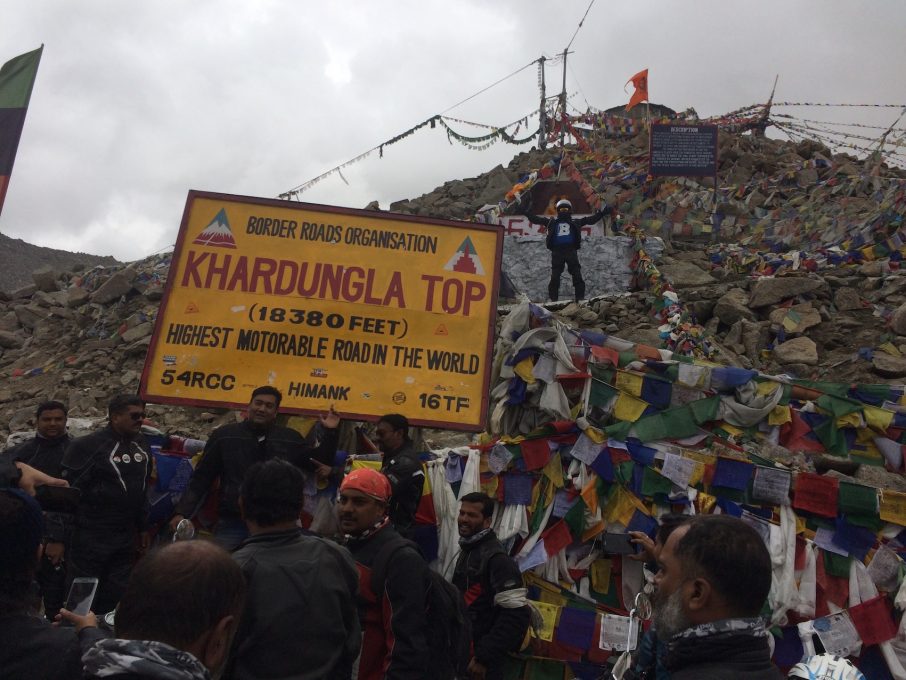 So there are a bunch of features that make the Himalayan Odyssey absolutely wonderful, and the one that tops the list is the luggage truck. There is a truck that comes around every morning, and carries 15kgs of your luggage! This leaves your bike luggage free (read light and nimble, which equates to more fun), and you just need to carry a pair of clothes with you!
Once this was done, we had our breakfast, and assembled for the pre-ride briefing, courtesy of Adarsh, the 'Ride Manager' of sorts. Here we were given basic instructions of the route to be taken, tips on riding, weather and road conditions. More importantly, regroup points were listed out. Soon as this was done, it was time to get going! With our short (but impressively skilled) Ride Captain Aiyappa leading the way, 75 bikes roared through Leh, disturbing the still morning air and waking the city. Just being part of such a large group, had a very of Sons of Anarchy vibe to it, and I was hooked!
We were headed to the town of Hunder, in the Nubra Valley, with our first stop being the Khardungla Pass, the highest motorable road in the world. It was just 48km to the pass, but took us a good 90min to get there. It wasn't traffic that slowed us down, but rather the roads. Soon as we left Leh, the roads started deteriorating, and about 20km before Khardungla, they disappeared altogether. While this was a problem for those on Classics and Thunderbirds (and the two brave souls on Continental GTs), I was glad I would finally get to see what the Himalayan could do. So at the first sign, I just stood up on the pegs, and opened the throttle, and two things ensued. One, the bike choked and gasped for air, the lack of oxygen making the engine struggle. But it was the other thing that put the smile on my face, and told me the next 9 days were going to be epic. The bike sailed (or shall I say floated?) over the road. No shudder, no bottoming out, and no falling. Just went clean over. That big 21in front tire was working! That long travel suspension was working! And that long wheelbase was working toward stability too! Oh man, I was floored. I gunned it all the way to the top of the pass, where it is recommended to not stay more than 20min, as oxygen is 50% of what it is at sea level. Stopped to take pictures, and have that lovely lemon and honey tea, and headed on.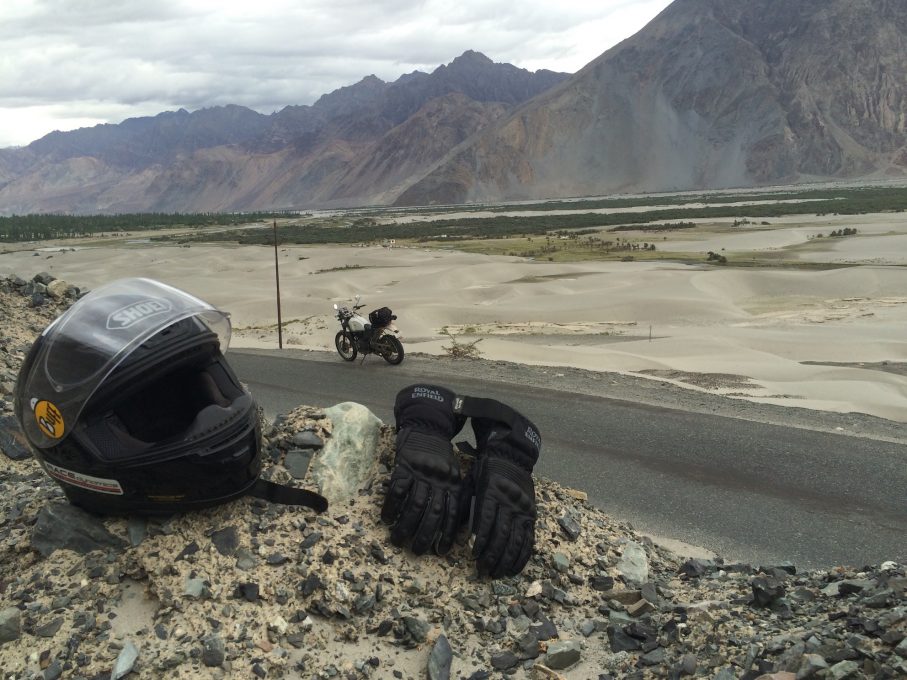 Now that I was a little more comfortable with the road, I started taking in the scenery, and oh my, was it stunning. The mountains were dry, brown and kept changing topography. First it was all smooth, indicating this is where glaciers form in winter. Then it suddenly went to a strange fjord like surface, which reminded me more of Mars than anything else. But the changes weren't over, as we came down a ghat and I was suddenly in the middle of sand dunes. Yes, sand dunes. And with a bike made for 'no roads', I got off the tarmac, and went full throttle at them. This did have a Travis Pastrana vibe to it, sliding around, until I stopped to take a picture and the bike promptly sunk in. Not so much fun asking strangers to help you dig your bike out. We did make it to Hunder eventually, where RE had put us up at The Royal Camp, where we spent the night around a bonfire with music and fireflies for company! Pretty much the perfect end to the day.
DAY 3: Holy Yak! That's Snow! (128km)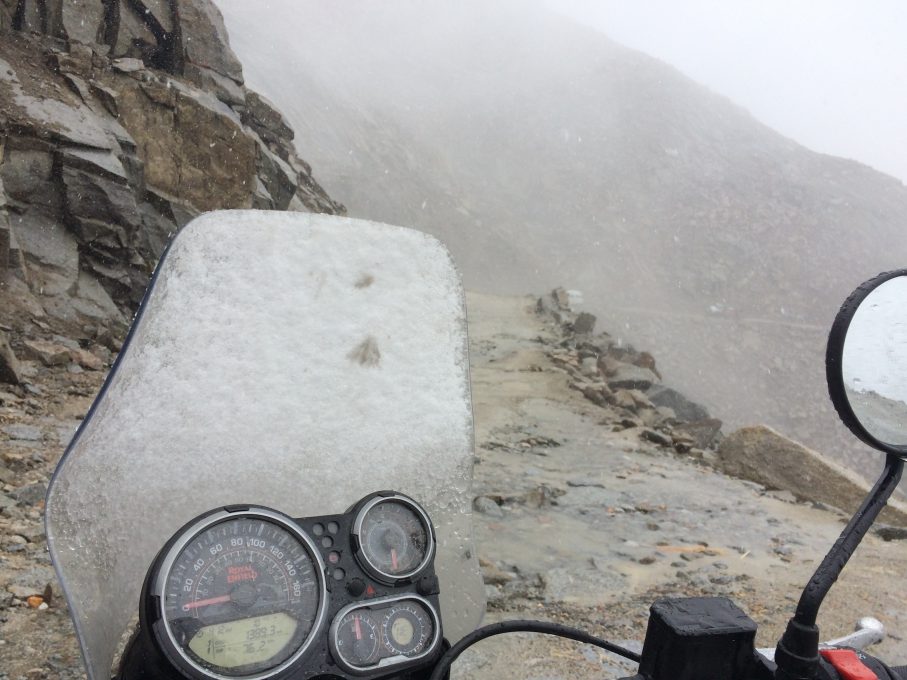 The next morning, we had a quick breakfast and were back on the road by 8.30am, headed to Leh, via the same route we did the day before. But about 10km later we knew things were going to be different. The bright sun was gone, replaced by dark overcast skies. Once we started back up toward the pass, a light drizzle had started with fog creeping in, and by the time I reached Khardungla, the wind had picked up too. The gloves, jacket and pants did an admirable job of keeping me warm, and dry, even though I had none of the liners inserted. I went in to grab some tea, but I couldn't believe my eyes when I stepped back out. The rain had been replaced with snow, and my bike was covered in a layer of frost. Once I started riding, I realised visibility was down to 10m at best, and even though my helmet's pinlock insert prevented fogging, frost was collecting on the outside. The Himalayan though soldiered on as if nothing had happened. The upright riding posture was suddenly so useful in catching those random slides, and the low seat height gave me the confidence I needed. A couple of us took tumbles on the way back (If someone finds a solitary headlight, about 5km from the top, it belongs to Tim from Banglore), but we all made it to Leh in one piece, just marvelling at how drastically the weather changed in 24hrs. This was exciting, and it was just the beginning!
DAY 4: Houston, we have a problem. (170km)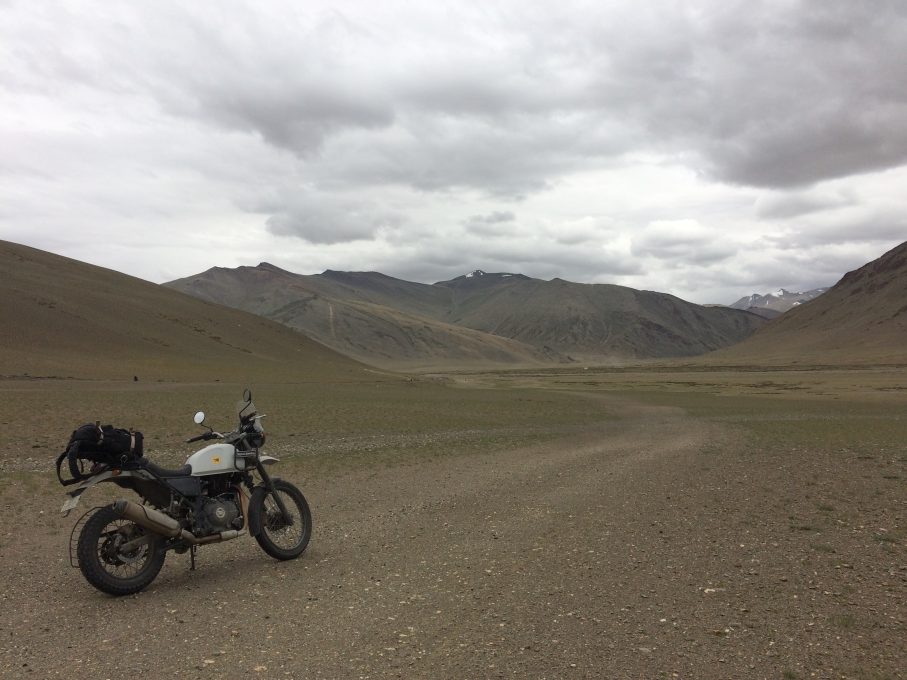 The RE crew promised us that this day would be a much smoother ride, as we were headed to a lake called Tso Kar, and they were actually right! We had silky smooth tarmac for the most part (thanks to the BRO- Border Roads Organisation), and very few mountains to go through. Here, I got to really appreciate how comfortable the ergonomics of the Himalayan are for long distance riding. It doesn't fatigue you, your back doesn't ache and your knees don't cramp. I notice these instantly, as I own a Duke 390 and have had surgery on my knee, and I was really fine. We stopped by roadside dhabas for Maggi and momos (my staple diet for the trip), and passed quite towns and rivers on our way, as the Himalayan just went on and on like a long distance marathon runner. Our first stop though was Maori Plains. This was basically home turf for a combination of the Himalayan, and an amateur dirt rider like me. Hard solid surface layered with loose gravel! I left the tarmac at my first opportunity, and just went full throttle as other Himalayans joined me. The back end would slide about so comfortably, and I really did feel like a pro! This meant that the Himalayans were always leading by quite a margin, and once everyone caught up, we stopped and took this amazing group shot, which is now RE's official Himalayan Odyssey Group picture.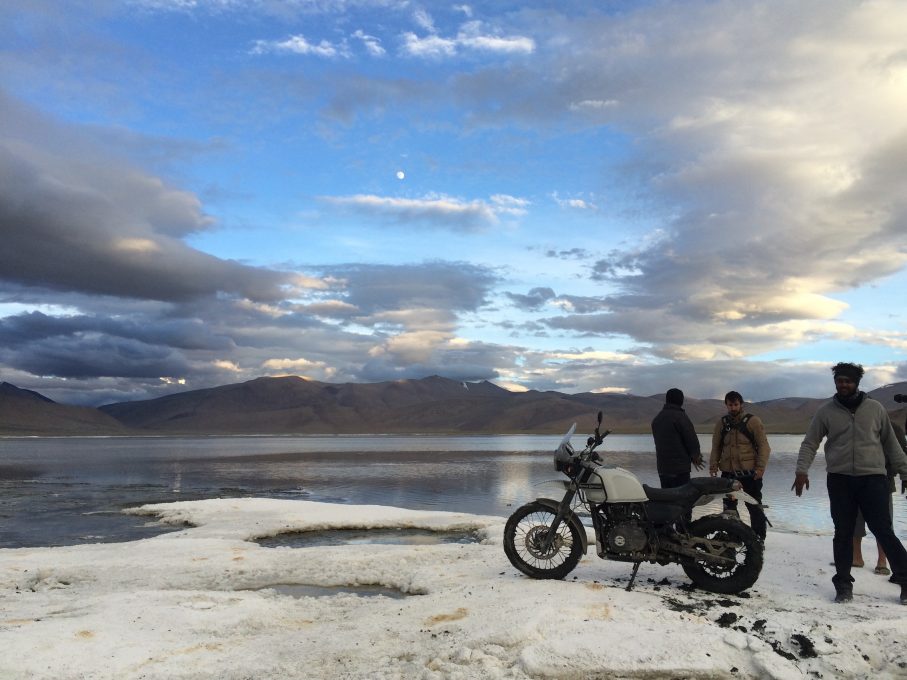 Eventually though, we left the road, and had to ride a good 2km over sand to get to our camp for the night, which was in the middle of nowhere. This sand posed a challenge once again, with most people not managing to catch their bikes suddenly losing traction, but it was all worth it. The camp was set up a little distance from the lake, and was absolutely beautiful. By this time the wind had picked up, and a few of us decided to head to the lake. I went pillion with Andy Davidson, a journalist from the UK, with the rest following. The lake was bordered by heaps of salt, which were pretty awesome to park and take pictures on, but getting there was tricky, as standing between the salt and us was sludge. Sticky, gooey mud, and as fate would have it (actually it was due to some miscommunication), Andy managed to beach his bike in this sludge spectacularly. It sunk all the way to his knees, and it took the combined effort of 5 of us to heave the bloody thing out. That was the easily most intense manual labour I have done in months, and good guy Andy has promised to post that video on the MCN YouTube page. The best part though was how effortlessly the Himalayan started after all this, and we actually rode it back to camp, where everyone had a big laugh, a huge dinner, and promptly fell asleep in tents with the wind flapping all around.
DAY 5: Getting high is not fun (230km)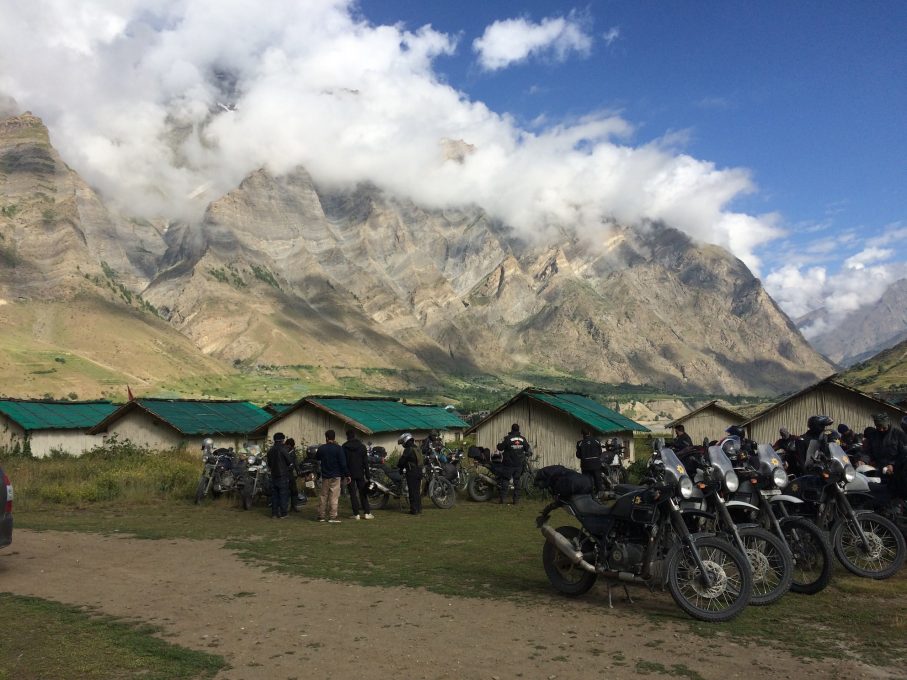 After the previous day's slave labour, I was wishing for good roads as we headed toward Keylong, and I was happy for the first 50km. The tarmac was lovely, the views were unbelievable and weather was quite cool. But then it got pretty bad. The road condition deteriorated rapidly and the ride became extremely bumpy. We started gaining altitude at a very rapid rate, and to add to this, altitude sickness started to set in. This meant I was getting a splitting headache, and going all bumpy was the last thing I wanted. It was here it struck me that the Himalayan Odyssey is more a test of human endurance than anything else. Doing each ride individually is easy. But doing it day after day, under any circumstance, is truly commendable. That struggle, pride and push that keeps us going, with just one thought, "I will do this. Yes, I will" is the only reason I managed to reach Keylong, where we were to stay that night at this stunning camp up the side of a mountain. That night we were advised to take as much rest as possible, as the next day was to be the piece de resistance of the trip. We were headed to Spiti Valley.
DAY 6: The Final Frontier (170km)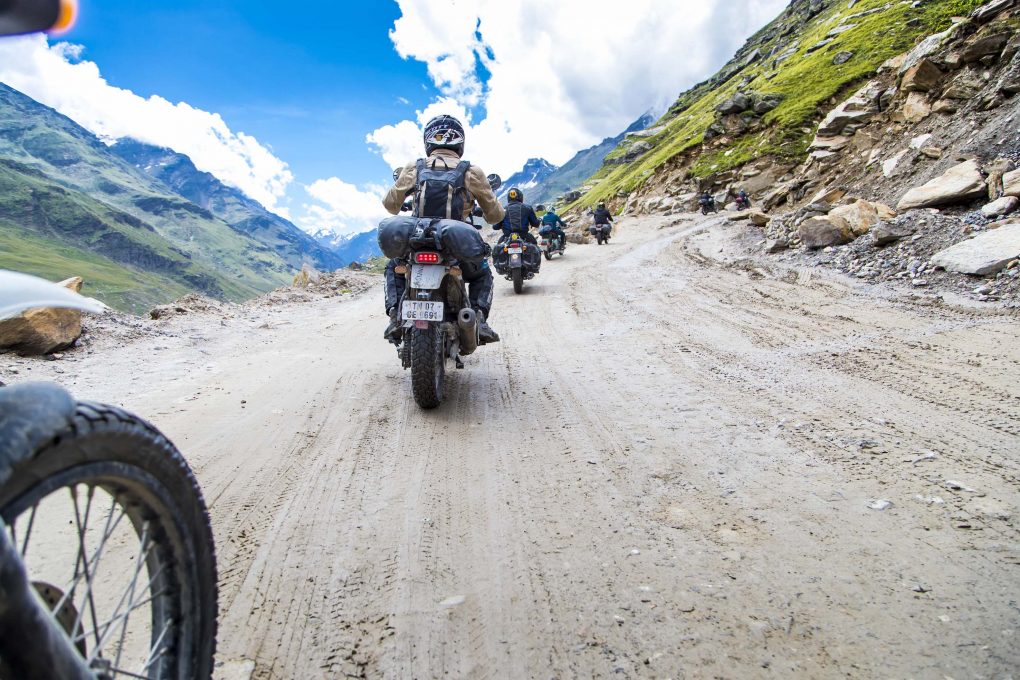 The RE crew warned us that this would be a tough ride, and they weren't kidding. Out of the 170km we rode that day, 162km were through routes that had never, I repeat, never been laid with tarmac. This was the litmus test for the Himalayan. It was here that we were to encounter gravel, dirt, dust, rocks and the one thing we had all been waiting for, river crossings. This route though, is extremely desolate. There is nothing for long stretches of time, and we Himalayan riders just took off. The suspension absorbed everything thrown at it with ease, and I have never been more comfortable with a bike sliding around.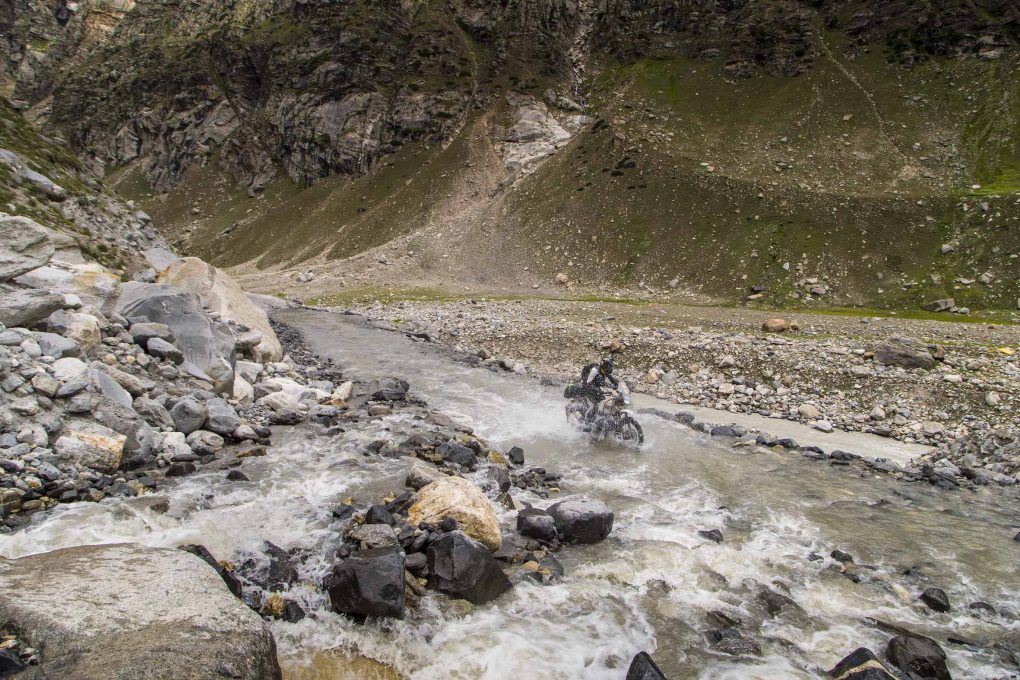 Our first river crossing was barely a trickle, but then they kept getting more and more tricky. Some were full of slippery stones, and others with sand. The trick here was to never stop mid way or lose momentum. Of course, this was easier on the Himalayan, as it had the ground clearance needed for this sort of bravery, at the same time I could flat foot it if needed. A lot of people needed help, and the locals were always more than willing to lend a hand. River after river we crossed, and obstacle after obstacle we battled, but our destination seemed forever out of our grasp. The fastest of us reached Kaza at about 5pm, but bikes kept coming in all the way till 10pm. That night, a lot of talking happened over dinner, with everyone having different experiences over the exactly same route, but then everyone just crashed, completely drained as the adrenalin had started to wear off. Tomorrow was to be a rest day, and we couldn't have deserved it more.
DAY 7: Beauty Sleep (0km)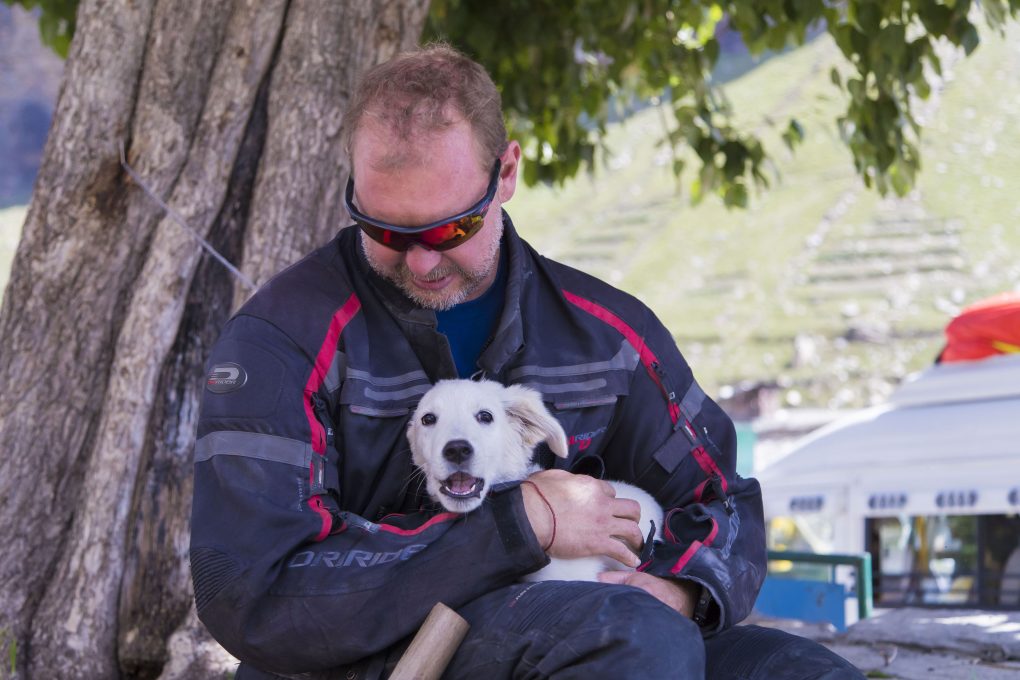 That is literally all we did. Slept till 11am. Begged the hotel manager to serve us breakfast, and went back to sleep. Woke up at 5pm, lazed around, played with the hotel dog, walked down to have some momos, and came back to laze some more. We did stay up late at night though, discussing all that had happened so far. I realised I had fallen in love with the Himalayan. It did all it had been designed to do. It aced everything that I threw at it, and I just had no more holes to poke. I lay in bed that night with a singular thought, "The Himalayan, for every Himalayan need"
DAY 8: Dust and more dust. Ugh. (240km)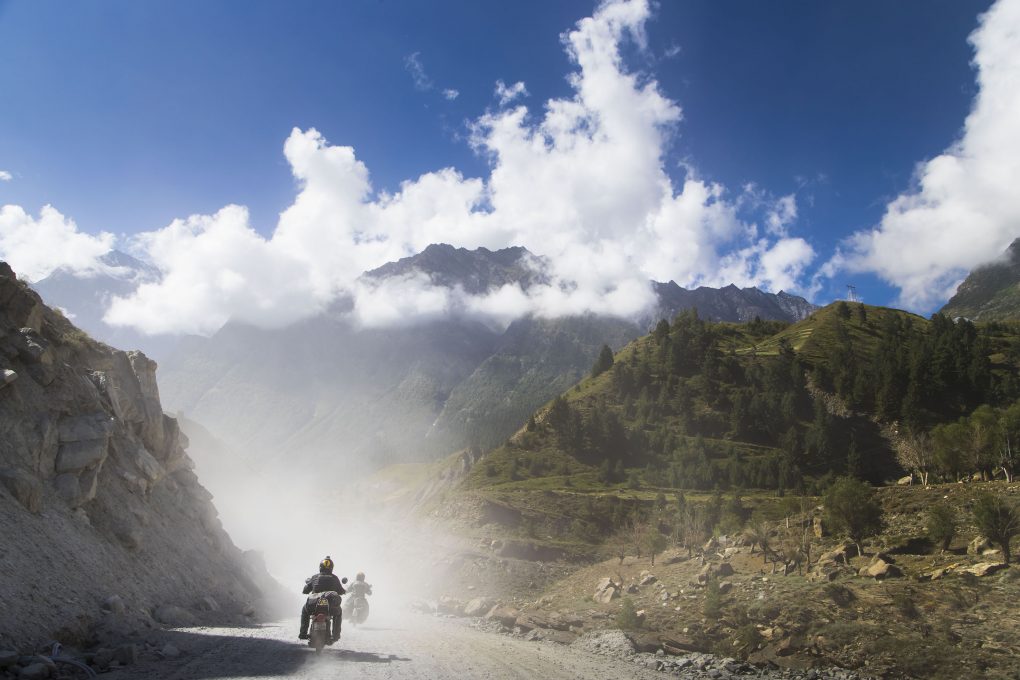 By this day, everyone's confidence was at its peak. We had taken on the worst, and survived it. We knew and completely understood our machines, its limits and just wanted to be let loose again! The ride to Kalpa was full of ghats, and everyone were at their fastest pace. Unfortunately, the roads were unbelievably dusty. To add to our misery, it had become quite hot. We ended up inhaling more dust than we do in Mumbai, and just cursed our luck that day. The route was pretty boring too, so to add some spice, I would try sliding the Himalayan in long sweeping corners. Locking the rear brake was also fun, but all in all, a pretty uneventful ride. Once we reached Kalpa though, we climbed a good 20km just to get to our hotel, which frankly had the best view of the trip so far. This cheered everyone up considerably, and happiness was once more in the air.
DAY 9: Vultures Ahoy! (168km)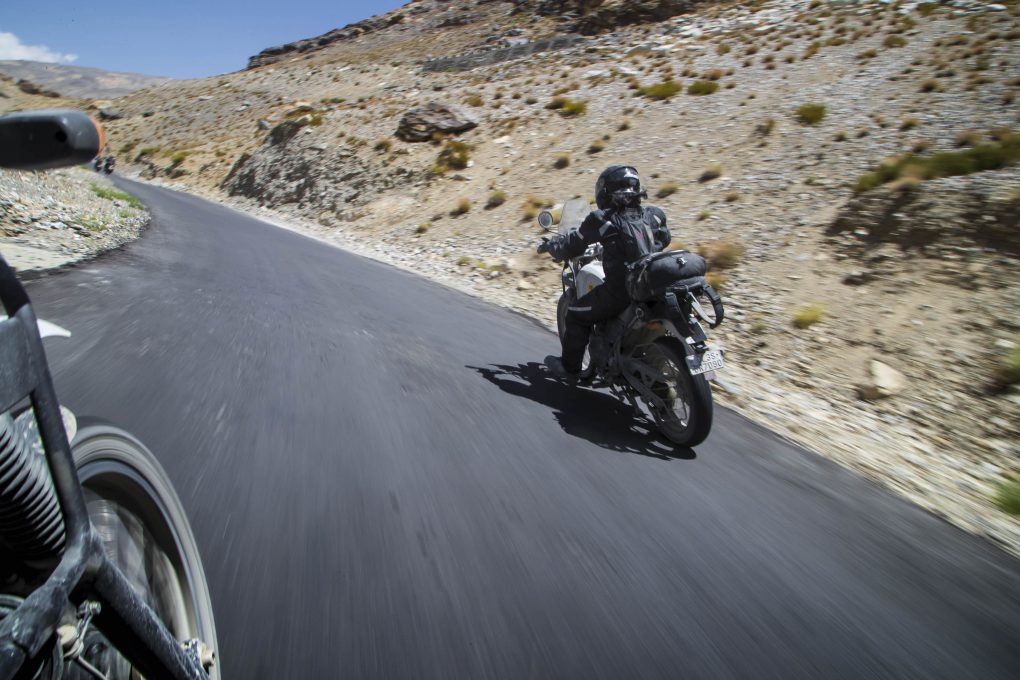 While we did encounter patches of greenery here and there, lush green mountains were absent until the day we rode toward Narkanda, the edge of Himachal Pradesh. This was a lot closer in similarity to how the Western Ghats get during the monsoons. Really narrow roads though, with blind corners, meant we had to stick to a really slow pace as we went winding through the mountains. Toward the end of the ride, the roads got wider, and I picked up the pace, eventually grinding footpegs. It was lovely to see how composed the Himalayan was through long sweeping corners, especially in mid-corner bumps. But it is no supermoto. It was here that I also encountered a group of 12-15 vultures feeding on a carcass, which really is a sight to behold, especially for a city lad.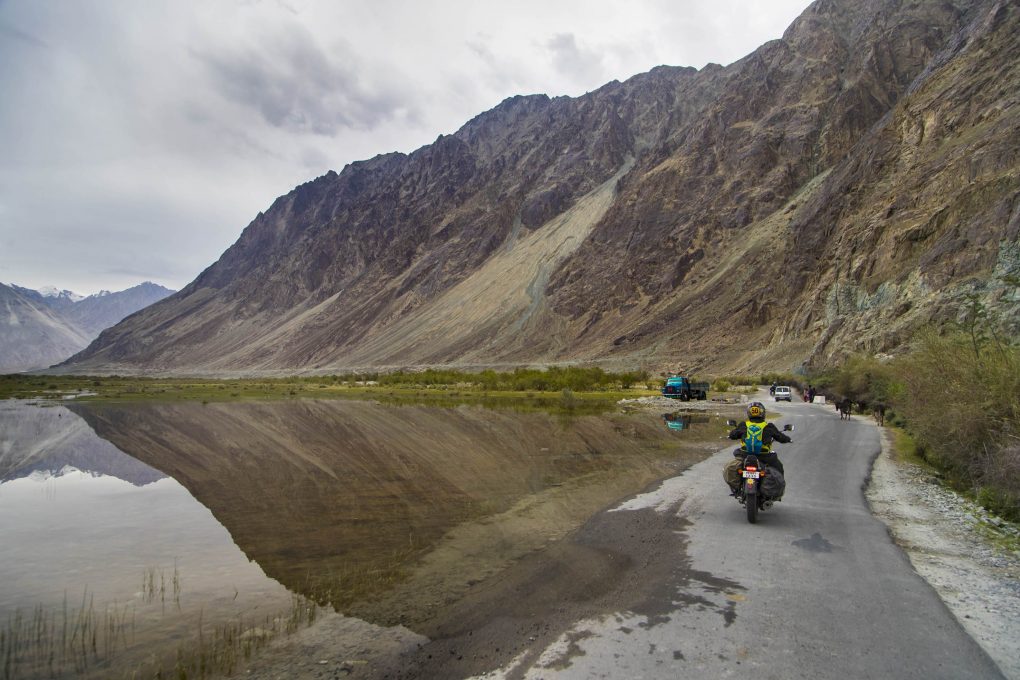 This was our final night away from civilisation and the world we knew. It was also a reminder that this trip would end tomorrow, and the depression was quite evident on people's faces. To help dissipate this, they set up a large bonfire around which we spent most of the night huddling together in the chill, and went to bed ruing the next day.
DAY 10: Not So Fast, Sir(174km)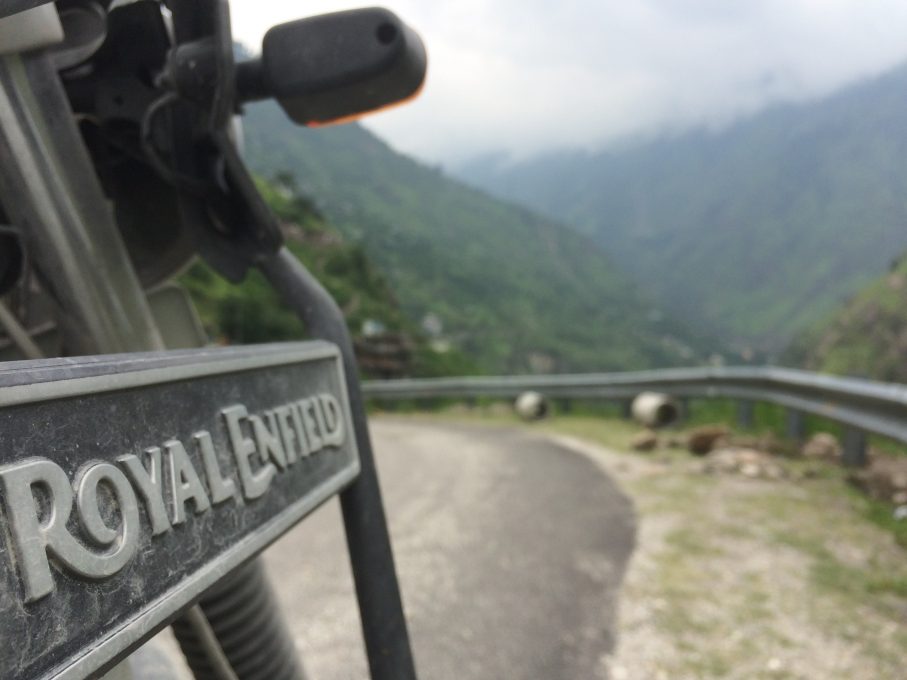 Ok the very final ride back to Chandigarh was pretty awful. We woke up to see the skies dark and angry. By the time we started riding, the rain had started coming down in sheets. Visibility was again down to 10m, the roads were narrower than ever and traffic had steadily increased. All this made an already dangerous ride even more treacherous. RE took us on a route that avoided the Shimla highway but was more scenic, but thanks to the rain, we didn't get to see anything. And once we joined the main highway outside Chandigarh, the traffic just went up to those levels we hadn't seen in 10days. Not cool at all.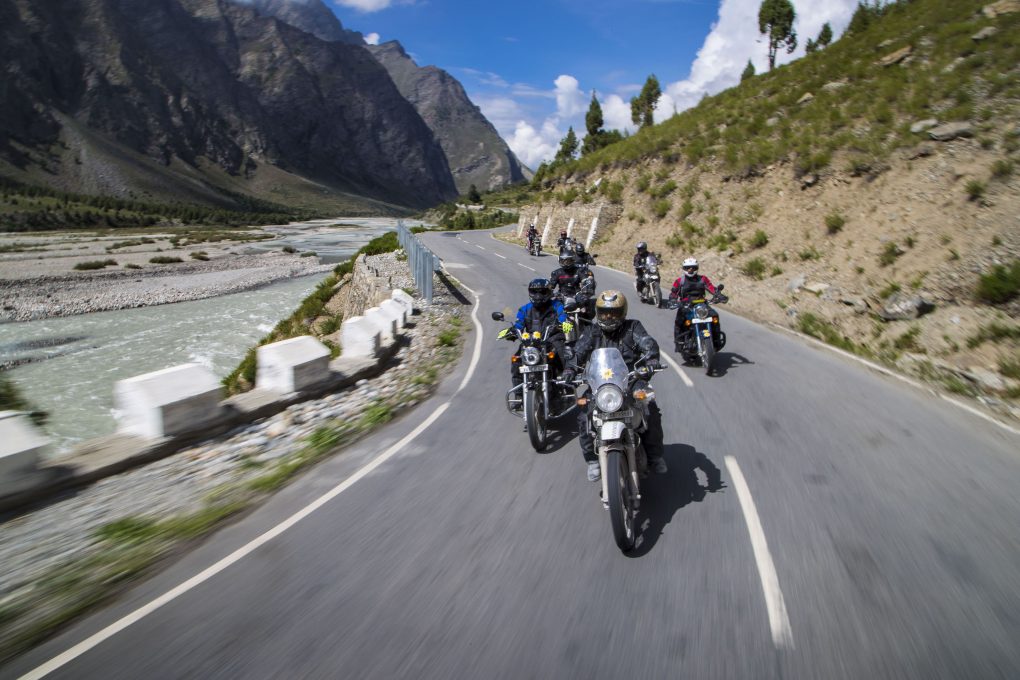 So when we got our first stretch of good empty road, we just gunned it. What I didn't know though was that a 50kmph speed limit exists on highways there, and along with 7 others, I was doing over 80. We got caught on speedcams, and promptly hauled over and fined at the next junction by local police. And because Fate decided it wasn't done with us, we got lost in the city looking for the hotel. Whew! That was some day. But the ride was officially over as we pulled into the cordoned off parking lot. People went around congratulating each other, and a deep sense of accomplishment had settled on everyone. Later that evening, RE had an event where they distributed certificates of completion to everyone, and played slideshows of pictures from the trip. It got pretty emotional this time, as everyone went through the trip day after day. And suddenly it was over. I was packing my bags and getting on a flight back to Mumbai…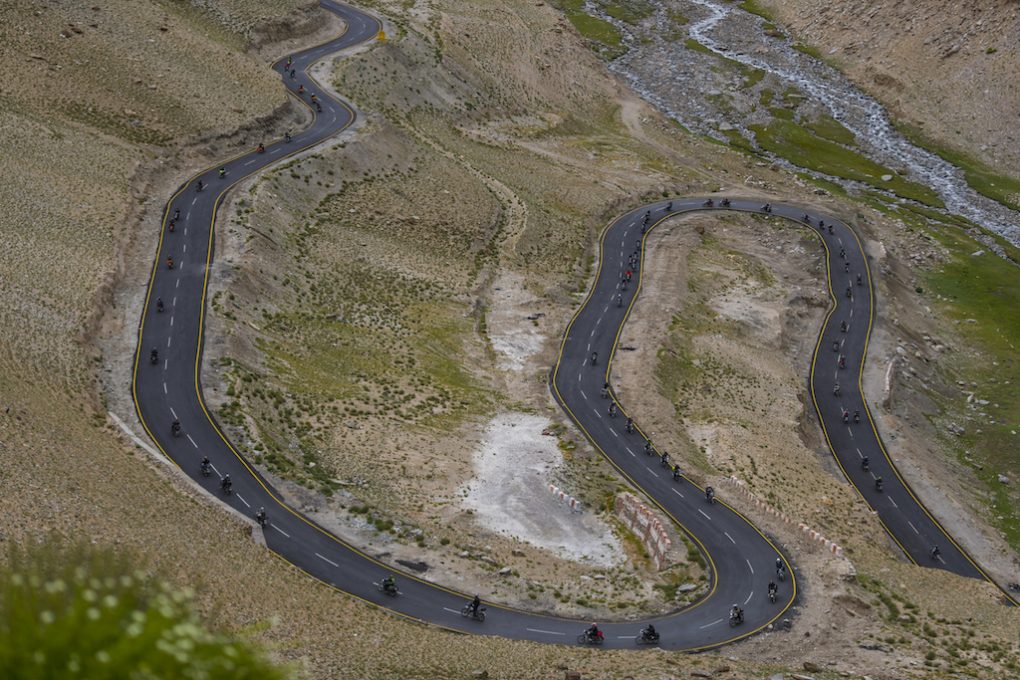 The RE Himalayan Odyssey is everything you love about biking. It is about passion and will power. It is a reminder that after all the hardship, the reward is intangible. It is dangerous, but unexplainably worth it. A personification of why people will never understand why we spend hours pouring over magazines (like this one) and money on machines that will most likely kill us. It is why we ride.