Why on earth would one take a perfectly functioning commuter motorcycle and chop it up to make an off-roader? Because why not. Whoever said commuter motorcycles have to be boring? Why can't they be cool-looking mileage-efficient daily runners as well as mischievous weekend-joy-bringers? Around that premise, I went ahead and built a scrambler out of our long-term TVS Radeon that had done its time in the Motoring World garage and was scheduled to go back. And it was built in just two weeks, which is quicker than the time it took me to write this story… yeah. The first ride it saw was a Pune-Goa run, but that's not what it's built for. So we decided to put the money where our motors are and ran it against one of the most potent off-road motorcycles in the market today, the Hero Xpulse 200.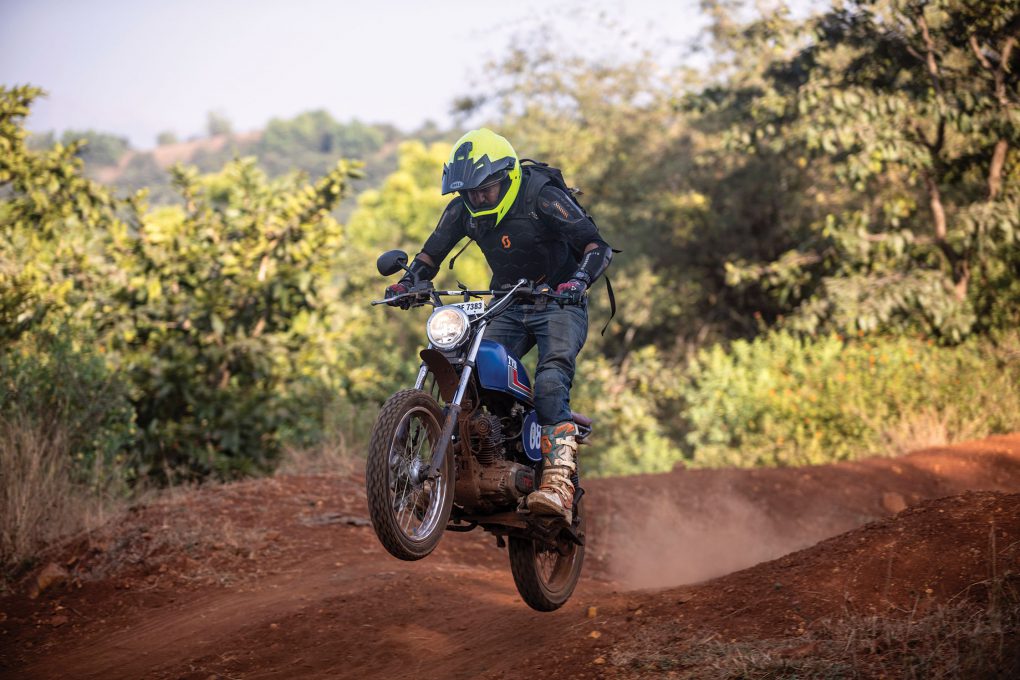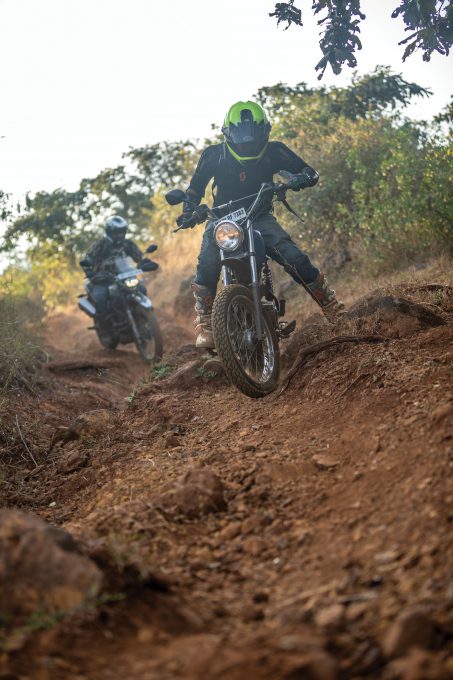 What unfolded on the ride was nothing short of a surprise for us. I knew that the Wind Surfer — that's what I'm calling the Radeon (even though 'OffRadeon' is an infinitely apter name — Kartik) — was a potent crawler, but keeping up with a propah dual-sport machine like the XPulse? That was a long shot. So off we rode to a completely new trail that we had never tried before. Both the bikes clipped down the highway stretch at about 90 kph, as we aimed at the mountains in the distance that we planned on riding over.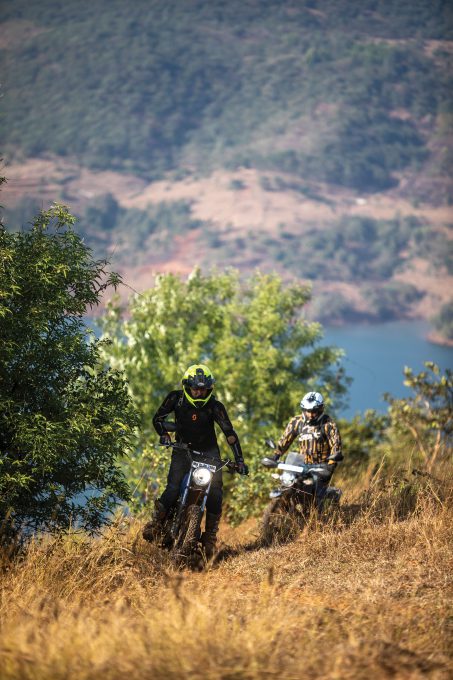 As soon as the first trail began, my old friend Sangram Patil, who was on the Xpulse, pulled a fast one on me and took the toughest part head on, putting that 21-inch front wheel and longer suspension to optimum use. The Wind Surfer, on the other hand, struggled a bit owing to its 18-inch front wheel borrowed from the Hero Splendor mated to a simpler TVS Apache 180 front fork. And the fact that the 110cc motor pumped out a humble 8 bhp didn't help much either. But tell you what, the TVS still continued its chase and followed the Xpulse right to the top of the trail without bogging down anywhere. Always one corner behind, though.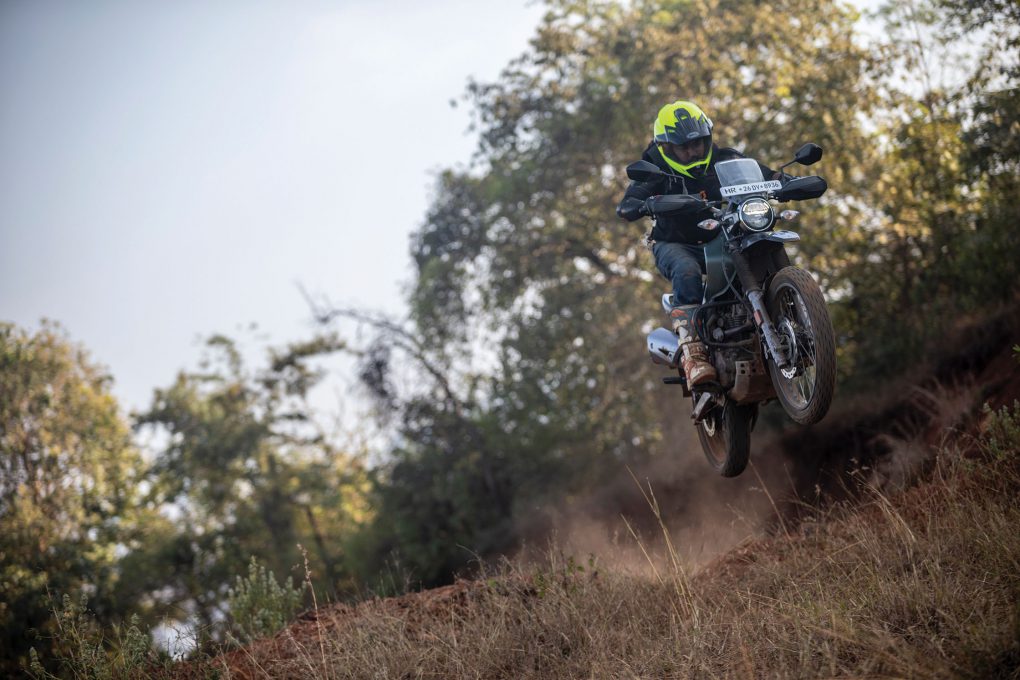 Once atop the newfound trail, we couldn't help but stop and admire the beauty around us. It's a place surrounded by a lake on three sides and hills all around till the horizon. To call it spectacular would be an understatement. So, after all the beauty shots with the scenery, we decided to head down the other side of the same hill, which required us to crawl rather than blast away. And that is where the Wind Surfer just came into its own; its 80-kg physique and low-down torque came in real handy to get through the rocky trench with ease.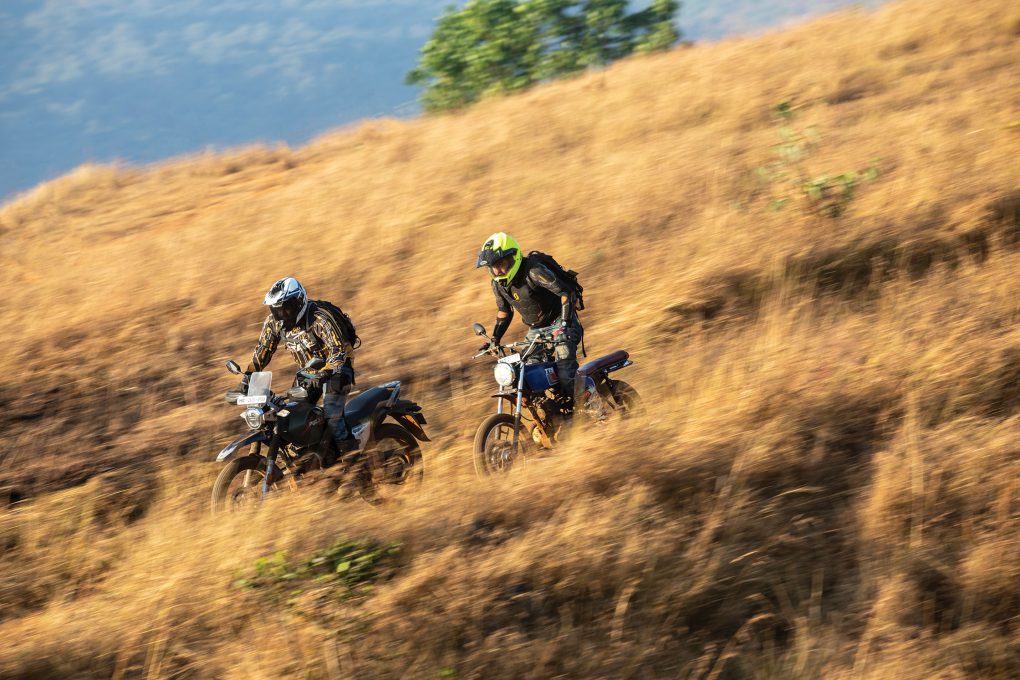 The Xpulse, on the other hand, despite being more powerful and better equipped, required Sangram to muscle it thanks to its taller frame and extra weight, especially over the uneven section of the trail. Running the Apache 180 front suspension, which essentially has been developed for a much heavier bike with higher speeds, helped in keeping the Wind Surfer from bottoming out going over some really tough ditches and rocks. It simply bounced back up, but in a manageable and controlled fashion.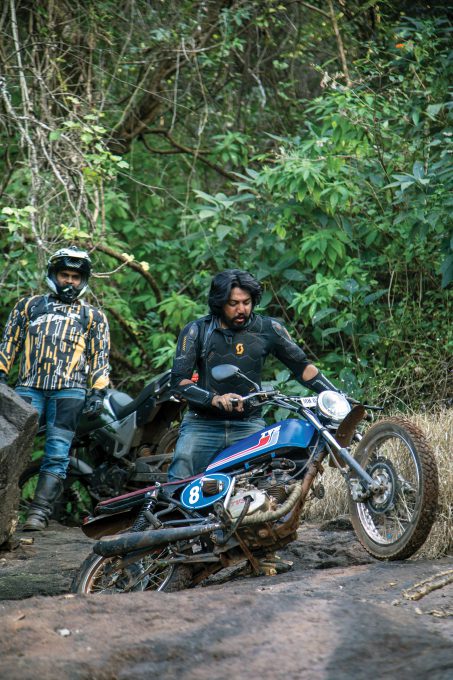 Locked in first gear, I would throw the Wind Surfer over rocks and boulders literally like a mountain bike, while Sangram struggled to catch up on the Xpulse. At the end of it, we both agreed that there was only one mantra for a hard trail like that — the lighter, the better. After unanimously concluding that we'd built ourselves a potent off-roader to go to places where no other motorcycle can, we decided it was finally time to go have some fun with the two motorcycles.
And our idea of fun was to see who can jump the highest and land without crashing. Yeah, we've been advised a few times to go for mental check-ups. Anyway, finding a good natural ramp was not so hard and soon we discovered this perfect incline that we could test our freestyle motocross skills (or lack thereof) on. And I hate to admit it, I really missed that cushy suspension on the XPulse. As much as the stiff spring setup on the Wind Surfer benefitted me to get over rocks and boulders, landing a four-foot-high jump was a whole different story. To sum it up in one word, 'Ouch!' Add to that the paper-thin sheet of leather for a seat (because I thought it looked cool), and it explains why later that night my backside tweeted about what an idiot I am.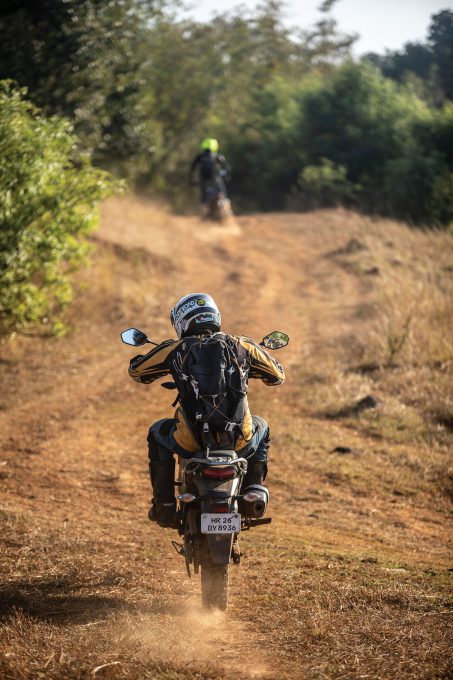 Meanwhile, the Xpulse just floated back down into its landings. It almost gave the same joy as jumping on those bouncy beds in fancy hotel rooms. But that's the thing, you see? A brand-new Radeon costs a little over Rs 50,000; say another Rs 30,000 turns it into a scrambler like we did (including the paintwork and detailing), and you have a kickass office-goer (with 60-kpl efficiency) that is also fairly potent to go exploring those trails with your buddies.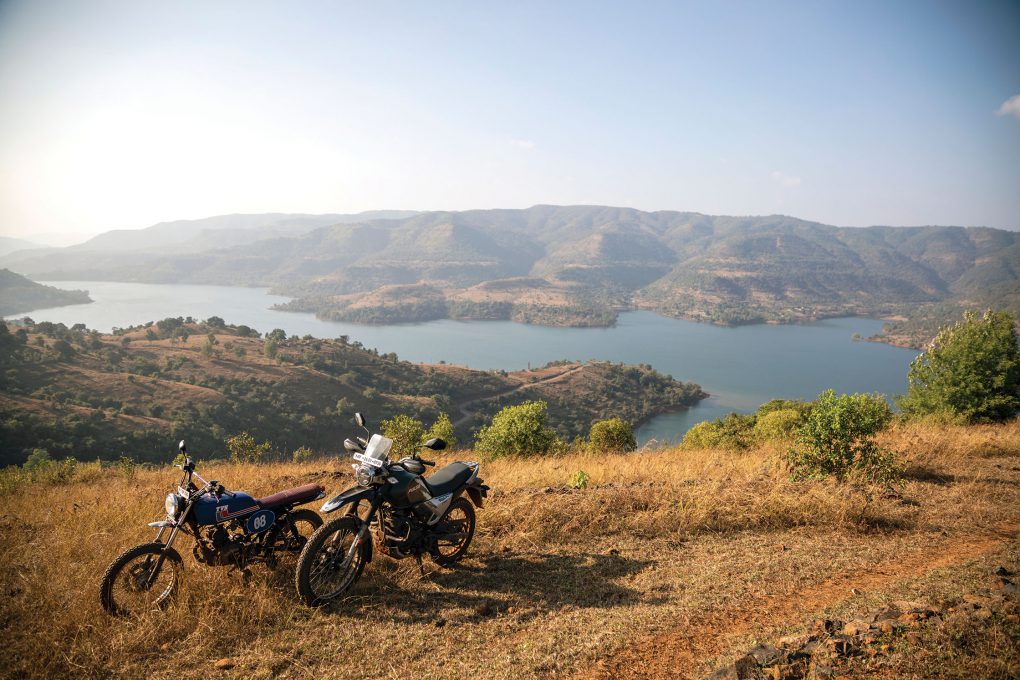 With a bike like the Wind Surfer, you don't lose out on the fun because you can't get another purpose-specific motorcycle. Imagine if you picked up a used one from the market? Even cheaper! Anyway, now I want to put longer-travel front suspension on the Wind Surfer and also work on the rear suspension, along with some tinkering to the motor to get a few more horses out of there. That sounds like a lot of work and money. Any guesses where my next round of go-see-the-shrink money is going? Back into the monkey business.
Donor Bike: TVS Radeon
Tank: KB100
Handlebar: Custom made
Front Suspension: TVS Apache 180
Rear Suspension: Stock with spacers
Front Wheel: Hero Splendor
Rear Wheel: Bajaj Pulsar 180 DTSi
Tyres: CEAT Gripp XL