I don't like scooters. An ominous admission with which to begin this story, perhaps, but one that is pertinent, too. With their twitchy small wheels, murderously boring CVTs and prayer-inducing flex from their front halves, they've always left me with decidedly unpleasant feelings. They are not the most efficient two wheelers around, and they certainly aren't the most fun, either. Until the Aprilia SR 150 comes along, that is.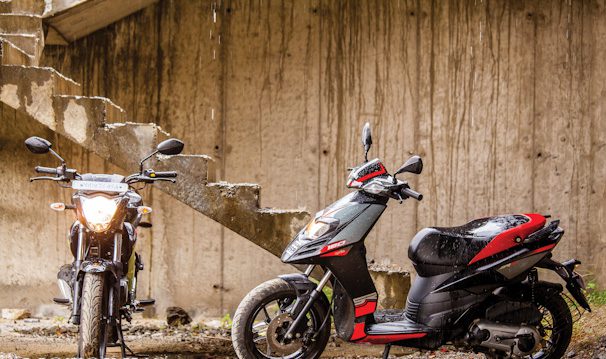 I suppose being an Aprilia, by definition, means it has to be fun, even if it happens to be a scooter. Which is why it makes sense to me to not compare it to other scooters, but to the most fun bike of its kind, the Suzuki Gixxer. A scooter and a motorcycle, both powered by 150cc air-cooled motors, and both comfortably being the sportiest of their kind. Given the kind of attention and demand scooters are garnering in India, the SR 150 is a pretty important step in understanding what Indians want from scooters. And if scooters can indeed be as much fun, if not less, than motorcycles. Right?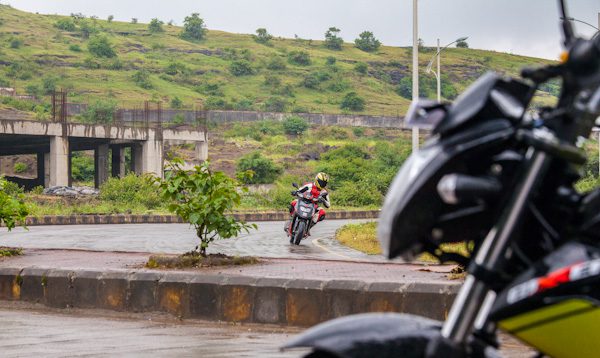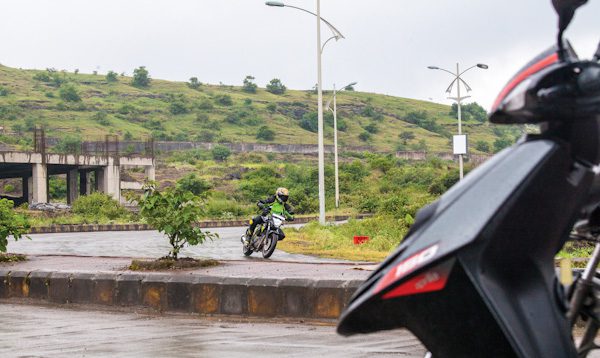 Now, then. The SR 150 is an Italian born in India and is probably the least expensive Aprilia in the world. It is also an indicator that Aprilia is not taking the Indian market lightly and, more importantly, it will not leave its sporting heritage behind even if it resorts to producing scooters for a market like India. As far as the Gixxer goes, everyone is familiar with it by now. It was our Bike Of The Year in 2014, and I've never met a person who's ridden the Gixxer and not loved it. It is what all Suzukis are — fun. And the same goes for the Aprilia.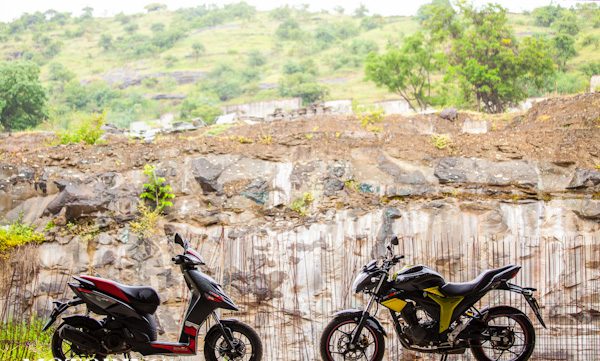 I never thought I'd see the day when a scooter looked racier standing next to an equivalent motorcycle. Well, not in India, at least, and certainly not next to the Gixxer. It doesn't help that this particular Gixxer doesn't come in the shade of typical Suzuki blue that still looks fetching, even two years down the line. However, both companies come with impressive racing heritages, and both compete in the MotoGP championship, too, with Suzuki bettering Aprilia rather easily. But does that happen with these two in the real world, too? Well, the answer is not easy to find, but looking for it is a lot of fun. Even if it proceeds to rain all day.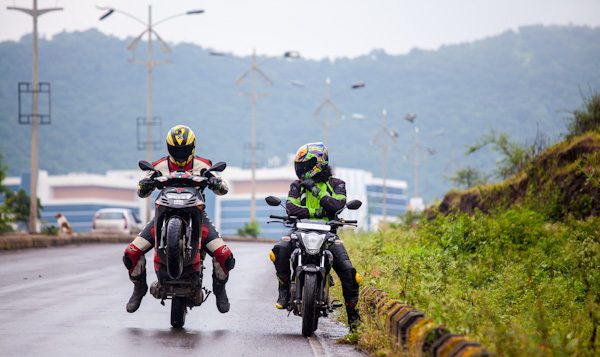 No thanks to its 0.1cc advantage, the Gixxer makes about 4.2 bhp more than the SR 150, though the latter is lighter by 13 kg. Like me, you might think that just might even things out in a straight line. And, like me, you'd be wrong. You see, the Aprilia does put up a pretty good fight in a drag race, but it's not long before it falls a few bike lengths behind. Eventually, the Gixxer keeps pulling away, making the most of its extra power and manual transmission, while the SR 150 is left behind to wonder why manual gearboxes don't make sense on scooters anymore.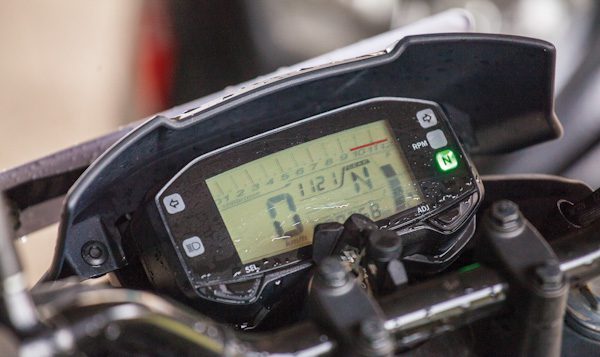 However, this does not mean the SR 150 is slow — far from it. Despite the horsepower deficit, the Aprilia is quite quick on its own, complete with a surprisingly purposeful intake noise. It does take some time to get going, though, and its sweet spot is between an indicated 40-90 kph, but it keeps going beyond that, too. In fact, on one occasion, I managed to see the speedometer needle maxxed out at 120 kph — first time that's happened to me on a scooter!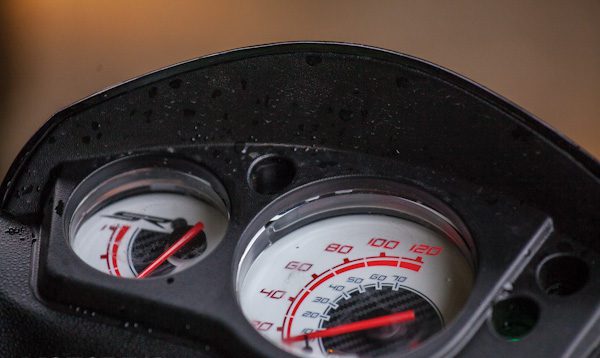 Given half a chance, the Aprilia can be right on the Suzuki's tail. And in traffic, with equally determined riders aboard the pair, it's pretty much impossible to tell who's going to win. However, as sporty as they are, there are big differences in the way they go about their businesses, especially when it comes to the most important thing about both of these machines — handling.
The Gixxer's handling package is a shining one, now neatly tied up with a little bow… er, a disc brake on the rear wheel. Riding one after a few months, I fell in love with the Gixxer all over again. Thanks to its sticky tyres and sorted suspension, the Gixxer is a comfortable and fun bike to hustle along, one that inspires a lot of confidence in its rider. What I didn't expect was the Aprilia to do the same — in a very different manner, of course.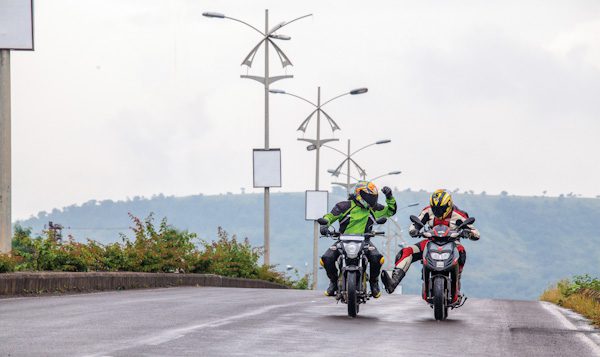 The Aprilia's small wheels and lighter weight make it easier to throw around than a frisbee. What's more, it's stable at all the speeds its motor is capable of, which again is surprising for a scooter. The tyres offer great grip and the overall dynamics of the SR 150 make full use of that grip. The brakes are the best we've seen on a scooter yet, too. Sure, there is some of that inevitable 'scuttle shake' thanks to its scooter design, but it only became noticeable after a good 100 kph — noticeable, but never a cause for backing off. That's pretty commendable. What bothered me more was that for taller riders like me and Ruman, the Aprilia's seat seems to be a bit mismatched to the proportions of our limbs.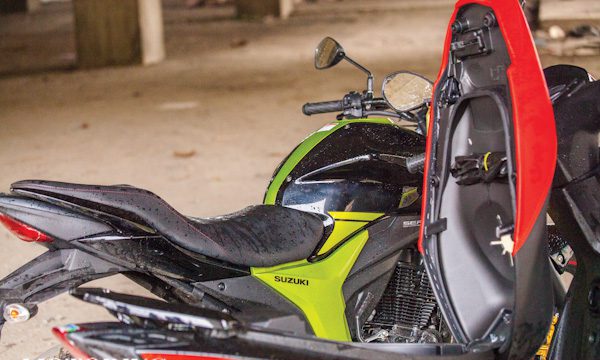 However, I soon found myself riding while seated as far forward as possible with my knees wedged against the apron, my legs acting as stressed members of the chassis design. This put my ears in line with the front axle, and though it might have looked funny, I found it to be the best way to get the most out of the SR. I rode like that for around 30 km non-stop and didn't feel uncomfortable at all. Perhaps it was because I was having too much fun to notice that the Aprilia's ride quality is a bit on the stiffer side.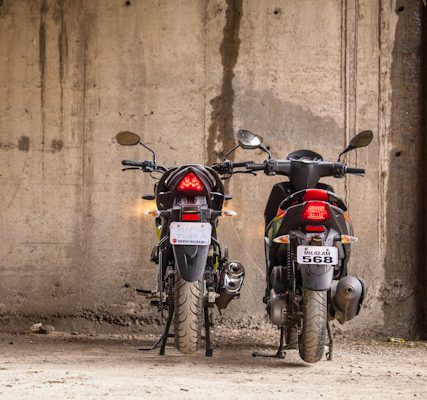 I also tried using the pillion footpegs of the Aprilia as auxiliary rearsets, but they seem to be coated with one of the most slipperiest substances known to man, so I gave up on that notion pretty quickly. However, despite the niggles, I cannot help but admire the SR 150. For the first time in my life, I understood the real meaning of point and shoot. Other scooters may well do it, but none do it like this Aprilia. Sure, there's the ease of just having hand controls and letting your legs do their thing (which is nothing), but it's how the Aprilia brings a whole lot of fun into the picture that is most refreshing.
Now, as impressive as the SR 150 is, the Gixxer is quicker, faster, likely more efficient and more comfortable. It also helps that overall quality levels are a notch better on the Indo-Jap than the Indo-Italian, not to mention that the Aprilia comes with an instrument cluster that I'd be happy to ignore for the rest of my life. Also, try as I might, I just cannot get accustomed to having nothing but thin air to grip with my knees while riding. All of which makes me certain that the Gixxer would be the one I'd put my money down for if I had to. However, is it more fun? I cannot say that with absolute certainty. That is the biggest surprise for me, that a scooter should be so much fun as to cloud my motorcycle-biased mind.
For me, a scooter doesn't need to be this fast and fun, but an Aprilia certainly does. It is as imperative as your favourite cliché. I must admit that I don't think I'll ever bring myself to become fond of stepping through a void where a motor should rightfully reside. But as we call it a day, Ruman says, 'We're lucky we like bikes.' What he means to say is, 'We're lucky we don't like scooters. There's hardly any choice to have fun with.' But that isn't true anymore and I can't bring myself to tell him that I've changed my mind. Well, almost.
MOTODATA
Suzuki Gixxer
POWERTRAIN
Displacement: 154.9cc, single
Max power: 14.6 bhp@8000 rpm
Max torque: 1.4 kgm@6000 rpm
Transmission: 5-speed CVT
CHASSIS
Type Single-downtube frame
SUSPENSION
(F/R): Telescopic fork/monoshock
BRAKES
(F/R): 266-mm disc with dual-piston calliper / 240-mm disc
TYRES
(F/R): 100/80 R17 / 140/60 R17
DIMENSIONS
L/W/H (mm): 2050/785/1030
Wheelbase: 1330 mm
Ground clearance: 160 mm
Seat height: 780 mm
Kerb weight: 135 kg
Fuel capacity: 12 litres
PRICE: Rs 79,726 (ex-showroom, Delhi)
MOTODATA
Aprilia SR 150
POWERTRAIN
Displacement: 154.8cc, single
Max power: 10.4 bhp@6750 rpm
Max torque: 1.16 kgm@5000 rpm
Transmission: 5-speed CVT
CHASSIS
Type: Steel underbone frame
SUSPENSION
(F/R): Telescopic fork/monoshock
BRAKES
(F/R): 220-mm disc with dual-piston calliper / 140-mm drum
TYRES
(F/R): 100/80 R17 / 140/60 R17 120/70 R14 / 120/70 R14
DIMENSIONS
L/W/H (mm): NA/NA/NA
Wheelbase: 1365 mm
Ground clearance: NA mm
Seat height: 780 mm
Kerb weight: 122 kg
Fuel capacity: 6.5 litres
PRICE: Rs 67,396 (ex-showroom, Delhi)
The story appeared in the October 2016 issue of Motoring World.