A motorcycle is a combination of different emotions and physical actions which together form an experience. Which is why, if I were to choose between motorcycles and scooters, it will always be the former. It doesn't matter which motorcycle it is, as long as it is one. But then does that mean that scooters are boring lumps of metal and plastic rolling on puny wheels? Yes and no.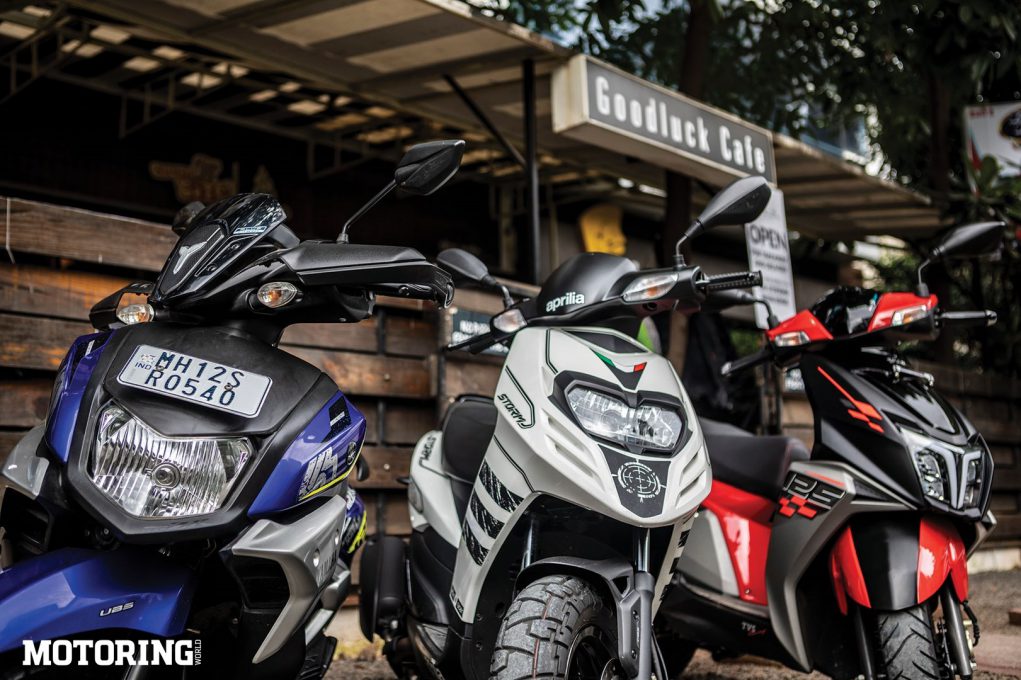 Yes, because most scooters puttering out there are designed to take on commuter duties, more as a subtitle to motorcycles who have been doing it for decades while still being enjoyable. And no, because there are a few whose existence as scooters is more to do with fun than just mundane commuting. But we can't just accept that without riding them, can we? And so here are three of the coolest scooters right now — the NTorq 125, the Ray-ZR 125 Street Rally and the Storm 125. Let's find out if they fit the bill, shall we?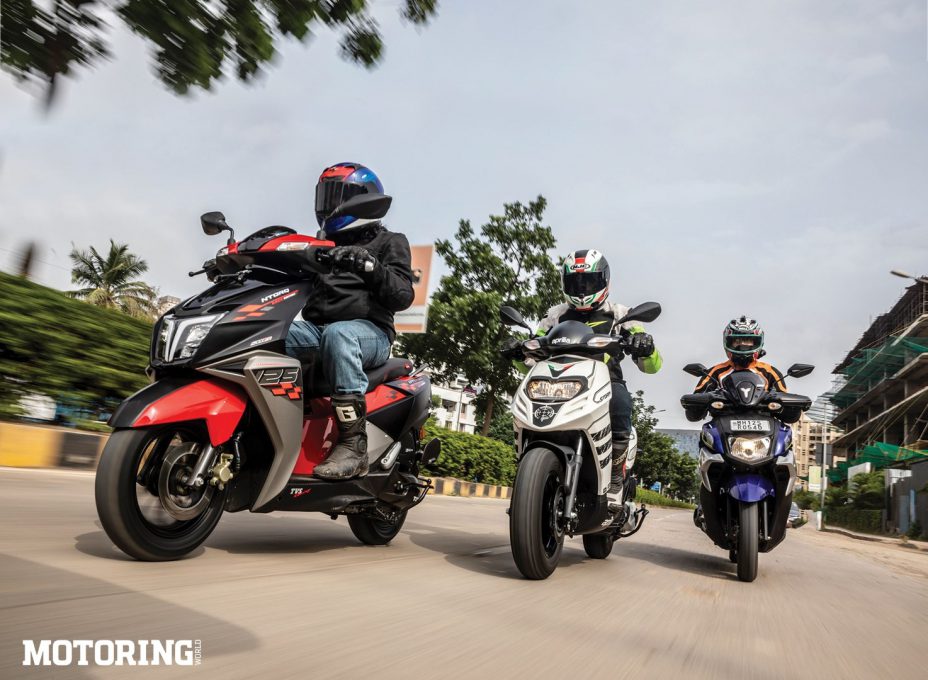 Which is the better looker?
While looks are subjective, the scooters here, without doubt, have been designed keeping the youth in mind. They are sporty, each with an unconventional approach that makes each one different from the other. Draped in a black-and-red livery with chequered graphics for a racy touch is the TVS NTorq Race Edition. This scooter has been around for a while now and has garnered a sporty reputation for itself. While being the torquer of the trio, it is also a tech-savvy one with its Bluetooth-enabled instrument console and LED lighting. The Aprilia Storm 125 is a rugged version of its SR 125 sibling, featuring block-pattern tyres and a white livery. It even comes with Aprilia's '#bearacer' decals confirming its parent company's racing pedigree and its target audience, and does that while churning out 9.87 bhp, the highest here. The third one stands in Yamaha racing blue with decals that are accompanied by yellow, something that will grab even
Valentino Rossi's attention. Called the RayZR 125 Street Rally, it's got the shortest wheelbase here, but is as big on style as a race-weekend pit scoot.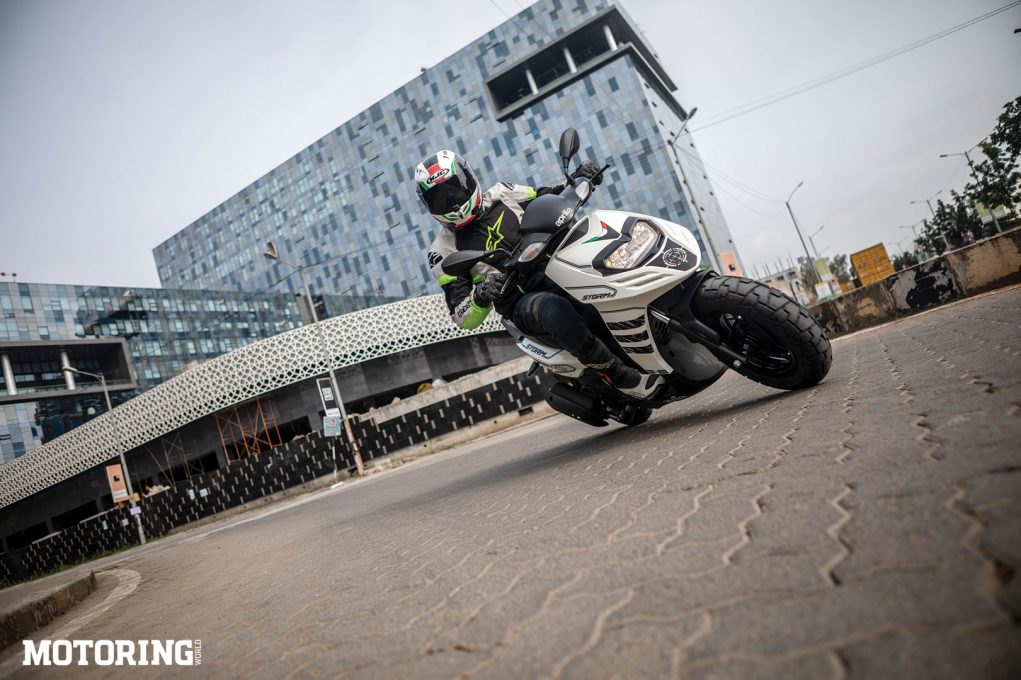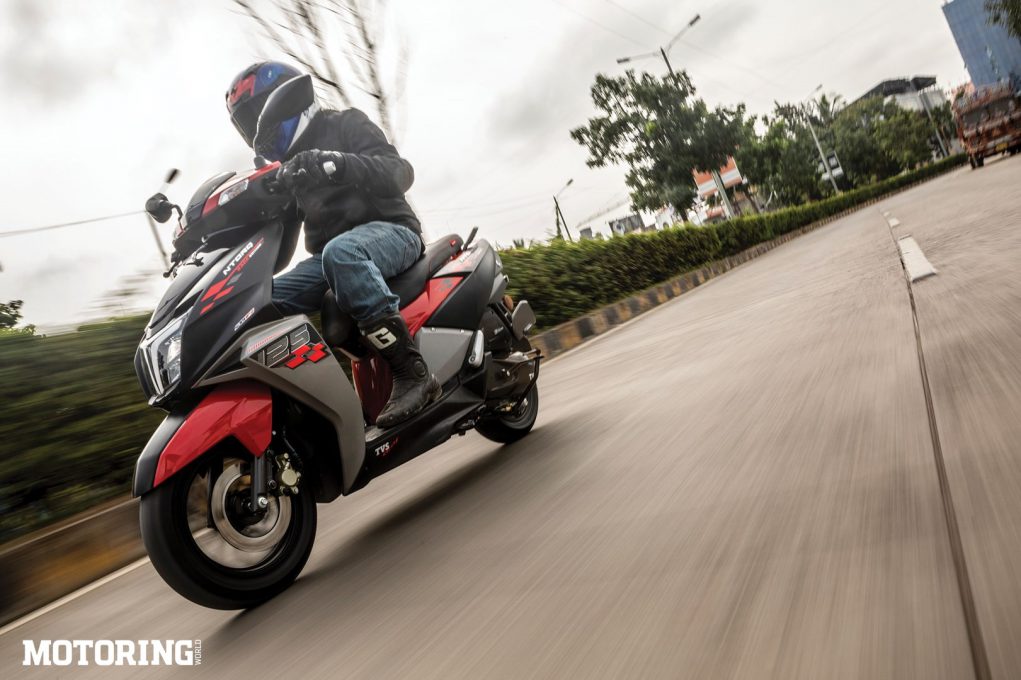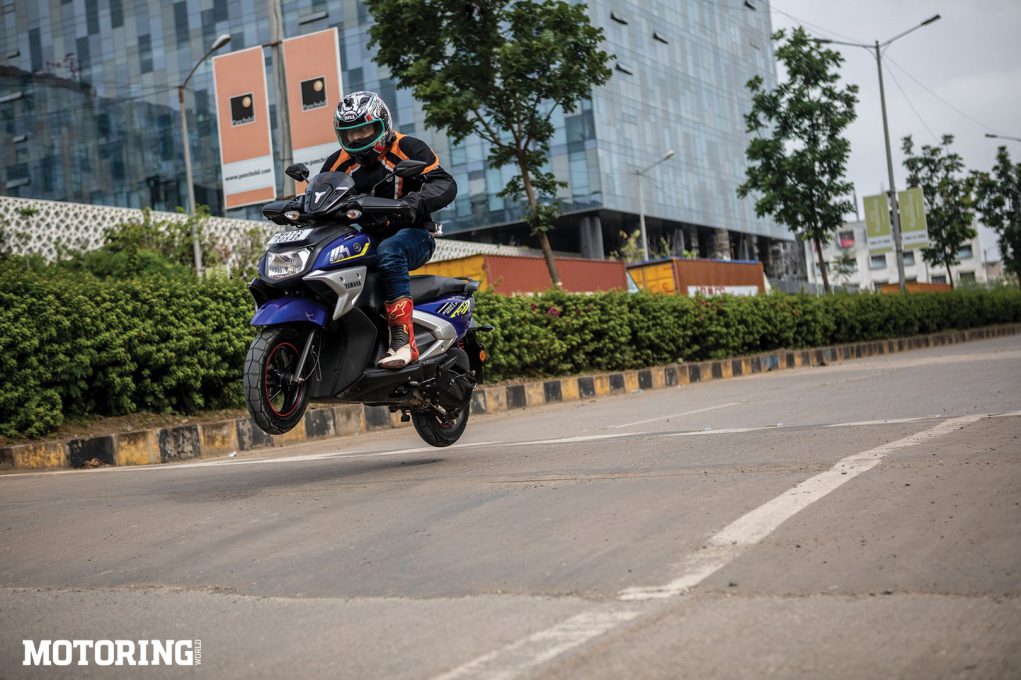 Which one cares about your comfort?
The Storm 125 stands no chance against the RayZR and the NTorq. That's because Aprilia seems to have forgotten that they were building a scooter for Indian roads. The suspension is stiff enough for you to end up with strong leg muscles after hovering your bottom off the seat, as I was most of the time. The real competition, however, was between the other two. Varad astride the NTorq and Parag on the Street Rally were at peace, courtesy of the well-damped suspensions. The NTorq, with larger 12-inch wheels at both ends, contributed
further to comfort, but the slimmer and firmer seat was lesser than the Street Rally. With more cushioning overall, the RayZR won the comfort vote. And Parag showed this off with some much-wowed airtime on the Yamaha.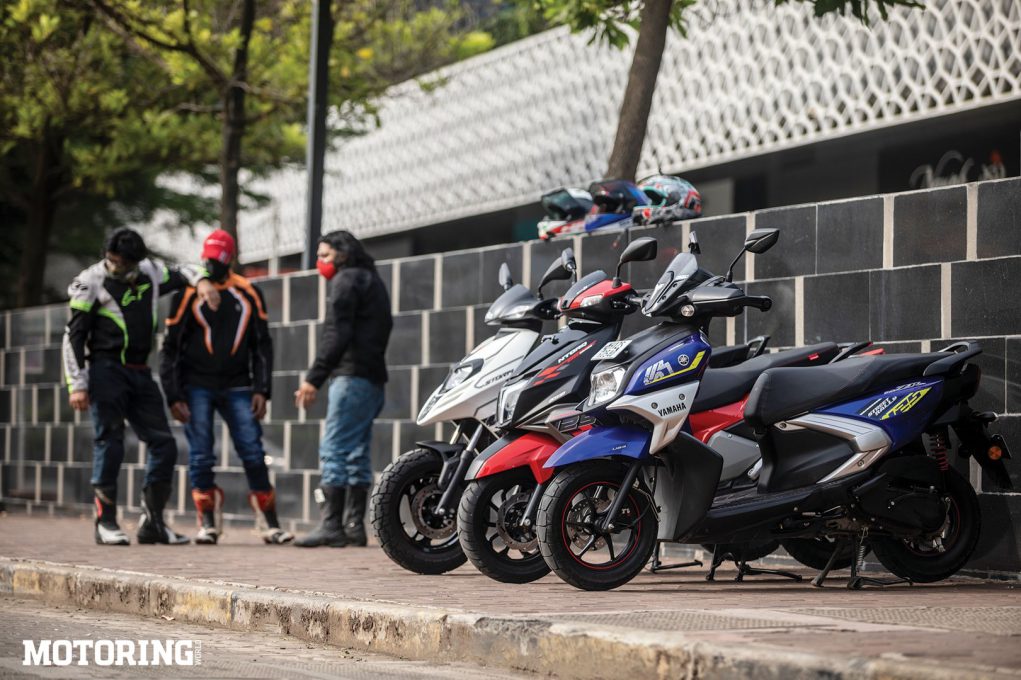 Which one is less scary?
Most scooters, thanks to their small wheels, can turn in mid-corner unexpectedly and throw you off. The same goes while braking as the front can wash out with not much scope for recovery. Thankfully, no wash-outs or highsides were reported that day; times have changed and so have the machines. Nowadays, while most scooters are designed better, they are also shod with grippy rubber and linked brakes that reduce the chances of such scenarios. Among the three scooters here, it was a close call between the NTorq and Storm; the Street Rally's short wheelbase although allowed it to zip through traffic, but didn't quite inspire much confidence around corners. At regular speeds, both the TVS and Aprilia sailed through on their intended lines. But as entry speeds went up, the Storm's stiffer suspension and chunky tyres not only allowed more speed but also more lean angle. So much so that one point I was nearing the contact-patch limit without scraping any of the body panels.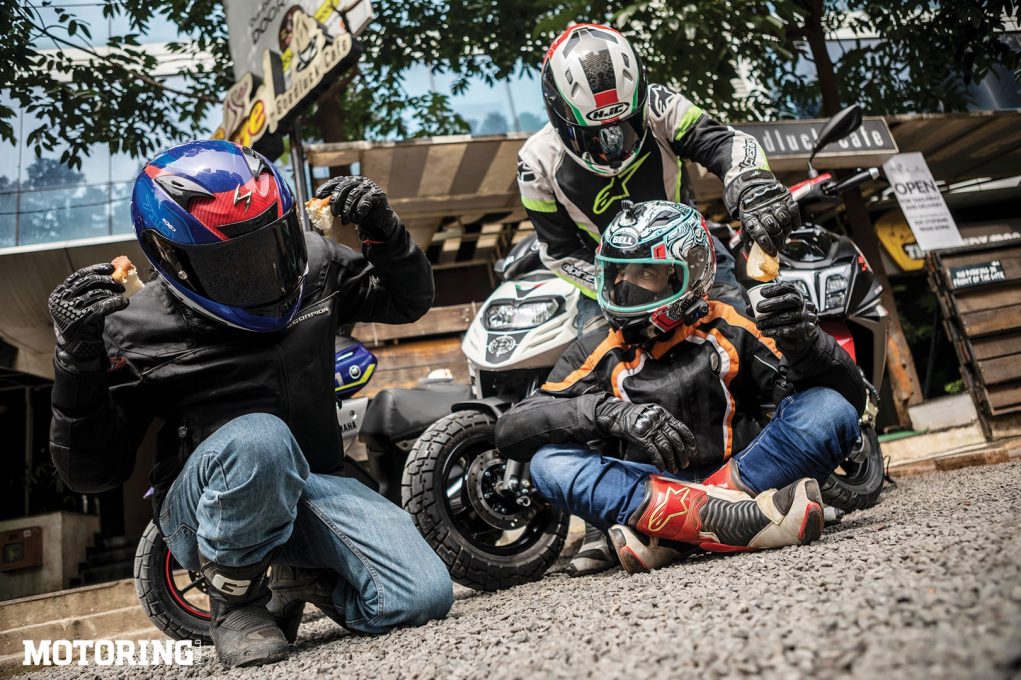 And off the line?
In the straight-line shootout, I was pretty confident that the Storm would make the others eat its dust as it had the highest power figures. And although the Italians were too shy to disclose the scooter's kerb weight, I was pretty sure it would be less than the NTorq's 118 kg and close to the RayZR's 99 kg. We lined up adjacent on an open patch of road, no clutch to be dumped, only throttles to be twisted. As we set off the line, to my dismay, the NTorq was already half a length ahead, while the RayZR was right beside me. A few meters later, the NTorq showed no signs of slowing down as it kept building the gap on us. While I was still hoping for second position, that too was taken by the RayZR as it slowly crept ahead no matter how low I tucked myself. By the time the extra power got me going, it was almost the end of the road which instead left me eating dust in the end.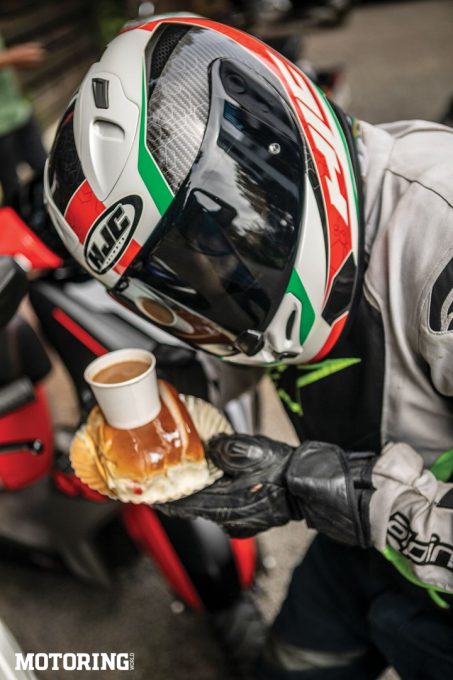 Which one is more fun then?
To be honest, all three are. More than which one was faster, less scary or more eye-catching, each one managed to win our hearts and that's what mattered the most. All three scooters have individual personalities which made all the difference between fun riding and just heading from one point to another. So, would I still choose motorcycles over scooters? Well, although the answer remains yes, I now know that the TVS NTorq, the jack of all trades over here, will be my pick when I am not shifting cogs.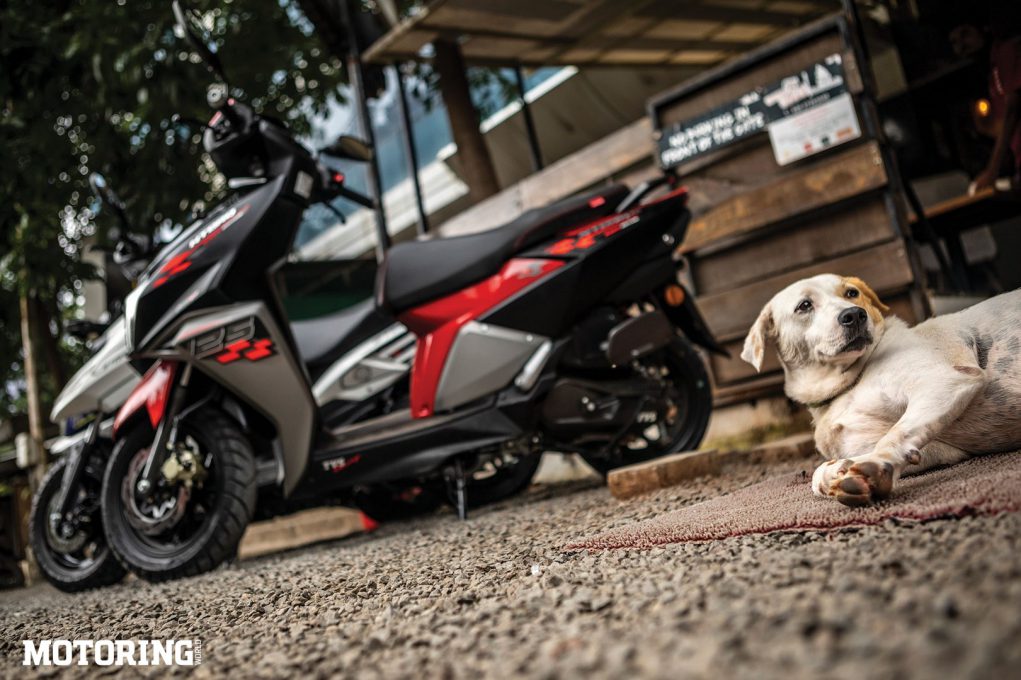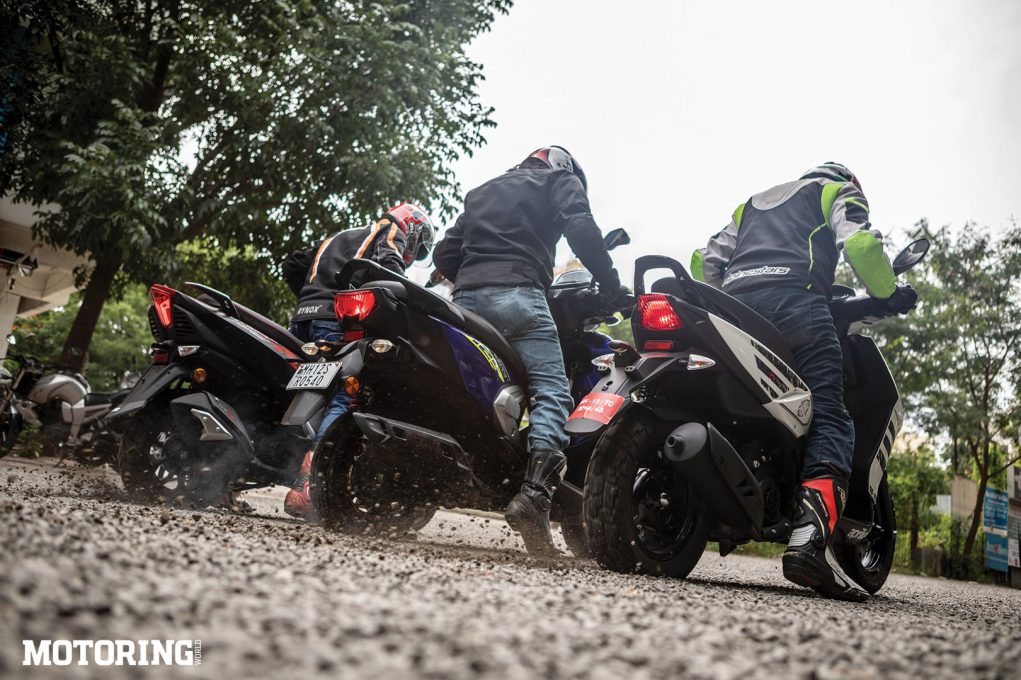 MOTODATA
TVS NTorq 125
POWERTRAIN
Displacement: 124.8cc, single
Max power: 9.1 bhp@7000 rpm
Max torque: 10.7 kgm@5500 rpm
Transmission: Centrifugal clutch
CHASSIS
Type: Underbone rectangular tube-type
SUSPENSION
F/R: Telescopic fork / monoshock
BRAKES
F/R: 220-mm single disc / 130-mm drum
TYRES
F/R: 100/80 R12 / 110/80 R12
DIMENSIONS
L/W/H (mm): 1861/710/1164
Wheelbase: 1285 mm
Ground clearance: 155 mm
Seat height: NA
Kerb weight: 118 kg
Fuel capacity: 5.8 litres
PRICE: Rs 74,865 (ex-showroom, Delhi)
MOTODATA
Aprilia Storm 125
POWERTRAIN
Displacement: 124cc, single
Max power: 9.78 bhp@7250
Max torque: 0.98 kgm@6000 rpm
Transmission: CVT
CHASSIS
Type: Tubular steel frame
SUSPENSION
F/R: Telescopic fork / monoshock
BRAKES
F/R: 220-mm disc / 140-mm drum
TYRES
F/R: 120/80 R12 / 130/80 R12
DIMENSIONS
L/W/H (mm): 1985/806/1166
Wheelbase: 1365 mm
Ground clearance: NA
Seat height: 775 mm
Kerb weight: NA
Fuel capacity: 6 litres
PRICE: Rs 92,601 (ex-showroom, Delhi)
MOTODATA
Yamaha Ray ZR Street Rally 125
POWERTRAIN
Displacement: 125cc, single
Max power: 8.04 bhp@6500 rpm
Max torque: 0.98 kgm@5000 rpm
Transmission: V-belt automatic
CHASSIS
Type: Underbone
SUSPENSION
F/R: Telescopic fork / monoshock
BRAKES
F/R: 190-mm disc / drum
TYRES
F/R: 90/90 R12 / 110/90 R10
DIMENSIONS
L/W/H (mm): 1 880/750/1190
Wheelbase: 1280 mm
Ground clearance: 145 mm
Seat height: 785 mm
Kerb weight: 99 kg
Fuel capacity: 5.2 litres
PRICE: Rs 75,530 (ex-showroom, Delhi)