I'd never been here before. Lined with towering pine trees, it seemed to be leading to nowhere important, but what a road it was! Narrow but impeccable tarmac, a few ripples on its surface for effect, tight, no really tight corners, a carelessly positioned crest or two — basically just the kind of road to make riding any kind of motorcycle a lot of fun. I wasn't here to ride any motorcycle, of course. This one's special, very special. It's called '8'.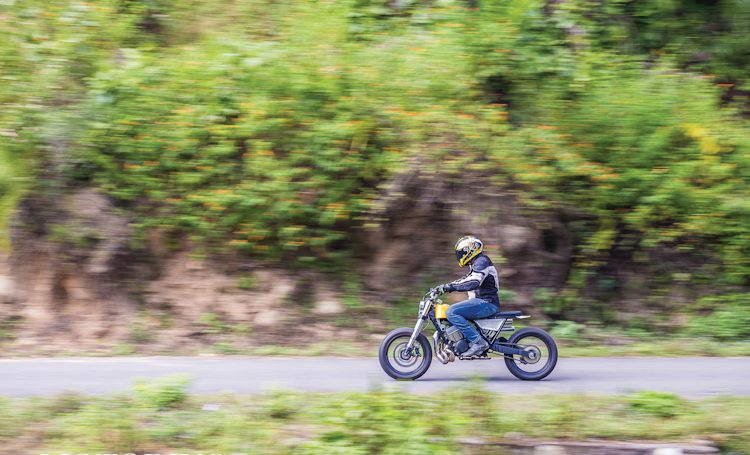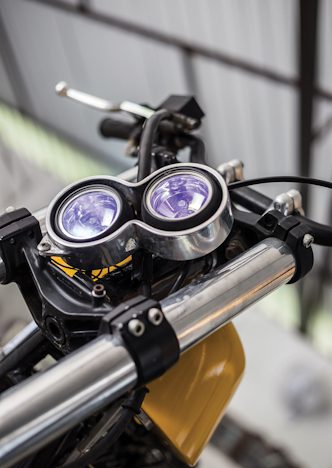 Built by a small team of motorcycle geniuses who call themselves Moto Exotica, the motorcycle you see here is essentially a Yamaha RD350. Well, it used to be one, at least. It's been built with impeccable precision into a scrambler by Arjun Raina, ex-rallyist on two wheels and four, and founder of Moto Exotica, a brand of custom motorcycles that's made it big in India in the last few years. Moto Exotica works out of a garage in the back of beyond of Dehradun and, at first, you'll wonder if you're ever meant to get there since satellite navigation is of little help and his workshop is devoid of any signage whatsoever. That perception changes for us as we arrive, an hour later than planned (don't even ask…).
A team of around six men work on a wild assortment of motorcycles — everything between a KTM 390 Duke to a Yamaha RD350 — as we arrive. A few impeccable Gypsys, a waiting-to-be-rallied Vitara, a Honda CR125 and a Husqvarna SM610, among others, set up the ambience for our disbelieving eyes. There's a hint in there. All are purposeful machines, built to compete and excel not simply through speed but through a deep understanding of cycle parts and their impact on overall performance. This is going somewhere nice.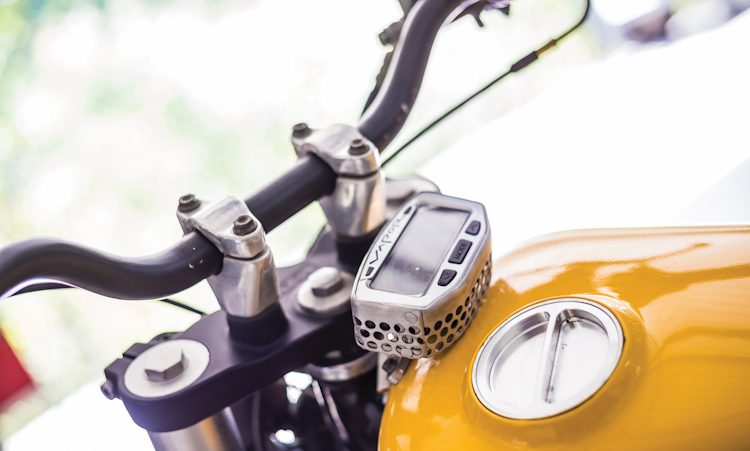 Oh, of course, it was going to. I see exactly what it is, as one of the team members rolls out a Yamaha RD350 like nothing else I have ever seen, except maybe in pictures. It's small, yellow and it just looks light. I can't actually believe I'm about to ride this gorgeous of motorcycle and make every attempt to share this sentiment, loud and clear. But photography commitments mean my helmet stays on the bench for a little more time so I use the opportunity to have a little chat with Arjun. Thankfully, he is as generous with his time as he is with words and he shows us around his workshop with much enthusiasm.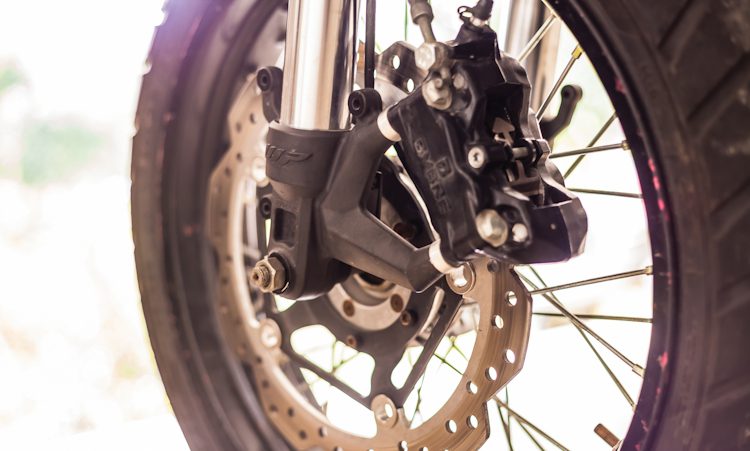 I begin to soak in the more prominent of the design bits on the 8 as he tells us about how he built his first ever motorcycle — a Suzuki Shogun, no less — way back in college. I gaze at the really small fuel tank, painted a nice yellow, my eyes eventually moving on to the very large side-stacked expansion chambers, their widest bits sitting just below the tank. Arjun points towards his Husqvarna, crediting it for being the inspiration for every motorcycle made by his team. 'More than just the concept of the SM610 — that of a quick supermoto — it's the way it's been engineered and built, the details, the insight; that's what we really set out to do each time,' he says. Seems about right, as my attention moves away from the centre of the 8's design onto the equally prominent cycle parts – the upside-down forks, bulbous, purposefully grooved tyres and the wire-spoke wheels. I see where he's 
coming from.
I ask again if I can finally go out riding and this time it works. Arjun offers to lead the way on the SM610, probably because he's worried I'll make off with it or something. I'd do just the same if I had a bike like the 8, mind you. What follows is 15 minutes of absolute mayhem. He's showing no sign of restraint on the Huskie, sticking his leg out low in corners – this is home turf for him, after all — but on-board the 8, I find it easy to keep pace with him. Wasn't expecting that, honestly! In the first five minutes of riding the 8, it tells me everything I need to know about it. Yes, it's mighty powerful and extremely light (think under 110 kg), but, above all else, it's been built to ride hard and fast.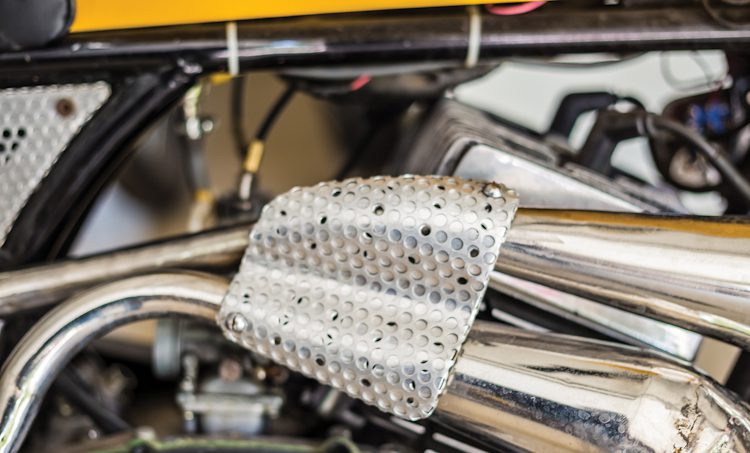 That the engine is a gem is old news, but thanks to an insightfully designed (by Arjun himself) exhaust setup and two compact conical air filters, the 8's performance is simply staggering. It revs freely, has lots of mid-range grunt and even more of it towards the top. It is aggressive in every sense of the term, but thanks to the right chassis setup, it is also quick in imparting a sense of total control. Mind you, this is very crucial when speaking of a 50-bhp, 350cc, 
twin-cylinder two-stroke motorcycle that weighs as much as the average 
CVT scooter.
This is simply the most communicative motorcycle I have ever ridden — in my life, if saying that hammers the point further home. Everything within the wheelbase of this motorcycle seems to have been set up just right. And it talks to you. It's not simply the quality of cycle parts that have gone into making it so good, but the way the parts have been used. That crucial aspect only comes from one thing — riding motorcycles. As Arjun wheelies over a crest on the SM, it becomes clear why the 8 feels the way it does. Within the first five minutes, 
that too.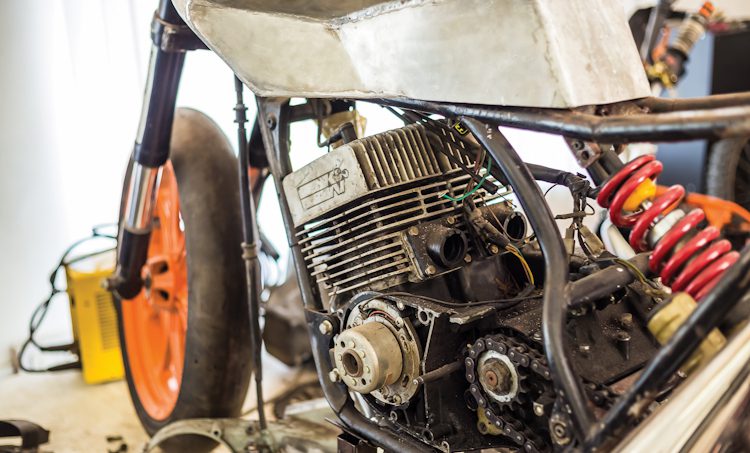 Where a motorcycle is made has a huge impact on how it turns out. A motorcycle, if built with honest intentions, is a direct reflection of the roads it has been tested on. The roads its maker knows like the back of his hand. That bit of road invariably gives motorcycle makers the answers they're looking for. And the 8, without a doubt, is the result of the right sort of passion and intent. It's built with focus, perhaps more than some of the mass-produced motorcycles of today and that says a lot about the importance of building motorcycles over buying one right off the shelf. Needless to say, I'm going back down that road very soon. With a plan to drop off a motorcycle at Arjun's, hopefully.
PHOTOS Harshit Gupta
We'd like to thank Arjun Raina and his team at Moto Exotica for risking their gorgeous build in our hands. If you want the motorcycle of your dreams, call them on +91 9731062000. Hey, Arjun, build us a KTM-based supermoto, will you?