Perspective is a very human phenomenon. Cause, effect, reason and judgement — perspective alters everything. One moment, you feel like the greatest and the next, you realise how much of a speck you are on the true scale of existence. Riding a motorcycle is like toying with perspective in poetry and motion — the highs and lows co-exist spectacularly, despite the vast extremes, and it all comes down to which side you choose to be on. Astride the DSK-Benelli TNT25, it's never too hard to make that choice.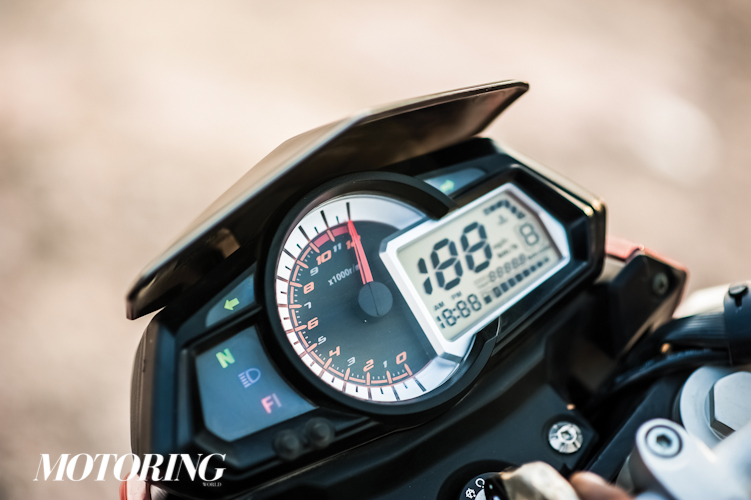 We began our chase for one such pair of extremes — sand and snow — on a cold winter morning in Pune, where DSK Benelli India is headquartered. The idea was to begin this quest from Jaisalmer in Rajasthan, a town deeply entrenched in the belittling expanses of the Thar Desert, traversing through the heart of northern India and ultimately calling it a day in the geographical icing on India's cake — Gulmarg, in Jammu & Kashmir. The contrast between the two extremes would introduce us to drastic variations in temperatures (from a pleasant 19 degrees to an inhuman -12), roads (patches of overflowing desert that call themselves 'National Highways') and, above all else, human life. The only constant, it seems, was the TNT25 — the best part of this 
adventure, undoubtedly.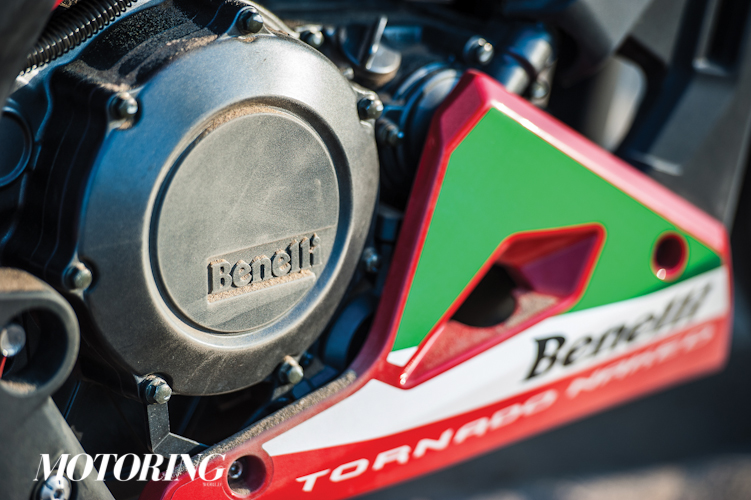 With an 1100 km transport leg to contend with (from Pune to Jaisalmer, that is), the adventure began earlier than we expected.  The candy red TNT25 came to us squeaky clean and serviced to perfection and with a hefty tail-bag strapped on, it was ready for the long way round in an instant. With an eager 249cc, four-valve, liquid cooled, single-cylinder motor at our disposal, the long highway stint didn't pose any real threat and with 28.16 bhp coming in at 9800 rpm, there was little room for doubts. The TNT25 produces a very impressive 2.2 kgm of torque at 8000 rpm and with a slick 6-speed gearbox, it appears to have everything you really need to have an entertaining time out on the highway.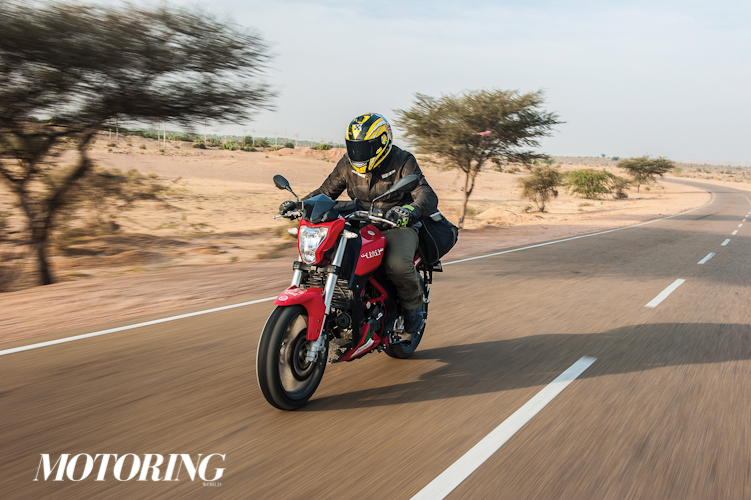 This is proven absolutely right as the next 16 hours and 1100 km go by in a blur. With an impeccable highway connecting Mumbai to Ahmedabad, the first half of the transport leg is a breeze, as the TNT25 is perfectly at ease holding high speeds for really long periods of time. It's comfortable and roomy and its big-bike cycle parts, such as the fat upside-down fork, monoshock rear suspension and meaty Metzeler tyres, make stability a given no matter how fast you like to go. While our highways continue to throw surprises at you every once in a while, with a 280 mm petal disc at the front and a 240 mm disc at the rear, even that aspect doesn't prove to be a challenge whatsoever. The 17-litre fuel tank means you don't need to stop as frequently for fuel as you'd imagine on a motorcycle as aggressive as this and all of this results in one happy motorcycle roadtrip!
Saddlebags dusted and the TNT25 cleaned back to original form, we're up by sunrise and eager to explore what Jaisalmer has to offer. The TNT25 is showing no signs of stress despite the intense highway run from the day before and this, in return, makes the rider feel completely unstressed, too. Just what every long-legged motorcycle should feel like! Jaisalmer is pretty chilly this time of the year and with the mercury hanging around the 4-degree mark, we gulp down a hearty breakfast and set off towards the source of modern-day folklore — the Thar Desert. Spanning a fear-inducing 3,20,000 sq.km, the Thar Desert, also known as the Great Indian Desert, is simply one of nature's most marvelous gifts to India. From prominent mentions in the Ramayana and Mahabharata to the infamous Battle of Longewala in 1971, the Thar Desert has seen India's evolution in all its glory. It has withstood time despite the best efforts of winds, topographical and political, and typical of every great desert, it turns over a new leaf with every re-appearance of the sun.
The DSK Benelli TNT25 seems more aware of this than us, as it looks on purposefully into the distance, while parked on its own two wheels. This is no place to ride a motorcycle, to be very honest, but with slightly deflated tyres and a gentle throttle hand, there is scope for us to climb over the dune crests and gaze into the crisp horizon. With help from a local camel safari guide, we get the TNT25 going and it slowly but steadily makes its way in. It's an eerie feeling, being in the desert on a motorcycle, all by yourself. It's visually deceptive, hostile even and it's hard to decipher what really lies ahead. Not quicksand, hopefully. We climb over a gentle crest without much difficulty, the TNT25's torque coming in exceptionally handy, and dig the rear in – the most fun way to park a motorcycle, ever.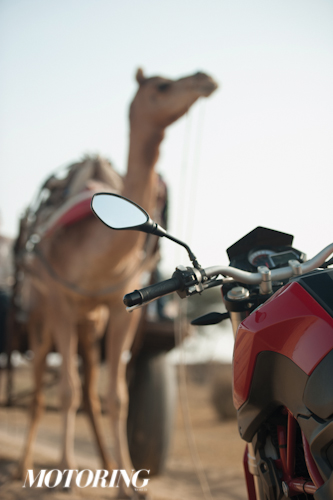 The silence is unnerving and surreal, all at once. The TNT25 goes quiet, its engine making ticking noises as it cools down, and you can hear the muffled howl of the desert wind. It's as soothing as it is fearsome — depending on your perspective of it — and you really feel miniscule, realising the relative pointlessness of the urban chaos. The only empowerment comes from the motorcycle, which you can trust blindly to take you further in or far away. In this case, it's a good thing it's the versatile TNT25. Even deeper into the desert is a trio of camels completing the picture-perfect scenery but to reach there on two wheels is perhaps a bit too ambitious, mainly because we're not made of materials as high-grade as the TNT25.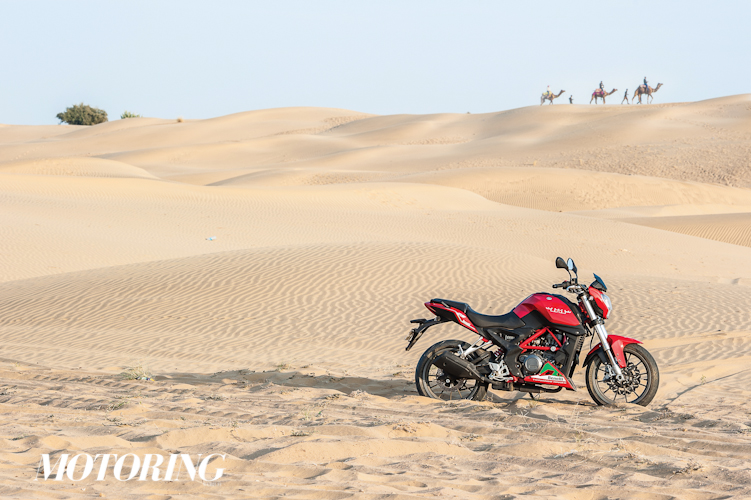 It's a really trying surface, too. There is just no traction whatsoever and the motorcycle behaves entirely unlike itself. You get the feeling the desert wants to suck you in — it's not a good feeling, obviously — and more than once, we were left wondering if we really were going to find our way out at all. With no real visual reference except random shrubbery and the sun's trajectory, riding in the desert brings out the best of your survival instincts. It's like a universe by itself, with entirely different laws, with the only constants being change and a strong quest for existence.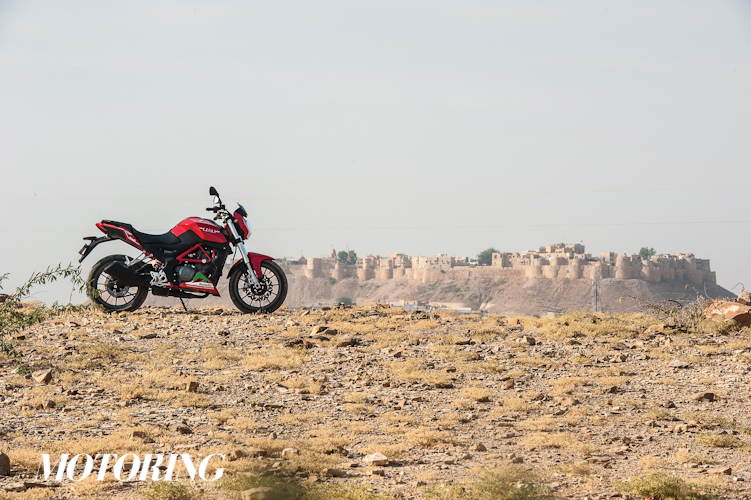 It must have been the last thread of survival, with no disrespect to the courage and valour of our armed forces, which made possible our heroic victory on a surface which makes even walking in a straight line so difficult. To think we've ridden a motorcycle into the sands which, not long ago, soaked in the blood, sweat and tears of our heroes is emotionally overwhelming, to say the least. The Thar Desert really does make you aware of the scale of existential realities which we so often forget, buried into computer screens in our well-lit cubicles. To be there on a motorcycle only adds to the exercise, since you're right out there, one with the elements and at their mercy, too.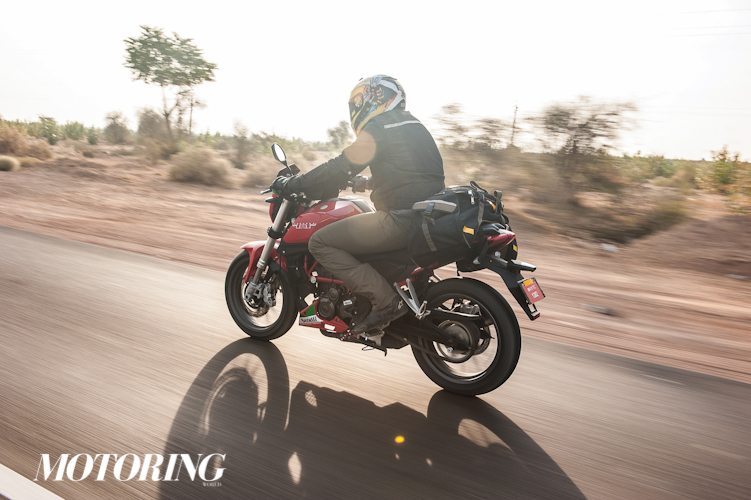 The sun is a raging orange by the time we're done shooting for the day and we thumb the TNT25 back to life. This is not where the TNT25 belongs, to be very honest, but it has found a way to survive this harsh, humbling environment better than any of us humans. Explains why all great motorcycles almost always outlast the people that call them their own. Machined immortality just doesn't get better than a motorcycle, especially one as capable as the TNT25. With that thought, we slide down the dune, back towards less hostile but, ironically, more intolerable environs — back towards civilization as we know it. The journey hereafter is going to be an uphill task, only too literally. On a motorcycle, however, tomorrow is only a matter of perspective.
To be continued