Not too far ahead of me is Sherman astride the Ducati Scrambler. We're both going absolutely flat out, me giving all that is there to offer on the Yezdi Scrambler. We were riding on dirt, off the tarmac, the kind of environment where power is not everything, which also was the only reason why I was somewhat able to keep up with Ducati. Now, I could either try a stunt or something, or maybe cut across the set path and possibly line up with Sherman even if it only meant for a few seconds. It is a game of who dares wins, really. Welcome to the world of scramblers. Welcome to unadulterated fun.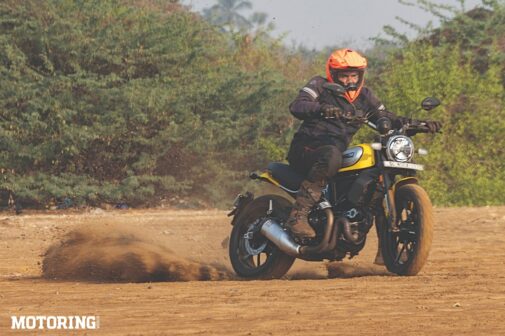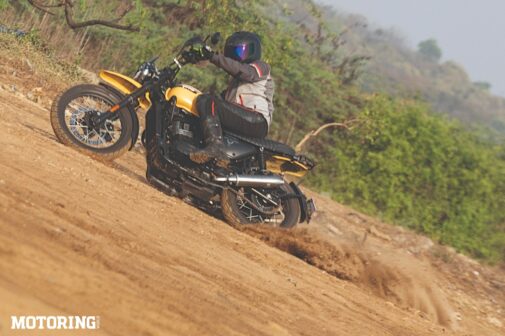 WAIT, WHY THESE TWO?
It's a comparison that just does not make sense at first. But, if you had to look at them as the few proper scrambler motorcycles out there, we could be getting somewhere with them. But, before we get there let's get all the dissimilarity out of the way, shall we? Now, you've already seen the Ducati Scrambler on these pages before, not just once, but on multiple occasions. This motorcycle has been around for a while now, and it is the most affordable way to add a Ducati to your garage. The Yezdi Scrambler, on the other hand, is the young gun that is one of the three motorcycles to have been launched by a brand, resurrected only sometime back. If we are to leave the obvious differences aside, what we have here are two motorcycles that are based on the same concept, share the same name, have the same intent and for sure pack a lot of fun, in abundance.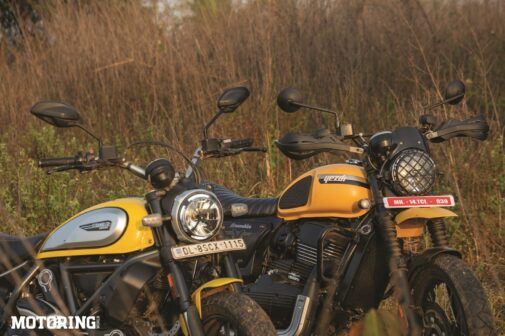 ON ROAD
On the road, the Ducati does everything better. Quite obvious, isn't it? The Italian bike maker has been building motorcycles for many years now, and the Scrambler itself has been in production for seven years now and counting. The bike has the classic lines of a scrambler that have been perfected by Ducati. The teardrop-shaped fuel tank is utterly gorgeous which is further accentuated by the brushed steel highlights. The seat has a ribbed pattern that finishes with a minimalistic tail section in classic scrambler style. The headlamp has the X-design highlight which harks back to its competition roots where riders used to mask the headlamp with tape to keep it together in case of a fall.
The Yezdi Scrambler also has a similar kind of description, but in a scaled-down manner. The operating company Classic Legends have only started building motorcycles recently, but the brand Yezdi has quite a rich history when it comes to competing with scrambler-style motorcycles. Now the Yezdi Scrambler might not be as fast as the Ducati, but in its own way, the motorcycle is good fast but more than that, it loves to corner. So good that, once you're in sync with the bike, you'll be scraping the footpegs in no time. Yezdi has gone with a bit of a rough look for their scrambler. The bike here is finished in matte and has rubber tank grips to hold onto the tank when standing on pegs. Other than that, it has a similar looking ribbed seat, meanwhile, the headlamp has a steel grille.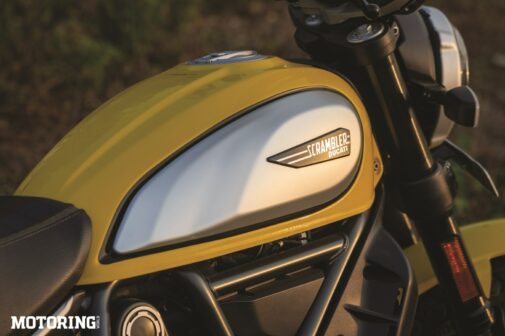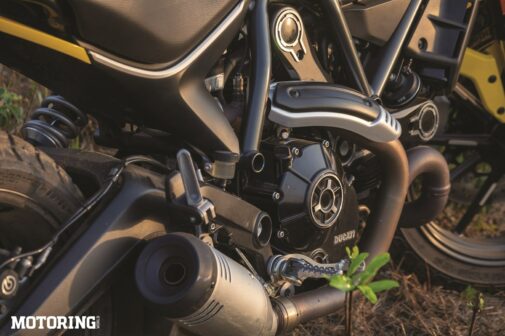 AND OFF-ROAD?
With long-travel suspensions, wide handlebars and slim bodylines, it is off the road where both motorcycles get in their true element. The dual-purpose tyres allow just enough slip to kick that tail out while also keeping matters in control of the rider. From long and flat stretches of dirt to hard-packed trails through shrubs and plants to soft loose gravel patches, both Scramblers were an absolute blast to ride. Yes, the Ducati did have the upper hand when it came to all the hooliganism that was being done. The Yezdi also did manage to do so by a good bit, replicating the same fun as its Italian namesake.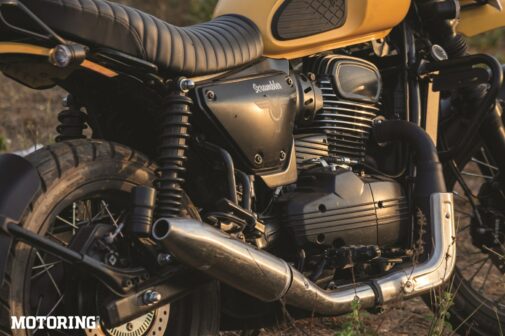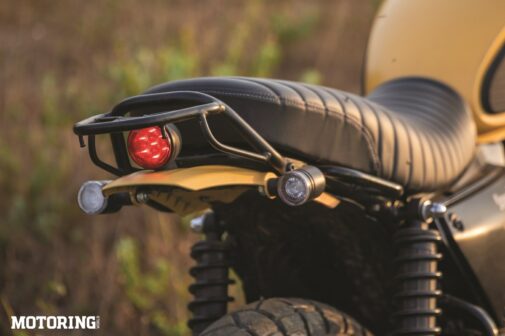 CRUNCH TIME
Yes, we all know well that both the bikes belong to different classes so that is absolutely no comparison when it comes to their powertrains. But, before we head to the next bit, let us see what these Scramblers pack in terms of firepower. Starting with the Ducati, the Scrambler is powered by an 803cc air-cooled desmodromic V-twin motor that puts out 71 bhp of max power at 8240 rpm and 6.73 kgm of peak torque at 5750 rpm. All of this gets sent to the rear wheel via a 6-speed gearbox. Knowing the torquey nature of v-twins, the Scrambler doesn't like to waste time from the moment you dump the clutch and twist that throttle.
Coming to the Yezdi, the scrambler here is powered by a 334cc liquid-cooled single-cylinder mill that has also been mapped for the flat torque curve which is present almost across its rev band. In terms of numbers, the motor is rated to produce 28.7 bhp of max power and 2.87 kgm of peak torque and is also mated to a 6-speed gearbox. Compared to the other bikes in Yezdi's portfolio, the Scrambler has the most aggressive power output, with more emphasis on a strong torque delivery.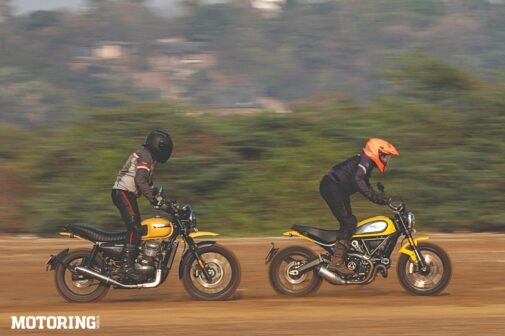 WHO DARES, WINS?
Like I said in the beginning, there is no real outright comparison between these two motorcycles. Both motorcycles are vastly different from each other but at the same time also share a universal bond. What they do have in common is the essence of nothing but pure fun that can be had with motorcycles. And it is not only limited to the tarmac but extends beyond it as well. In reality, while the Ducati and Yezdi are aimed at two different classes of buyers, they are here to offer what unadulterated motorcycling is all about. It was never a question of which one is better, but highlighting the common bond between them. So, reserve the stunts and shortcuts for another day and welcome to the world of scrambling.
MOTODATA
Ducati Scrambler
POWERTRAIN
Displacement:
Max Power:
Max Torque:
Transmission:
803cc, V-twin
71 bhp@8250 rpm
6.73 kgm@5750 rpm
6-speed
CHASSIS
Type: Tubular steel trellis frame
BRAKES
F/R: 330-mm disc / 245-mm disc
TYRES
F/R: 110/80 R18 / 180/55 R17
DIMENSIONS
L/W/H (mm):
Wheelbase:
Ground Clearance:
Seat height:
Kerb Weight:
Fuel Capacity:
2100/855/1150
1455 mm
NA
NA
189 kg
13.5 litres
PRICE
Rs 8.49 lakh (ex-showroom, Delhi)
MOTODATA
Yezdi Scrambler
POWERTRAIN
Displacement:
Max Power:
Max Torque:
Transmission:
334cc, single
28.7 bhp
2.87 kgm
6-speed
BRAKES
F/R: 320-mm disc / 240-mm disc
TYRES
F/R: 100/90 R19 / 140/70 R17
DIMENSIONS
L/W/H (mm):
Wheelbase:
Ground Clearance:
Seat height:
Kerb Weight:
Fuel Capacity:
NA
1403 mm
200 mm
800 mm
182 kg
12.5 litres
PRICE
Rs 2.06 lakh (ex-showroom, Delhi)