In the realm of motorcycling, sensibility is a very subjective matter. Amongst the hordes of motorcycles that exist on this planet, there are a few that are a physical incarnation of the term 'ridonculous'. They earn this term by the sheer outrageousness of being what they are. In short, the fewer the people that can harness these beasts, let alone afford them, the less sense they make to most mortals. Let's consider that we've all got some version of that braggart uncle, who's a CEO of some multinational brain drain, and visits lavish events just so he can complain about the quality of the caviar. If this fellow can get this beast out of your apartment building's parking lot without needing a bypass, I can assure you, the bike has not earned the right to be called ridonculous. These two hellions we have before us make it appear that they are part of this ridoncoulous entourage by means of sheer intimidation.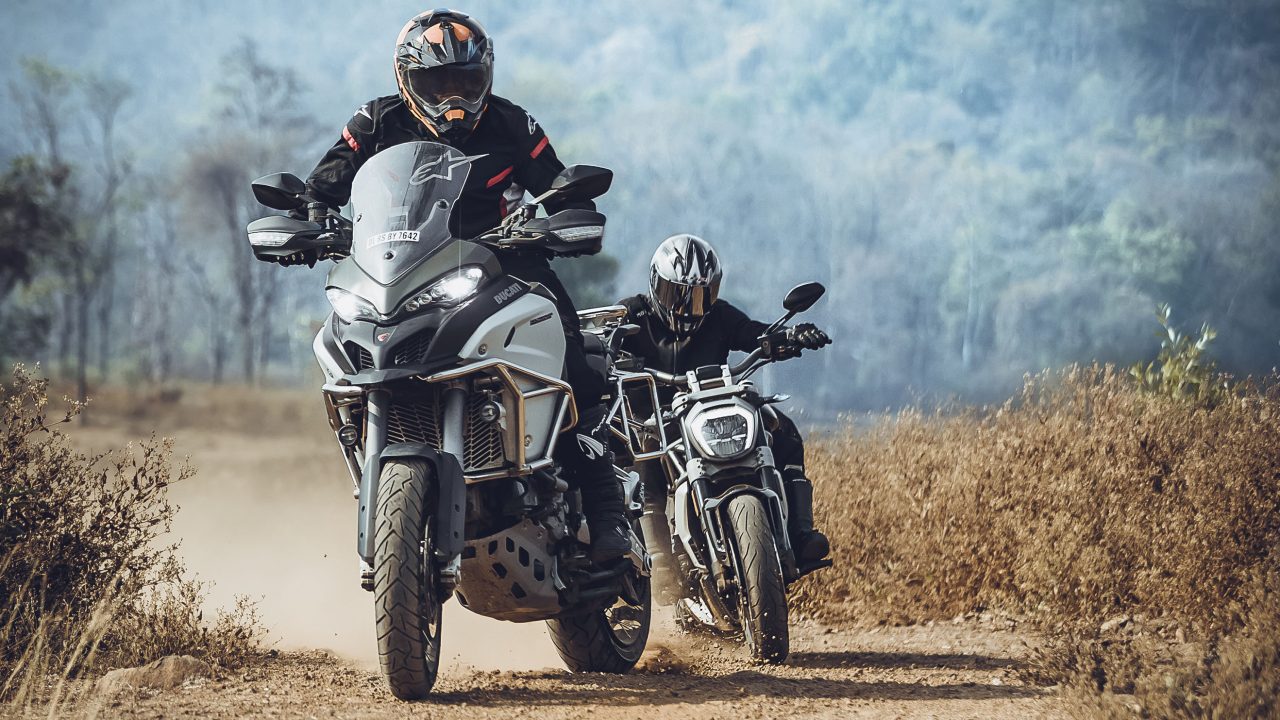 Firstly, they bear the logo of an Italian brand so entrenched in motorsport, you wouldn't be surprised if the office spaghetti was doused in high octane petrol (disguised as olive oil, of course). And secondly, just look at the size of them, will you? All of this intimidation seems very overwhelming, until you get aboard them, that is. That's when you realise, they are in fact, not the unwieldy beasts that your mother and local priest told you they would be. Supernatural prowess has historically been attributed to the darkness of the mind of the beholder, but let's just call it an implicit lack of knowledge, shall we? Well, motorcycling technology has come so far that even a monkey with basic motorcycling knowledge can ride either of these two while managing not to turn itself, or the motorcycle, into a steaming pile of twisted metal, spare parts and vibrant bodily fluid. Electronics, baby, electronics. It's like a magician's performance; as long as you look at the hand the magician wants you to look at, magic and reasoning are concepts that don't even exist in the same dimension. Well, Ducati is quite the well practised magician, then. Onlookers may think the skill lies with the rider, while the electronics perform indescribable sorcery in utter and absolute anonymity. This is of course, Ducati's, or any other manufacturer's way, of catering to the masses. You no longer need to be the magician that makes riding a difficult motorcycle look like visual poetry, no. The motorcycle will do most of that for you. I repeat, 'most'. There's no forgetting that these two are at the peak of the food chain when it comes to doing what they do.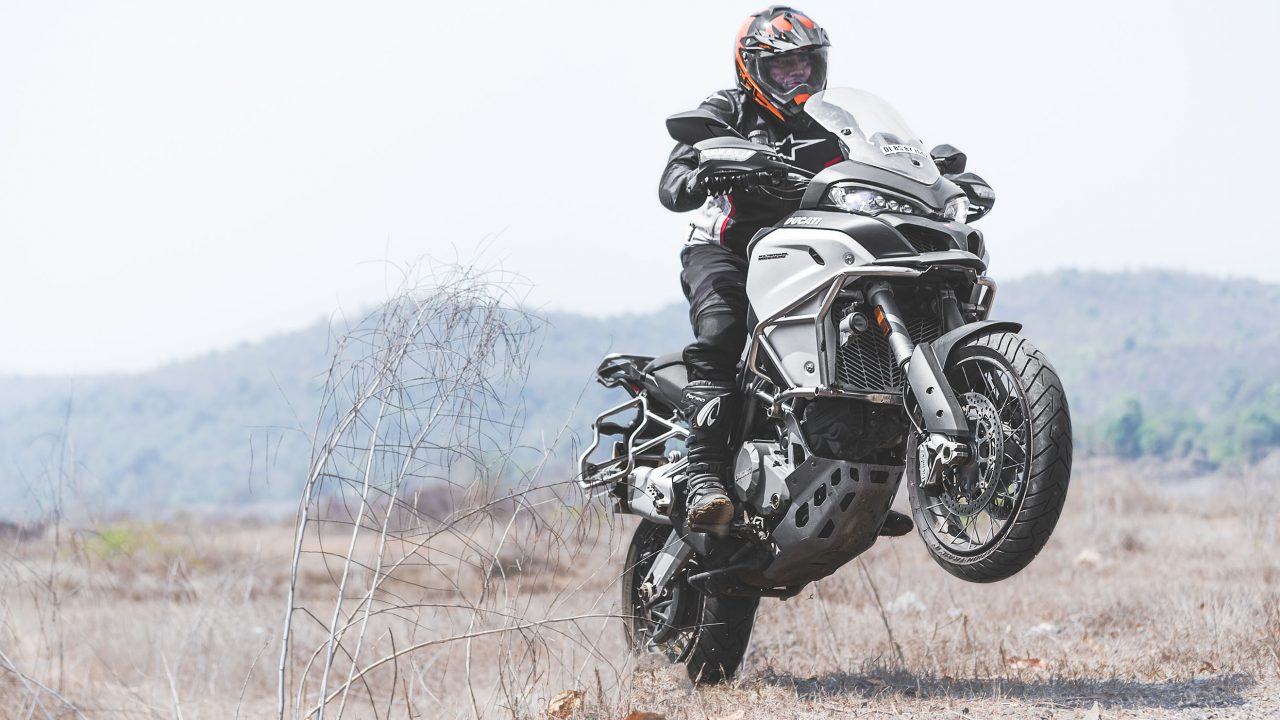 On one hand, you've got the Multistrada 1200 Enduro, a positively gargantuan adventure tourer that is designed to obliterate distances, and scare you into thinking that the alien mothership is here for a bit of 'friendly' probing. It's just one of those things that will force you and everybody around you to fall in love with it, no questions asked.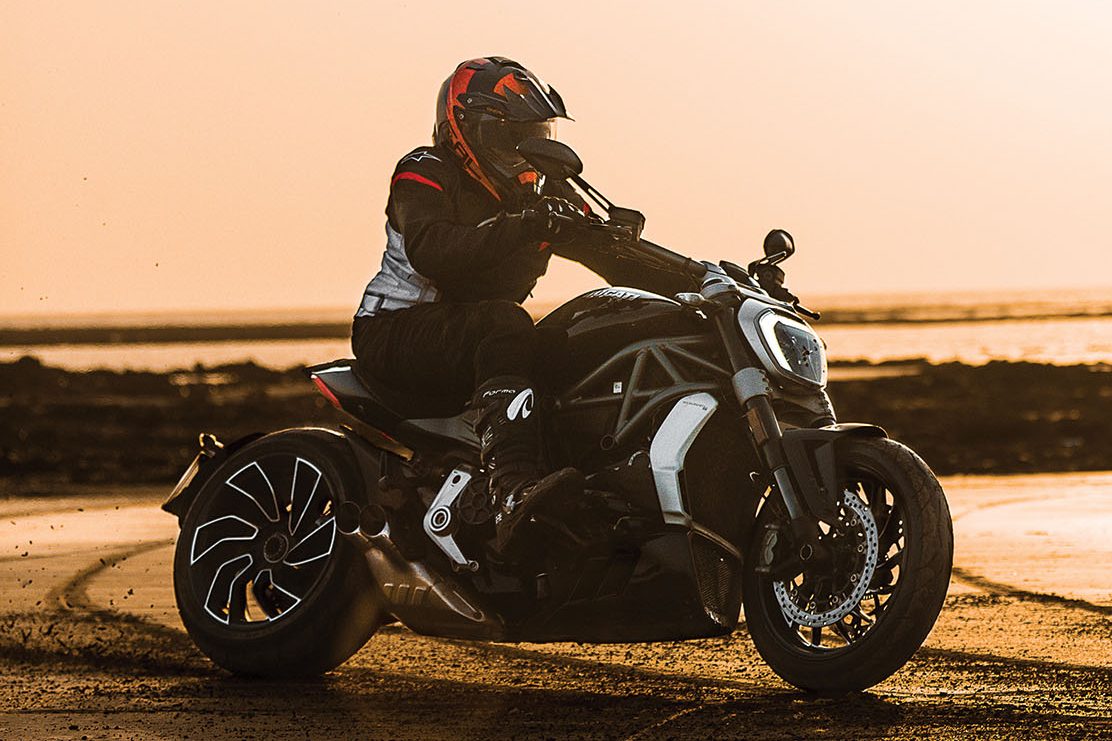 On the other hand, there's the XDiavel S; Ducati's iteration of a cruiser (if you can even call it that), and the face you expect to see just before the heavens come calling. Of course, the folks back in Bologna knew that face would be accompanied by a hood and a very enticing scythe, which should explain why the 'X' is there. Long story short, these motorcycles are designed to do so much more than just trot about town and announce stoically that they are the perfect recipe for proverbially enhancing the size of your genitalia. These motorcycles will introduce you to the most fun you can possibly have that does not involve  the necessity for safe words, handcuffs or leather gear (okay, that one's still up to you). The fact that these two have the added 'Enduro' and 'S' as part of their nomenclature is a direct indicator that they have so many tricks up their sleeves that only years of dedication and practice will allow you to wield their full potential. And that's not taking into consideration the state of stagnation your muscles have been in, or the quantum of minerals you have lying dormant in your underpants.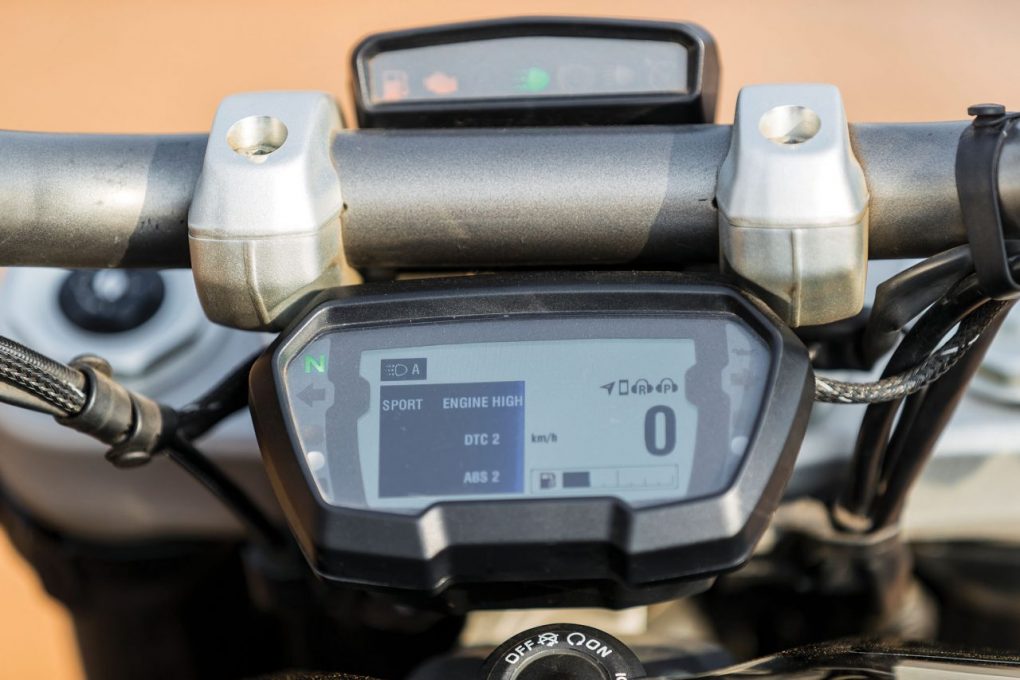 Of course, at the core of these two miscreants lies more or less the same ridonculous engine, with the XDiavel S getting about 60cc of additional displacement to the already ballistic 1198cc of twin-cylinder lunacy. Amongst the labyrinth of techno-wizardry, there lie two party tricks that set this bunch apart from all else, and each other. The XDiavel, amongst a whole list of fiddly little tweaks you can access through the left switchgear's toggle buttons, has another lonesome button that's sitting quite discreetly towards the front of the right switchgear. Keep it pressed for a few seconds and up comes DPL; a feature that will transport you into a whole different realm of pant-wetting. You must take a little time to speak with a deity of your choice if this is your first time using this feature. The aforementioned abbreviation stands for Ducati Power Launch; a feature that will have your internal organs travel a few feet behind you as you pull off the line. Intended for drag racing, all you must do is pull the clutch in, pin the throttle, and release the clutch fully when you feel you have made peace with all else. What follows is an acceleration so brutal, you will question why you didn't sign up for astronaut training before you decided to do this. To quantify some of this sheer ridonculousness for you, I recorded 3.2 seconds for a 0-100 kph run on the V-box, on a surface that had seen rainfall not long before. All of this was while I shut half my brain off and somehow managed to allow the helmet to not merge with my face. Ducati claims a time of 2.8 seconds to perform this feat in ideal conditions, and I have no doubt about any of it.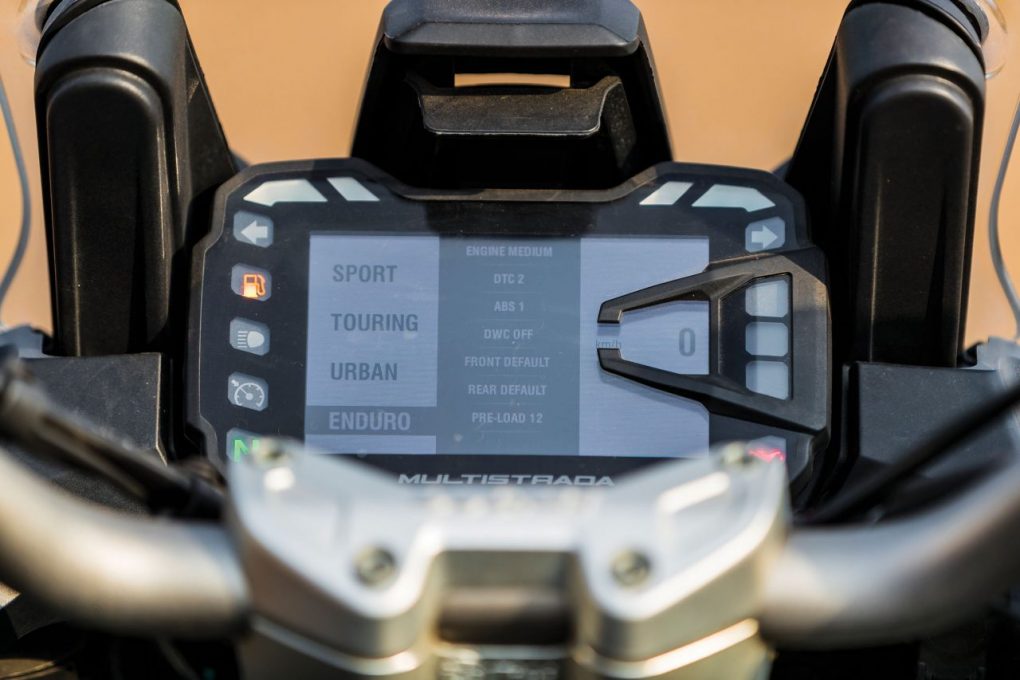 But let's bring a stepladder into the picture and climb aboard the gargantuan Multistrada Enduro. This towering goliath with the windscreen up is probably taller than more than half of the Indian population. It's one of the few bikes that involuntarily deters the general Indian itch of needing to touch everything. No passerby will have the gall to get within five feet of it. If anything, this bike does look like it will bite back. Just don't leave it in one place for too long or the Enduro will find its place in the Indian penal code as the newest banned food item. In this case, the beauty lies in motion. The more you keep moving, the more you will merge with the Enduro and completely forget that this is a hulking 254-kg mass of metal, fluids, plastic and whatever other material Hercules himself is made of.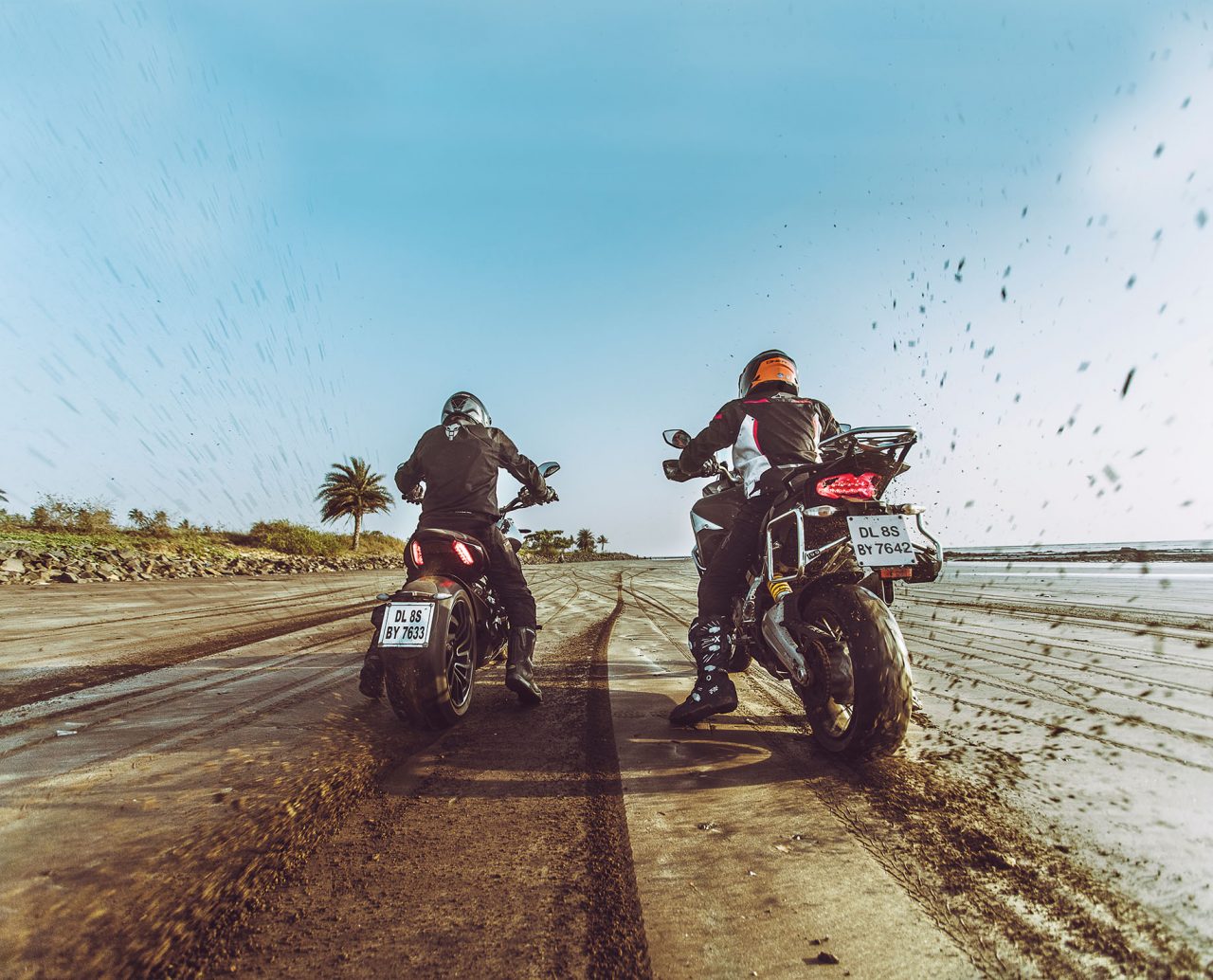 Time for the Enduro to play its ace — skyhook suspension. No, I'm not just making up some mythical name to go with the flow. This is electronically-controlled suspension that transforms the Enduro into a whole different animal. If you've got the size and muscle power to wrestle this monster to your will, it is the equivalent of having an off-road motorcycling orgasm. The 'Enduro' mode on the, err, Enduro, will flatten terrain like you wouldn't imagine. All you need is technique, will power, strength, experience, and a glistening pot of luck that will make all of this possible. So yes, anyone can ride these motorcycles. But it takes time, dedication, and bucket loads of energy to truly extract the crème de la crème of what these two can do. Elitist as it may sound, power is addictive. After spending a few days in the saddles of these two, trust me, it'll be all that you want to do as long as you have breath in your lungs. Ducati will keep pushing the ridonculous envelope; they're just that good at what they do. Let's just properly enjoy the spoils of this twin-cylinder sorcery. With the way electronics are going, one day in the future, we'll probably be nothing more than ornaments on whatever rolls off the factory floor.
You can have a look at more photos of the two in our detailed photo gallery by clicking here
MOTODATA
Ducati XDiavel S
POWERTRAIN
Displacement: 1262cc, L-twin
Max power: 150 bhp@9500 rpm
Max torque: 12.84 kgm@5000 rpm
Transmission: 6-speed
CHASSIS
Type: Tubular steel-trellis
BRAKES
(F/R): Twin 320 mm discs / 265 mm disc
TYRES
(F/R): 120/70 ZR17 / 240/45 ZR17
DIMENSIONS
L/W/H (mm): 2310/755/1133
Wheelbase: 1615 mm
Ground clearance: NA
Seat height: 755 mm
Kerb weight: 247 kg
Fuel capacity: 18 litres
PRICE: Rs 19.16 lakh (ex-showroom, India)
MOTODATA
Ducati Multistrada 1200 Enduro
POWERTRAIN
Displacement: 1198cc, L-twin
Max power: 150 bhp@9500 rpm
Max torque: 13.05 kgm@7500 rpm
Transmission: 6-speed
CHASSIS
Type: Tubular steel trellis
BRAKES
(F/R): Twin 320 mm discs / 265 mm disc
TYRES
(F/R): 120/70 ZR19 / 170/60 R17
DIMENSIONS
L/W/H (mm): NA
Wheelbase: 1556 mm
Ground clearance: NA
Seat height: 870 mm
Kerb weight: 254 kg
Fuel capacity: 30 litres
PRICE: Rs 17.99 lakh (ex-showroom, India)