Just look at that. It's a total of 319 bhp bathed in glorious sunshine; 111 bhp for the red-wheeled one and 208 bhp for the angry naked superbike. You can probably imagine the mayhem this pair generates — if not, let me tell you it's a poetic kind of carnage that they only make in Bologna. These motorcycles could turn anyone into a raving romantic, as most Ducatis have done over time. And it's a special kind of relationship between the two, too; the one on the right wouldn't have been possible without the other.
Everyone knows the Ducati Monster saved the company when it was launched back in 1993, and that led to the Streetfighter's birth in 2006. But history may be irrelevant here since these bikes owe little to it. Both the Monster Plus and the Streetfighter V4 S have nothing to do with their namesakes from the past; both have chosen to break away from tradition and blaze into the future. And if you thought naked bikes were supposed to be underdogs, well, they're not anymore.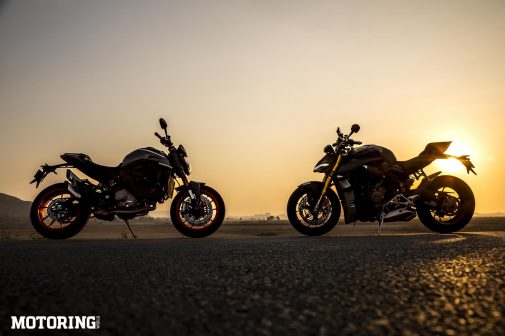 With the 1103cc Desmosedici Stradale V4 rated at 208 bhp and a dry weight of 178 kg, the Streetfighter is one of the most powerful production motorcycles ever made. That decidedly makes it an overdog, if there is such a thing. It starts up with the loudest idle I've ever heard, a deep V4 rumble that isn't for the faint-hearted and which immediately renders aftermarket cans useless. MotoGP-inspired winglets boggle the mind, and in case you were thinking that they're overkill, remember that this naked motorcycle is electronically limited to 299 kph and needs all the downforce it can get to keep that front wheel down. No one really wants a wheelie at 250 kph… do they?
With more electronic aids than ever, the Streetfighter can be as friendly as a Labrador puppy, even if it looks like a Rottweiler born in a nuclear waste dump. Even its clutch is light enough to ridge around town, the two-way quickshifter also working to keep things easy on the move. That's just as well, since opening the throttle wide in any of the first three gears verified that I didn't have nearly enough fingers with which to hang on to the handlebar. The Streetfighter was exquisite chaos, a sublime mix of outright power and electronic finesse.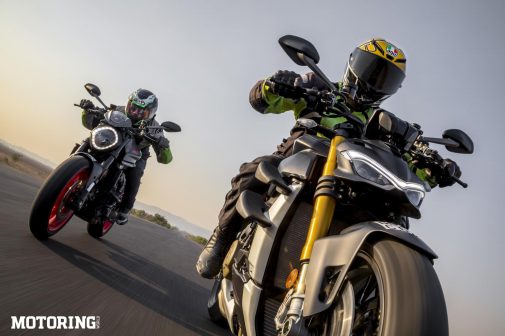 Riding modes almost didn't make a difference on the Streetfighter, so I left it in Race which seemed most apt for this monumental motorcycle. The digital dash looked best in that racy theme, with a redline marked at a dizzy 14,500 rpm. And dizzy is what every run past 10,000 rpm made me feel, too. First gear was good for 135 kph, and I gave up trying to glance at the speedometer on subsequent shifts. Hard acceleration on the Streetfighter went something like this: My head doing its best to stay as low as possible, even as the wind tried to rip the helmet off my head; the Streetfighter trying to raise the front wheel well past 200 kph, with a hair-raising bellow to match. I think 'Desmosedici Stradale' roughly means 'MotoGP madness that somehow reached the road'.
'Testastretta', on the other hand, means 'narrow head', and that's the V-twin that sits in the Monster. After the Streetfighter's prodigious performance, it was easy to refer to the Monster as the small bike, but I had to remember that it was still almost a litre-class machine itself. It was way easier to get along with, though, with none of the scares of the bigger Ducati. In fact, the Monster felt like I'd been riding it for years, and that welcoming attitude made it easy to ride fast right away. The Monster felt as accomplished as it ever has; even with 111 bhp manhandling a dry weight of 166 kg the bike was a picture of poise.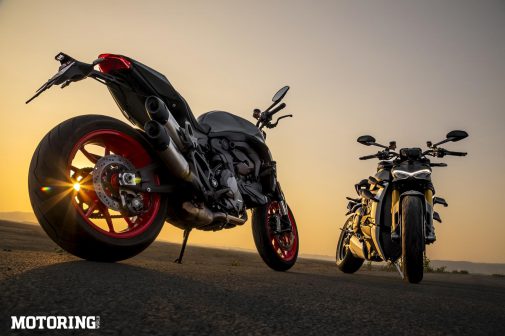 Now, some purists may have been crying foul at the Monster's new chassis that's been inspired by the V4's frame, but they really shouldn't. This bike is sorted in every way — and it makes more power and weighs less than the outgoing Monster, which is always a resounding success. Combine that with Ducati's plethora of electronic riding aids yet again, and you have a motorcycle that's willing to push as hard as you are. The Monster simply makes everything fast and easy, with that typical V-twin lilt accompanying its exuberant manners. Corner coming up? Two clutchless downshifts, throw it in, and hoist the front wheel on the way out. I didn't do the last bit, but you easily can if you'd like.
Despite being so different, the Monster and the Streetfighter showed some surprising similarities, the greatest of which was their comfort. Seriously, both bikes were right at home on all kinds of surfaces and conditions. And both seriously roasted my inner thighs in traffic, too, but I won't complain about that. I mean, all that power is going to generate heat, after all, and it was all good as long as I was above 50 kph. Anyway, for these two, everything is forgiven as soon as you lay eyes on them.
Someone once mentioned to me that the new Monster looked like a Kawasaki mixed with an MV Agusta. I fail to see why that's a bad thing, even if I don't see that particular mix myself. It's still very much a Monster, and that's all that matters. The Streetfighter, though, is naked superbike exotica. A single-sided swingarm, a 200-section rear tyre, and a tail that should be illegal. It's just slinky parts bolted onto that V4 to go as fast as possible. No wonder it's my new all-time favourite, even if it isn't a beautiful Ducati that'll launch a thousand ships. Perhaps a retro roadster around this platform, then?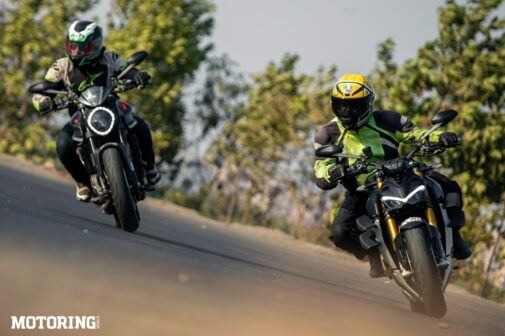 In the end, the V-twin isn't the exact half of the V4. It exists on its own merit, on its own terms, and it's more than what you'd expect. The V4, on the other hand, is Ducati's modern force of nature, a statement of high performance. And both Vs are utterly intoxicating. The Monster is the most modern version of itself, and is now near-perfect. The Streetfighter, meanwhile, is all forms of insanity in the truest sense of the word. And logic evaporates around these two fantastic Italian motorcycles with a common intent, but separated by intensity. The Monster will light up your day, but the Streetfighter will straight up set it on fire.