Look at the adjacent image, it might not be visible from here, but there's a three-foot drop to the ground beyond that platform's edge. It is quite nerve-wracking to see the front wheel of the XPulse less than three centimetres from the edge. As for the next sequence of images, anyone, including myself, could only imagine going off the edge and having a nasty fall. However, if you pay attention to my body position, it indicates a different outcome, which is exactly what happened. Shifting my weight to the outside, the motorcycle naturally tilts inwards, and is further nudged in with the application of foot pressure on the right peg. To be able to perform this kind of manoeuvre to correct the line at that moment, without panicking, comes only with a good amount of practice and experience. And these skills, and the level of alertness, are extremely crucial if you have a thing for off-roading, enduro, or dirt riding. Because, as much fun as it may look to ride a motorcycle off the tarmac, and at speed at that, things can get pretty nasty in no time.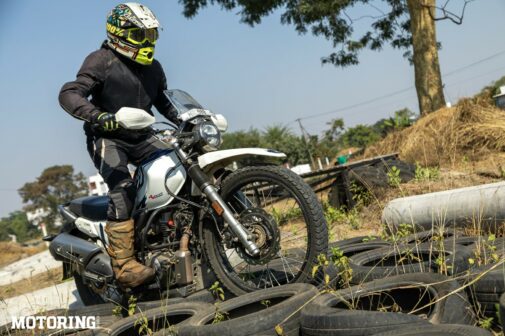 But, why am I telling you all this? Here at Dirtlogue100, which is an enduro track located on the outskirts of Pune city, is a new playground for off-road enthusiasts to learn and sharpen their motorcycling skills. The track is a creation of Autologue Design in association with the 100kmph apparel brand and Castrol Power1. The course has been designed by off-road rider Suraj Giri, who also doubles as one of the coaches at the enduro track. The challenging obstacle course is split into two tracks, running parallel to each other. While one is the expert track that involves a higher difficulty level for experienced riders, the other is a toned-down one designed keeping beginner off-road riders in mind.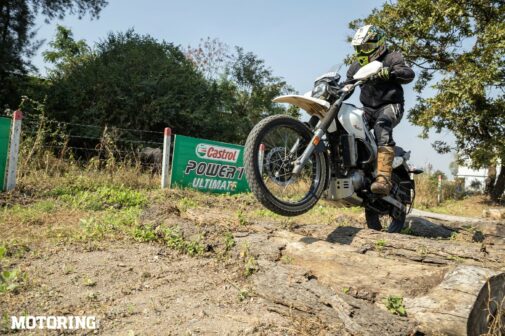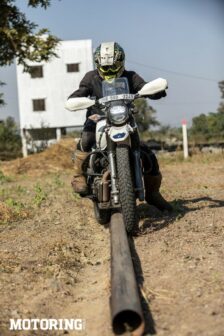 Now, I am far from a pro rider when it comes to off-roading, so my choice of machine had to be none other than the Hero XPulse 200. I have ridden the motorcycle on varying terrains and at multiple offroading events, allowing me to better understand what is happening at the two contact patches, and, in turn, have oodles of fun riding it. The same applies to beginners, and even to senior riders up to an extent, as the XPulse 200 is light, agile, and packs just about enough power to overcome all sorts of tasks. That said, in case you haven't got one, the folks at Dirtlogue100 have got an Impulse and an XPulse, available on a rental basis.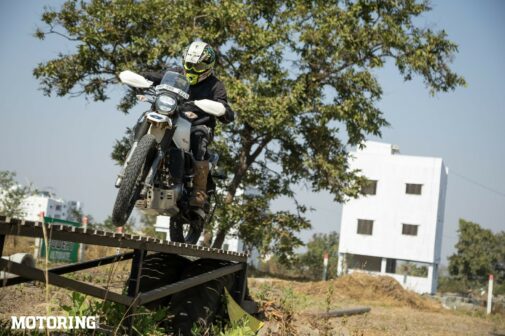 Moving on to the course, there are in all 12 obstacles that have been specifically designed to replicate the conditions that one could face when riding off-road. The first obstacle involves riding over a tree log that is substantial in size. The technique requires coordination of the clutch and throttle, while dynamically shifting weight to get across. The next obstacle involves riding over multiple wooden logs, requiring a steady throttle and sharp balancing skills to pass through. The difficulty goes up by a level with the next obstacle, which involves concrete pipes positioned in a criss-cross pattern, demanding more precise throttle control and balance. And if that wasn't enough, the next one was riding over a bed of car tyres, and that is after jumping over a concrete pipe! Get a grip on that.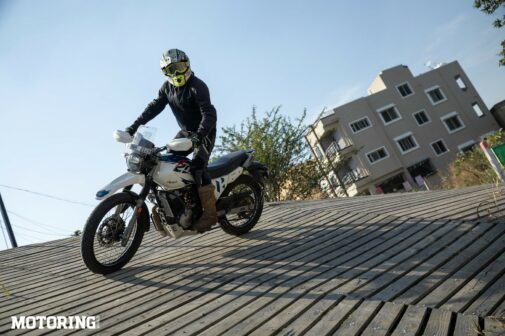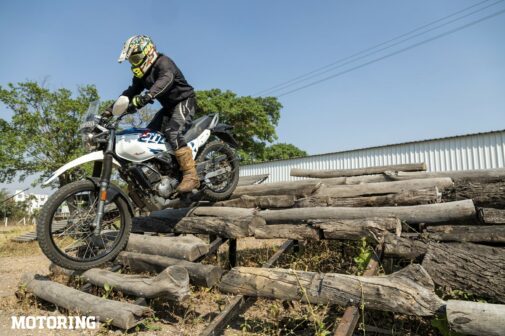 Here onwards, the course gets even more technical, involving banked elevations, narrow platforms (tyre bridge for the expert track), a bed of large boulders, and a sequence of various inclines and declines made of different terrains. The above-mentioned obstacles require the rider to be in-sync with the motorcycle's controls while maintaining a farsight of the path ahead. Last, but not the least, was the see-saw, wherein one needs to literally ride up on a giant see-saw, and time the speed of approach perfectly so that it tips over to the other side after crossing the balancing point. This, and the jump landing on the narrow platform, were by far the scariest of the lot for me. But, the important thing there is to listen to the coaches and consciously apply the technique. The second important thing here is to try and maintain a constant pace. To achieve that, one should always remember that 'Slow is smooth and smooth is fast.' Master that, and you are halfway to acing this course.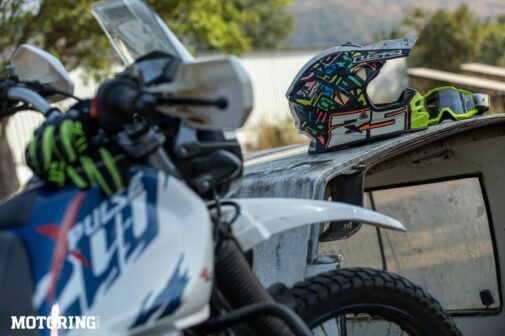 But let's be honest, this course isn't an easy one, but a rather technical one — a gym for those to ride off-road, go trail riding, or those who are into enduro. The cost per head is Rs 2000 per session. Courses like these will help one prepare and anticipate almost every obstacle that anyone could come across on a day-to-day basis, when your dayto-day is riding off-road. It helps to tune one's ability to know and trust their motorcycle better, and, in the process, also know what motorcycles are capable of.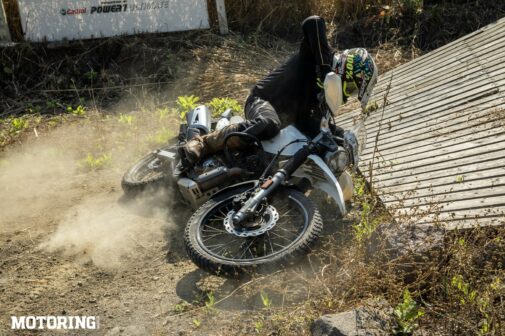 In hindsight, for a person like me who largely rides on the street, but is serious about motorcycling, a course like the one at Dirtlogue100, helps unlock a different dimension of riding a motorcycle. It has made me more relaxed and composed, while being alert and ready to perform the required action to avoid a sudden obstacle, rather than panicking.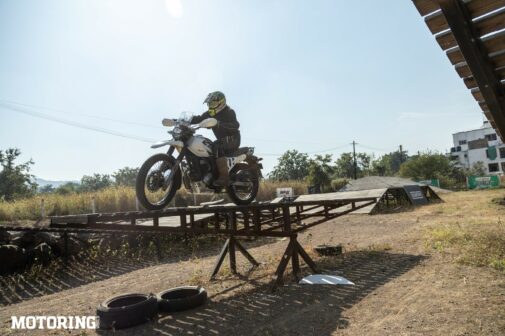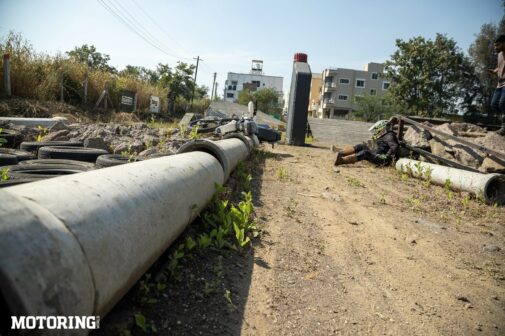 If you felt the obstacles at Dirtlogue100 are extreme, fear not, as Mukal Nanda, the founder of Autologue Design, has plans of having an ADV-styled obstacle course that will be more approachable, and there'll also be a trail course. Also, did I mention that they have a flattrack course as well? Experiences like these are only going to make one a better and safer rider on the street, which I can strongly believe is necessary from what I have witnessed over time. Now go, get your bike and head to Dirtlogue100 now! And even if you aren't planning on hitting the trails anytime soon, our roads aren't any less at duplicating similar environments.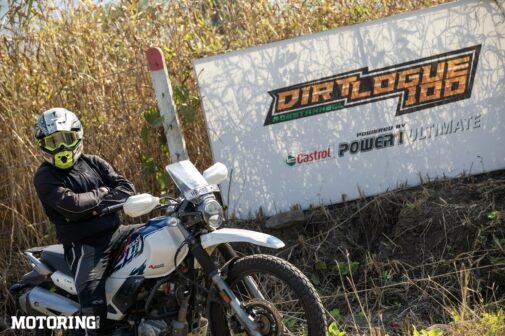 A big shoutout to Mukul Nanda and his entire team at Dirtlogue100 for letting us have lots of fun riding on the enduro track and get hands-on experience in training for riding enduro.