Now, this is what you'd get if David and Goliath were born to the same parents. Or perhaps if David was adopted from India via IVF. But it hardly makes a difference in the bigger picture — a GS is a GS if it wears the BMW badge. Right? Or is there an original strand of DNA that must run through a GS, no matter its size? Of course, I may as well be comparing Earth to Jupiter on the basis that both are planets, but since these are motorcycles, I may just get away with it.
Before we get to the G 310 GS and the G 1250 GS Adventure 40 Years Edition you see here, let's have a quick recap. The 'GS' name actually started out as 'G/S' in 1980 with the R 80 G/S, a slash separating 'Gelände' and 'Straße' declaring the motorcycle's dual intention of ruling both 'off-road' and 'on-road'. Typical modest German ambitions, no? Anyway, with the R 100 GS, from which this 40 Years Edition takes inspiration for its colour theme, the slash was dropped, and so were any opportunities for some great graphic opportunities. I mean, if you can imagine what a legitimate slash in the bike's name can do to its finery, you know what I mean.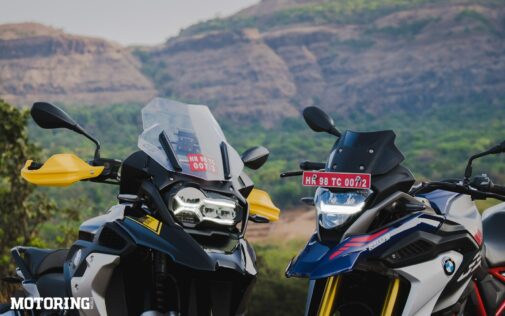 Eventually, the 'Adventure' suffix came along in 2002 with the R 1150 GS Adventure, bringing the GS squarely in the crosshairs of the thousands of mid-life crises it has solved since then. And if you ride an adventure bike today, you have the big GS to thank for it, no matter your brand affiliation. It's an important motorcycle, no doubt, and not just for BMW but for the segment it created and continues to dominate as well. The G 310 GS, of course, does no such thing but is a popular motorcycle anyway, and is the smallest example of the many GSes the biggest one has sired.
We only have these two members of the GS family on sale, with the 850 and 750 missing in action for now. It's probably because everyone goes straight for the biggest or the smallest one anyway, making the middleweight GSes a bit lost even if they're excellent motorcycles in their own respective rights. But it's the biggest GS that is truly outstanding, the sublime result of 40 years of Germanic refinement, with the emphasis firmly on the 'manic' in that word. Even effusive marketing 'prose' can't come close to describing how the boxer-engined marvel turns every ride into an unforgettable memory. And there are a number of reasons for this.
The R 1250 GS is ridiculously easy to ride, even if you may not think so while looking at it, especially if it's your first time. Right from the ease of wheeling it around off the bike to the one-finger clutch pull, the giant GS firmly insists on making life as relaxed as possible for its rider. Heck, it even comes with a centre stand, a feature so absent on big bikes that made me think, 'Shouldn't all road bikes have one of these?' as I looked glumly at my far-smaller KTM 390 Adventure. And then I noticed that the G 310 GS didn't have one, either. Sigh. 'At least my KTM has 10 bhp more,' I thought as an easy consolation.
Yes, the baby GS's 313cc single-cylinder makes 33.53 bhp at 9250 rpm and 2.85 kgm at 7500 rpm, and it weighs 175 kg at the kerb, running on to a claimed top speed of 143 kph — the most I saw with any kind of ease, though, was 130 kph, probably due to the holiday weight I've put on since November 2021. And that's why I preferred the R 1250 GS. With its 1254cc boxer twin putting out 136 bhp at 7750 rpm and 14.58 kgm at 6250 rpm, it can haul several years' worth of holiday binges past 200 kph.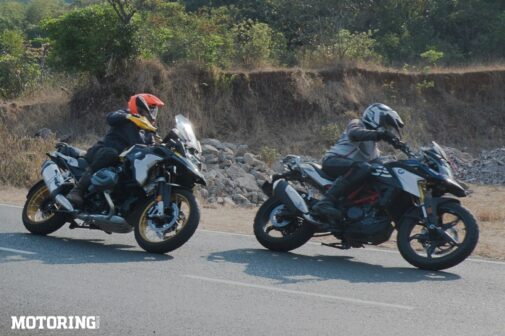 Indeed, that's what BMW claims for it, with a rather unassuming '> 200 km/h' on its website, and that's certainly what I saw on many occasions before running out of courage and/or road every single time. In fact, other than the Suzuki Hayabusa, the GS has been the one bike that I've frequently crossed the double-tonne mark on. Must be all the friendliness the two possess, and there's a story for another time, too. But the GS is its own epic to be told, with every single ride. I struggle to think of another motorcycle that possesses such consummate elegance.
With two big pistons worth 627cc each, there's a smile-inducing worth of torque sway at standstill. It's an immediate reminder of BMW's unique and persistent take on internal combustion for one of its flagship motorcycles, if nothing else. Then there's the even more eccentric Paralever front end and Duolever rear suspension complete with shaft drive, and these distinctive elements add a mountain's worth of character to the motorcycle. Sure, other bikes may be faster, but it's also certain that nothing else feels like the R 1250 GS. Its ride quality turns every surface into an autobahn, and despite its 249-kg kerb weight it still handles like a dream. With a bit of vagueness from its Paralever anti-dive front end, sure, but it's nothing that you can't get used to, and I did so a long time ago.
In essence, the R 1250 GS is a big bike that you can throw around at will, and you need shockingly little time to get used to it. And that's why it remains popular everywhere it goes. But I can't help but wonder — how can BMW make the G 310 GS into a proper GS? A twin-cylinder motor would help, of course, and a 500cc boxer would be the perfect solution. And perhaps a Paralever setup at the front, at the very least. Leave the shaft drive and Duolever out, since costs are a concern. As it stands, the rearward-inclined single-cylinder motor is quite a thrashy unit, though it is capable of respectable speeds. A lot of people like it, but I don't.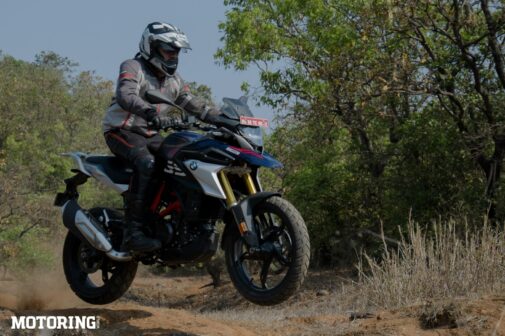 The only similarity I can force through is that the smallest GS also sways at both ends like a comfortable boat and that it has pretty good quality all around. But it's no GS, even if its stickers claim otherwise. That's quite strange, since I like almost all TVS motorcycles, and that's what it should've been, not a GS. Anyway, there might still be hope. And as for the big GS, my only complaint in the middle of an unexpected Indian heatwave was that the boxer's cylinder orientation threatened to pop my knees like much roasted popcorn.
But with everything else, the R 1250 GS is pure industrial finesse and it turns quality into an art derived from science. I've always believed that its long-standing asymmetrical headlamps have stood for its dual nature (this might be intentional, but I haven't read anything official yet). And the latest one's units, with two parallel lines and an X-shaped element, may be the perfect symbols denoting a highway and its off-roading inclinations respectively. Such twofold harmony is hard to achieve, especially on a face that a blind mother wouldn't love. The G 310 GS, on the other hand, is as inoffensive as the smaller-displacement category demands. However, with a BMW badge on it, it should've been much more.
The reason why anyone makes smaller bikes these days is to sell as many of them as possible. Big bikes escape this expectation to a large degree since they're all brilliant in their own ways. And 'in their own ways' is what gives them a character that guarantees a niche in the audience. It's also why the R 1250 GS has the biggest one of them all. Diluting the essence of a name into a lesser form is a tricky thing to achieve — and the G 310 is proof of that, even if it sports a high-quality character.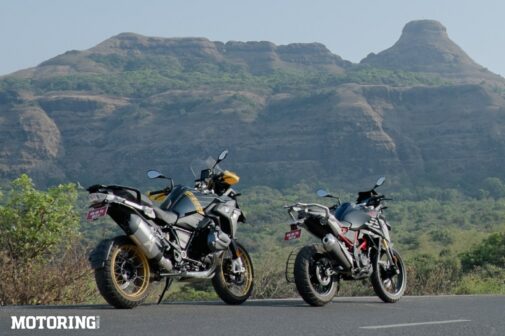 Someone asked me why BMW decided to make a 40 Years edition of the bike; after all, it's not a particularly special number like 25 or 50, right? And I found myself simultaneously thinking and saying out loud, 'Maybe BMW knows that when the GS turns 50, regulations won't be particularly kind to a big-displacement adventure motorcycle.' Later, it struck me that the littlest GS just might survive that legislative meteor strike. Maybe it'll all make sense in ten years. For now, though, the 310 tries its best to be a GS, while the 1250 is the best a GS has ever been.