For most of us enthusiasts, especially those whose veins run thick with the oily combustible remains of dead dinosaurs instead of blood, motorcycles are a compromise of sorts. Young ones like me love speed, so we get stiffly-sprung crotch rockets which are great as long as you are 'crotch rocketing', which, let's face it, we manage to do for less than 20 per cent of our total riding time. For the rest, we are roughing it out, with destroyed wrists and backs, for that final blast is worth it. Then there is the other spectrum. People who are no longer as young (I think that's me, too), who desire comfort, and would trade speed for a sofa seat and a soft suspension. Until they see aforementioned crotch rockets blast past and rue their choice. The one thing common to both, though, is they ride. A lot. KTM Dukes make it to Ladakh and Harleys go canyon carving on the weekend, both having a blast — albeit an uncomfortable one. But finally there is a category of bikes that seek to make life joyful again in its entirety — the power cruiser.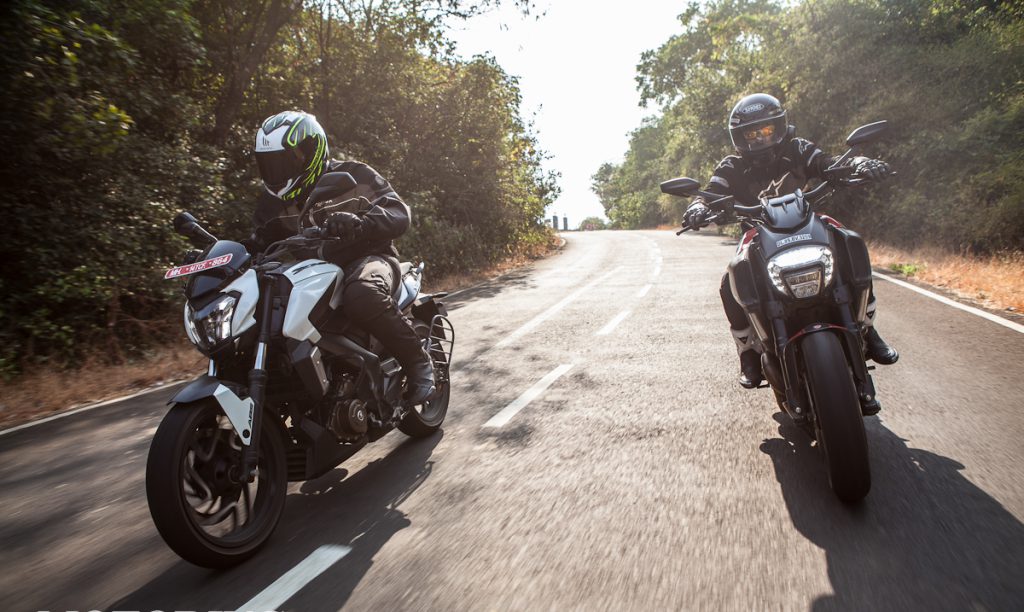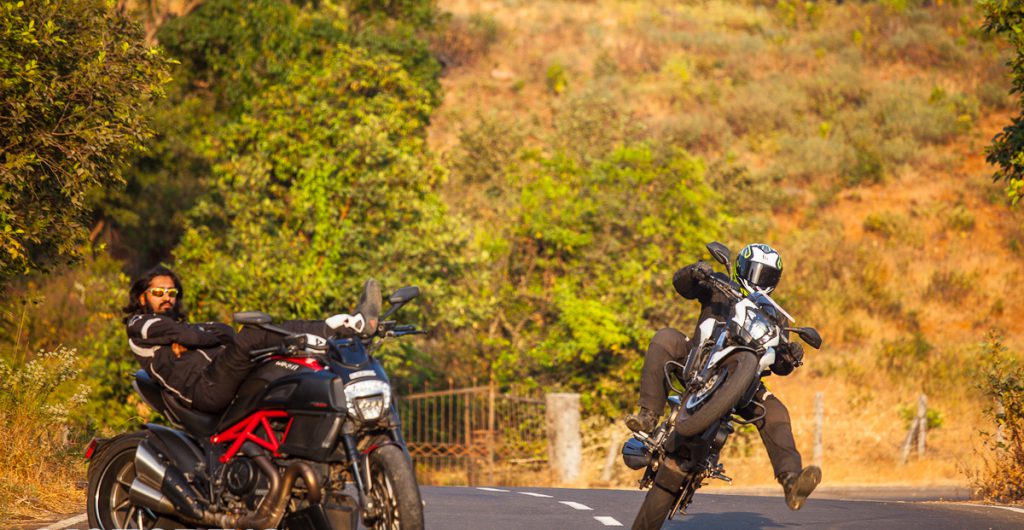 This new species evolved from the need to bridge that gap between cruiser and sportsbike; to satisfy an entire ride, not merely sections of it, and while bold manufacturers are few and far between, it was Ducati that took up the challenge with its Diavel. We didn't know what to make of it at first, as it looks like a stretched-out cruiser, has a rear tyre wide enough to cover your living room, and is a rocket in a straight line. But then it can also take corners with surprising lean angles and feels comfortably happy at the redline. And don't just write this off as marketing gibberish, for it really is true.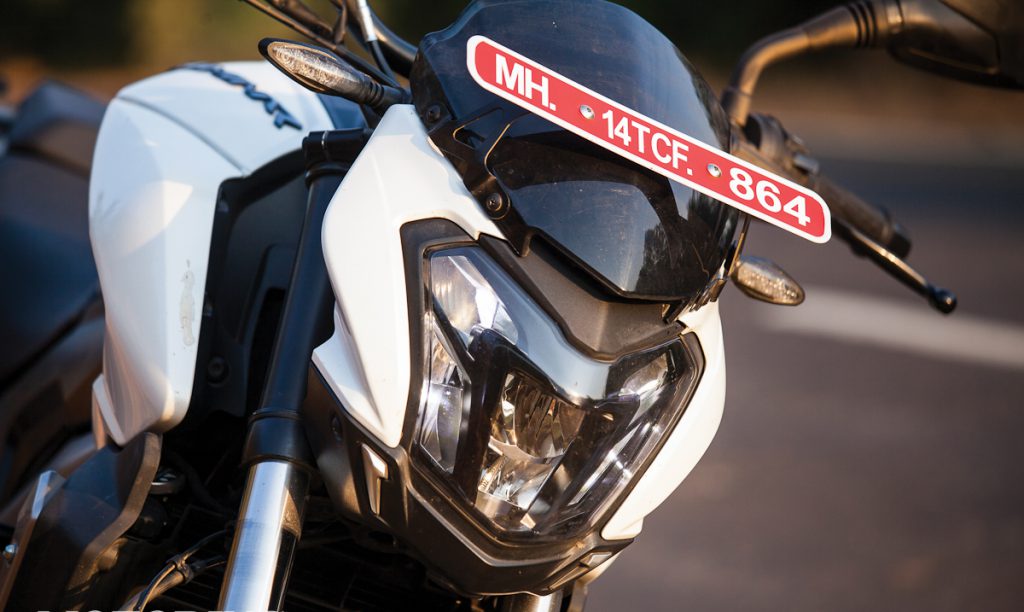 It belts out a healthy 162 bhp which is sportsbike territory, that too at 9250 rpm which doesn't sound 'cruiser' by any stretch. But then there are rider modes, one of which says 'Touring'. Slot it into fifth gear, keep the revs at 3000 rpm, and you can traverse the country comfortably at a sedate 80 kph as you sit cushioned in that bucket of a seat. Until you switch over to 'Sports' mode, of course. And then you better be really wide awake, for that will unleash a wild beast unlike any you've experienced before.
Whack open the throttle, and I guarantee you that the front wheel will come up. Shift to second gear and it will come up again. And yes, it happens in third, too, by which point you are well into highly illegal speeds, and all this accompanied by the loud crack of a gunshot as you shift up. Good thing that bucket seat also acts as a backrest to prevent you from hanging in mid-air as the bike makes a dash for freedom from under you. Ducati's choice of tyre also slowly starts to make sense. A 240-section rear, besides looking absolutely intimidating, provides the contact patch you need for that much power coursing through the bike that quickly. And by being shod with Pirelli Diablo Rosso II, the tyre choice of sportsbikes, the Diavel conveys its cornering intentions as clear as day. A novice like me managed to scrape footpegs on this behemoth of a bike, so rest assured this will give any litre-class crotch rocket foolish enough to challenge it a life-or-death run for its money. Comfortably.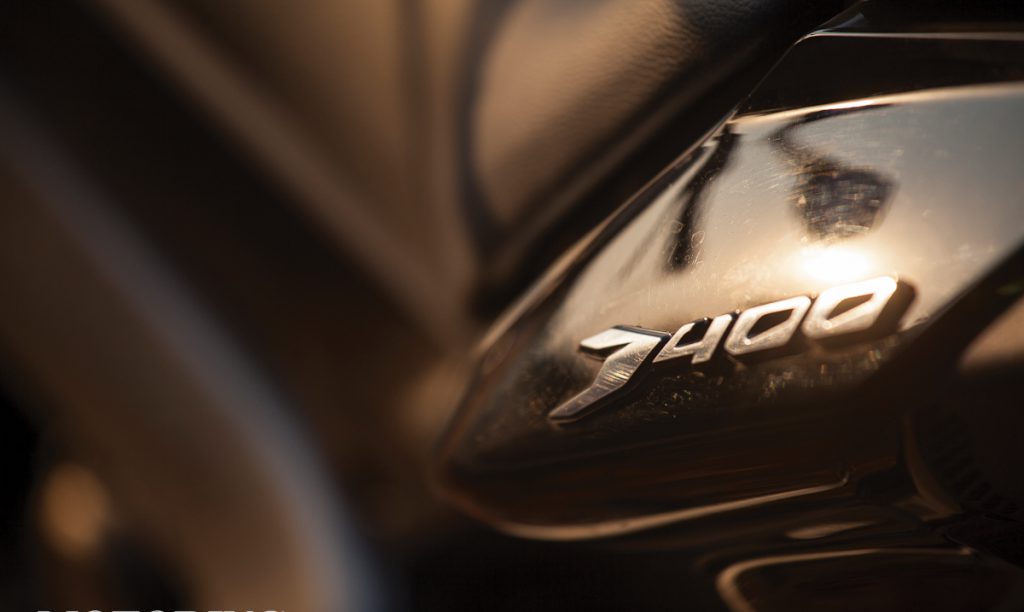 Bajaj has followed this golden recipe with the Dominar 400, whose heart is from one of the most aggressive single cylinders around, but fettled with some power-cruiser sprinkle to make it slower to 100 kph than its Austrian cousin, but so much more useable in every other scenario. It will not ruin your back on that 400-km ride and 100 kph is comfortable in sixth gear. And fifth as well as fourth. You choose, based on how excited you feel at that moment.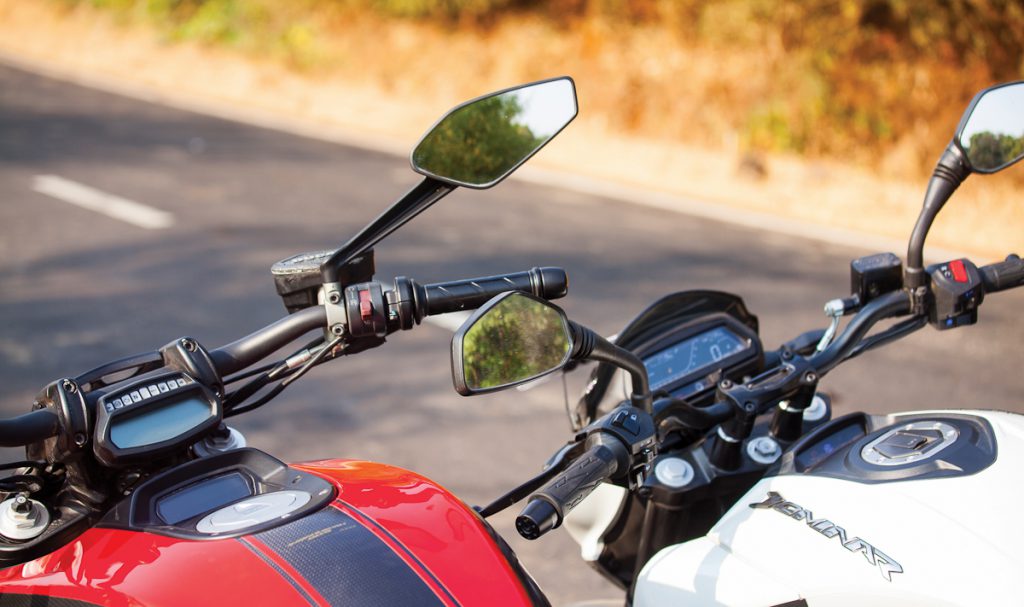 For excited you will be, whether you are riding the wave of torque between 4000-7000 rpm as you plod along pondering the mysteries of life or living out your canyon-attack dreams at the redline — it will keep you entertained. Also, have you noticed yet how every story on the Dominar done in every magazine/website has someone pulling a wheelie on it? No, it's not grandstanding journalists celebrating Wheelie Wednesday, but a testament to how temptingly easy it is to do so. Throw in some twisties as well and it will easily keep up with bikes bred for the track, with a superbly balanced chassis that inspires the confidence to push it further into corners. But it isn't all about speed and corners with the Dominar, for unlike those track bikes it happens to be quite comfortable, too, with a well-padded seat and a sorted riding position that will not warrant a call to a masseuse when you get off. Something you can use for the Mumbai-Goa excursion, then, a jack of all trades.
And these two don't disappoint visually either. The Diavel, well, it is Lucifer reincarnate, with headlights interspersed with white LEDs, carbon-fibre all over and golden-brown pipes. I imagine the design process was simple — they took a really soft mould, threw it in a wind tunnel and let the high-speed air do its job. It looks like an elongated drop, heavy at the front and tapering at the rear, and still so Italian. Bajaj, though, seems to have felt inclined to convey the Dominar's dual nature overtly. The front looks more 'prowling tiger' than 'bike', with the black-background headlights giving the sinister look of hidden power. This smoothens out towards the back, so viewed from the rear it looks a lot more sedate, but no less attractive.
Bajaj has made no qualms on their design inspiration either (imitation being the best form of flattery and all that) and that isn't a bad thing. Both have dual displays, the second one on the tank, just ahead of the fuel-filler cap. While they look very cool, it can get a bit hard to read them and concentrate on the road at the same time. And both have rears that will fill your mind with impure thoughts. The Diavel has tail-lights that can best be described as fangs. Snaking under the seat, those two slits still remain my favourite on any bike I've seen. Period. It has been a while since I've come across such photogenic bikes. Did I mention these pull at your heartstrings?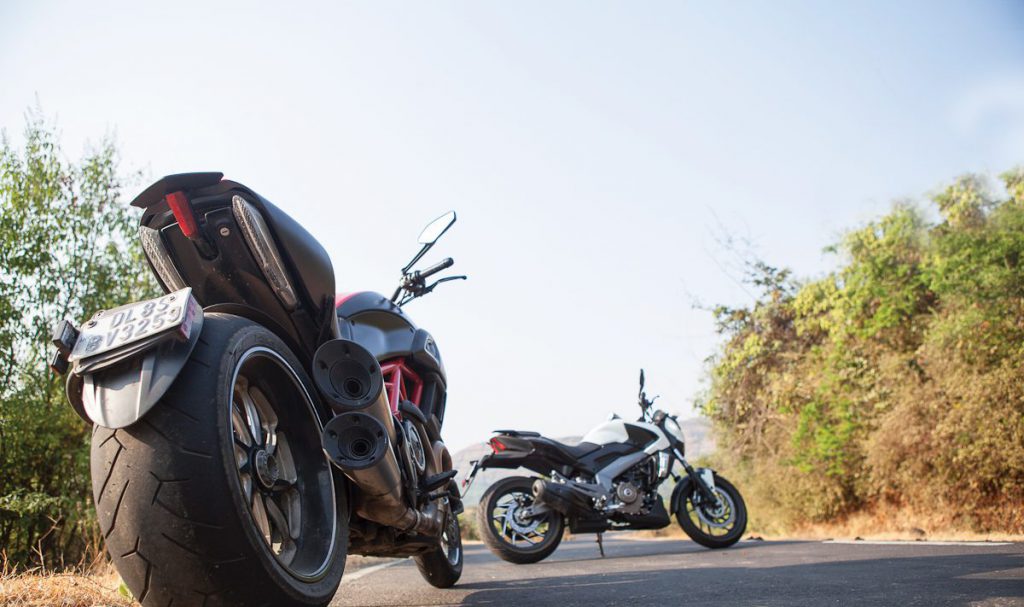 All this put together makes these bikes do something rarely found in this category — they make you want to ride more. No planning for good roads, they will comfortably take any. No need to specifically seek out twisties or straights, they will eat both. No need for short blasts or long tours, they've proven to be adept at either. These bikes really have managed the impossible. They celebrate all that is good about motorcycling and revel in the one thing that ensures the triumph of two wheels over all of motorised transport — the feeling of freedom. The kind that begins the moment you swing a leg over the machine, push the ignition and feel the piston-induced vibration under you. One that doesn't end till you get off, start walking away, then turn back and gaze at the bikes wondering, 'Why aren't there more like these out there?'
MOTODATA
Bajaj Dominar 400
POWERTRAIN
Displacement: 373.3cc, single
Max power: 34.5 bhp@8000 rpm
Max torque: 3.5 kgm@6500 rpm
Transmission: 6-speed
CHASSIS
Type: Steel perimeter
SUSPENSION
(F/R): 43 mm fork / monoshock
BRAKES
(F/R): 320 mm single-disc / 230 mm single-disc
TYRES
(F/R): 110/70 R17 / 150/60 R17
DIMENSIONS
L/W/H (mm): 2156/813/1112
Wheelbase: 1453 mm
Ground clearance: 157 mm
Kerb weight: 182 kg
Fuel capacity: 13 litres
PRICE Rs 1.44 LAKH (ex-showroom, Mumbai)
MOTODATA
Ducati Diavel Carbon
POWERTRAIN
Displacement: 1198.4cc, L-twin
Max power: 162 bhp@9250 rpm
Max torque: 13.3 kgm@8000 rpm
Transmission: 6-speed
CHASSIS
Type: Tubular steel trellis
SUSPENSION
(F/R): 50 mm USD fork / monoshock
BRAKES
(F/R): 320 mm dual-disc / 265 mm single-disc
TYRES
(F/R): 120/70 R17 / 240/45 R17
DIMENSIONS
L/W/H (mm): 2235/860/1192
Wheelbase: 1580 mm
Ground clearance: NA
Kerb weight: 205 kg
Fuel capacity: 17 litres
PRICE: Rs 18.67 LAKH (ex-showroom, Mumbai)