The Italians always did have a knack for making beautiful things with fine curves and exquisite proportions. I mean, take their pizzas, for example. Have you never whispered a blessing to the Italians while enjoying a pizza? But that is an entirely different matter. For now, let's concentrate on scooters, the Piaggio Vespa and the Bajaj Chetak, and their Italian design connection.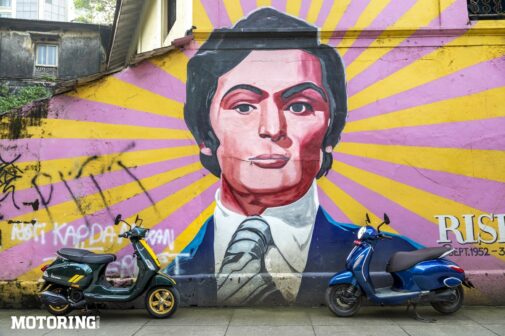 The Vespa got its name from Enrico Piaggio, the son of Piaggio's founder, when he remarked on its likeness to a wasp. Ever since its debut in 1946, the Vespa caught on pretty quickly with the public, especially after its claim to fame in the subsequent years through Hollywood. With Vespa clubs emerging out of the woodwork across Europe, these scooters found a neat foothold and were manufactured under licence worldwide.
Piaggio first licensed the production of Vespa scooters in India to Bajaj Auto in the 1960s. Upon its expiry, the Vespa-licensed design was replaced with an all-new in-house design that shared the same general appearance and style. Named after Chetak, the legendary horse of the Indian ruler Maharana Pratap Singh, it was an affordable means of transportation for millions of Indian families for decades.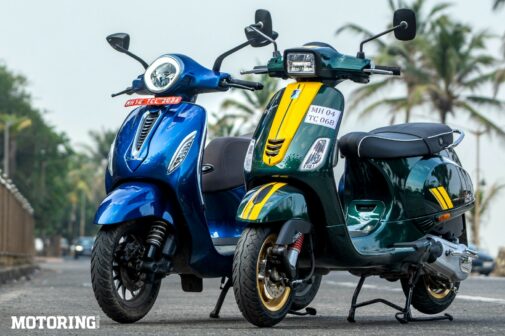 These two scooter brands have stood the test of time, and have now been updated to suit the current automotive market. To be able to put out a design that was relevant more than 70 years ago, and to acknowledge that it still remains relevant today is quite an achievement. Of course, there are changes here and there, but they maintain the grace and elegance of the initial models. What is interesting to see, though, is that Bajaj skipped the ICE phase and straightaway came out with an EV, while Piaggio went through the motions one step at a time.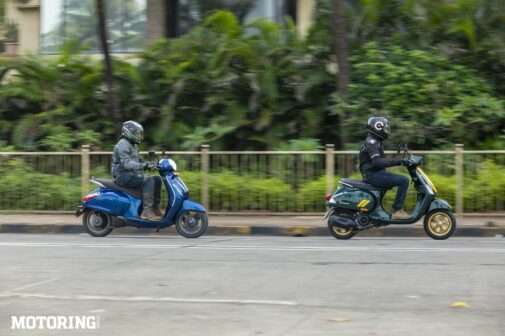 Now, the Vespa Racing Sixties is quite a sprightly thing with its 125cc engine and all its modern knick-knacks. A nice ride for a quick runabout through the just-wakening bylanes of the city. The new limited-edition colour scheme is also quite a looker, with people craning their necks to get a better look at the green and yellow blur that whizzed past. The scooter maintains the design and styling cues of the original, with its fair share of updates.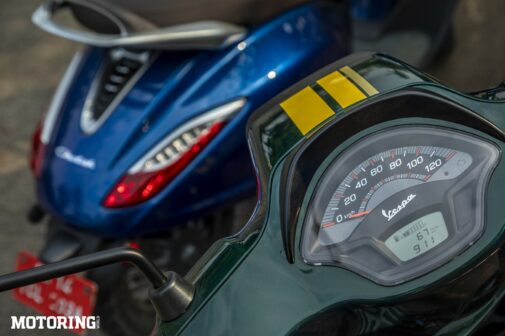 It managed to keep a very comfortable 80 kph on the highway, and quite smoothly at that. Sure it can go well past that, but that's not the point of a retro scooter. You need to be able to take in the sights, sounds, and smells (maybe not all the smells). That's how you enjoy life, with a whole lot of experiences made eventful by a few good things.
An element that has been preserved that I really like is the kick-start. It reminds me of simpler times, when one didn't have to worry about a battery or buttons to start the vehicle. The gold five-spoke alloy wheels are also a handsome addition to complement the overall look, and it really looks good. With the 125cc engine producing 9.79 bhp and 0.97 kgm of peak torque, it is sufficiently powered to be as enjoyable as possible.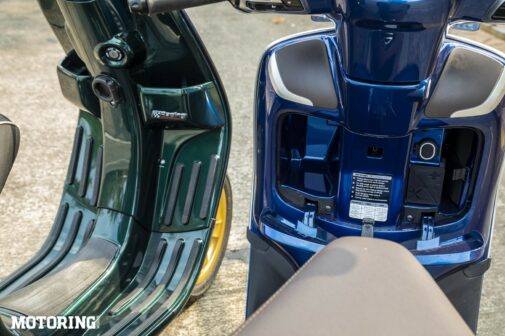 The Chetak EV, on the other hand, is a surprisingly nimble vehicle itself. With a range of around 95 km on a single charge, I felt it to be more than sufficient to run all of my daily errands, as well as a decently long commute to work. I put it to charge at night while I slept, and the next morning it was ready to do it all again. Quite a modern workhorse, wouldn't you say? Its intelligent regenerative braking kicked in every time I eased off the throttle, working hard to pick up the extra charge to boost the range as much as it could.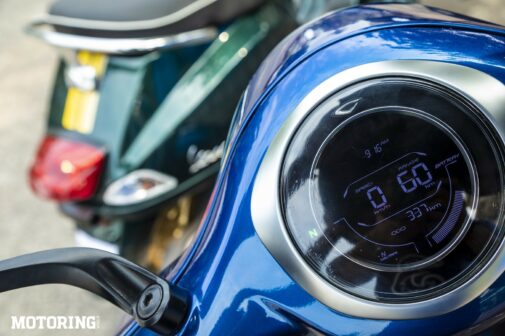 The simplicity of the switchgear and the digital display can only be attributed to good design, and the concept of staying true to the idea of a simple machine for the masses. Nothing too fancy, but elegant for sure. As it silently buzzed through the streets, it simultaneously saw a lot of attention, too.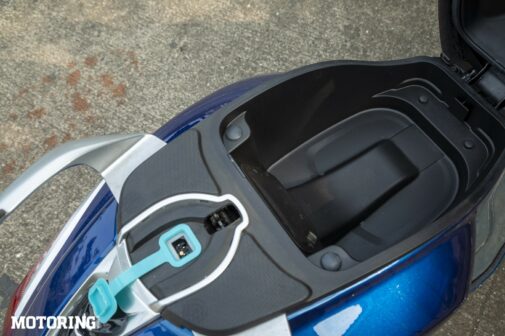 Two guys actually came up to us to settle their dispute on whether this was actually a Chetak and why it was launched only as an EV. I didn't really have an answer to the latter, but I assured them that it was a Chetak all right. That made me think, Chetak is a name that has made its place in the hearts of many Indian households in the past. It has been synonymous with middle-class working people, so can this new Chetak live up to that? From where I stand, it is very possible, and it doesn't miss out on being enjoyable in the process.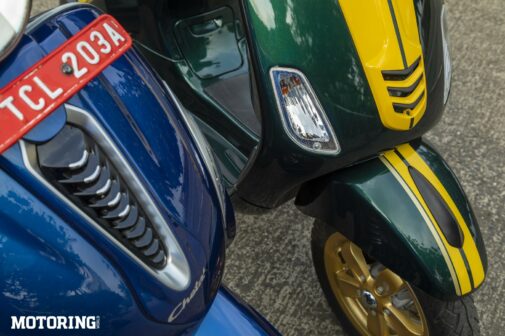 The build quality and finish on both scooters are commendable. They get a very premium feel all the way from the switches to the storage compartments. One does get to see the finer points of modern design and technology when you look at how far these machines have come. Smoother curves, seamless transitions from panel to panel and of course, the signature classic shapes. The same aerodynamic curves of what became an icon in pop culture worldwide.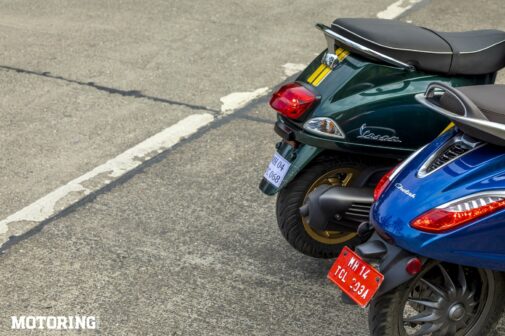 As much as both scooters seem familiar, they are all the more different and unique in their own way. For starters, they each have a very different powertrain, the Vespa being an ICE vehicle, and the Chetak, an EV. And while both have very illustrious lineages that were intertwined at one point, one must remember that the Chetak outgrew the shadow of the Vespa a long time ago.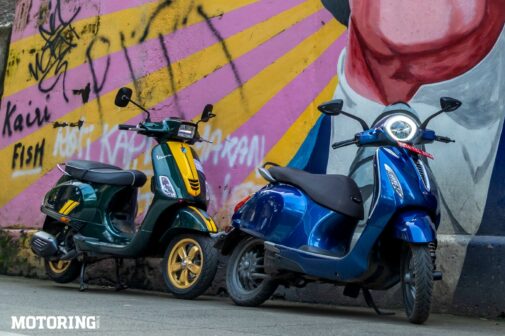 Both scooters score very high in the comfort department with the seating ergonomics being well sorted, and manoeuvrability being on point. Neither of them is made to cater only to a specific demographic when it comes to matters of who can ride one. Either one would look as natural being ridden by a young college kid on their way to a late-night party or a middle-aged uncle on his way back from a tiring day at work.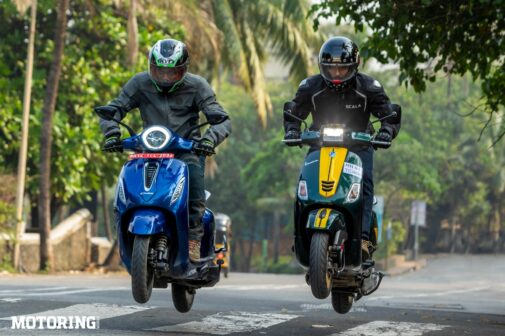 That was precisely what was running through my mind as we put the two head-to-head. Both had a similar concept of enjoying a laid-back trip, but then again, both were capable of being pushed for a little more of a thrill. Picture the two zipping through traffic, not stopping for anyone, and a perpetual smile pasted on our faces as we jumped every speed bump. Fun is the word for it, and both scooters will show you exactly what that means — it'll be through different methods, albeit with the same end result.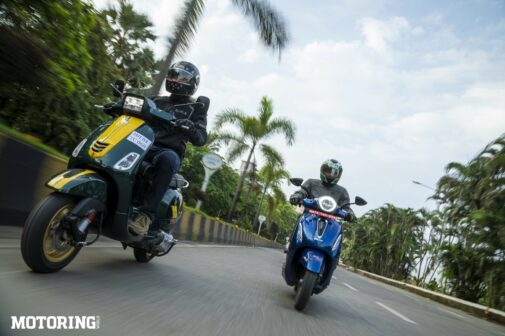 A group of old guys on their morning walk passed by us, and I could see the twinkle of familiarity in their eyes as they noticed the two scooters. There is something so unmistakable about these iconic silhouettes. And now, in their modern avatars, they're just a little more fun for everyone.
MOTODATA
Bajaj Chetak
POWERTRAIN
Motor:
Battery:
Peak Power:
Peak Torque:
Hub-mounted
3 kWh lithium-ion pack
4.08 kW (5.47 bhp)
1.6 kgm
TYRES
F/R: 90/90 R12 / 90/100 R12
DIMENSIONS
L/W/H (mm):
Wheelbase:
Ground Clearance:
Kerb Weight:
1896/724/1133
1330 mm
160 mm
118 kg
PRICE
Rs 1.40 lakh (ex-showroom)
MOTODATA
Vespa Racing Sixties CBS
POWERTRAIN
Displacement:
Max Power:
Max Torque:
Transmission:
124.45cc
9.79 bhp@7500 rpm
0.97 kgm@5500 rpm
Automatic
BRAKES
F/R: 200-mm disc / 140-mm drum
TYRES
F/R: 110/70 R11 / 120/70 R10
DIMENSIONS
L/W/H (mm):
Wheelbase:
Ground Clearance:
Seat height:
Kerb Weight:
Fuel Capacity:
1770/690/1140
1291 mm
155 mm
770 mm
115 kg
7.4 litres
PRICE
Rs 1.39 lakh (ex-showroom)