Once in a while, someone steps through the looking glass and ends up in a parallel world. The folks at Autoengina, based out of Pune, are just such a bunch. The lovely café racer you see on these pages, accompanying the red first-generation Bajaj Pulsar 150, is called The Splittin' Image and is literally a parallel world — it's a 300cc parallel twin! No, Bajaj didn't secretly launch such a motor, it was Autoengina who made it. I suppose even they got tired of waiting for the manufacturer to make a twin and decided to lead by example.
The old Pulsar is here for nostalgic indulgence and to serve as a vantage point from which to contemplate the custom machine, one that has two DTS-i heads powering its 300cc heart. It's easy to pass off the custom twin as just another louder-than-thunder café job; its proportions are spot on and only a close look reveals the blacked-out twin hiding in plain sight, at which point any person interested in bikes will end up squatting next to the bike, scanning the motor from all possible angles as much as a head shaking with disbelief will allow.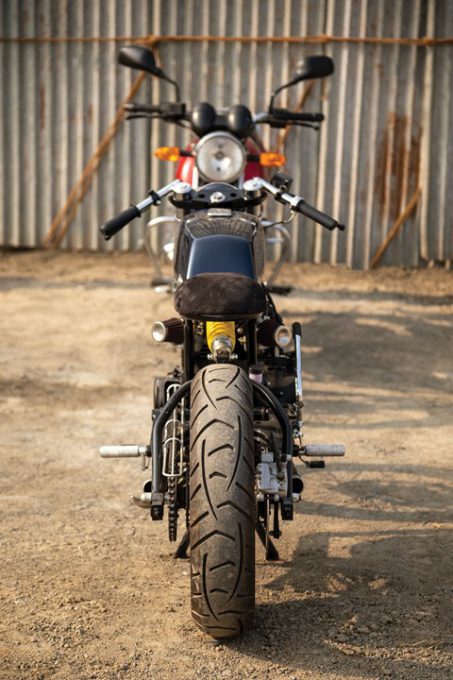 The Autoengina team essentially fabricated a crank and a crankcase, and bolted on two Pulsar 150cc heads, though the process is undoubtedly not as simple as I made it sound. Twin pod-filtered carburettors feed the cylinders; it's not a high-tech job or anything, just a simple yet audacious attempt at creating a unique motorcycle. The rough total cost of the build was Rs 2.2 lakh, around Rs 1 lakh smoked by the motor itself. Parts from a bunch of other motorcycles make up the custom: the front fork is off a Dominar, the front wheel is from a Royal Enfield, the rear wheel is from an FZ-16 converted to a spoked unit, the monoshock is off an R-15, and the brakes are from Pulsars. The Autoengina team must've been excellent at integration in school
However, the star of this show is that motor, and it's only the third homemade twin I've ridden so far. The first was a Royal Enfield-based V-twin and the other a Yamaha RX 100-based parallel twin, and this Pulsar-based one is bang between those two. It's not as complicated as the RE effort and not as simple as the two-stroke. As I looked at the old Pulsar, I realised there was another unforeseen-yet-welcome reason for its presence — to come back to sanity after staring at The Splittin' Image for too long. Not that it mattered once the latter came to life.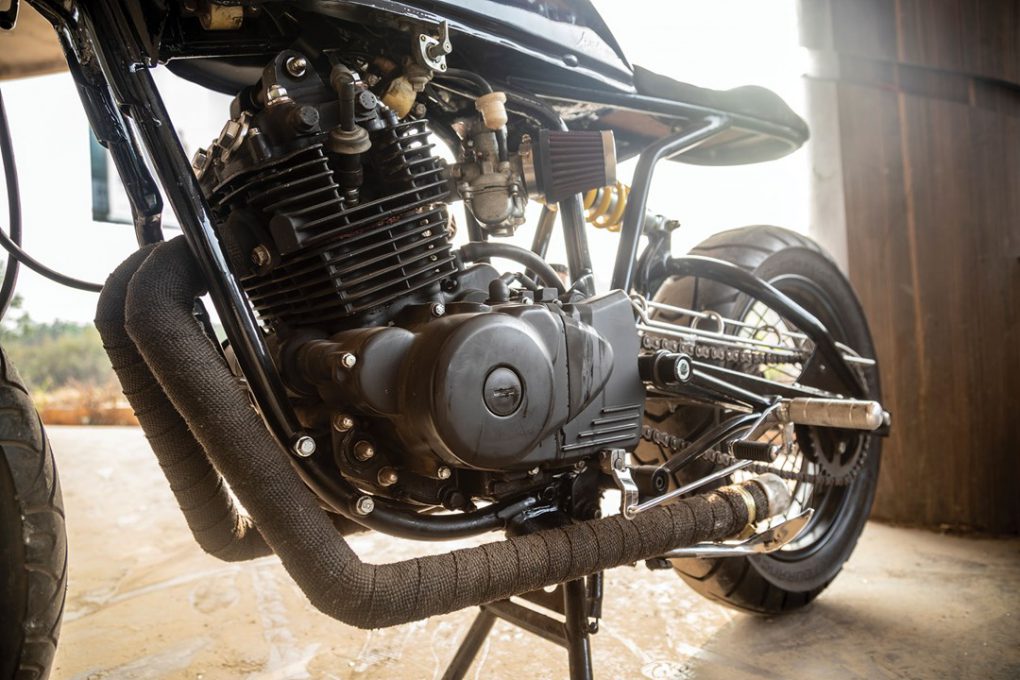 This particular old Pulsar was the base version, so it didn't have an electric start; the last time I saw a blank where the starter button should be must've been when the bike was first launched 18 years ago. Coincidentally, the custom bike features only a kick starter, too, a similarity that connected the old machine to the newborn one. Heaving down on the kick, The 'Splittin'' part of the bike's name made complete sense as it shattered eardrums for miles around. For no reason at all, the image of Frankenstein's monster roaring to life, and settling into a confused idle, came to mind.
Thanks to the free-flowing air filters and freer-flowing exhausts that are essentially open pipes, the twin revved quick and smooth. Of late, the bike had developed a bit of valve clatter, so I had to be gentle with the throttle; apparently, the cure is to use valves from a KTM 200 Duke that are more capable of handling the stresses generated by a twin rather than the humble ones of the Pulsar. Even so, the Image was reasonably enthusiastic in the way it moved, despite some slip from the stock Pulsar clutch; apparently, the cure is to use a Pulsar 220 clutch. As anyone who'd ever taken up the noble cause of a motorcycle project will attest, these things are never really completed.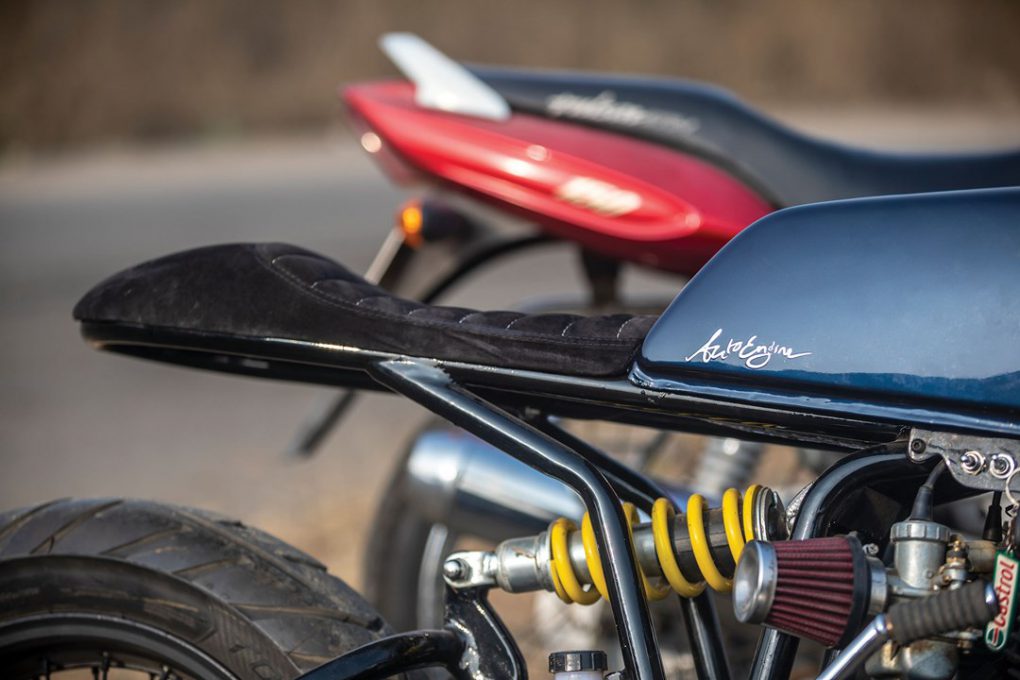 With the all-too-familiar sensations of a home-built motorcycle, The Splittin' Image is great fun to ride for short blasts. The dedicated café racer riding position makes sure of both, the 'fun' part as well as the 'short' bit. That stinger of a tail was actually not as uncomfortable as it looked and it looked superb, of course, picking things up where the KB 100 tank left them. However, grabbing a handful of throttle scattered any and all thoughts to the wind. On a dyno run, the twin printed out 25 bhp and 3.0 kgm, reasonable numbers by any standard; mechanical losses mean that adding a piston does not double the horsepower of a stock bike.
Acceleration is vivid enough, though the gear shifts were a bit too clunky for my liking. Handling, on those fat tyres and with a weight of around 180 kg, was more stable than nimble. And the brakes worked perfectly, so I avoided riding this one-off into a ditch or a tree. Above all, I felt I was committing a crime riding a bike this loud. I just wish it had less noise and more sound. And as I wished that, I realised that whatever I say about this bike is academic anyway.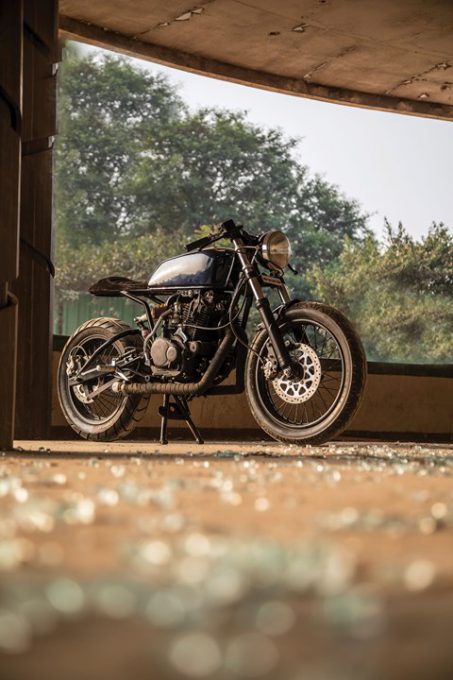 It takes a lot of effort and passion to make something like this motor, and those two things stand on a base of understanding how things work. To do what manufacturers won't, to produce something individuated, that's the spirit of custom motorcycle culture. And, as this case shows, sometimes there's more to it than a handlebar swap or a paint job.
Later, sat on the old Pulsar after taking it for a spin, I sat wondering. The old bike still felt so good; the smooth motor brought back memories of my own Pulsar 180 on which I started my real motorcycling life. If you'd told me back then that I'd one day ride a Pulsar twin made by someone other than the factory, I'd have laughed them out of the bar. And yet, here it was. And it was dangerous hanging around people who made it, too, as evinced by the gradual increase of thoughts in my mind concerning a KTM 390-based twin. Got a bit too close to the looking glass, there.