DUCATI STREETFIGHTER V4S VS MONSTER 950
There is heft and there is Ducati heft — lithe, potent and with just the right hint of muscle in them there! The Streetfighter V4S (closest to camera) at rest with its sibling the Monster 950, shot at sundown on the outskirts of Mumbai, after a hectic dash to delight and basking in the soft hews of the evening. So whether you want the powerful but heavier vee-four or the lighter vee-twin, both are potent enough to get you in and out of trouble should you want to venture down that slope.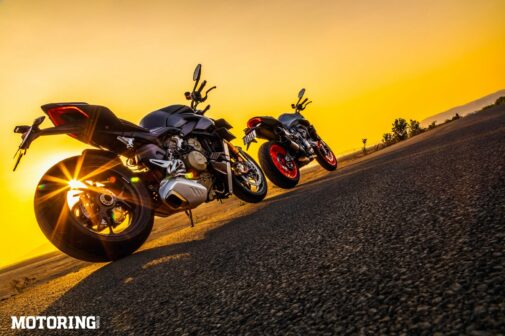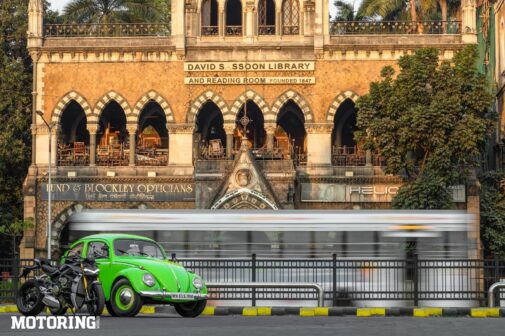 VW BEETLE VS DUCATI STREETFIGHTER V4S
This isn't an optical illusion but a bombarding of delightful atoms for respective dyed-in-the-wool enthusiasts on two-wheels and four! The only symbiotic link between the two are the number of cylinders both vehicles pack, a Vee-four in the latest Ducati Streetfighter V4s and a boxerfour in the 1960 Volkswagen Beetle. Don't know who is envious of whom?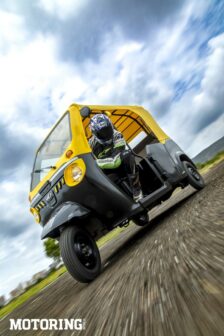 MAHINDRA TREO
An autorickshaw might the most cost-effective last mile commuter taxi in the country but when it's the all-electric Mahindra eTreo we could resist finding out if all out torque from standstill would shock or soothe the passengers! Well, thankfully we didn't test with a complement of paying passengers, but our man Janak did well to haul this three-wheeler in a more hooliganistic manner than what most — if not all — rickshaw operators are feared for!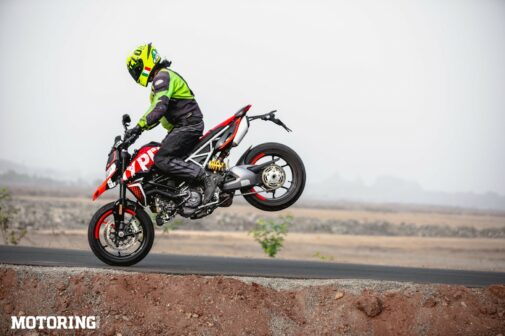 DUCATI HYPERMOTARD 950
The dynamic art of not giving a $%#! but plugging on regardless, just to save that tiny ladybird beetle you spotted crossing the road from being crushed by the mighty and highly versatile Ducati Hypermotard 950RVE. And no in case you thought we had hired #Vale46 on to our road test team, it is only our hardworking editor Kartik Ware trying to perfect his best Rossi imitation! Wrong answers only please if you agree to what I said fits!
YAMAHA RX100 VS KINETIC HONDA DX100
Heartthrobs of the young set in the 1990s. The RX100 set the benchmark for all tiny performance-oriented commuters for the masses since 1987 while the Kinetic Honda set the bandwagon rolling for all twist-and-go scooters that dominate to this day.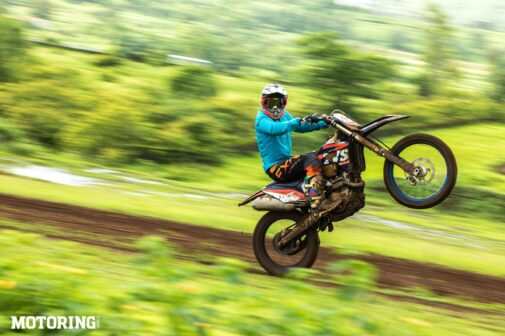 RUGVED'S WHEELIE
Practice makes perfect and even though he had wrapped up his Indian MX title, he still wanted to keep his edge intact, readying himself for 2023 to defend his hard-won crown. Ah yes, that bloke popping a wheelie just for me aboard his works TVS RTR 450 FX is localite Rugved Barguje putting his bike through its paces. Who says you can't have fun on a single wheel!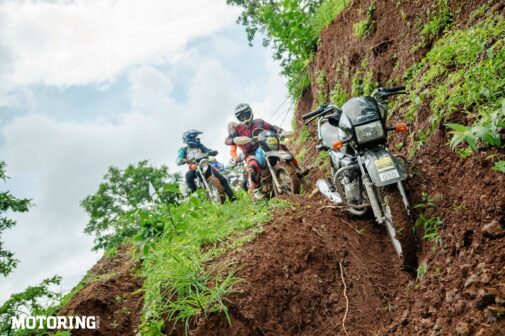 PUNE OFF-ROAD EXPEDITION
Single file on the second day of the Pune Off-Road Expedition and it might look as if this puny little Hero Splendor is stuck (yes it was) but amazingly it managed to complete both legs of this arduous event confounding everyone but its brave pilot! Of course, the latter had learnt his lesson by the end of the event and vowed to come back with an XPulse next year.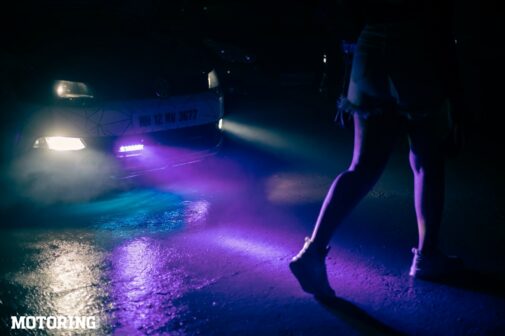 PUNE UNDERGROUND
Noise, lights, legs, wheels, glazed looks, graffiti, and an ambience where the zombies would feel at home, the latest Pune Underground Festival had it all in ample quantum.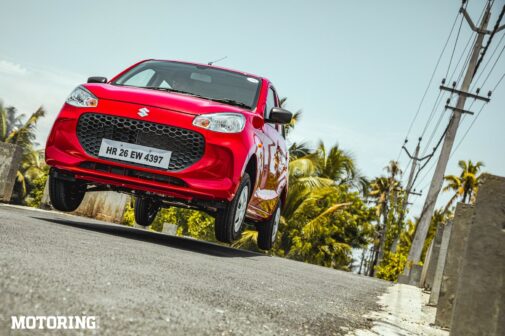 MARUTI ALTO K10
Who says you can't have fun in small pint-sized doses? The new Maruti Suzuki Alto K10 proves this adage impeccably as we hustle it through the tight and narrow hilly roads. For a beach resort to have such roads meant that sun and sand were never far away, and a small light projectile was the way to explore.
PUNE UNDERGROUND LAMBO'S
The owner of this Lamborghini Huracan was trying to put across his 'Definitely Male' perspective to his neighbour who had sized him up with a Lamborghini Aventador! Ah, the juvenile games the boys play, where such subtlety helps?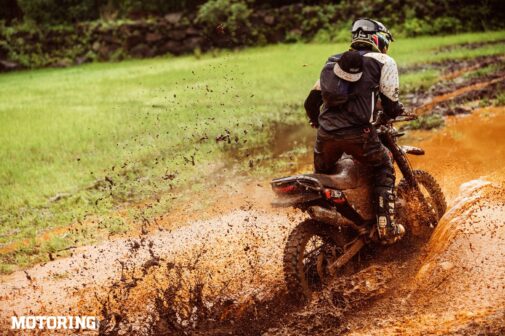 PUNE OFF-ROAD EXPEDITION
We love the monsoon, and we love the slush fests this magazine and its staffers are renowned for when the heavens open up! Dirty dancing in the right honourable manner is what we enjoy. So, when we had an opportunity to dance dirty, we were upstaged, for once, by Sunny Dhore, a Puneri enthusiast out to put his Hero XPulse 200 in the manner intended!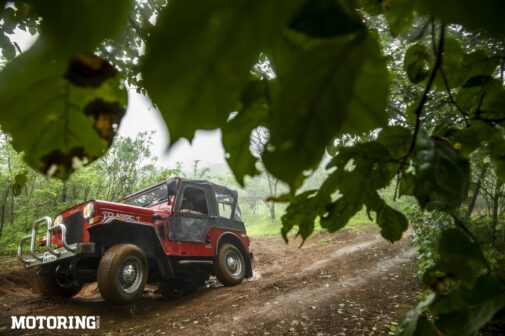 MAHINDRA CLASSIC
This Mahindra Classic 340, probably the last of the flat fendered line of Mahindra Jeeps, is a cult classic. Replete with wire wheels no less, and even to date it tackles the tough off-road courses at the Mahindra Adventure Academy at Igatpuri with aplomb!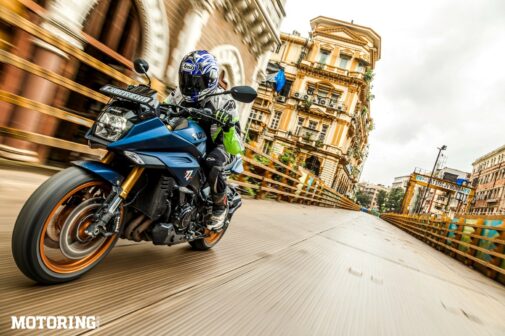 SUZUKI KATANA
That sharpest of Japanese armament before the invention of gunpowder was the Katana wielded by the Samurais and Shoguns. In modern times, the former has also been used to great effect by Suzuki to slice through streets. The first-gen Suzuki Katana was a terrific style cum performance tour de force but in its new avatar, its potency seems to have been enhanced.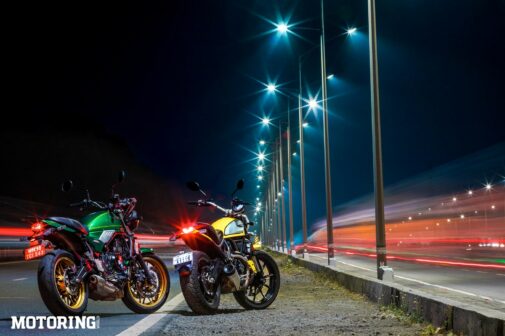 KAWASAKI Z650RS VS DUCATI SCRAMBLER
Starry middleweights and mighty capable all-rounders both are the Kawasaki Z650RS and the Ducati Scrambler and it is tough to pinpoint which of these you would like to ride every hour of the day! Both have their own intrinsic strong points but at the end it all boils down to whether you want Italian sizzle or Japanese rationality and surprisingly both work brilliantly! That yet doesn't answer my own question, I say!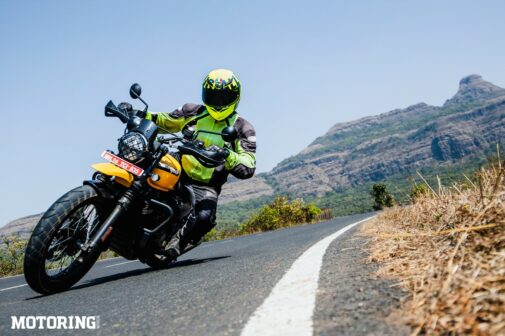 YEZDI SCRAMBLER
Classic Legends sure pulled out all the stops to get along Vale46 to put their spanking new Yezdi Scrambler through its paces and probably what did it all add up to was a fine medley of sunshine yellow with fluorescent green flashing by on the outskirts of Lonavala!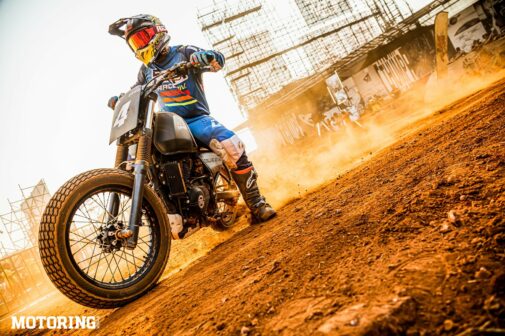 RIDERMANIA GOA FT411
Hrishi 'Mad' Mandke takes the Royal Enfield FT411 and slides through one of the many turns on the flat track circuit at RiderMania 2022. It is that happy and intoxicating art of trying to slide with poise and just enough adhesion to make the next corner. It is not for the fainthearted but once mastered it rewards the rider with an adrenaline rush that unlike anything else.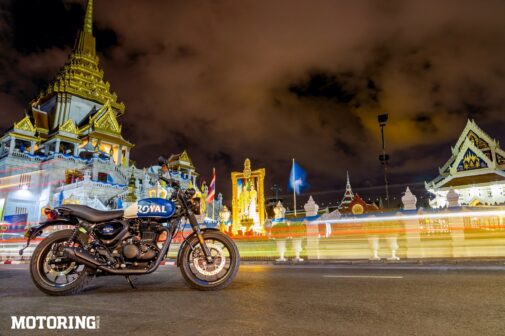 ROYAL ENFIELD HUNTER 350
Golden hues, richly rewarding urbane areas to explore and then enough calm and solace once one has finished with the hunt! Yes, that Hunter 350 is probably the most revolutionary departure from the norm for a Royal Enfield ever. Term it a lite 350cc commuter for the masses and suddenly you have a buzzin' big bee out to terrorise 100cc commuters in the peak hour battles.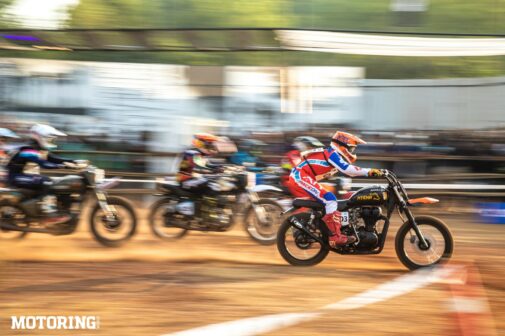 RIDERMANIA GOA
If there was an award for poise, stance, body balancing and the art of foot peg hugging perch, then it would be tough to beat this guy who got the hole shot at the start of one of the dirt track races at RiderMania 2022.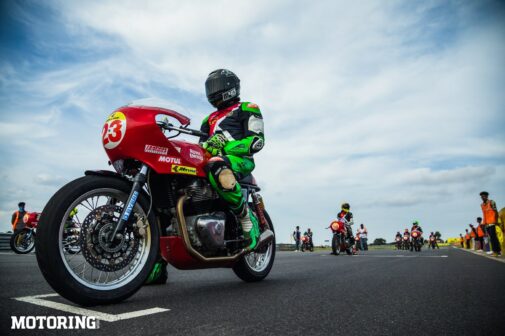 RE CONTI GT-R650
Snub-nosed Bullets on the grid waiting for shots to be fired, er, the lights to turn green for the very welcome Royal Enfield Continental GT Cup at the Kari Speedway in Coimbatore! The Conti is the new Bullet for the racetracks. They look good and sound even better while going like the blazes and this is proverbially the calm before the storm until four-stroke exhausts drone into life.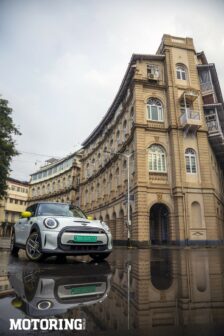 MINI COOPER SE
The meeting of the traditional and the ultra-modern meet and illustrate how both can survive, even weathering storms that mother nature can unleash at the snap of the fingers! The all-new electric Mini SE (that green registration plate gives away its heart) rests at Mumbai's iconic Horniman Circle, just drenched thanks to an impromptu shower yet soft and mellow and very welcoming for owner and passersby.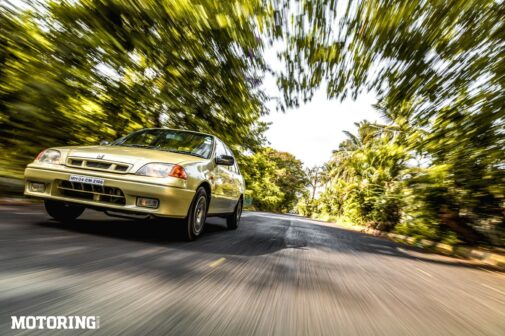 MARUTI SUZUKI ESTEEM
A true blast from the past when Maruti Suzuki used to make the most loved sedan of the country. This Esteem has been tastefully and sympathetically restored to its original glory. It has that 1990s poise with smooth fluidity in all of its five cogs. Some cars never age but here this Esteem hasn't been allowed to age or fade away!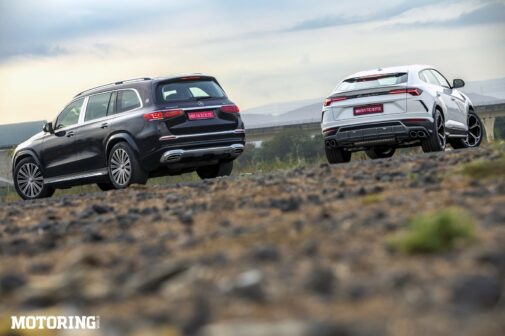 MERCEDES-BENZ GLS600 MAYBACH VS LAMBORGHINI URUS
Battle of the SUV behemoths, what will work best for you? The Urus is the most effective tyre shredding SUV out there with a growl that is addictive. The Maybach is the purveyor of old-world charm with modern day technology that doesn't even sweat a bit even after making that Delhi-Poona dash in less than a day!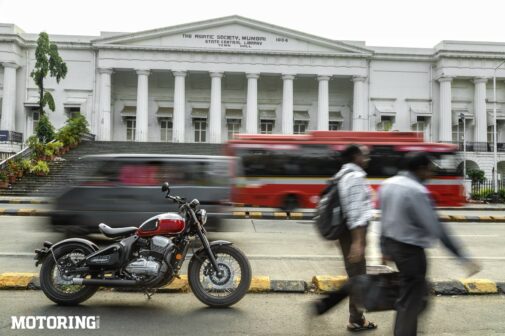 JAWA 42 BOBBER
Cozy rider? Lazy rider? Well, it's the power of 42 as the universe beckons that this is what will take you all around and everywhere in your lifetime and maybe that's what the stylishly slicked out Jawa 42 Bobber hints at! There are oodles of Yankee cruiser charm with a pronounced Czech-ered turnout!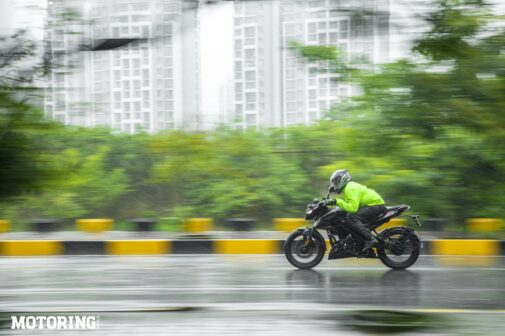 BAJAJ PULSAR N160
Many a time we speak about baptism by fire but here it was truly a baptism of dunking into swathes of water and the Pulsar N160 surfed through it all, poise, grip and sharpness of throttle making it a strong commuter tool to take the long way home every day.