Something felt… off.
I was on the Honda Nighthawk 650, riding it down a near-deserted stretch of the East Coast Road in Chennai, and it felt like I was absolutely tearing it up — but the speedometer only indicated 100. My brain, struggling to compute this while dealing with the physical sensations coursing through my body, finally kicked into action. 'It's 100 mph, stupid,' it chuckled. Considering how long I've been dealing with all things automotive, I should have known from the start that a motorcycle made for the American market would have a speedo calibrated in miles per hour, but there you have it; I made a rookie mistake.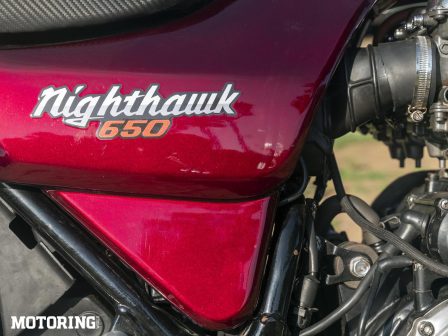 Once the light dawned, I cracked a big grin and wrung the throttle to the stop. The Nighthawk picked up pace until the needle hovered around the 120-mph (193-kph) mark, which was as close as dammit to the 121-mph top speed claimed in its brochure back in the day; I can tell you that I felt every one of those digits flying past. The 4×2 slash-cut exhausts were by now emitting the most glorious — and unexpected — howl I'd heard in a while, and the 656cc DOHC air-cooled inline-four seemed rather unstressed close to its 10,000-rpm redline. I was half expecting full-scale vibes to start zapping through my hands and feet, but in signature Honda fashion, nothing of the sort happened; a gentle massage was the extent of it.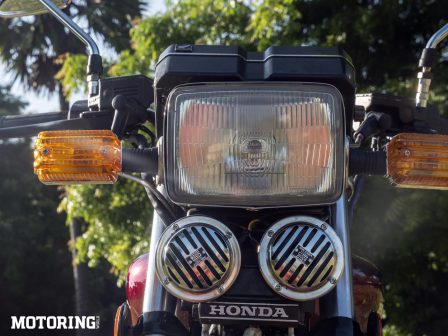 The thrilling exhaust note (I wish I could embed it here somehow) made me want to keep going till I ran out of fuel, but better sense — and more traffic — prevailed, so I slowed down at a restaurant for a spot of masala dosa and filter coffee. As it turned out, a bunch of about a dozen bikers had stopped at the same restaurant, and all of them stopped what they were doing when they heard the Nighthawk pull in, which is saying something considering the parking lot was full of S 1000 RRs, R1s, Panigales and other advanced weaponry. They gathered around me as I was getting off the Nighthawk, and thus began an impromptu Q&A session.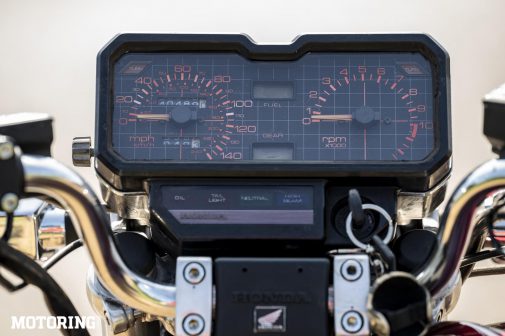 'This thing sounds amazing, what kind of engine does it have?' 'Four-pot DOHC, 16 valves, makes 656cc and 72 bhp at 9500 rpm. The drivetrain sits in a tubular-steel cradle frame and is mounted on rubber, so the vibrations are very well controlled. The four carburettors are a bit devilish to tune, but the cool bit about this engine is that Honda put in things called hydraulic valve-lash adjusters in the cylinder heads. What these do is remove the need to make adjustments to tappet clearances; in effect, a zero valve clearance setting is maintained throughout the rev range, regardless of whether the engine is cold or hot.'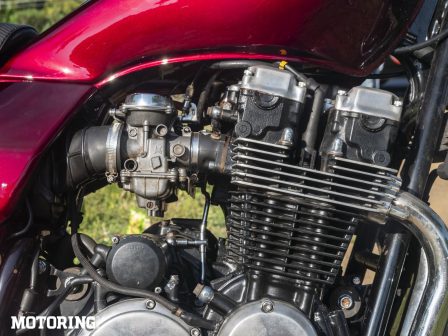 'You've also got electronic ignition and a 6-speed gearbox connected to a shaft drive, so you don't have to worry about points, chains, sprockets and whatnot. The generator and starter motor are placed behind the cylinders, so the narrow engine sits low and canted forward, to put more weight on the front wheel for better stability.'
'Sounds like a bunch of things Honda would do. What's it like to ride? Looks pretty compact.' "It is, as a matter of fact. For a guy of my height — about 6 feet — it's very comfortable to sit on and ride; maybe the 'pegs are set a little high, but you get used to that quickly, and the seat is reasonably supportive. The gearbox is mildly clunky, which is a little surprising for a Honda, but then this bike is 32 years old so you'd expect some wear and tear. It's perfectly willing to laze around at 60 kph in sixth, and when you drop a few gears and give it the gas, you really need to hang on tight post 6500 rpm because it goes. Ah, there's my breakfast — if you'll please excuse me.'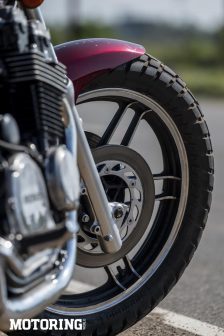 I went off and ate large amounts of delicious grub while the bikers milled around the Nighthawk in the way bikers do — looking at it from afar and then walking in for a close view, crouching around the engine, running a hand along the tank, peering at the instruments. In all honesty, you look at the Nighthawk and think 'Hmm — nice, compact middleweight cruiser, I doubt it gets up to much mischief.' It's a very handsome machine all right, but not in a way that prompts R-rated thoughts in your head. It's nigh-on perfect for a 1980s design, however — a predominance of rectangular elements, balanced out by the judicious insertion of a circle or two. The headlight, with twin horns beneath it, is the perfect example of this. The lines are clean and efficient, and the cast alloys look good even today; the swept-up megaphone exhausts add a touch of muscle to the design. The instrument cluster has some unusual elements for its time — a digital fuel gauge and gear indicator — and is easy to read.
When it was time to get going, I had to field a few more questions before I could start the Nighthawk up (the most interesting one being 'How much louder can this bike be made?', for which I had no answer). The Honda's acceleration and soundtrack had become addictive, and I just had to go out and flog it some more. Bidding goodbye to the crowd, I hightailed it out of the parking lot, no doubt filling it with a hair-raising banshee wail.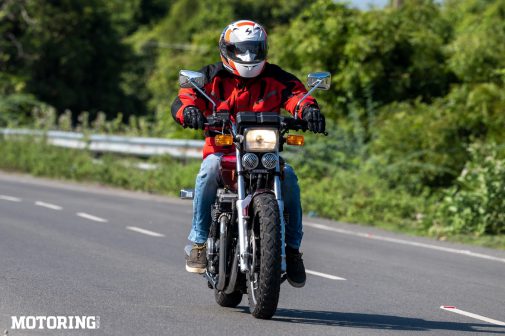 Back on the road and motoring along apace, what struck me was just how easy the Nighthawk was to ride. The 19-inch front (100/90) and 16-inch rear (130/90) wheels gave it great balance, and it felt resolutely planted at cruising speed. Overtaking was a no-fuss twist of the throttle away, without having to work the gearbox for the most part. In the 1980s, the Nighthawk was well known for outperforming many 750cc bikes, as well as keeping up with the factory-turbocharged machines of the time; a 12.5-second quarter mile time was much more than respectable.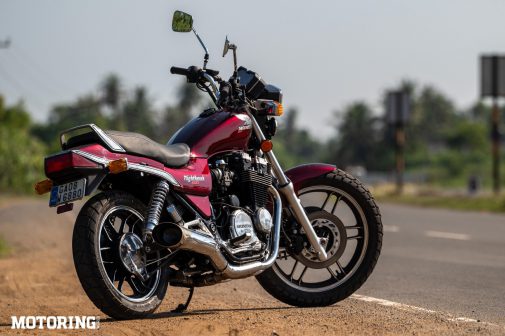 The Showa suspension did its job in a business-like manner. The 39- mm front fork was mildly adjustable by adding air, and a different oil weight would change the damping nature; the rear shock absorbers had rebound and compression damping as well as five spring-preload settings. They combined to offer a plush ride, but I noticed two things — the steering action was rather slow at high speed, and the rear shockers' shafts felt like they were being too busy, which affected the Nighthawk's handling a touch. Apparently this was also true when the Nighthawk was being sold, so it wasn't down to this particular machine, and in any case you'd really need to be leaning the bike to its limit to qualify this trait as a drawback. Besides, the twin front disc brakes with twin-piston callipers provided solid stopping power in case things began to look hairy, and I had to use the rear drum brake only on a couple of occasions.
The Nighthawk was made mainly for the US market, but ended up becoming more popular in Europe because of its all-rounder character and practicality — it was pretty much the perfect bike to do virtually anything on, whether that was a trip down to the shops or a blast across the continent. By the mid-'80s, however, Americans wanted more than this from their motorcycles, principally some extra style, sportsbike performance — or full-fat cruiser character (Honda itself sold bikes like the Gold Wing and the Interceptor alongside the Nighthawk). Still, the Nighthawk developed a small following even there for its amazing reliability — owners seldom had to do anything except change tyres and oil, and eBay has several examples on sale today with over 100,000 miles (160,000 km) on the clock that are still going strong. Speaking of which, this beautifully restored Nighthawk is also up for grabs, and you can call Motodynamics in Chennai (98841 44444) if you feel like landing a piece of retro goodness — I know I would if I could.