The Tata Tiago iCNG, which had arrived in showrooms back in January 2022, is unlike a lot of its rivals. Most carmakers who offer a CNG version of their cars don't offer it in multiple variants, and also unlike most manufacturers, Tata offers the Tiago iCNG in its range-topping trim. The price difference between the Tiago XZ+ DT and the Tiago iCNG XZ+ DT is a not so insignificant Rs 90,000, but when one considers that you'll spend Rs 40 less on every kilometre you drive, that difference is mitigated after just 2250 km. After that, it's basically money that can remain in your bank account or go towards your investments.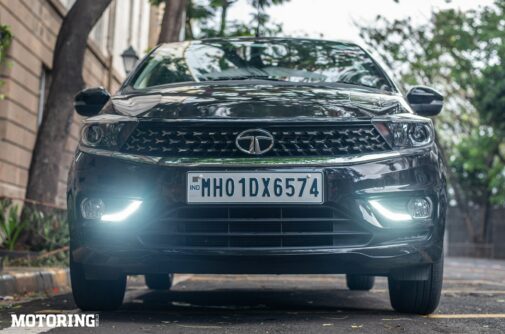 The question remains if the CNG Tiago offers a drive experience that is at par with its petrol counterpart. To answer that, we're going to find out what it's like to live with the Tata Tiago iCNG, for a day. Starting it up, there's a sense of refinement that's honestly surprising, considering this 1.2-litre three-cylinder engine has always been on the gruff side. Here again, Tata has brought out something unique as the Tiago iCNG starts off on CNG directly. Most other CNG-powered cars start up on petrol, and then almost immediately switch to the cheaper fuel.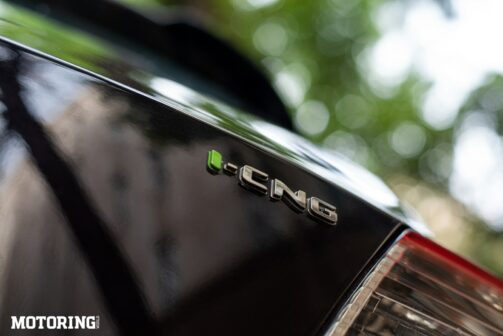 As is the case with CNG-powered cars, output figures are lower than their respective petrol versions, and this holds true for the Tiago iCNG as well. Although there's a rather large 13 bhp and 1.84 kgm drop, you wouldn't know it if you drive it in city conditions. The initial acceleration is as strong (or lethargic in the case of this engine). In fact, there are a few flat spots in the rev range when driven on petrol that seem to vanish when driven on CNG, and that's definitely a good thing.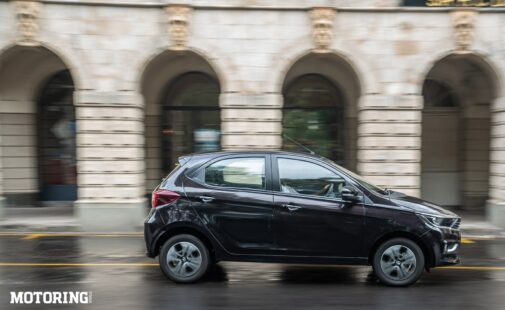 Sure, there might be a need to use the slightly notchy 5-speed manual gear, and the marginally heavy clutch, a bit more than the standard Tiago when you're climbing up the ghats. And with four or five in the car, you might need to forgo CNG altogether and switch to petrol, but it's impressive that for most usage, very few will find the difference between the standard Tiago and the Tiago iCNG. Another aspect that has remained untouched is the ride-handling balance, which for a budget hatchback is superb. Nowhere else do you get this mature ride quality, and solidity while cornering.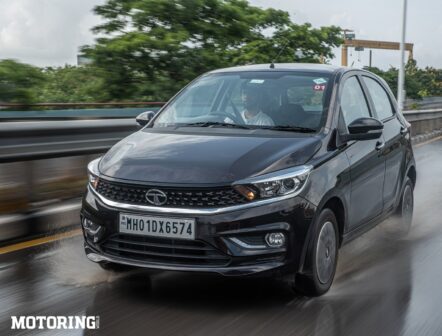 And speaking of differences, unless one looks closely — regardless of whether one is looking at the outside or sitting in it — most wouldn't be able to tell this is the CNG-powered Tiago. Other than a tasteful green and chrome iCNG badge on the boot, there is nothing to tell the two cars apart. On the inside, it's a similar story. The petrol Tiago and Tiago iCNG share their interior layout — a dual-tone theme that carries from the dash to the doors and tri-patterned dual-tone seat corners, though there are minute differences.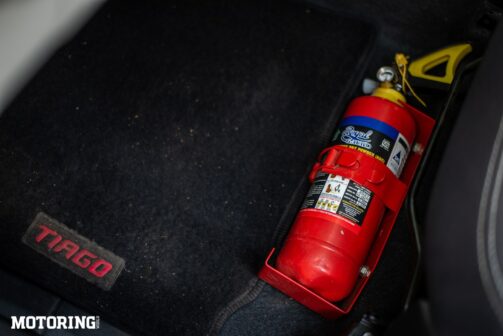 The most noticeable one is the fire extinguisher under the front passenger seat (which is mandatory for CNG cars now). The less obvious, but equally important ones include a CNG-petrol switch next to the door lock/unlock button on the centre console, and a dedicated CNG gauge in the instrument cluster. As always, the Tiago is quite spacious for four passengers, and a bit cramped for five (shoulder room is the main issue), though the placement of the CNG tank has seen boot space reduced to a pittance — it's down from 242 litres to 80 litres.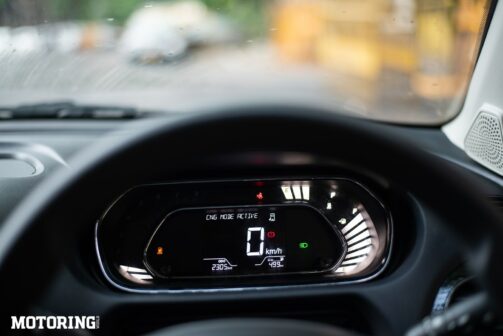 Despite the relative lack of luggage room (there's enough space for two backpacks), the Tiago iCNG is quite a promising CNG car. This top-spec variant may be significantly pricer than rivals, but there's equipment here not seen on any other budget hatch that's powered by compressed natural gas. If you're willing to forgo some aesthetic changes — such as the alloy wheels, LED DRLs, dual-tone finish, and the more premium-looking interiors — along with equipment like the larger 7-inch touchscreen infotainment system, a rear parking camera, and a rear defogger, you could opt for the Tiago iCNG XT, which costs Rs 6.85 lakh, ex-showroom, India. Though, I'll be honest, spring for the XZ+ if you can as it really is the best version of the Tiago iCNG.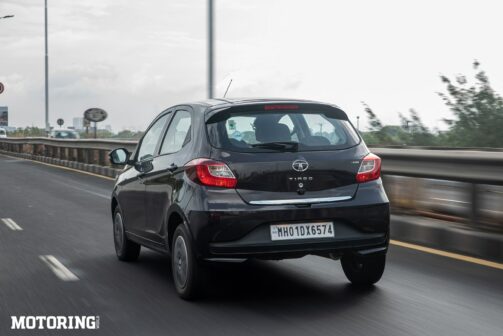 AUTODATA
Tata Tiago iCNG XZ+ DT
POWERTRAIN
Displacement:
Max Power:
Max Torque:
Transmission:
1199cc, I3, CNG
72 bhp@6000 rpm
9.69 kgm@3500 rpm
5MT
DIMENSIONS
L/W/H (mm):
Wheelbase:
Ground Clearance:
Kerb Weight:
Fuel Capacity:
3765/1677/1535
2400 mm
168 mm
NA
60 litres (water capacity)
PRICE
Rs 7.79 lakh, ex-showroom, India