You can tell a lot about a person by their shoes. Or at least it's an adage of the shallow variety that we've come across at some point or the other. What does it have to do with the car in question here? Well, to drag the context-setting on even further, back in college, out of all the different shoes I had, it was a pair of yellow Converses personalised with Rasta laces, that were my absolute favourites. Sporting these in an engineering college in 2004 attracted quite a lot of funny remarks, but none of that mattered to me; they made me look different which is why I loved wearing them.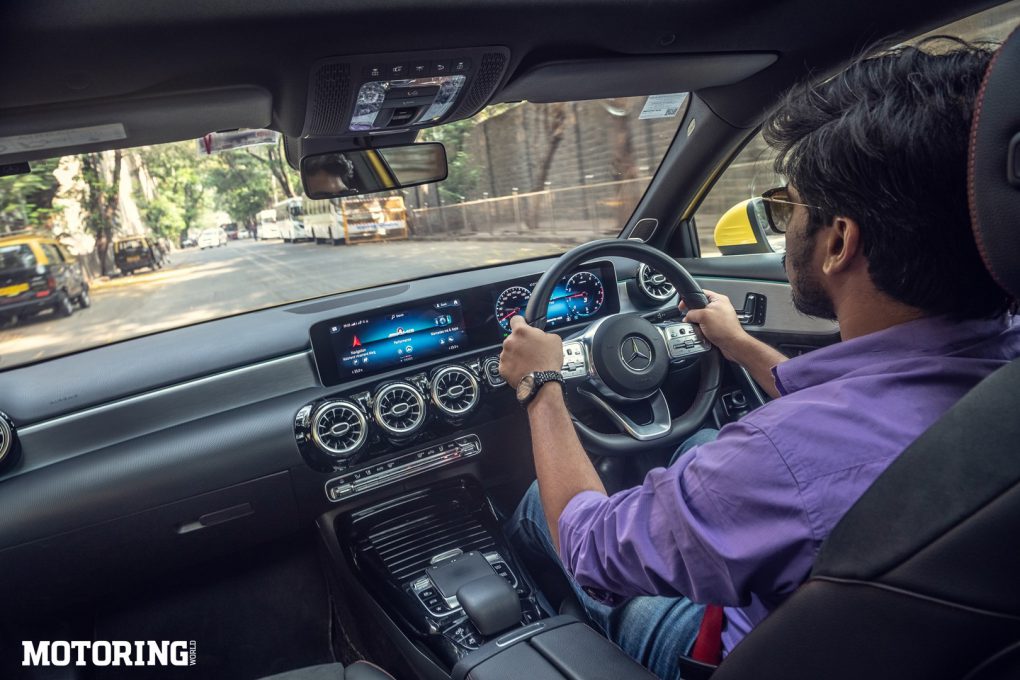 Likewise, cars also tell you a lot about their persons. And a car like this A-Class Limousine AMG A 35 4Matic (some name, that), especially in the dazzling shade of yellow, shouts everything it says. In the sea of white, black and grey cars that our eyes are used to, this one stands out. There was a time when you could get a car that was painted in yellow, but nowadays colours like these are only to be seen on exotics like Lamborghinis and Ferraris alike. Which makes this AMG even more special. Besides grabbing maximum attention anywhere you go, the colour yellow also has added significance in the car world — it's a shade that's closely associated with racing which eventually refers to speed and performance.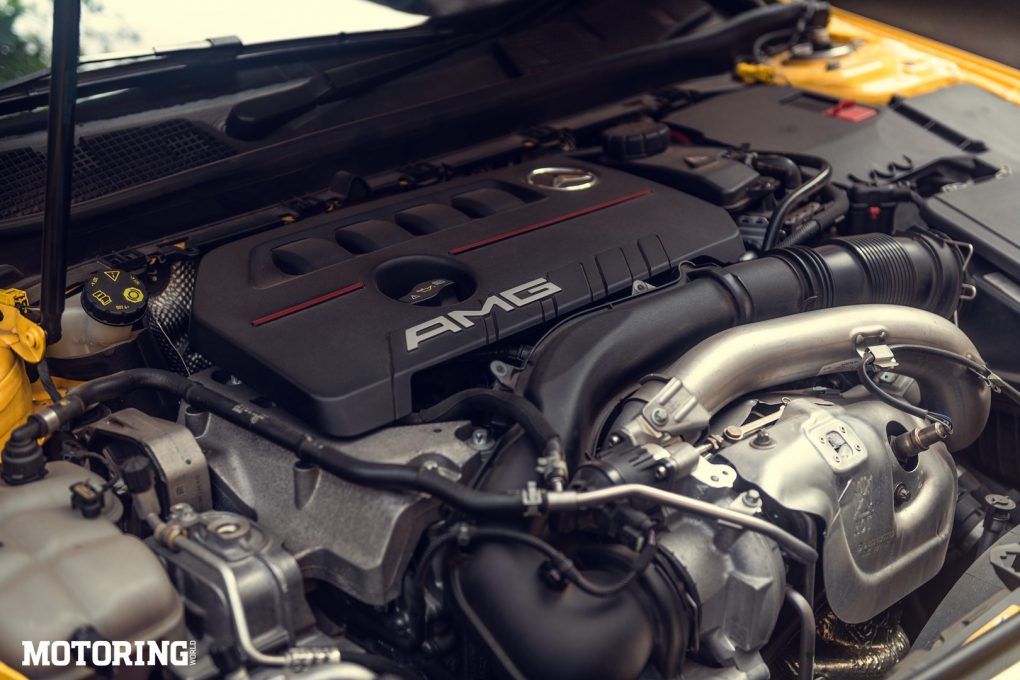 The A 35 here is currently the most affordable AMG that you can buy. I, for one, have always associated AMGs with loud and deafening V8s capable of shredding rear tyres for breakfast. However, the one underneath the hood here is an inline-four 2.0-litre unit upgraded with a twin-scroll turbocharger, a better cooling system, and some other upgrades, to pump out 301 bhp and 40.78 kgm which is nearly twice of what the standard A-Class makes. So, is it fast? It's not fast enough to make you soil your pants, but it'll make you grip that Alcantara-finished flat-bottomed steering wheel with alertness. The seats have excellent side bolstering and I could immediately notice that whenever I chucked the A 35 hard into a corner.
Speaking of corners, this car is quite a handler. While it largely uses the front wheels for drive on most occasions, it can transfer up to 50 per cent of the power to the rear wheels when aggressively driven, thanks to the 4Matic system. Also, like thoroughbred AMGs that come with torque vectoring, the inner wheels are capable of braking mid-corners thus enabling a tighter line. And that experience gets even better with the direct and beautifully assisted steering that tells you where the wheels are planted at all times. The A 35 comes with four driving modes — Comfort, Sport, Sport+ and Individual. Comfort mode is for driving the AMG A 35 like how a Mercedes-Benz is usually driven. Meanwhile, Sport and Sport+ are for days when you want to feel the AMG rush, and were the modes I drove it in most of the time. The Sport+ mode also lets out off-throttle pops and bangs from the twin exhausts making the experience most surreal.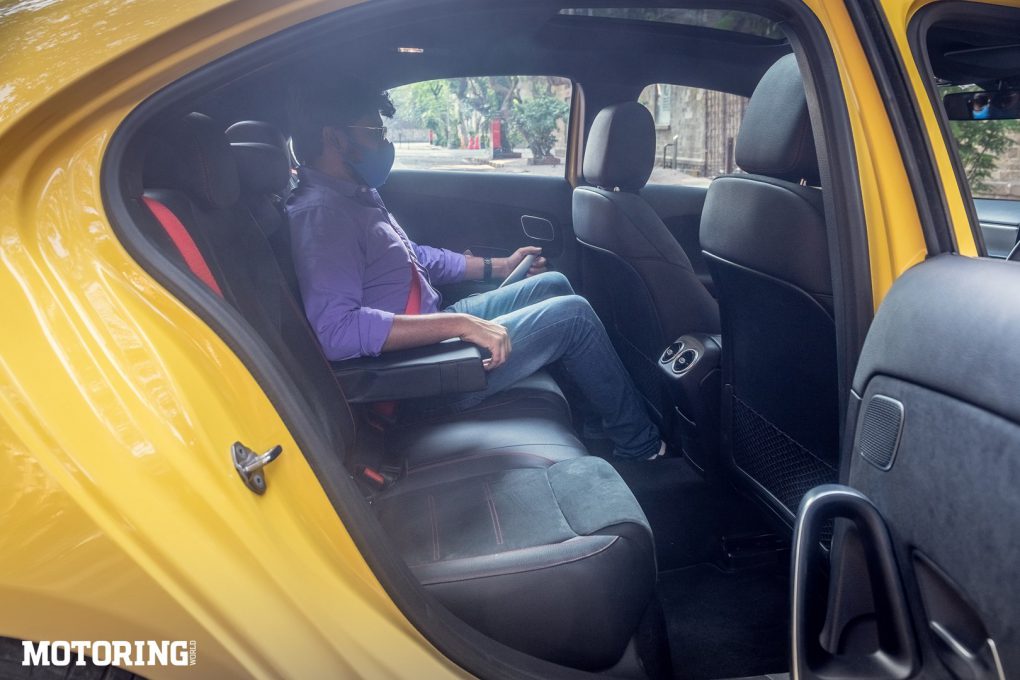 Now, the folks at Mercedes-Benz say that the A 35 is an AMG you can drive on a daily basis. For the few days I spent with the car, I can safely say that it truly is. Most other cars that are built for speed have stiff suspension, which is not the case with the A 35. Thanks to adaptive suspension, you are left with a ride quality that is only slightly stiff but manageable for city roads. Visibility from the driver's seat is good all-around, while the correctness of the proximity sensors with the rear camera makes driving through tight spots and reversing an easy task. However, I have to tell you that if I could change one thing to make this car more driveable, it would be its ground clearance. Sitting 160 mm off the tarmac, I had to always be extra cautious whenever it came to clearing speed breakers as the underbelly can easily scrape itself with minimal warning.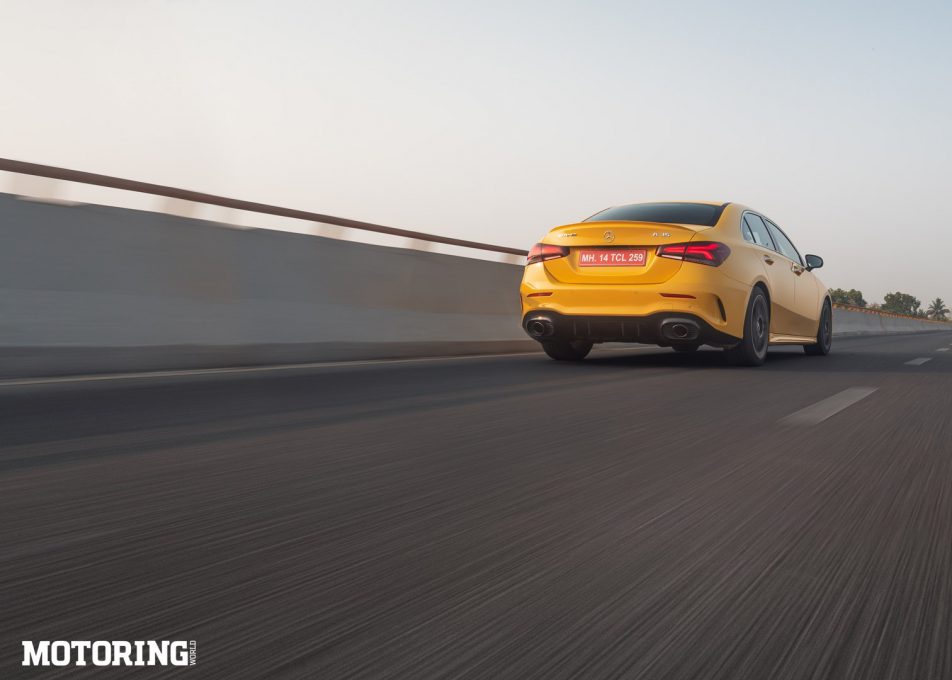 However, when driving on smooth and wide roads, the experience inside the cabin is typical Mercedes-Benz, well-cushioned and luxurious. The limousine suffix equates to a spacious in-cabin experience with surprisingly ample legroom for the second row. I would have liked more under-thigh support, but that doesn't matter because this AMG is not a car you'd want to be chauffeured in. Other bits like the panoramic sunroof, aluminium inserts, the large touch-sensitive infotainment display and drilled pedals will ensure you are taken care of from the moment you open the door.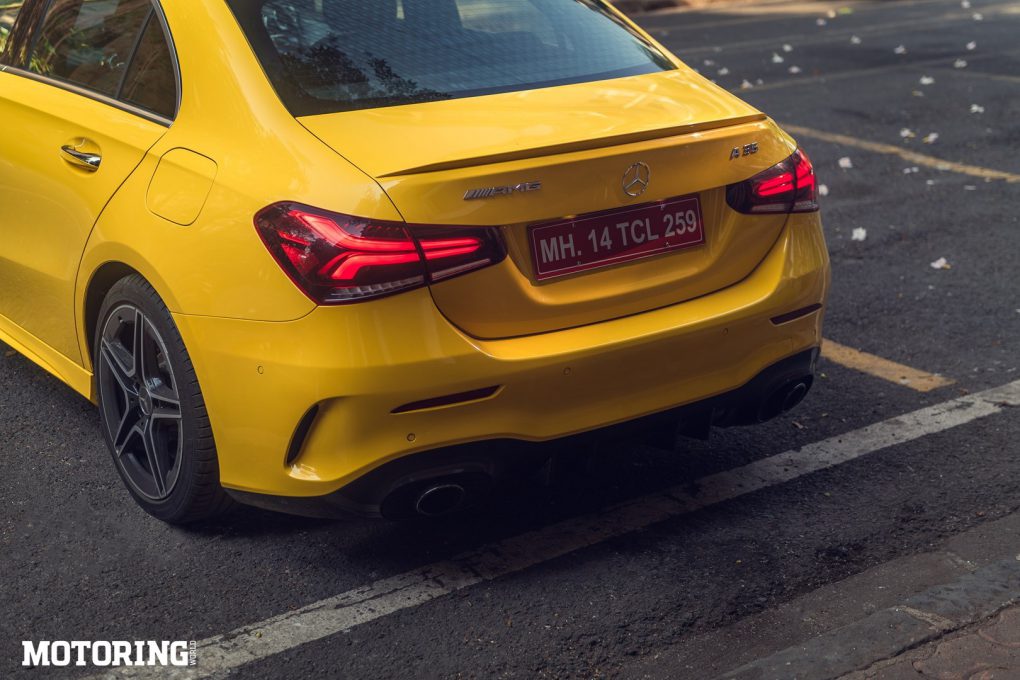 The AMG A 35 might not be a full-fledged AMG with a growling V8 under the hood, an aggressive bulge on the bonnet or with sumptuous use of carbon-fibre all around. But it is no less of an engaging drive, either. For an asking price of Rs 56.24 lakh, ex-Delhi, it is the easiest and legit way to add an AMG to your garage instead of sticking a faux AMG badge on a Mercedes-Benz. As for me, if I had that kind of money, I would pick it in yellow without a doubt.
PHOTOS Rajeev Gaikwad
AUTODATA
Mercedes-AMG A 35 4MATIC
POWERTRAIN
Displacement: 1991cc, I4, turbo-petrol
Max power: 301 bhp@5800 rpm
Max torque: 40.78 kgm@3000-4000 rpm
Transmission: 7AT
TYRES
F/R: 235/40 R18 / 235/40 R18
DIMENSIONS
L/W/H (mm): 4559/1992/1411
Wheelbase: 2729 mm
Ground clearance: 160 mm
Kerb weight: NA
Fuel capacity: 51 litres
PRICE: Rs 56.24 lakh (ex-showroom, Delhi)